Friday Fundamentals – Have a Decent Holster (part 4)
Friday Fundamentals -Have a Decent Holster (part 4)
As seen on Tactical Professor.
"Police responded to the scene and determined that a person who had a valid concealed firearms carry permit was seated in the theater and had accidentally dropped his firearm to the floor and retrieved and re-holstered it."
http://wfla.com/2015/09/07/tampa-police-respond-to-call-about-person-with-gun-at-movie-theater/
I have no idea what kind of holster this man had. What is clear is that the holster didn't perform a primary function, to wit: keeping the gun in place. Who knows, it might even have been the crappy holster that inspired my Scam artists in the firearms community post.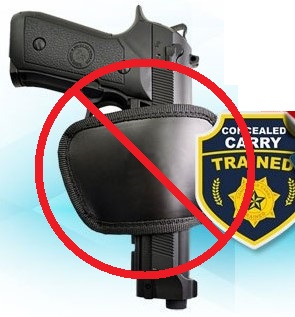 Keep in mind that when carrying a gun in public, eventually you will probably sit down. Make sure your holster doesn't rely solely on gravity to retain the gun. When you sit or slouch, that's going to stop working. Either a retention system or being fitted to the specific handgun is important.
When carrying a pistol, the gun and holster form a system. That system has to work in a lot of conditions other than what you will encounter at a gun shop or shooting facility. Have that fundamental reality as part of your purchase decision.
Safariland, Galco, and even Blackhawk make decent holsters. Well, some Blackhawks, anyway; my distaste for the Slurpa is well known. But I've never heard of a Slurpa letting the gun fall on the ground in a movie theater, so there's that. There are numerous smaller manufacturers who make high quality gear, as well. One clue is that if it's made from nylon fabric, you should probably choose something else.
Having to interact with Law Enforcement because your gun fell on the ground is a Serious Mistake. Don't scrimp for a few dollars and put yourself in that position.
5.11 Tactical (@511tactical) is a member of JTF Awesome.
Note from the editor: the cover photo actually comes from this thread, and it might not be as WTF as you think. 
This article originally appeared on the Tactical Professor blog.
We hope you got something out of this article. If you're looking for more fundamentals and critical thinking, visit the author's home page at The Tactical Professor. While there take a few minutes to read through the Gunfights and Gunbattles section. Some great stuff in there. you can also find him on Facebook, /ATLFirearms/.
---
---
If you wish to share or repost, please so kind as to follow our terms and conditions.
Mad Duo, Breach-Bang& CLEAR!
Comms Plan
Primary: Subscribe to the Breach-Bang-Clear newsletter here; you can also support us on Patreon and find us on Pinterest.
Alternate: Join us on Facebook here or check us out on Instagram here.
Contingency: Exercise your inner perv with us on Tumblr here, follow us on Twitter here or connect on Google + here.
Emergency: Activate firefly, deploy green (or brown) star cluster, get your wank sock out of your ruck and stand by 'til we come get you.
T&C: All original material published by Breach-Bang-Clear is the copywritten property of Breach-Bang-Clear, Inc. If you wish to repost, republish, or otherwise share our content, feel free to reproduce an extract of up to 225 words and one complete, unaltered image, preceded by attribution crediting the source and author's name, to include a link to the Breach-Bang-Clear home page, with a link back to the full article on our website, BreachBangClear.com. You do not require our permission to do this. Please do not reproduce our content in its entirety without contacting us first. We do allow full syndication on a case by case basis (credited, and posted with a canonical link, as is common practice and in good form) but only when mutually agreed upon beforehand. If you wish to reproduce a complete article, please contact us for permission to publish first.
Grunts: ruminate.
"If you don't own a rifle, you're wrong. Doesn't matter what caliber, even .22 Long Rifle such as a Marlin 60, own one. Have some basic idea of how to use it and practice periodically." Claude Werner