"It all started with a Dixie cup"; Propper Turns 50
 "It all started with a Dixie cup"; Propper Turns 50 
Back in 1967 William S. Propper fought for the contract to make the little white hat, known as the Dixie Cup, that symbolized the US Navy.  They followed that contract with trousers and blouses, and in the five decades since then, Propper reached out to other branches of the service to make their uniforms.
Chances are, if you wore a .mil uniform after Christ was a Corporal, you were wearing Propper. You just may not have known it because your label probably read "Jacket, Woodland camouflage, 1 each" or whatever the military pattern was at the time.
In 1991 Propper became the first apparel manufacturer in the US to become ISO 9001:2008 certified. We didn't really know what that meant, but it sounded cool so we looked it up:
ISO 9001:2008 specifies requirements for a quality management system where an organization

needs to demonstrate its ability to consistently provide product that meets customer and applicable statutory and regulatory requirements, and
aims to enhance customer satisfaction through the effective application of the system, including processes for continual improvement of the system and the assurance of conformity to customer and applicable statutory and regulatory requirements.

All requirements of ISO 9001:2008 are generic and are intended to be applicable to all organizations, regardless of type, size and product provided.
We are still not 100% sure what it means, but it looks like they hit on all cylinders when it came to getting their requirements down. And Propper's been doing it right for close to three decades, which is probably how long ago some bean counter came up with that protocol.
When a need for RFID tracking came up during the Global War on Terror, Propper was at the helm with DLA to develop a system for tracking inventory at the case and pallet levels in order to ensure that the defense supply chain became a more effective weapon for use by our war fighters. In the years since, they branched out again into boots and body armor as well as delivering the same quality to civilians, police officers, safety personnel and other first responders.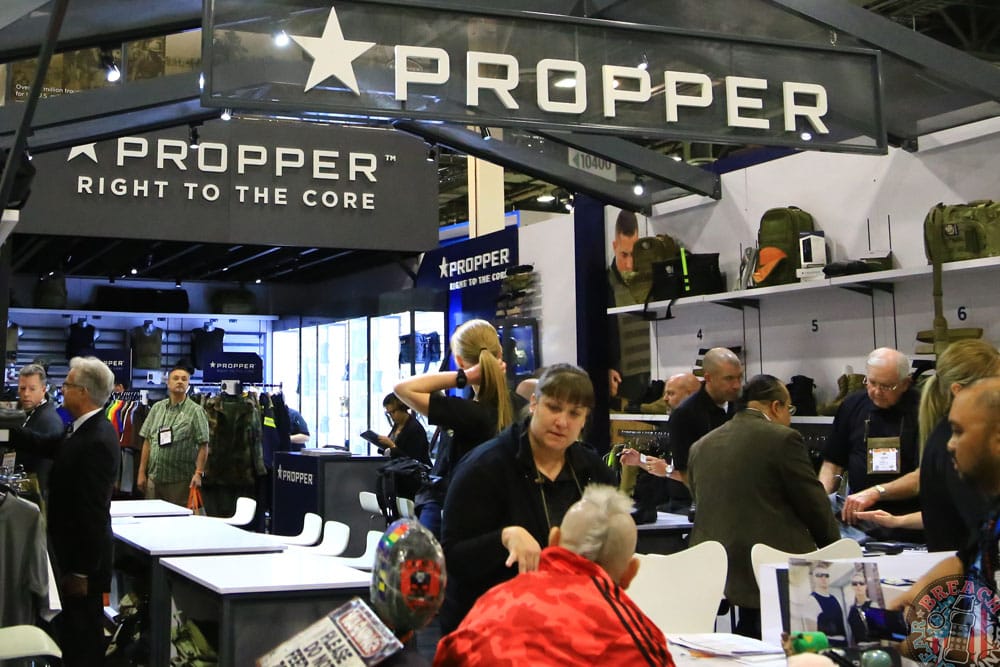 Here's what we came up with for Propper's stats over that time period:
Over 120 million garments produced for the US military
Over 30 million military personnel have worn Propper garments
Over 8.1 million tops (combat shirts, ACU coats, jackets) to the US military
Over 11.8 million trousers to the US military since 2001
Over 1.5 million gloves to the US military since 1999
Nearly 1 million ABUs and RABUs to the US Air Force
Over 1.4 million coveralls to US military since 1998
Over 260,000 Marine Corp ILBE Systems since 2003
Over 260,000 USMC 3S 3-season sleep systems since 2009
Over 1.2 million MOLLE bags, pouches, and accessories
Over 1 million Gore-Tex units for Air Force, Army, Marine Corp, and Coast Guard since 2004
Over 2 million FR sets (starting with the Marine Corp Frog combat shirt) since 2007
Over 1 million MCCUU sets to the US military since 2004
Over 500,000 ACUs to the US military since 2005
That's a hell of a lot of cotton, nylon and leather! We're proud to have them be a large part of JTF Awesome.
To honor Propper's strong heritage with all branches of the armed forces, the company will be rolling out special events and promos throughout 2017.
[embedyt] http://www.youtube.com/watch?v=HPef1Z9Qzs0[/embedyt]

You can visit Propper online here for some more history, or just to checkout their gear.
-Mad Duo
---
Mad Duo, Breach-Bang& CLEAR!
Comms Plan
Primary: Subscribe to our newsletter here, get the RSS feed and support us on Patreon right here.
Alternate: Join us on Facebook here or check us out on Instagram here.
Contingency: Exercise your inner perv with us on Tumblr here, follow us on Twitter here or connect on Google + here.
Emergency: Activate firefly, deploy green (or brown) star cluster, get your wank sock out of your ruck and stand by 'til we come get you.