Today we're gonna try a little something different. Today we're gonna hit  you with a his'n'hers rundown of a multi-tool SOG released a while back. Let us know what you think. Mad Duo

Report: the SOG Sync II
Sharon and Mike Durand
His take:
Cosmetically, multi-tools haven't changed much since I bought my first one as a private at the Fort Bragg Clothing and Sales in 1993. Basically they come in two flavors: the butterfly knife type, e.g. Leatherman style, or the Gerber type, where the pliers slide out like a light saber. New doo-dads and whatnots have been added over the years, but all in all there hasn't been much true innovation in the world of multi-tools…until now.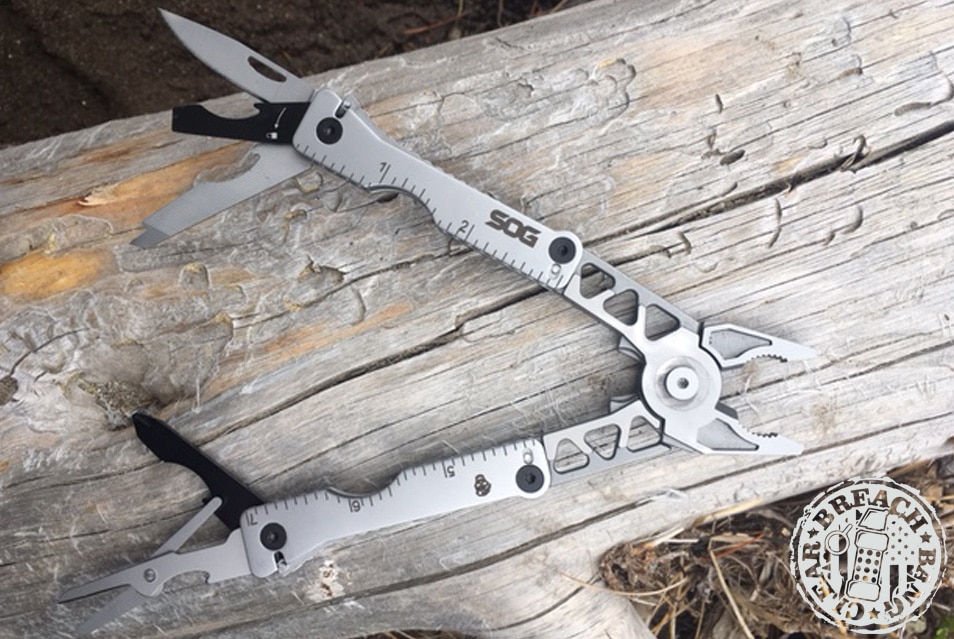 The Sync series of multi-tools has changed that. Starting with the Sync I, SOG designed a multi-tool that lent itself to being worn on a daily basis. The driving force behind this was the idea that a multi-tool won't do you any good if it isn't on you. Keeping this in mind, they integrated it into a something worn by men and women around the globe: it's called (wait for it) the belt.
Both the Sync I and Sync II serve as belt buckles. Now not only will your belt serve to keep your pants up, it also becomes a poor man's utility belt. If you should decide against that, you can remove the mounting hardware and use the beefy clip on the back to attach it to a strap on your gear or belt (i.e. the more "traditional" fashion), which is the way I carried it most of the time. The clip can be removed as well.
The Sync II is removed from the base by pressing a stud that serves as the pivot point of the pliers. Once free of the base, the Sync II's arms can be folded down bringing the tool to an overall length of 5.80". In the closed position, the tool measures 3.1". Regardless of size, the Sync II always weighs an impressive five ounces.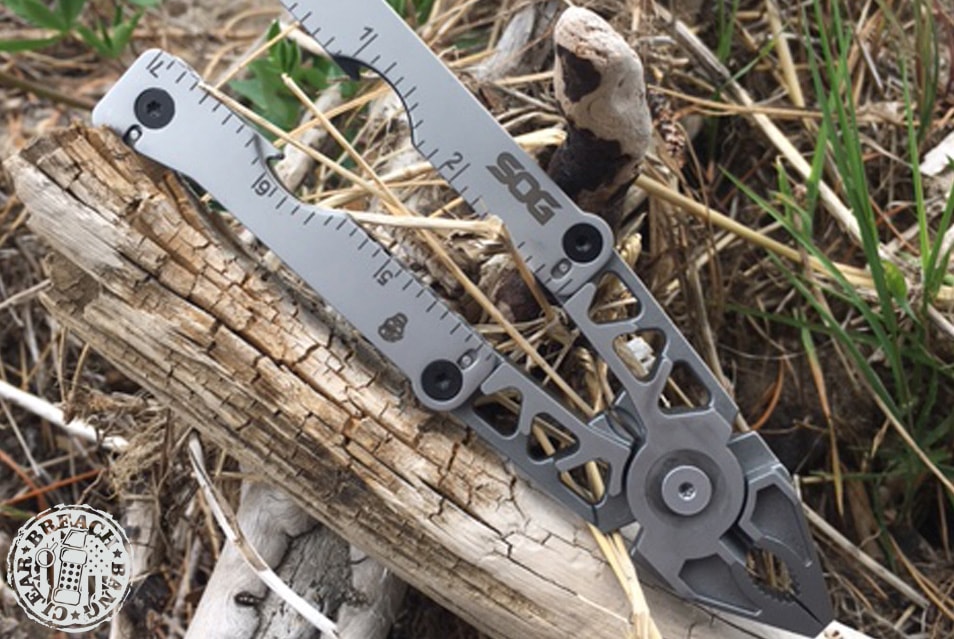 Due to its small size, the Sync II lacks some features of other tools. No can openers or C4 punches on this little guy, but you do get a nice little pair of scissors. In addition to those, the Sync II gives you a wicked looking little blade, crimpers, wire cutters, three sided file, a small and medium flat screw driver, a Phillips head, ruler, and pliers.
All the tools initially appear to be solidly built, but I discovered that impression to be somewhat unfounded. Soon after receiving my sample in the mail, I was using the flat screw driver to remove the angled foregrip on my rifle when the tip snapped off. While a minor failure, perhaps through improper use on my end, it's certainly something that potential buyers should be aware of (and examined by SOG). I've advised other B-B-C reviewers of this failure and asked them to see if they encounter the same problem.
Overall the Sync II has performed well in its roll of filling in for my EDC Gerber multi-tool. However, the screwdriver fail has made me wary of using the Sync II as an everyday carry tool. I will limit its use to a back-up because frankly I don't believe it can tolerate the abuse I inflict on my regular multi-tool.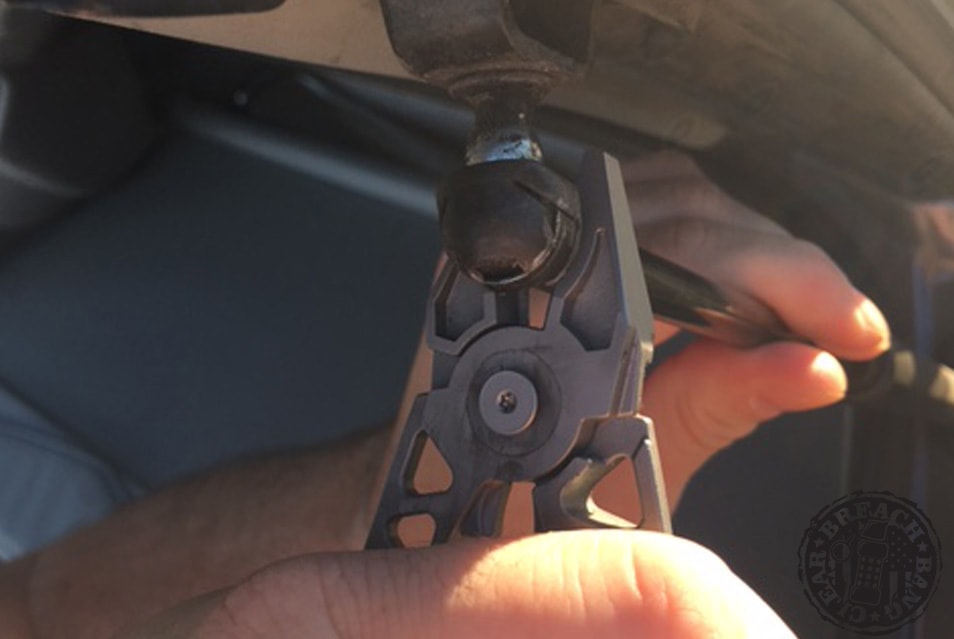 In the end, would I recommend it? Sure. Having a multi-tool is always better than not having one.
Her take:
I'm a big fan of functional, compact tools. My EDC Victorinox Swiss Card is a perfect example of that. Another example is the SOG SYNC II. It's like the Swiss Card after taking a few extra scoops of pre-workout and dead lifting a PR of 500.
Okay, I may have embellished that a bit.
The SOG SYNC II is a compact multi-tool that can be used as a belt buckle, with the detachable base designed to fit belts up to 1-¾". I bet all you belt buckaroos out there would think that's awesome, but as someone who doesn't really wear a belt, it's not a selling feature for me. It does have a very durable clip that allows you to attach it to your bag, which is how I used it.
My first impression taking it out of the packaging was that it's substantial and well made, although at five ounces it's a little on the heavy side for my liking. It's a compact five ounces though, with a closed length of 3.1". It has eleven tools, including an impressively sharp straight blade, bolt/nut gripper, crimpers, three-sided file, flat screwdriver (medium), flat screwdriver (small), Phillips screwdriver, pliers, ruler, scissors, and a soft wire cutter. It attached easily enough to my Smith & Wesson Lite Force Tactical Sling Pack and felt secure, even with vigorous movement. Detaching it from the base is super easy, you just press a center button and it slides right off.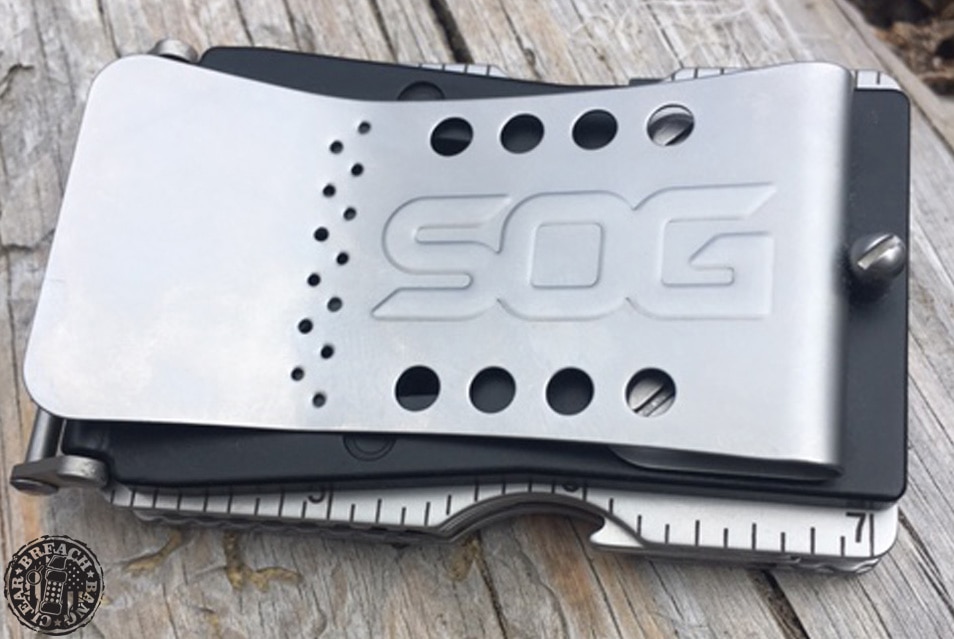 Would I use this with any regularity like I use my EDC Swiss Card? It certainly came in handy when the tailgate lift support to my car popped out; the pliers helped us put it right back in place. The Swiss Card could never do that. I'd certainly keep the SOG SYNC II in my purse or bag to use if needed.
Price point is $80, definitely more expensive than I typically prefer to pay. I think t's worth it, though, considering the amount of tools you get in an innovative, compact buckle.
You can check out the SOG SYNC II here.
-Sharon and Mike Durand
This article made possible in part by American Defense Manufacturing (@americandefensemfg), a member of JTF Awesome.

---
---
Mad Duo, Breach-Bang& CLEAR!
Comms Plan
Primary: Subscribe to the Breach-Bang-Clear newsletter here; you can also support us on Patreon and find us on Pinterest.
Alternate: Join us on Facebook here or check us out on Instagram here.
Contingency: Exercise your inner perv with us on Tumblr here, follow us on Twitter here or connect on Google + here.
Emergency: Activate firefly, deploy green (or brown) star cluster, get your wank sock out of your ruck and stand by 'til we come get you.
About the Authors: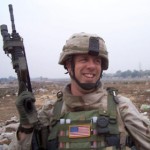 Mike Durand is a US Army infantry combat veteran of Iraq who was probably wearing a smoking jacket, fuzzy slippers, and a Browning Hi-Power in a battered old leather holster while writing this. He has been featured before on other blogs and publications, including Military.com, Under the Radar, Tactical Fanboy and of course Breach-Bang-Clear. A history aficionado with a strange Winchester lever gun fetish, Mike recently underwent laser hair removal so he could stop shaving his knuckles. We're glad his muse is back and proud to feature him here.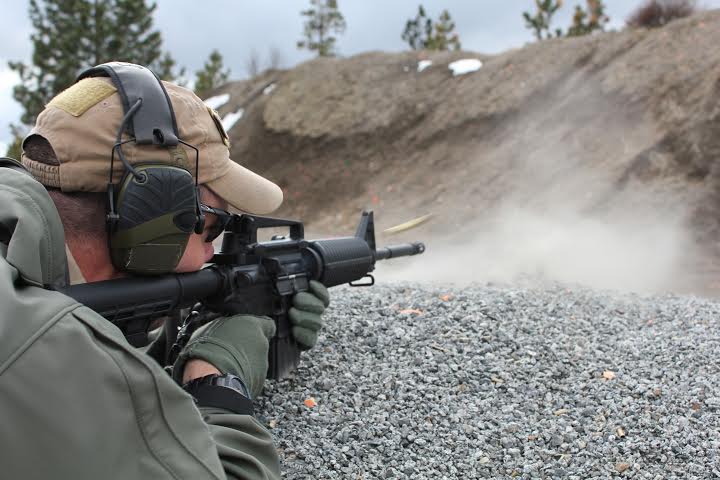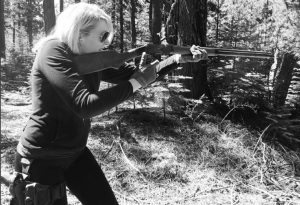 Sharon Durand is an avid outdoorswoman who is #tacticalbyassociation. An auditor by day, wife and mother by night, she's fairly certain her husband married her for either her fried chicken or her skill with an HK USP .45…perhaps both. Sharon prefers a Winchester lever gun to most any AR and uses her 6′ 3″ Wonder Woman tall girl powers mostly for good.