Silencerco's Salvo 12: and a message to all the haters
We're gonna talk about the Salvo 12 in a sec, but first, we gotta say… Maybe it's just people not wanting to believe. Maybe it simply sounds too good to be true. Or maybe its just a bunch of non-gunning fucks sitting in their mom's basement wanting to watch the world burn.
Whatever the case may be, we here at Breach-Bang-Clear have noticed a trend lately. It seems that when really innovative, technologically advanced and/or just plain cool new products hit the market, there's a trend for the shit talkers and naysayers to come out of nowhere in droves. Like a plague of uninformed, unknowledgable and inexperienced locusts, these winged assholes swarm the internet and descend upon the released product to dazzle us all with their expert opinions, insightful misconceptions and exhaustive knowledge of manufacturing materials and manufacturing procedures.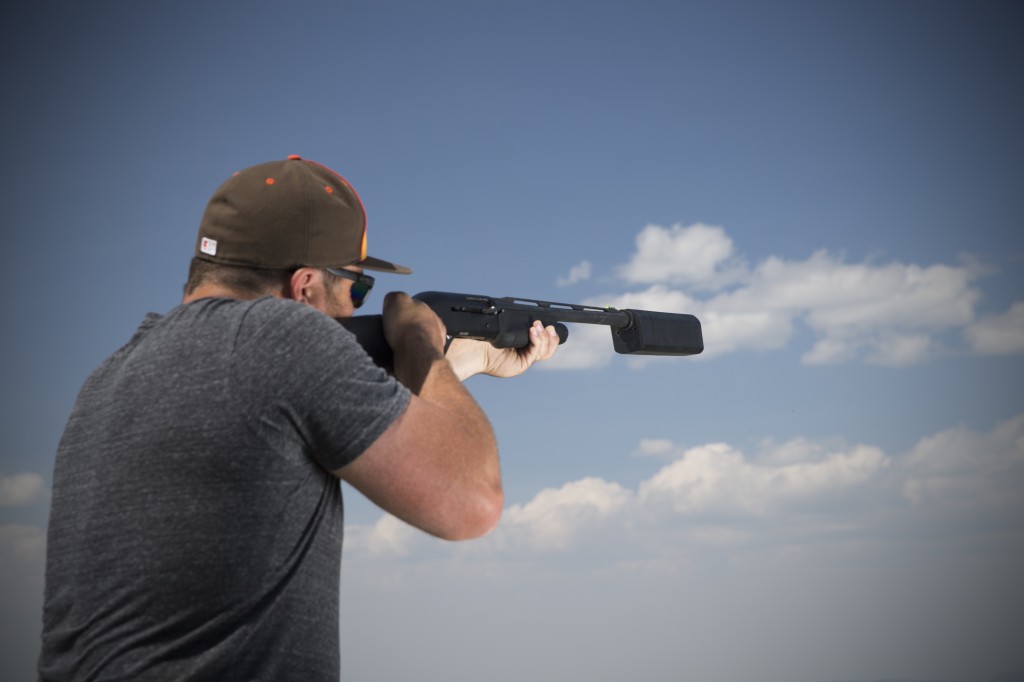 With this many money conscious, combat hardened, tactically savvy commandos out there it's hard to understand why there's any enemy of America left alive (or that anyone buys anything more expensive than Hi-Point and Condor).
Whole seconds pass (rarely spent reading the article, specs or concept description) before they have it "all figured out" and proceed to inform the world via the comments section  how viewing a single picture has made them a subject matter expert.  Occasionally the real SMEs get involved, lured against their better judgment into the booger-eating trap that has been set for them.  Sometimes the true experts, the experienced end users, hell sometimes even the product inventor themselves; they step in to pass real knowledge and explain the new whiz-bang item to the hungry trolls and life-sucking locusts.  They are promptly smashed down and told they don't know what they are doing, sometimes to shut up.  Occasionally they're accused of fakery, like they're wearing tinfoil hats and the new piece of kit was issued at a FEMA death camp. It's enough to make anyone give up on bringing anything new to market, lest the internet commandos try their best to destroy the product before it even gets off the ground.  It seems like every day this happens, and as a whole we are fucking sick and tired of it.
A few weeks ago, we attended "The fucking Catalina Wine Mixer", graciously hosted by SilencerCo. The company has been working hard to crack the code on suppressing one of America's favorite and most common firearms: the redoubtable 12 gauge shotgun. Not only did we have the opportunity to see the silencer released, we also had the opportunity to go and shoot it on the same day.  Now don't get us wrong, we were skeptical about the SALVO-12 as well.  It seems like an impossible task to suppress the gaping, cavernous maw of a 12 gauge. People have been trying for years, with various degrees of success, none of which have been all that impressive, economical or really all that useful.  Stepping out on the range, the first shot fired left all our preconceived notions in the dust.
Believe it.
The Silencerco Salvo 12 really is that quiet.  Amazingly quiet. So quiet, that if it wasn't for the distinct mechanical sound of the shotgun's action, you would think someone was shooting a suppressed .22 pistol. You could hear claybirds BUST into pieces, you could hear birdshot ZING off the clay. You could hear the shells IMPACT the ground.  You could HEAR the proof;  132 dB at the ear in the 12" configuration, and 140.6 dB at the ear with the smallest setup.  Impressive is an understatement.  For the first time ever, a commercially viable shotgun suppressor. And it's going to be on shelves nationwide before the end of the fall.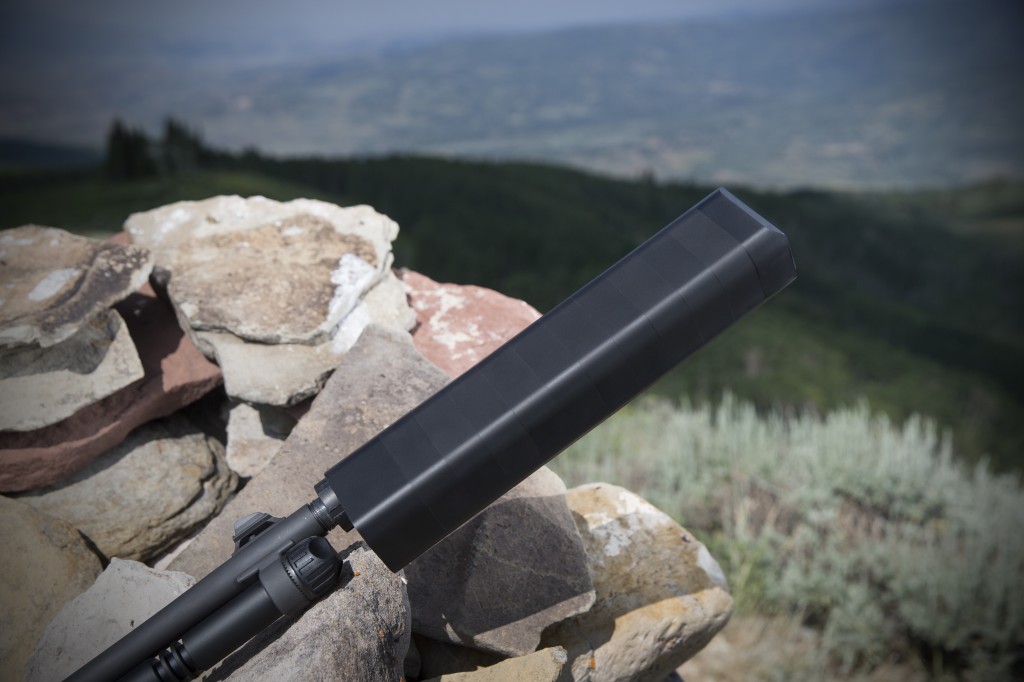 It wasn't just the lightweight, the decibel reduction or modularity of this stackable shotgun suppressor that had us intrigued. It was the story behind its development.  Although it looks like an Osprey series can, it has nothing in common with that suppressor other than the shape. The company devoted a team of engineers and technicians to work on the Salvo 12 until they got it right. Countless hours and dollars went into unending research and development until the code was cracked. Finally they landed upon a solid design that was not only feasible to make, but also exceeded their own expectations. No one before had devoted this much time and money into building a shotgun silencer, and if they had they would be the ones celebrating this breakthrough.  SilencerCo set out on their mission to build the unbuildable, and succeeded!
Before the end of the release day readers began seeing accounts of those that actually shot their invention. Articles, social media pictures and short video were on every freq. But after reading all the reports, watching the videos, listened to the audio, still…the trolls were out in full legion.  We and our trusted peers spread the word that the Salvo 12 is all you could ask for, and more. Instead of welcoming this advance in shooting technology or trusting the word of those you read daily, the trolls began to discredit and undermine it.  All those man-hours, all of the repeated failures until SilencerCo reached success- suddenly lost importance as the "experts" told us what we were seeing and experiencing first hand was a farce.  That it's already been "done before". That its "old news, they have them in Europe". That it's a "waste of money", and has "no relevance" to the shooting market. We would be surprised to learn any of these "I can do it better" assholes that have ever invented a single damn thing in their miserable lives – and would then wonder what's stopping them.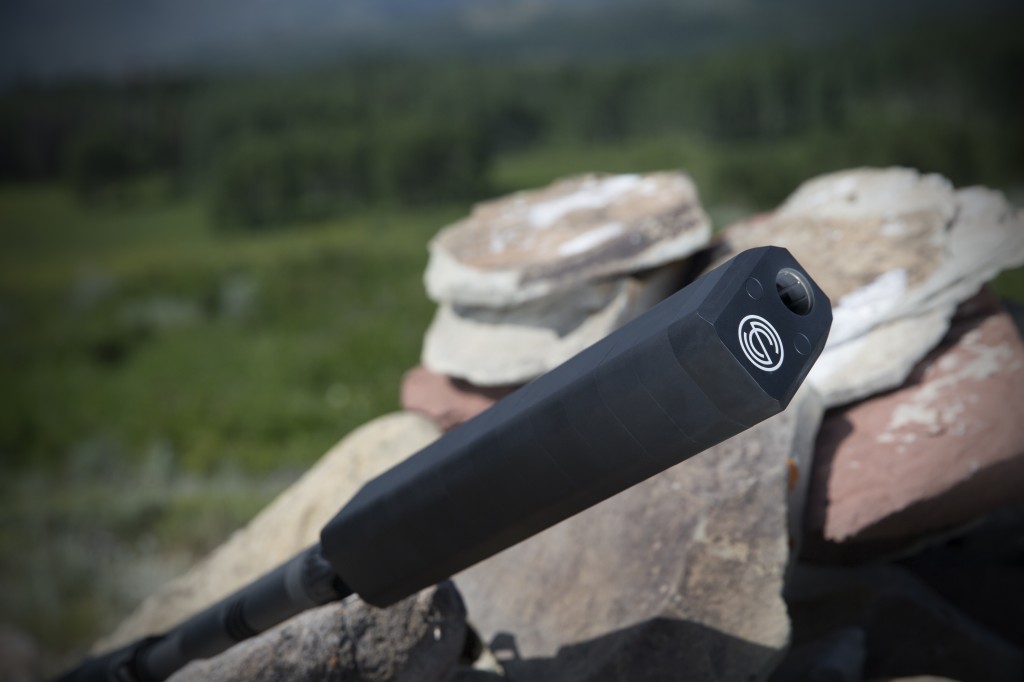 We were befuddled, confused by this partial reception.  Do you not want new, innovative products? Do you not want to see American companies which are owned, based and operated succeed? Companies that listen to their customers, and fight hard to defend their Second Amendment rights?  Seriously? For as many people that shared the excitement and wished SilencerCo success, their seemed to be just as many that dismissed and mocked the new Salvo 12. There is hardly another uniquely -American industry as firearms, and at times it feels like its own customer base is one of the LEAST American!
If you can build it better, shut the fuck up and go build it. If you can buy it cheaper, then shut the fuck up and go buy it.
SilencerCo won't stop you, hell they will encourage you because they want to see more innovation in this industry. They are shooters, citizens and patriots just like the rest of us.  Don't like the price tag of a cutting edge, intricately-precise CNC machined silencer that's user configurable? It's still a free market, you don't HAVE to buy it. You think its old news, that the Europeans have a better design? We challenge you to import one of these uber-euro designs. Just go try. Go on now. When you do, make sure you write up a side by side comparison for us.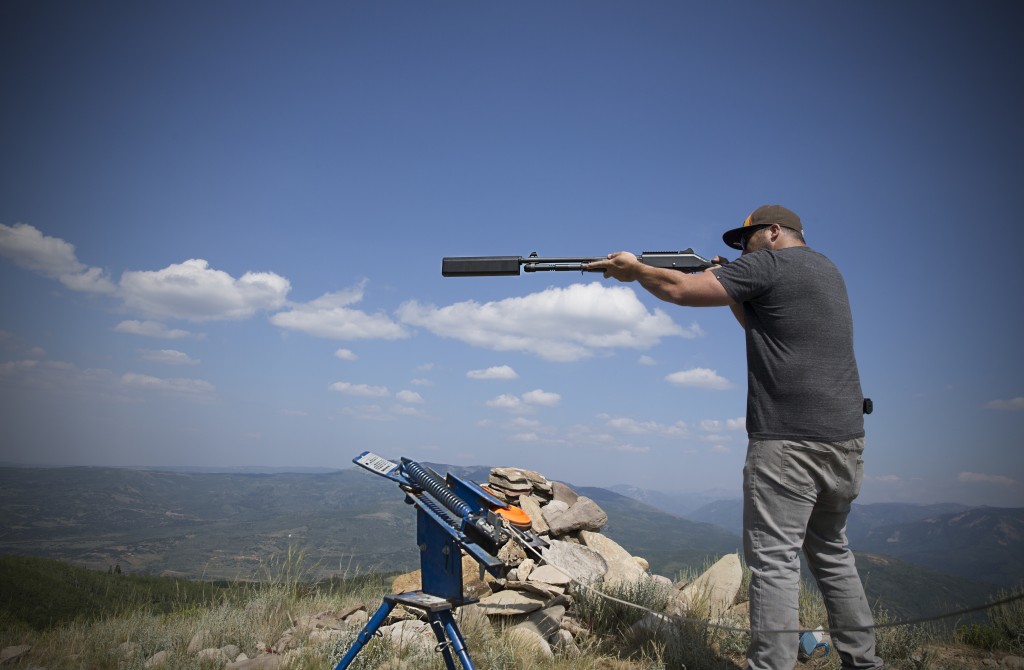 For you loyal Breach-Bang-Clear readers who have proved willing and able to have an intelligent discussion or debate about the relative merits of something, its price and its applicability and practicality (even when we disagree): thank you. A thousand times thank you. You window-lickers; go choke yourselves.
We hope that you take away two things from this article. The first is that the SilencerCo Salvo 12 is legit and here to stay. It really does do everything you are seeing and hearing from industry writers.
The second thing is a lot harder to accept. It's that despite all the best efforts of the vultures, locusts, and trolls to impede American business and stagnate innovation, the very principles that makes this country great will defeat them. Everyone is entitled to their opinion. It's our opinion that all the "pro-gun" haters need to shut their mouths if they don't actually have something relevant, intelligent and non-reactionary to say. Not only is it falling on deaf ears and making you look stupid, it's also damaging to the very thing you allegedly support.
We're all in this together, don't be a dick.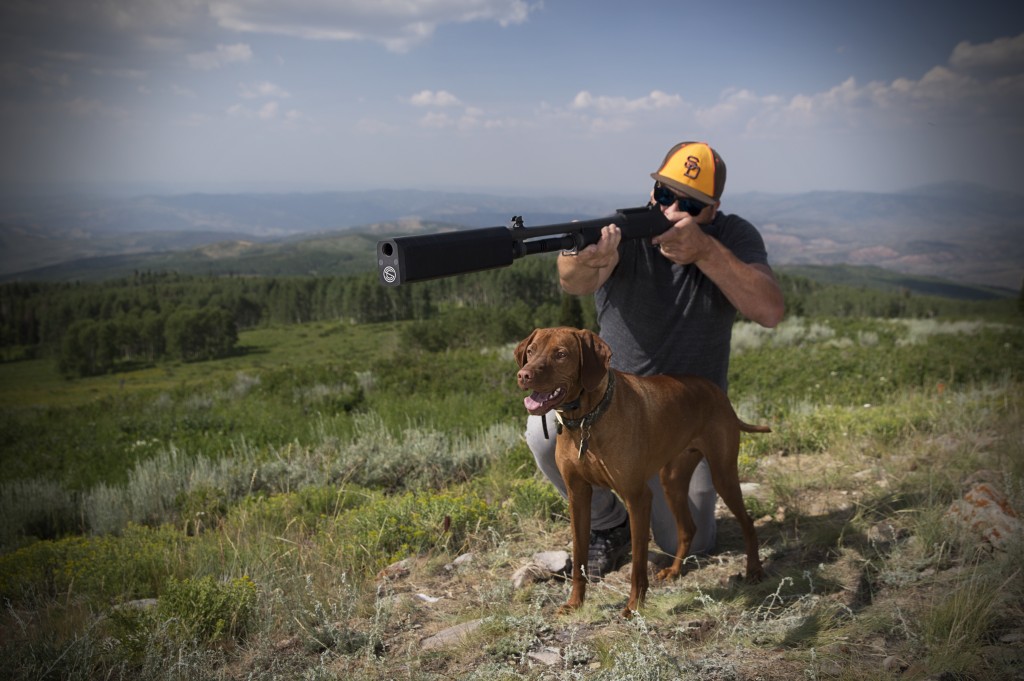 Mad Duo, Breach-Bang & CLEAR!