Say goodbye to the Coye Ridgeback and hello to the ForeRunner
Say goodbye to the Ridgeback: say hell to Coye Knives' new ForeRunner.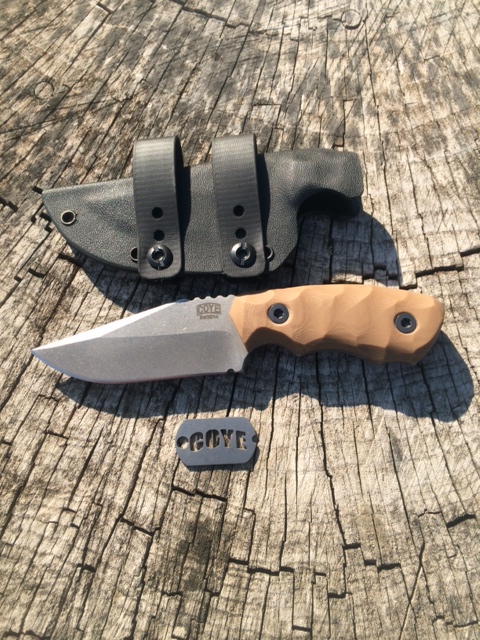 Bill Coye has been hard at work.  A custom knife maker that never settles for "just good enough", he is constantly looking to improve and refine his designs as well as increase quality.  This past year he has been slowly tweaking his acclaimed (as in the literal definition of the word) Ridgeback knife into the masterpiece he has wanted it to be. As big fans of this little knife, We here at Breach-Bang-Clear feel that's exactly what he has accomplished. Everyone on our staff has a Ridgeback and some have more than one. When we commissioned Bill to make a set of knives for our writing team, he attacked the project with enthusiasm and vigor, infusing each one with its own personality (no shit: if it sounds like we're proponents of Coye Knives, it's because we are). The man stands out from so many other knife makers on the market, and not just for his craftsmanship. His honesty, vision, and drive to create a superior blade are just a few of his more notable qualities. Bill Coye knows steel, and he's probably the most patriotic man we've ever met. We are insufferably pleased to announce the next step in his quest for perfection.
We present to you the ForeRunner, a knife that was a long time in the making.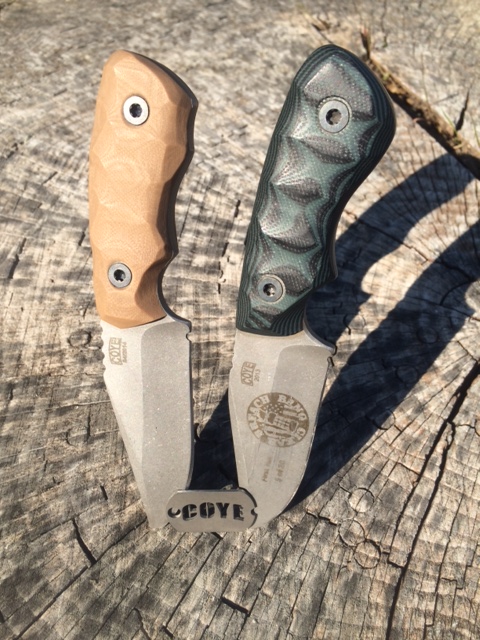 The ForeRunner is more than just an improved version of Bill's classic Ridgeback. The Ridgeback has its roots going back to spring of 2009, when Bill was approached by an Oklahoma Highway Patrol officer looking for a small fixed blade that could be rapidly deployed. Bill Coye accepted the challenge of creating a practical, multipurpose knife that would be as versatile as it was strong. With a 5/32" thick piece of Bohler Stainless steel, he created an amazingly light but strong blade with a small profile. A fixed blade that wasn't just legal to wear in most states, but convenient enough to be engrained into your everyday carry. During development, Coye created numerous prototypes of the Ridgeback; the new Forerunner actually more closely resembles a few of the early blanks.
The main differences in the knife are subtle but become noticeable as soon as you handle it. On the back ridge of the blade where you naturally place your thumb, Bill has added another notch and deepened all five notches to increase traction. As small of a change as this might be, it helps control the blade when doing fine task work.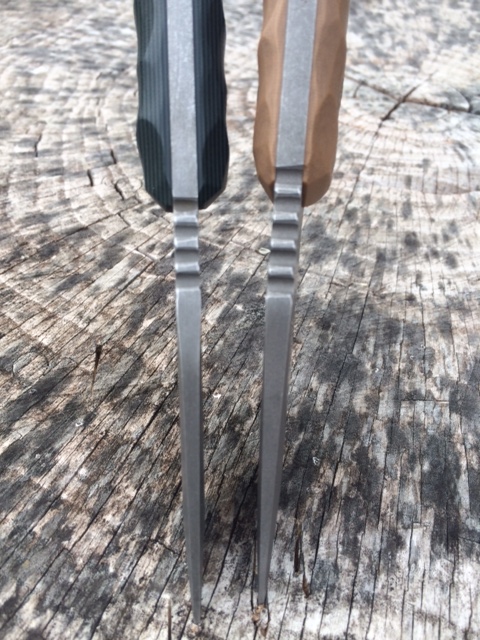 The next change is the radius that your forefinger rests in. this has been widened and swept out for beefier hands, and better draw of the knife from the sheath.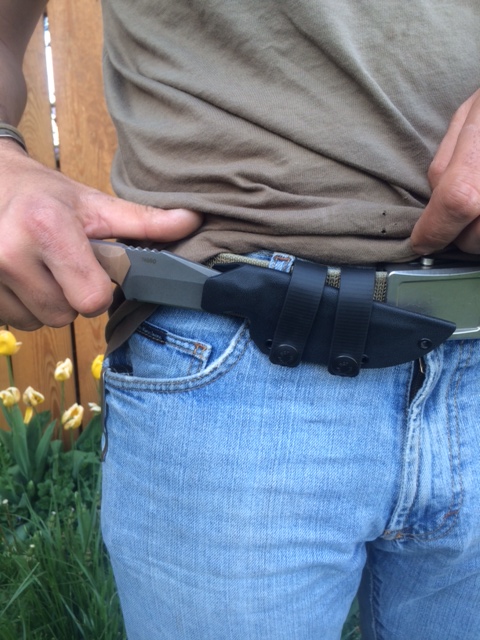 Once again, a small subtle change that is more "felt" than noticed visually.  Moving on to the bottom of the knife, there has been a small notch added where your ring finger wraps around (on the Ridgeback, this area is smooth and you miss the opportunity for another point of traction).  The last improvement is the sheath, which Bill Coye calls "the natural evolution of the design."
Though the style and look of the Ridgeback are still there, the changes have been enough of a departure to warrant a new name, and the ForeRunner more closely matches the design that started it all! Bill didn't want to lose the best features of the knife, like the compact 6.25" overall length, or the working 3.25" blade. Now for what some might consider the bad news. Effective immediately, the Ridgeback has been completely discontinued.  Bill is buiding ForeRunners as you read this (Coye Knives is currently selling the second batch of those).  For those of you still seeking a Ridgeback, you can purchase a Boker production version. they will continue to produce Bill's classic design.  To the loyal fans of Coye Knives, rest assured that as soon as you hold this knife, you will be thrilled with the improvements.
This isn't just a "Ridgeback 2" this is a whole new knife. If you are in the market for an everyday carry fixed blade that's as much at home skinning a deer as it is slashing boxes open and cutting cord, look no further. The ForeRunner is here, and it's the knife you want. Check it out here
OAL: 6.25″
Blade length: 3.25″
Blade steel: 5/32″ Bohler N690 stainless
Finish: Tumbled Slate, Dark or Light
Handle material: G10
Custom Kydex sheath with soft loops