Today Mad Duo Chris is going to rant a bit about how fakers and frauds engage in fuckery that further hurts all of those who really do have PTSD. (See the alliteration there?) It's enough to make you want to curb stomp someone. Mad Duo
A couple of months ago I was watching Fox News and a preview for an upcoming story came on. The story was about a veteran with PTSD who had been prescribed a "PTSD dog". The preview showed the back of the veteran's head and showed him petting his dog as he drove his truck. The veteran's southern drawl was evident, but his face was never shown.
I'm a veteran of Iraq and Afghanistan, and am well aware of the PTSD problem among some veterans. Unfortunately, I'm also well aware of the legion of liars and fakers pretending to have PTSD in order to get a monthly government handout. When I saw the preview, my first feeling wasn't sympathy or concern. It was, Yeah, this guy has PTSD. I bet a rocket landed two miles away when he was on a huge base, and since then he's been making up symptoms so he can get a disability check. Sure, whatever.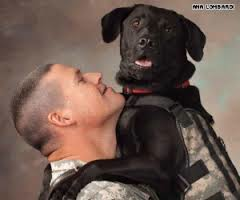 A few minutes later they showed the full story (which is here, if you're interested). When I saw the veteran, I was stunned. It was Staff Sergeant David Moore, a Georgia National Guard soldier I was with on many missions with in Afghanistan.
David is, without question, the real deal. Some of my most vivid Afghanistan memories revolve around him. The mission where he was embedded with French Marines as a liaison, yelling out casualty reports over the roar of an ambush in the background. The afternoon David led an Afghan Army platoon to get me and ten other members of a small patrol; they were ambushed, and David screamed for help over the radio while he fired through his windshield and the Afghan soldiers ran away.
And what was probably the most searing memory of my entire tour, maybe of my entire military career. Staff Sergeant Moore, a Georgia National Guard captain and I were on the crest of a hill. A dead American was strapped to a litter beside us. We were going to run the casualty down the hill, but when we lifted him the litter collapsed.
We unstrapped him. The litter looked broken. We had a short conversation about how to get him down the hill. David looked at the captain, his commander. And he said in the flattest, most calm voice I've ever heard, "Sir, we have to run him down the hill. And I mean, you and me."
The captain nodded, and I remember him telling me, almost apologetically, that I should stay there. I brushed aside his explanation and nodded understanding. David and the captain stood and grabbed handfuls of material at the casualty's shoulders. Then, under cover fire from troops on the hill and vehicle gunners down below, they sprinted down the slope. They were totally exposed to intermittent fire from numerous Taliban positions. I watched them bound toward the vehicles, their burden bouncing limply behind them, until they reached the road and relative safety.
The image of those two men risking their lives to bring a fallen warrior home has never left me.
David Moore, 3RD from right, standing back row wearing a bandana:
David also served in Iraq, where his vehicle took an IED strike. He had more than enough experiences to justify a PTSD diagnosis. He deserves the help he's getting.
So, why did I automatically think the story about him was going to be about a PTSD faker?
I think all of us combat veterans of Iraq and Afghanistan know of someone faking PTSD for free money. We hear a constant stream of stories about them: the rear-area soldier who never left the wire got arrested driving drunk shortly after coming home and immediately threw out PTSD as a defense. The Ranger sergeant I know who attended a course with a female soldier suffering PTSD because "a vehicle in her convoy got hit by an IED". No, it wasn't her vehicle. No, she didn't see it. But she was so traumatized she was on multiple medications for it. The guys who came home from a noncombat, partnering and training mission in Africa and claimed PTSD. The guys who could care less about honesty, integrity, or the problems they're causing for real victims, as long as they're getting a free monthly check.
As with any form of welfare, people are going to jump on it if it's easy money. If we make it so simple to get diagnosed as "disabled" by PTSD, we shouldn't be surprised that so many people get diagnosed. PTSD is a defined disorder with specific criteria, but its symptoms are self-reported. If a veteran says he's having nightmares and anxiety attacks, who's going to challenge him?
And our society seems to be eager to paint us all as damaged and suffering for our service. In an excellent 2012 article entitled Our sickening rush to see PTSD, and what it costs veterans, Wired magazine's David Dobbs shows how society seems to want to see us as PTSD-afflicted.
"With tens of thousands of soldiers returning to the US from Iraq and Afghanistan, Americans need to ask themselves why they so desperately want to see veterans as damaged goods. I think partly it's out of a weird logic — and some guilt — that because war is hell (and make no mistake, it is), it must plant within every soldier a devil. It does not.  The two great wonders of war are 1) it is unimaginably horrible and 2) most soldiers emerge from it not merely okay, but in the long run, better."
If society, and the VA, wants us to have PTSD, how many vets would you suppose take them up on the offer? And how many of them use that diagnosis just to make money? In a 2009 article for Scientific American (http://cl.ly/D8F3), Dobbs mentions that "most veterans getting PTSD treatment from the VA report worsening symptoms until they are designated 100 percent disabled—at which point their use of VA mental health services drops by 82 percent." So if you've got PTSD and get a check for it, what's the incentive to get better?
Some veterans stretch the truth for gain. And then there are the outright liars, many of whom spout ridiculous falsehoods about their service for years without anyone really scrutinizing them. In the excellent blog Weaponsman, writer "Hognose", a retired Special Forces Afghanistan veteran, tells his story of going to a VA group therapy session:
"A 'facilitator' steered me into a 'rap session.' ….There were four of five guys there and the 'facilitator' said I'd be sure to get along with them because they were all Special Operations vets also.
There were five or so guys, scroungy to the eye and evident to the nose. None would meet your eye. The 'SF' guy explained he didn't go to the Q-course, he got OJT because he had so many confirmed kills that SF traded for him. The 'SEAL' told a bloodcurdling POW rescue story that was awfully familiar, because it came from a Chuck Norris MIA movie.
'There was never a successful rescue of a US POW in Vietnam,' I said mildly. 'Many a
ttempts, and some successful rescues of ARVN prisoners, and early in the war, some releases and escapes. But there was no successful rescue.'
You might have heard a few papers shuffle as the phonies all looked at their shoes. 'Not one,' I added helpfully.
The phony SEAL didn't challenge me, but the 'Facilitator' did. He hustled me out and said, 'You must never question a veteran's experience! He was there, you were not.' But I know the history. The 'vet,' if he was a vet — the VA is not all that scrupulous about checking — was somewhere, but he sure as hell wasn't on a POW rescue that never happened, unless he was an extra on the set of Mission MIA XVIII or something."
More recently, we've heard the story of dozens of retired NYC cops and firefighters who scammed the system for years, after being coached on how to fake PTSD symptoms. And the Air Force Public Affairs officer who was diagnosed with Adjustment Disorder, "A milder form of PTSD", after eating dry meat and soggy vegetables and hearing vulgar talk on an Afghanistan deployment. And the Air Force drone operator who spoke of being crippled by PTSD after killing 1600 men. Actually, it was his entire squadron that participated in the deaths of 1626 enemy, over a period of years. He operated a drone on seven missions where someone else, not him, fired a shot. He never really killed anyone. But he's got PTSD, maybe because he "didn't join the military to kill people".
Right or wrong, combat vets like me who know guys with legitimate PTSD problems feel nothing but disgust at those who whine, exaggerate or flat-out lie about their experiences. And maybe I'm the only one who feels this way, but it seems that the fakers outnumber the real victims by about 5 to 1.
And until the real victims outnumber the fakers, I'll be automatically suspicious of anyone claiming PTSD. And that sucks. Not for me, but for David Moore. And for every other vet who actually suffered horrible trauma in combat and needs help dealing with it.