Operation Jade Helm: All Your Texas Are Belong To Us!

Jade Helm is all the rage. We've gotten dozens of emails and messages and links from all fronts. Like the usual message traffic, they range from RFI's, complaints (from all sides), to moon bat. Well, in today's OP-ED, Hernandez is here to bring you his insights on the plenary plan. Read up. Mad Duo
Grunts: Plenary
Operation Jade Helm: All Your Texas Are Belong To Us!
Chris Hernandez
Curses! Our sinister plot has been discovered!
Somehow Jade Helm, our "training exercise" [wink wink], has been revealed as a plan to wage war on Texas. We tried to trick the public into believing it was just training, but the sheeple didn't buy it! Astute internet investigators, none of whom usually have a clue what they're talking about, nailed this one!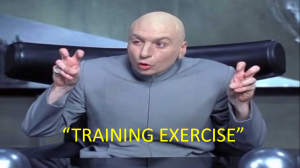 Jade Helm is a ruse, a way for the military to invade Texas. Which sounds weird, since Texas is in America and already has tons of military bases full of military personnel. So, like, if the military wanted to invade and stuff, they could just book a vacation to Dallas or something. But nevermind all that! We were going to invade Texas!
And we would have gotten away with it too, if not for those meddling truthers!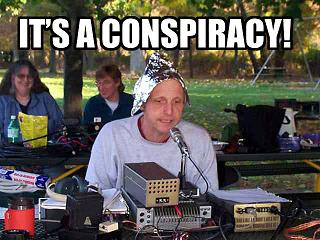 How could our plan have been leaked? Our operatives followed every top-secret, MK-Ultra protocol! They put a public news release on the internet, notified local officials and private citizens in the "training" area, published a Jade Helm PowerPoint presentation, and held a public press conference. But despite all that secrecy, people somehow found out about it!
Alex Jones and his buddies must have seen through our charade. And we were so close! All our TFTDOF (Tools For The Destruction Of Freedom) were in place. We closed Wal-Marts and turned them into FEMA death camps, dug miles of tunnels interconnecting them so we could move Texas patriots to the gas chambers without arousing suspicion, and prepared our Special Forces to confiscate everyone's guns. It's all true.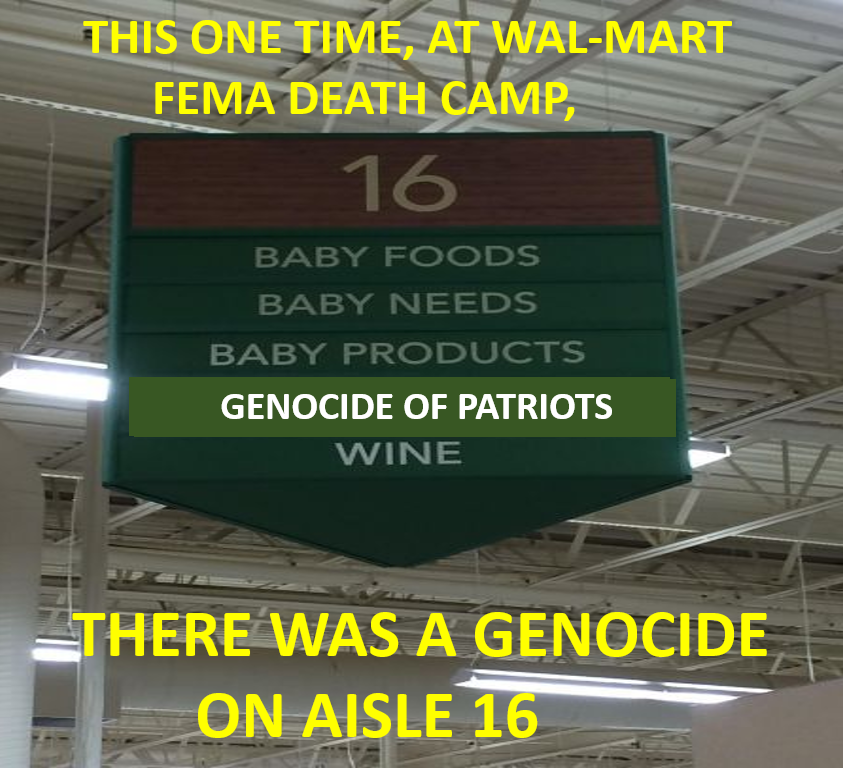 Anyone with a brain might wonder how we managed to dig all the tunnels connecting our closed Wal-Mart FEMA death camps without attracting attention. You'd think a gigantic tunneling project which would require hundreds of vehicles, thousands of workers and the movement of thousands of tons of dirt over a period of months, would have been noticed by someone. But nobody did. Know how we pulled that off? I have no idea! But we must have done it, or multiple morons wouldn't believe it! Right?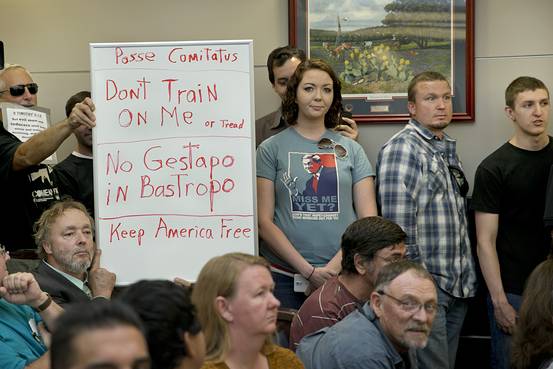 Sure, reasonable people might think Jade Helm really is just training and therefore no big deal. They might believe it's conceptually the same as the Special Forces Robin Sage exercise that's been held on public land in North Carolina for decades. They might notice North Carolina somehow isn't under martial law. They could also point out that our military conducts permissive environment training in public on a regular basis. People with at least two brain cells to rub together might look at these facts and conclude Jade Helm fear is hysterical stupidity.
But they'd be wrong! Unlike Robin Sage, Jade Helm isn't in North Carolina! The Posse Comitatus Act clearly states, "Any military training held off post that's not in North Carolina constitutes an illegal invasion of America." At least, that's what I think it says. I've never actually, you know, read it or anything. But I'm sure Jade Helm violates Posse Comitatus!
If Jade Helm wasn't really a secret plot to invade Texas – and IT IS – one might say it's pretty damn stupid for so-called "patriots", like the ones at the Jade Helm public meeting near Bastrop, Texas, to accuse our military of preparing to commit treason. Especially since that military has been fighting, bleeding and dying to defend America for the last fourteen years. But they'd be wrong again! The brave patriots in Bastrop were absolutely right to cheer a Special Forces spokesman's military service while simultaneously accusing the military of plotting to invade Texas.
Know why those patriots were right to do that? BECAUSE WE REALLY ARE ABOUT TO INVADE TEXAS! Great job digging up the "truth", patriots! You're the smartest conspiracy theorists EVAR!
Now that the death camps and tunnels are ready, we just need to move the Special Forces troops in. We're bringing over twelve hundred. That's right, bitches, twelve hundred. For the entire exercise, spread out over seven states. So maybe a couple hundred in Texas. What? You think two hundred Green Berets couldn't control thirty million Texans, who own millions of guns? You think the 23,000 Texas Army and Air National Guardsmen, which includes a company of Texas' own Special Forces, might stand up to two hundred SF troops invading Texas? You've obviously never read a Tom Clancy novel. Two hundred SF operators can do anything.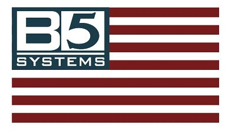 Fortunately for you Texans, Governor Alex Jones – I mean, Greg Abbott – called out the only force on earth that could possibly stop the invasion: the dreaded and deadly Texas State Guard.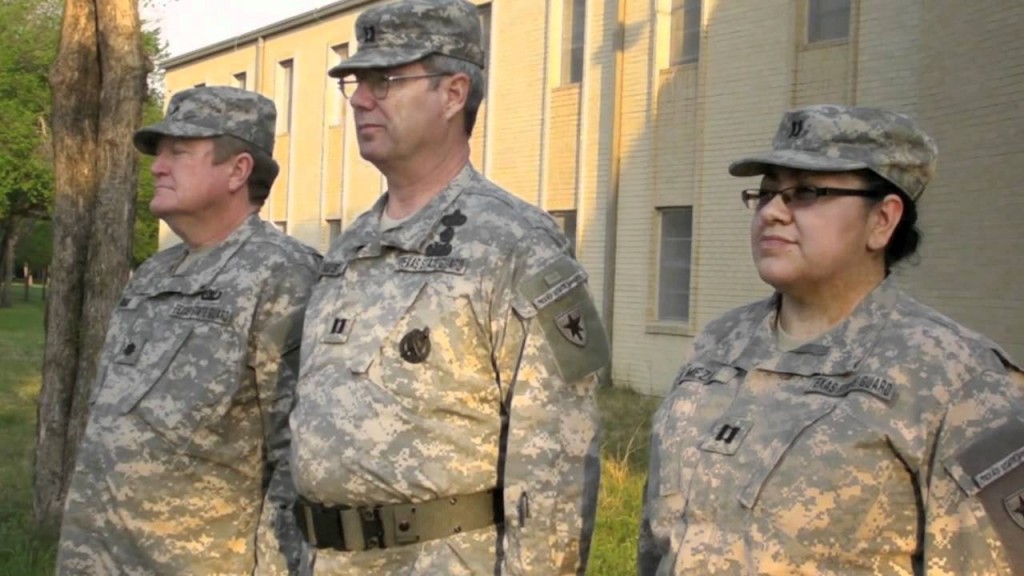 Now, anyone who actually served in the military would probably say, "If I was going to wage war against Americans, Special Forces are the last guys I would use." Within the military, Special Operations troops are generally regarded as the most independent, least willing to tolerate stupidity, and most likely to resist government tyranny rather than enforce it. It's reasonable to assume that only hysterical, frothing-at-the-mouth conspiracy-theorist lunatics would believe Special Forces troops were going to wage war on America. But who knows the military better, people who actually serve in it or obese civilian idiots who type "WAKE UP, SHEEPLE!" from their mothers' basements? I don't know about you, but I'd trust the fat idiot in mom's basement every time.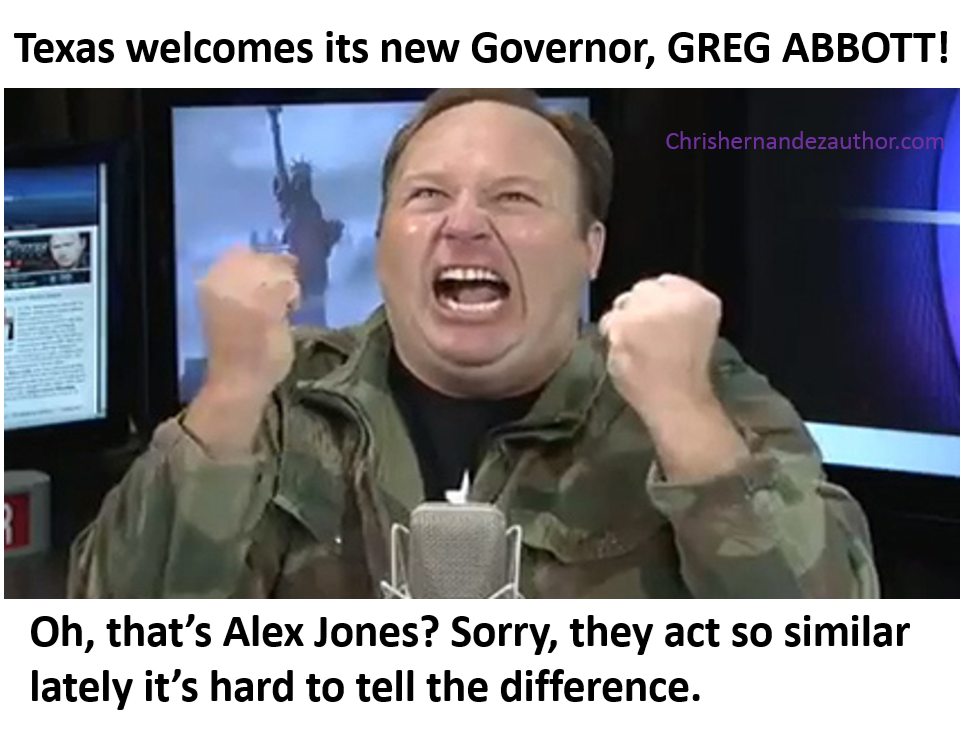 So the fat idiots found us out. But you know what? It's too late! Jade Helm is already rolling! Nothing can stop it, not even the elite Texas State Guard! You're all doomed!
You hear me, Texas? YOU'RE DOOOOOOOMED!! HAHAHAHAHAHAHAHA!!!
P.S. One final note to conspiracy theorists: Jade Helm ends September 15th. On the off chance you wake up September 16th and discover you're not in a Wal-Mart/FEMA death camp and still have all your guns, maybe you should shut your stupid fucking mouths.
Mad Duo, Breach-Bang& CLEAR!
Comms Plan
Primary: Subscribe to our newsletter here or get the RSS feed.
Alternate: Join us on Facebook here or check us out on Instagram here.
Contingency: Exercise your inner perv with us on Tumblr here, follow us on Twitter here or connect on Google + here.
Emergency: Activate firefly, deploy green (or brown) star cluster, get your wank sock out of your ruck and stand by 'til we come get you.
Chris Hernandez Mad Duo Chris (seen here on patrol in Afghanistan) may just be the crustiest member of the eeeee-LIGHT writin' team here at Breach-Bang-Clear. He is a veteran of both the Marine Corps and the Army National Guard who served in Iraq and Afghanistan. He is also a veteran police officer of two decades who spent a long (and eye-opening) deployment as part of a UN police mission in Kosovo. He is the author of White Flags & Dropped Rifles – the Real Truth About Working With the French Army and The Military Within the Military as well as the modern military fiction novels Line in the Valley and Proof of Our Resolve. When he isn't groaning about a change in the weather and snacking on Osteo Bi-Flex he writes on his own blog, Iron Mike Magazine, Kit Up! and Under the Radar. You can find his author page here on Tactical 16.