It seems that when you make your bones as a tactical tomahawk company, it's best to keep your toes firmly rooted in the deep history surrounding hawks and their history. Ryan Johnson of RMJ definitely has that background. He got his start in the tactical market after building historical hawks as a blacksmith. He was asked for a tactical hawk by a soldier and before long demand jumped so high, he needed to take a different route. Ryan teamed up with business partner Richard Carmack, and RMJ Tactical was off and running.
Fast forward a few years and RMJ became an extremely successful tool company. Then Ryan's love of all things tomahawk and history kicks in and he got an idea to restart the American Tomahawk Company. Now if you haven't heard of ATC, that's ok, but they were the FIRST, the granddaddy of the tactical tomahawk business. ATC started back in 1966 by Peter LaGana to make the Vietnam Tomahawk of Peter's design.
Here are some ATC snapshots of LaGana, back in the day.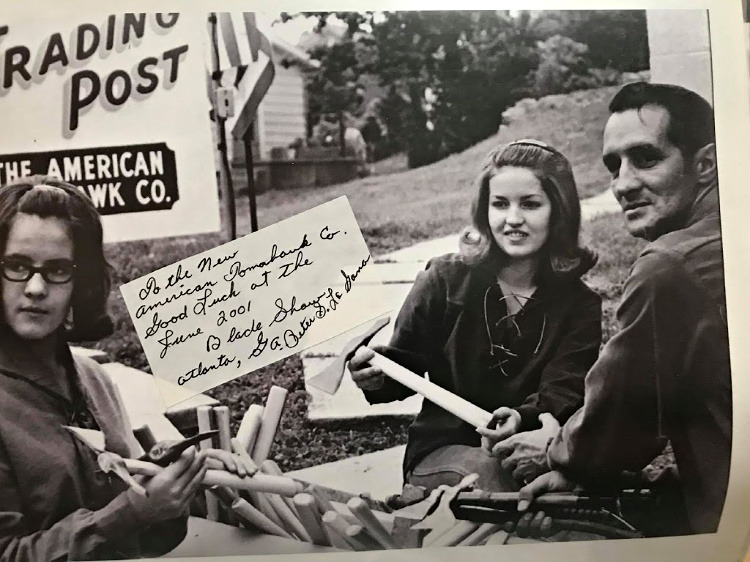 Peter LaGana showing off a Vietnam Tomahawk. Photo courtesy of Bobby Branton.
Unfortunately, ATC went under and the only avenues to get a LaGana hawk were to find an old one, which were quickly becoming impossible to find, or you could get an unlicensed copy.
Back in Business
In 2000 ATC was brought back and reopened by Bobby Branton and Andy Prisco, who did it the right way when they reopened ATC with the rights to the designs it had produced. They even updated the design with the new options of a polymer nearly-indestructible handle which fixed both of the two weak-points on a hafted hawk: the handle breaking, and the attachment of the handle to the head.
To top that off they got a Nato Stock Number issued for the hawk (NSN 4210-01-518-7244), which can be a huge undertaking. The hawk wound up as issued equipment on Stryker vehicles as an entry tool and as rescue gear. A few years down the road and ATC again shut the doors.
Later, Ryan Johnson of RMJ got the rights to reopen ATC and make the classic designs, AND he went the extra mile, well quite a few miles. Ideally, he would have talked with LaGana directly for input to do the hawk right, but Peter had passed away. So, Ryan hunted down the original ATC Vietnam Tomahawk dies used to make the hawk heads and took a road trip to find them to use as a starting place for manufacturing new dies.
Armed with the original dies, the ATC name, and the rights to the intellectual property, Ryan and his crew at RMJ Tactical set to work making new dies and building the new ATC Model 1. While it's a direct descendent of the original LaGana, it has evolved over the years.
The Model 1 is a Tactical Tomahawk With Modern Improvements
The notable changes are the optional swap to a nearly indestructible handle, a thinner blade profile to make the blade cut better, and the omission of a sharpened beard. The one-piece construction tactical tomahawk fixes both the weak points of the handle breaking and the handle-to-head attachment. As for the blade, it's still profiled to allow the end-user to sharpen the beard, it just doesn't come sharpened. The spike is designed to penetrate metal and wood as well as shatter concrete or glass. Simply put, the ATC head cuts better and the spike breaks stuff better due to the LaGana Design.
The Sheath and Handle Are Pretty Cool, Too
There is also the swap to a straight pull polymer sheath from the older style leather or synthetic top draw. This allows for secure carry yet quick access to the hawk with a variety of mounting options. And they offer color options of black, green, or tan as well as classic hickory handled with a lasered logo burned into the handle.
You can get it your way. Wood hafted, or Nylon 66. Black Green or Tan. Want a sharpened beard? It's profiled for it. It's made based on the classic and proven design from Peter LaGana, built by RMJ Tactical in Chattanooga Tennessee so you know its as American Made as it gets. It's tough, drop-forged from 1060 carbon steel, and it's built the right way with respect to the late designer and pioneer in tactical tomahawks, Peter LaGana. All with an MSRP of $189
Available from American Tomahawk.

 This article may contain affiliate links. If you make a purchase using such a link, we will earn a small commission from that sale at no additional cost to you. 
Like what you read on Breach-Bang-Clear? Consider joining our Tactical Buyers Club.