MNKF: The Mora Eldris
Ryan Houtekamer
You call that a knife? Now, this is a knife… albeit a very small one.
Mora came out with the Eldris in the past year and we were itching to get our hands on it. If you're not familiar with Mora Knives, or Morakniv (which sounds much better when uttered by drunk Europeans), they tend to be some of the best bang for your buck when it comes to knives.
The designs are solid, comfortable to use and did we mention the come almost filet knife sharp? Not only that but their prices can't be beat – unless you're buying a Swiss Swarmy knife from an Asian knife store in Chinatown.
We were interested in the Eldris for several reasons. First of all, it's a small handy-sized neck knife with a flat spine which can be used to strike ferrocerium rods. Its convenient retention system means you won't be stumbling around on a beach at night in a drunken stupor and have it fall out, never to be seen again (I'm looking at you, nemesis neck knife).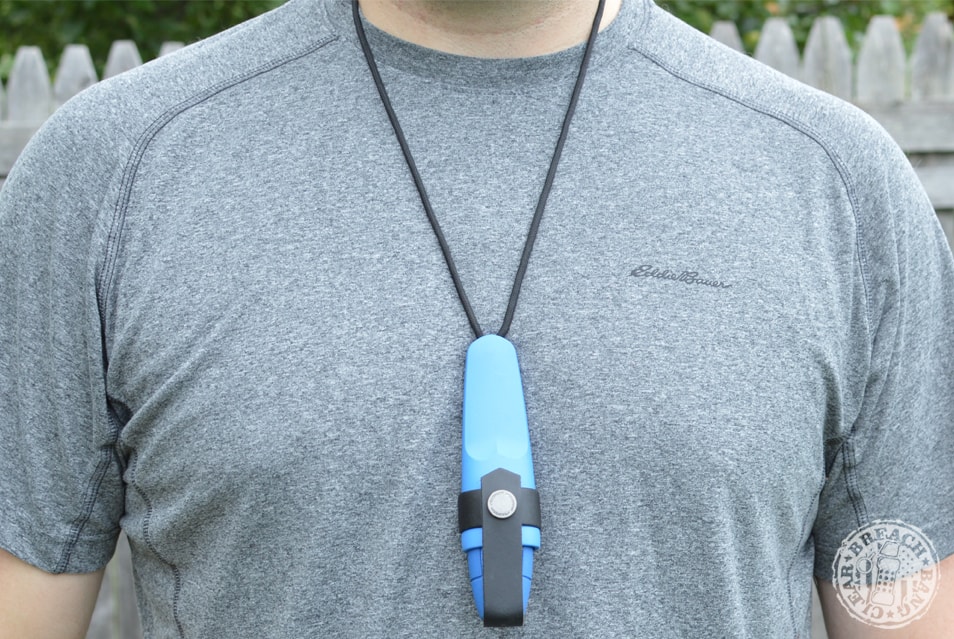 Speaking of the retention, the Eldris comes in two forms: with neck knife kit and without. The neck knife kit has a ring with a snap on it and a leather strap. This slides onto the knife with the strap straddling the butt of the knife to keep it in place while inverted.
The kit also comes with paracord to make a neck lanyard and a ferrocerium rod. We would have liked to see a holder on the sheath for the Ferro rod, but the lanyard loop can be looped onto it if need be. The Eldris has a full thickness handle and isn't skeletonized so while it is noticeable under a shirt, that's okay – it's not designed to be concealed, it's made to cut stuff in the woods.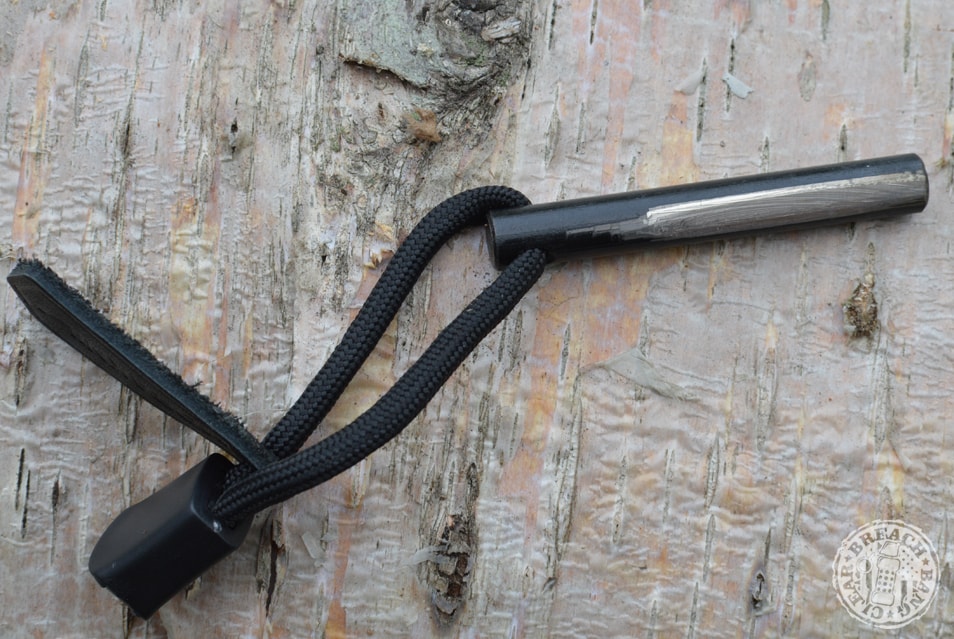 The thick handle on the Eldris lends itself to a very comfortable and usable grip. Your hand won't fatigue which means tasks like making large feather sticks can be done with ease. 'What the heck is a feather stick?' I hear some of you ask. Well, it's when you take a dryish piece of wood and cut long slivers into it that you leave attached, sort of 'feathering' the stick. After your tinder is burning, the long thin slivers ignite easily catching the larger piece of wood on fire, so it's like having tons of tiny pieces of kindling.
The Mora Eldris also cuts through meat like a damn shark with a frickin laser beam attached to its head and the rear of the blade is ground flat to be used for striking a Ferro rod. The neck kit comes with one such rod that throws a ton of sparks. Over the past several months we have used it exclusively to light our wood-fired BBQ, fire pit and anything else that needs fire. The included Ferro rod works fantastically, however, we did replace this one with a much larger rod.
If you're looking for a bombproof knife that can pry open steel drums and be used for an ax, perhaps you should look elsewhere. But if you're looking for a small, razor-sharp knife with finesse, then the Mora is the knife for you. At around $30 for the knife and another $25 for the neck kit, it's a screaming good deal. You can also buy the whole thing as a single kit for $50 if you aren't buying it bit by bit.
You can get yours from the North American importer Industrial Revolution here.
Find 88 Tactical on the Book of Face right here, or on Instagram @88tactical. You can subscribe to 'em on Vimeo too. 88 Tactical is a member of JTF Awesome.

---
---
If you wish to share or repost, please so kind as to follow our terms and conditions.
Mad Duo, Breach-Bang& CLEAR!
Comms Plan
Primary: Subscribe to the Breach-Bang-Clear newsletter here; you can also support us on Patreon and find us on Pinterest.
Alternate: Join us on Facebook here or check us out on Instagram here.
Contingency: Exercise your inner perv with us on Tumblr here, follow us on Twitter here or connect on Google + here.
Emergency: Activate firefly, deploy green (or brown) star cluster, get your wank sock out of your ruck and stand by 'til we come get you.
T&C: All original material published by Breach-Bang-Clear is the copywritten property of Breach-Bang-Clear, Inc. If you wish to repost, republish, or otherwise share our content, feel free to reproduce an extract of up to 225 words and one complete, unaltered image, preceded by attribution crediting the source and author's name, to include a link to the Breach-Bang-Clear home page, with a link back to the full article on our website, BreachBangClear.com. You do not require our permission to do this. Please do not reproduce our content in its entirety without contacting us first. We do allow full syndication on a case by case basis (credited, and posted with a canonical link, as is common practice and in good form) but only when mutually agreed upon beforehand. If you wish to reproduce a complete article, please contact us for permission to publish first.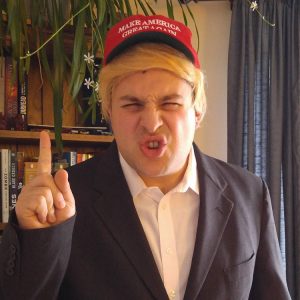 Aboot the Author: What can we say aboot Ryan Houtekamer? Well, he was a cannon cocker in the Army for a while, then moved on to some sort of metal-bending aircraft structural engineering type billet in the Canadian Air Force.  He's a keen outdoorsman, spelunker, and fisherman who loves to tinker with all the things. Houtekamer is Breach-Bang-Clear's northernmost Minion; he actually lives where it costs us extra to ship stuff to 'cuz if has to go by dogsled part of the way.
True story.
Houtekamer actually enjoys cold weather and revels in bombogenesis. Come to think of it, he'd fill a pretty good supporting role in a Jack London story. You can follow him on Instagram, @2centtac  if you like (his tag is not, as you might expect, @Rhinopithecus bieti Canadius giganticus); there you will discover that he's not just gear-curious, he's a nerd too.
Grunts: bombogenesis.