MNKF: Half Face Blades Crow Scout
Monday Night Knife Fights: Half Face Blades Crow Scout
One of the in-jokes about the custom knife world is that every knifemaker makes knives for the Navy SEALs. There is some truth to it, or else it would not be funny. However, one small custom shop stands a little bit apart from the rest: Half Face Blades.
Founded by retired Navy SEAL, Andrew Arrabito, Half Face Blades was born out of filling a need for knives with personality in addition to function and lethality.
When we said he stood apart, it's because he was actually in the Teams. Not too many "SEAL Knife Makers" can say that.
Half Face's knives have an eerie and antiquated feel about them. They may not have a hand rubbed mirror polished finish or a fancy CERAKOTED camo pattern, but they have the look and feel of a good working knife with an artistic kick. Arrabito is skilled in forging blades and does a fine job at blade engraving on a few models.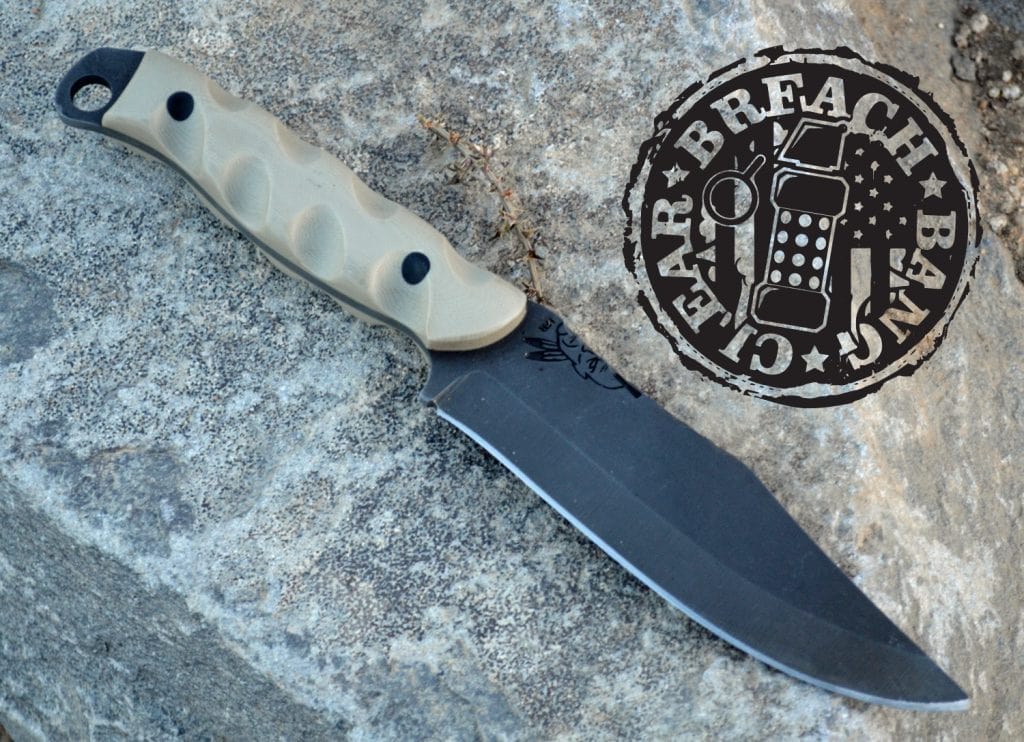 Arrabito works primarily in Crucible's CPM S35-VN. This is a stainless steel said to be an improvement over Crucible's S30-V. The chemical composition includes vanadium and chromium, and is supposed to offer improved toughness and wear resistance over S30-V. Crucible states that it offers superior edge retention than other stainless steels such as 440-C.
Half Face sent us one of his flagship models, the Crow Scout, to use in our tracking course last month in the wilds of Southeastern Arizona.
The Crow Scout reminds us of a traditional 19th century clip point trade knife in size and shape, but Andy put his own unique style into it and you can tell this design is built on things that were proven and probably as he saw them first hand.
Yet, he still makes his tactical features "artlike".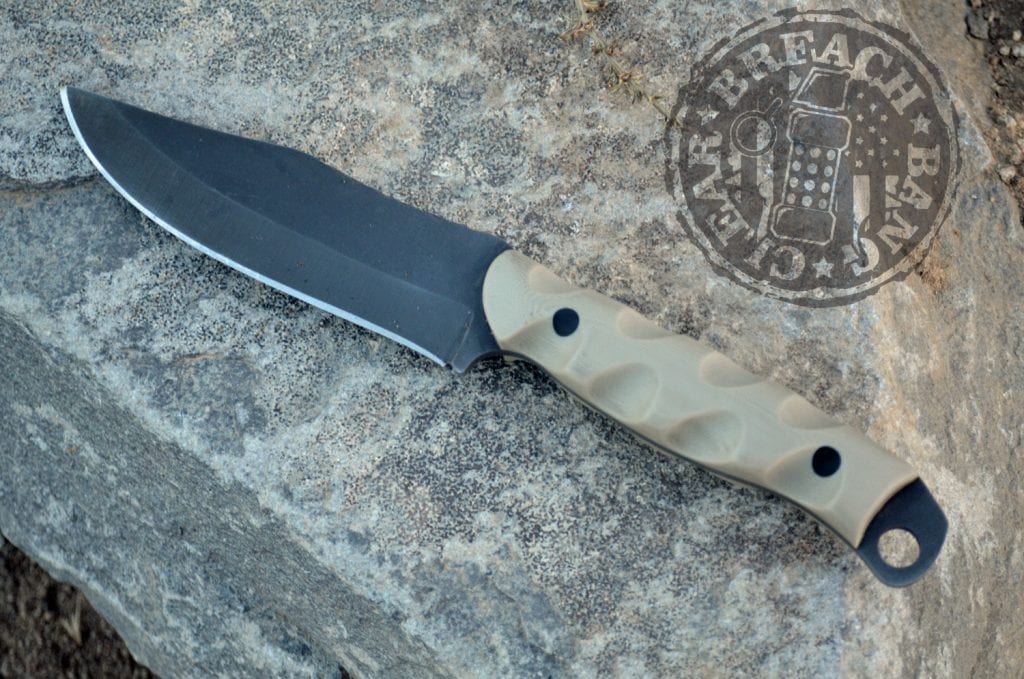 Like a trade knife it lacks a guard, but Arrabito puts a nice good-sized choil as a safety feature to prevent your hand from slipping forward should you be working in a wet environment (caused by water, oil or blood).
Robust filework which looks aesthetically pleasing actually fits the bill as traction grooves on the spine, too.
We had a timeless design made in the best modern materials: a razor sharp blade, an ergonomic G10 handle and a leather sheath.
Yes, that's right, a leather sheath.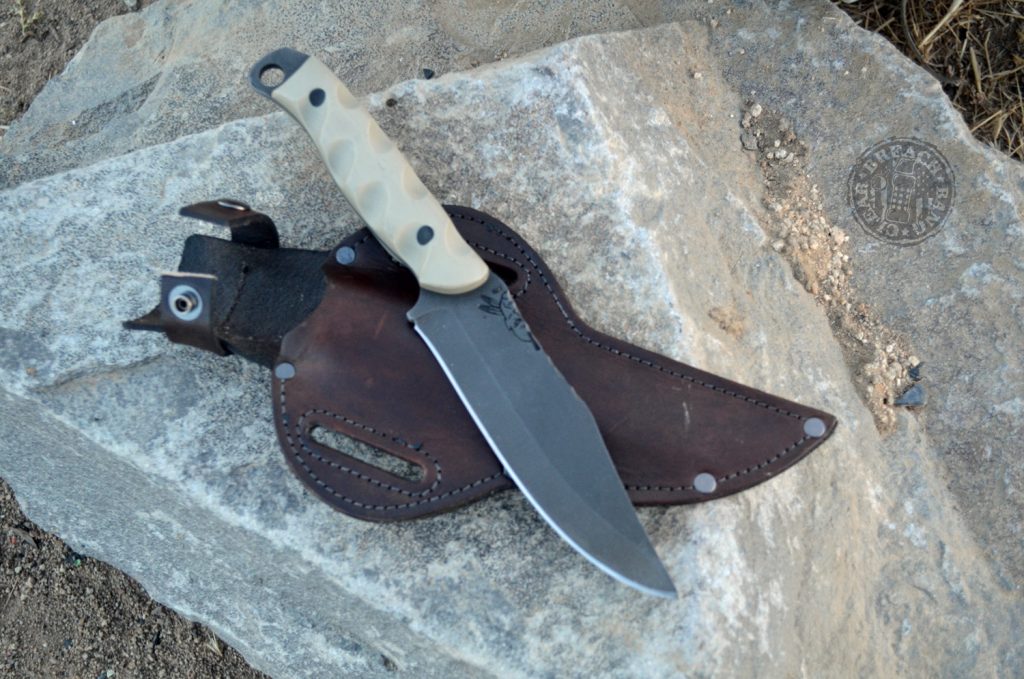 When we signed up for Jim Grasky's and Freddy Osuna's classes, we were anticipating a journey back in time and envisioned ourselves riding through the Southwest with a brace of Single action Colts or Rugers, a lever action carbine and a period style blade.
That is, until we had heard that the Cartel dumped a body in our AO a week prior.
A Smith & Wesson M&P with a lot of magazines and a Chiappa Rhino in 357 replaced the brace of Colt six guns and a Sionics Carbine with a rig full of 30-round magazines stood in for our saddle ring Winchester, but our Crow Scout in it's period leather sheath remained a constant.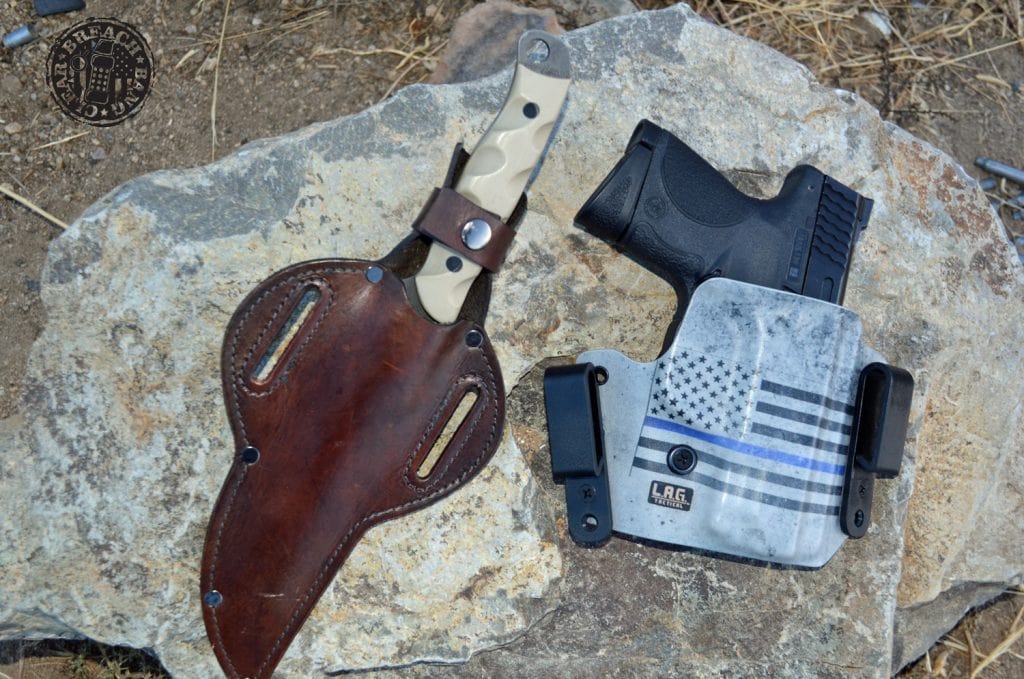 Like his blade work, Arrabito's sheath work is outstanding. As a maker, he truly embraces all of the craftsmanship that goes into a knife.
As a knife the Crow Scout seems to fall into that sweet spot. It is light, fast in the hand and capable of just about anything you throw at it. Too many fighting knives tend to go overboard on size. When you're in the Fleet or the Field or Off the Grid and every last ounce counts, you won't leave this one behind to carry more water.We found it to be the perfect fixed blade for carry.
The sculpted G10 made for a very ergonomic design in the forward and reverse grip.
This was one of those knives you pick up and never want to put down.

We particularly liked the oversized lanyard hole because it actually works should you need to attach a lanyard while wearing gloves or don't have midget sized dick beaters. It seems too many "tactical makers" make these holes so small that you need a needle and thread to get paracord into them!
Overall length: 8.75″
Blade length: 4.25″
Handle length: do the math (and show your work)
Blade steel: CPM S35vn
Rockwell Hardness: rc61
Handle: G10
---
---
[You can find Half Face Blades online here]
Breach-Bang & CLEAR!

This Post is part of our Trails Found Series. What is Trails Found? Members of BreachBangClear and some other badass media outlets assembled together this last September to train with one of the last of what has been called the "old Border Breed", in the desert of Arizona. That man they were training with was no other than the legendary Jim Grasky. In 1965 Jim Grasky was a young Special Forces soldier in Vietnam, then in 1970 he was a the squadleader for a team of smoke-jumpers parachuting in to fight remote wildfires. For about a quarter century after that he was a Border Patrolman, and literally named BORTAC. Though Grasky is a man of many talents, one of his specialties is man tracking–which is why he developed programs specifically for USSOCOM and has taught the world over. Through your various social media outlets you can track other articles and photos related to Trails Found by searching for #TrailsFound16 and #GoodGearMatters.
---
Comms Plan
Primary: Subscribe to our newsletter here, get the RSS feed and support us on Patreon right here.
Alternate: Join us on Facebook here or check us out on Instagram here.
Contingency: Exercise your inner perv with us on Tumblr here, follow us on Twitter here or connect on Google + here.
Emergency: Activate firefly, deploy green (or brown) star cluster, get your wank sock out of your ruck and stand by 'til we come get you.