Mission First Tactical : Battlelink Minimalist Stock
Wherein we take a look at the Mission First Tactical "Minimalist Stock."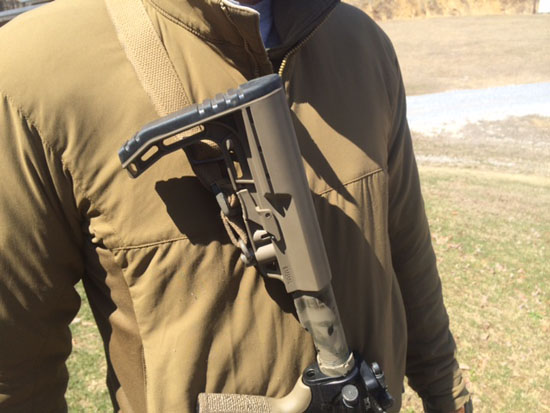 Touting their Battle link Minimialist Stock as the lightest on the market, Mission First Tactical has made some big claims for their new line of AR/M4 accessories. We have been using this 6 oz tough polyamide (read super strong DuPont polymer) stock for the last few months, from informal range sessions to demanding carbine courses and figured it was time to let you know what we think.
It's shaped in unconventional "L" or maybe better described as a slightly turned "J" shape- it definitely stands out from the pack. Just about ANY stock is better than the standard issue stock, and increasing numbers of shooters (both civie and military) have been realizing this. For years our friends at Magpul have been molding great replacement stocks, however one company cannot be expected to have every answer. For those requiring the lightest, slimmest profile and increased features over the G.I. model, this just might be the ticket.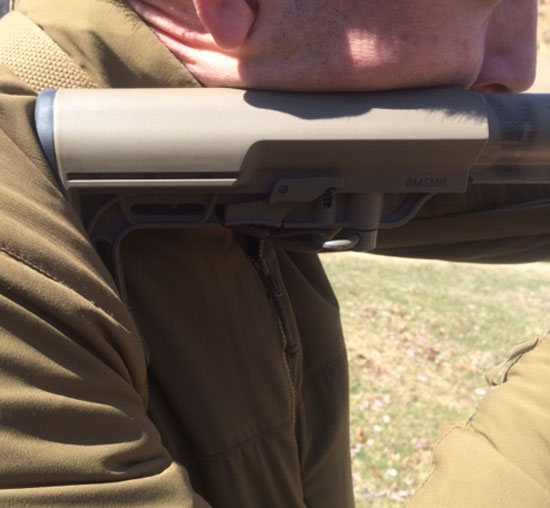 Although it's small and light (only 6 oz.) the Battlelink Minimalist Stock has everything we demand in an improved stock. It features a low-profile adjustment catch, a rubber buttpad and a QD sling swivel socket.  At exactly 7" long, the designers added polymer to all the spots that need it and left the unnecessary bulk off.  The top of the stock isn't round like a normal M4 buttstock, but has a flared, gentle curve profile. We found this to make for a very pleasant and consistent check weld.  For those that have a "numbered" buffer tube ( I.E. buffer tube with the stock positions engraved along the top spine), there is a small "window" for you to see the setting number. Oh, you don't have a fancy-boy buffer tube? The ad hoc  field fix is to steal…err borrow your girlfriend's nail-polish, place a red dot (or whatever color you want) of paint where your favorite setting is and allow to dry before collapsing.
If you are the kind of dude to use one setting for body armor, and another for when you are slick, then use two different colors. Bam! It's that simple.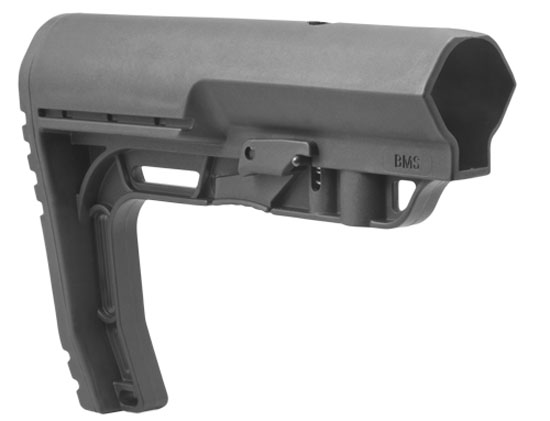 The rear of the stock is home to the rubber, teardrop shaped butt-pad. The rubber grips t-shirts as easy as it does cordua nylon body armor. We are very impressed with this type of pad, it appears to be as "grippy" wet as it is dry. This is good for those that brake their fall with the stock when going prone, or when pushing back up in the wet grass or mud. (or even just walking around in the rain).
The slightly inward-curve to the buttstocks toe is comfortable and secure in the shoulder pocket, and "rolls" nicely into position when bringing the stock up from the low ready. Wearing a low profile rig or plate carrier, you can hook the toe behind the shoulder strap so that it doesn't interfere with presenting the rifle.  The added benefit to this open "L" shape, is that its handy to hook onto other things. We find that it hangs nicely in a house closet off  of a  pole, or large nail  hammered into the wall of a Seahut. Hell, if you want you can use the stock's unique shape to hang it securely just about anywhere.  Overall, we are pretty pleased with the design, quality and price of the minimalist stock. At $59.99 MRSP, we reckon it's worth picking up and giving a try. Oh, and one last thing. Its American made, so more points for that! Check out the factory specs and webpage below.
http://www.missionfirsttactical.com/Products/Battlelink-stocks/BATTLELINK-Utility-Stock_5
• Slide-on replacement for original collapsible butt stock.
• Angled non-slip rubberized buttpad allows faster presentation, even with body armor.
• Quick Detach Sling mounting point is positioned for optimum usage including ambidextrous shooters
• Upper section provides enhanced cheek weld
• Patent Pending
• Made in the USA
You can read COWAN!'s earlier review here.