JTT: Threaded Barrels and You
Just The Tip: Threaded Barrels and You
Alexander Crown
Thread pitches can be your best friends, or they can haunt you like that time you accidentally pulled up hardcore porn on the big screen during a team leader meeting when all your bosses and the founder of the company just wanted to see the Facebook analytics. Not that I know.
In the firearms world we have general rules most manufacturers follow when it comes to thread pitches, but some people want to be that bright shining star and do their own thing. Several years ago my good friend Joey Harris started a running list of these "I want to be different" types, and it keeps growing. We give this quick reference sheet to all new Gemtech employees to hang at their desk so they can help customers with their thread pitch needs. This list is not a definitive guide but can be advantageous for the novice silencer nut or gunsmith who may not be sure how, for example, an FS2000 is threaded.
You'll notice a theme in that most thread pitches have a standard (read: "American") size and a metric brother (read: "weird, backwards, and didn't go to the moon"). The easiest example would be 9mm; our standard would be ½-28" and the metric would be 13.5x1MM left hand. The two are fairly easily distinguishable when compared and play an important role in mounting a silencer or compensator.
When talking about mounting silencers it's important to note barrel shoulder. Most barrels have a decent shoulder and that is typically where a silencer likes to rest. The exception to this is most metric threads, where the silencer/mount sits on the muzzle's face. There's an oral sex joke in there somewhere.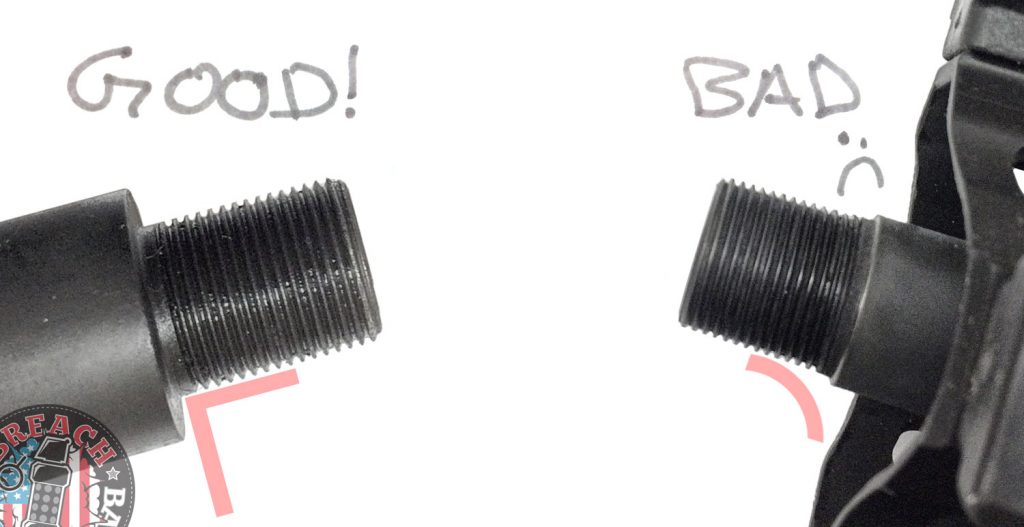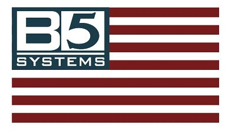 So without further ado, here is the list. Please send all complaints about it to [email protected]
-Alexander
---
---
Rimfire Rifle & Pistol 
1/2-28 x .400
½-20 (Older European Rifles, CZ 452)
9x.75mm (SIG Mosquito, SIG 1911-22, GSG 1911-22)
8x.75mm (P22, M&P22 Fullsize, Colt 1911-22, Umarex)
3/8-24 (M&P22 Compact)
Pistol Calibers
5.7x28mm
10x1mm RH (FNH Five-Seven)
9mm
Pistols 
1/2-28 x .450 (Glock Aftermarket, Beretta, XD)
M13.5×1 x .450LH (M&P, Sig, HK, Walther, Glock Factory)
Carbine 
1/2-36 x .600 (Colt, RRA, Bushmaster)
40 S&W
Pistols  
9/16-24 x .450 (Glock, Beretta, XD)
M14.5x1LH x .450 (M&P, HK, Walther)
45 ACP
Pistols
.578-28 x .375 (Sig) SIG produced threads that were shorter than most other barrels in the same pitch.
.578-28 x .450 (1911, FN-T, G21 Aftermarket)
M16x1 RH (HK Mark 23 SOCOM)
M16x1 LH (HK USP-T, HK45T, G21 Factory, KRISS)
Carbine
5/8-24 x .450 (Marlin Camp)
Rifle Calibers
5.7x28mm
½-28 x .500 to .600 (AR 5.7 Center Uppers)
12x1mm LH (P90)
.223/5.56mm
½-28 x .550 to .600 (AR Types, & MSAR)
9/16-24 LH (FNC, FS2000)
9/16-24 RH (Ruger AC556)
15x1mm RH (H&K)
12x1mm LH (FNH P-90 SMG)
13x1mm RH (Galil)
13x1mm LH (AUG)
18x1mm RH (Sako, Tikka, Blaser)
18×1.5mm RH (AI)
7.62mm – .30 Calibers, and assorted Soviet Weirdness
5/8-24 x .550 to .600 (AR Types, Bolt Actions)
.595-32 (M1A-M14)
.595-40 (SOCOM 16)
9/16-24 LH (FN FAL)
14x1mm LH (most common AK)
14x1mm RH (SKS, VZ58)
22×1.5mm RH (Romanian AIMS-74)
24×1.5mm LH (AK74-style FSB threads)
26×1.5mm LH (Yugo M85/M92)
15x1mm RH (HK)
18x1mm RH (Sako, Tikka, Blaser)
18×1.5mm RH (AI)
17x1mm RH (Saiga .308)
¾-24 RH (KAC SR25)
7/16-28 (Kimber lightweight)
SMG Threads
HK MP5 NAVY 9mm ½-32 x .450
HK MP5/40 or 10mm M14x.75
HK MP7 M12x1RH
KRISS Vector (45) M16x1 LH
KRISS Vector (9) ½-28
MAC 10/11- .380 – 5/8-11 RH
MAC 10/11- 9mm – ¾-10 RH
MAC 10/11- 45ACP – 7/8-9 RH
RRA .458 SOCOM – 5/8-32 RH
Wilson Combat .458 SOCOM – 11/16-24
---
Mad Duo, Breach-Bang& CLEAR!
Comms Plan
Primary: Subscribe to our newsletter here, get the RSS feed and support us on Patreon right here.
Alternate: Join us on Facebook here or check us out on Instagram here.
Contingency: Exercise your inner perv with us on Tumblr here, follow us on Twitter here or connect on Google + here.
Emergency: Activate firefly, deploy green (or brown) star cluster, get your wank sock out of your ruck and stand by 'til we come get you.