Gay for Backpacks: The Hazard 4 Rocket
Buy your blasters, blaster parts, and ammunition at dealer cost. 

Hazard 4 Backpack: the Hazard 4 Rocket
I'm a traditional kinda guy. I started my military career in 1989 when ALICE packs and Y-harnesses were the norm. Through the years our LBE evolved so much that my old Y-harness seems as modern as chain mail armor, but packs pretty much stayed the same. They got lighter maybe, and they added pouches, Camelbak compartments, and MOLLE attachment points, but stuck to the basic "two shoulder straps and cargo area" design.
Then some smartass decided to make a pack with one cross-chest strap and call it a "messenger bag". Those were messengers that were generally gentrified yuppies who'd never touched a firearm and would starve to death if they got lost in the woods for four hours. I saw a few of those single-strap purse-looking bags slung over the slender shoulders of people I suspect were biologically male (although their clothing made it hard to tell), and dismissed both the bags and people as trendy but irrelevant.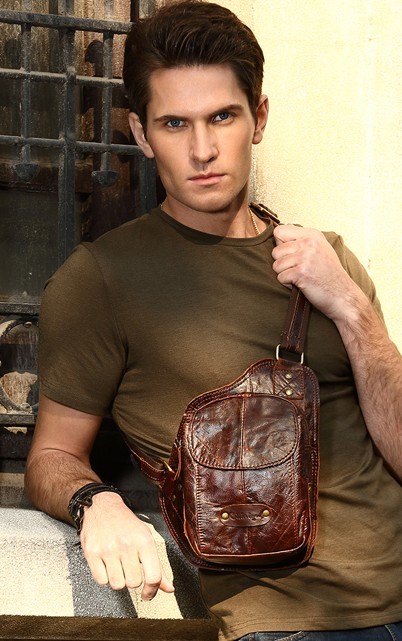 Then Hazard 4 made a cool single-strap "sling" bag. And I had to reassess my bias against sling bags.
Hazard 4 makes several sling bags, but I tested out the Rocket, from their "Evac" line of bags. The Rocket is a slim patrol-type bag, intended for short trips rather than weeklong patrols. It has a fairly substantial main compartment, four smaller compartments, and MOLLE attachment points for extra pouches. The main pouch can be divided in two with an included divider, and the bag can mount a pistol holster and carry long guns.
Hazard 4 describes the bag this way:
Being jammed in confined spaces for hours is an unfortunate part of the business for many professionals we serve. Whether it's a military unit in an a.p.c., a pilot in a cockpit, drivers in a HumVee, or a journalist in the back of a goat truck, they all have to bring their gear. And they all may need to 'relocate' in a hurry. This is the environment for which our Evac™line of sling packs has been geared. They are slim shaped to be easily manoeuvred in crowds, or stored in vehicles/lockers, and are quick to take on or off. They are also ambidextrous, and unlike others in this class, are actually comfortable on the shoulder; The bottom strap clips from either the right or left lower corner and the padded section realigns itself ergonomically in the correct body-hugging direction. The bag can be rotated to the chest for on-the-go access, and all pockets are designed to face the user in this mode on either the right or left side. One-strap-carry also makes shouldering a long-gun comfortable – unlike a backpack.
Having spent a lot of time in cramped tank turrets and Humvees, and a fair amount of time wandering around in helicopters, I think Hazard 4 may be on to something; the Rocket would have been easier to maneuver inside a vic or helo than my patrol packs. And I could have actually gotten into a vehicle or aircraft with the Rocket on my back, rotated it to my chest as I took a seat, then rotated it right back when I got out. Whatever I had on my back would have been easily accessible during the ride. This concept seems far superior to our usual method of stuffing patrol packs into some hard-to-reach space in our vehicle during missions.
I put the Rocket through a light workout at a 1MOA Precision Rifle course last year, plus tried it out in a few other situations (like jogging; it worked, but bounced around quite a bit). All in all, I was pretty impressed with it.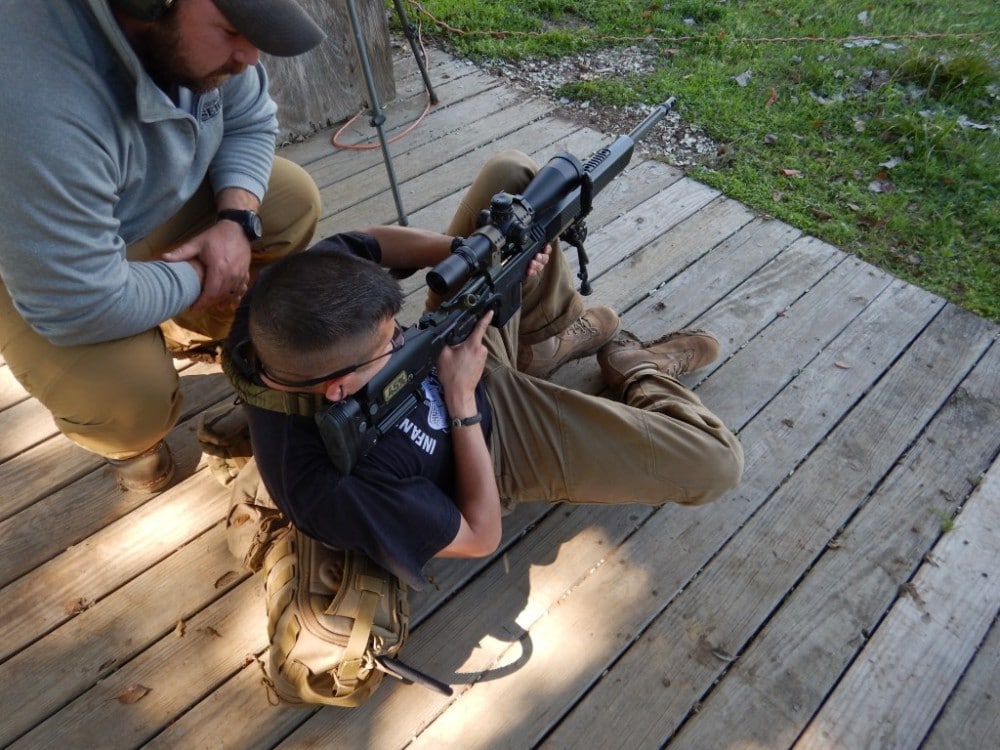 It has sufficient cargo space, ample attached pouches and pockets is ambidextrous, and has a waist strap and well-placed drag handles. Plus it seemed well built and sturdy. But I'm gay for backpacks and realized I might be a little biased by the bag's coolness, so I showed it to some soldier friends for second opinions.
One was an infantry officer. He grunted positive noises, dragged his knuckles happily across the fabric, expressed a desire to break and/or have sex with the bag, then said he used a different sling bag in Afghanistan and wished he'd had the Hazard 4 Rocket instead. All good there.
But the other friend was a parachute rigger. He inspected the bag like an art expert examining a possibly forged Rembrandt. As he went over it he narrated his thoughts: "As a rigger, I look for likely points of failure. This bag is made of high-quality material, the buckles and stitching all look good. But…", he said, as he got in close to the seam binding and handles, "this binding is cheap. And the handles don't have reinforced attachment points. Under stress or after extended hard use, I'd expect the binding on the seams to separate or the handles to come off."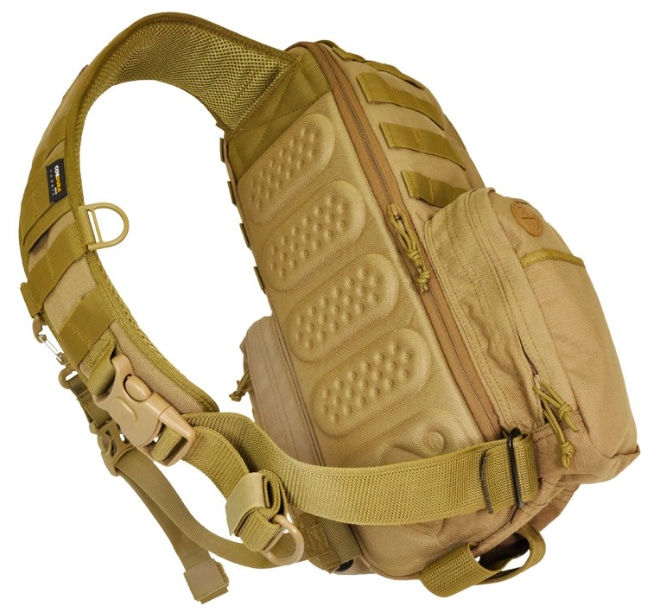 That was surprising, so I pressed him for more detail. He said he'd only expect the handles to fail if the bag was really loaded down (like with ammo) and someone lifted it by the handle, and that the seams would separate after the bag was carried on patrols or thrown around armored vehicles for months. We talked about how I envisioned the bag being used: carrying a relatively light load (water, couple mags, MRE, blowout kit, etc.) on specific types of missions (convoys, armored vehicle/aircraft operations). He thought the Rocket would be fine for that.
Even with my rigger friend's concerns, I'd still feel comfortable carrying this bag for the kinds of missions I described. I'd be mindful not to use the handles if the bag was loaded down, and I'd watch the seams for gaps, but I'd have no real worries. Having said that, I wouldn't use this bag in the civilian world; it's available only in black and coyote, and pretty much screams "I'm carrying a gun but I don't want to look like I'm carrying a gun even though I kinda want to look tacticool so the public suspects I have a gun."
So I'd use the bag for military, training or range purposes, but keep it away from regular life. Maybe you can use it in the field to carry your hammock.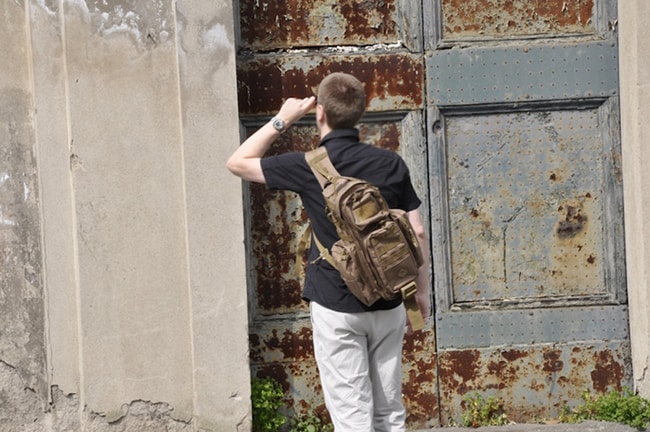 Here are the bag's specs:
_ relatively large volume will hold bulkier items with ease
_ thermo-molded back panel w/ logo & air-circulation array
_ full hydration bladder compatible (up to 100 Oz./ 3 L)
_ can fit 3 L hydration bladder up to 2.5 L capacity
_ one large pocket for access while on chest w/ organizer
_ one smaller stuff-pocket for gloves etc. w/ patch area
_ large grab-handles for carrying and pulling to chest/back
_ trap-door pass for hydration hose w/ large bite-valve cover
_ internal mesh zip/elastic pockets for organizing items
_ top-open panel zipper can be accessed while on chest
_ wind-flap zippers on all pockets to keep out the elements
_ padded shoulder strap with 3-D airmesh for comfort
_ large, locking side-push buckle is easily indexed on chest
_ stabilizer-strap links to either side and keeps bag from sliding
_ top/bottom compression-straps, also secure tubular items
Weapons Accommodations:
_ hydration-pocket velcro panel for an optional holster
_ MOLLE all-around for attaching holsters/mag pouches
_ large external pockets fit multiple rifle magazines
_ side flat-pockets for paddle holsters/ rifle magazines
 Weapons Fit:
_ up to H&K G36C or MP5 (w/ collapsing stocks)
_ most full-size auto-pistols
 What's Included:
_ 1x 1" Stabilizer strap
_ 1x Padded Divider
I'm sold on the Rocket and Hazard 4 products in general. If anyone has used the Rocket operationally, please let us know in the comments.
Read up on everything we've written about Hazard 4. 
Like what you read here? Consider backing us on Patreon.
You'll be automatically enrolled into the Tactical Buyers Club, thus getting dozens of discount codes to high-end companies in the tactical/firearm/outdoor arena, and you'll earn the right to wear the House Morningwood sigil.
⚠️ Some hyperlinks in this article may contain affiliate links. If you use them to make a purchase, we will receive a small commission at no additional cost to you. It's just one way to Back the Bang. #backthebang