Hardened Arms Citadel Linear Muzzle Compensator
Different people put different muzzle devices on different blasters for different reasons. Here's something that's a little different than most. Mad Duo
Hardened Arms Citadel Linear Muzzle Compensator
Mike Searson
Hardened Arms recently unveiled their new Citadel Linear Muzzle Compensator (LMC). This is essentially a combination muzzle brake and blast diverter that directs muzzle blast and sound down range.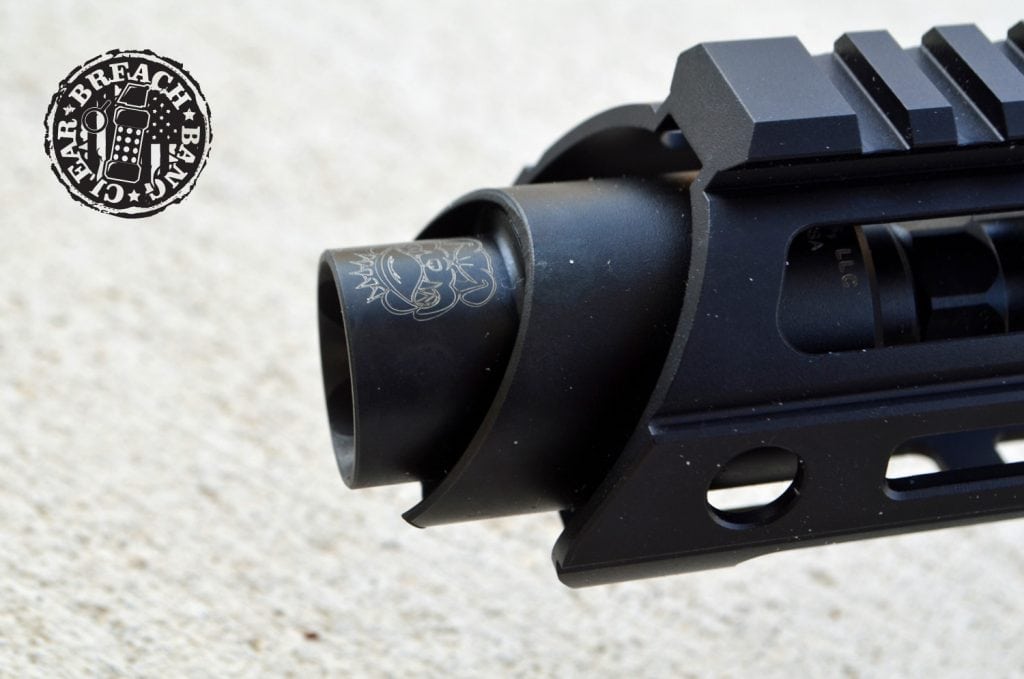 We know you can't wait to lay your grubby dick beaters on a suppressor (because those of us who already own them call them silencers), but yes you are waiting. Waiting for HPA to pass so they will all be $100 and sold over the counter. Waiting for your mom to send you $200 for your birthday so you can beat the crowd and just get your paperwork in now and (starts with F, rhymes with Chuck) Schumer will deliver you that refund with interest when HPA passes.
Waiting for the next big thing to come out from Gemtech, AAC, SIG, and Daniel Defense. Waiting for your Magpul fidget spinner to come in the mail after sending in 1,105 PMAG Proofs of Purchase.
Yeah, keep waiting. But in the meantime, take a look at the LMC.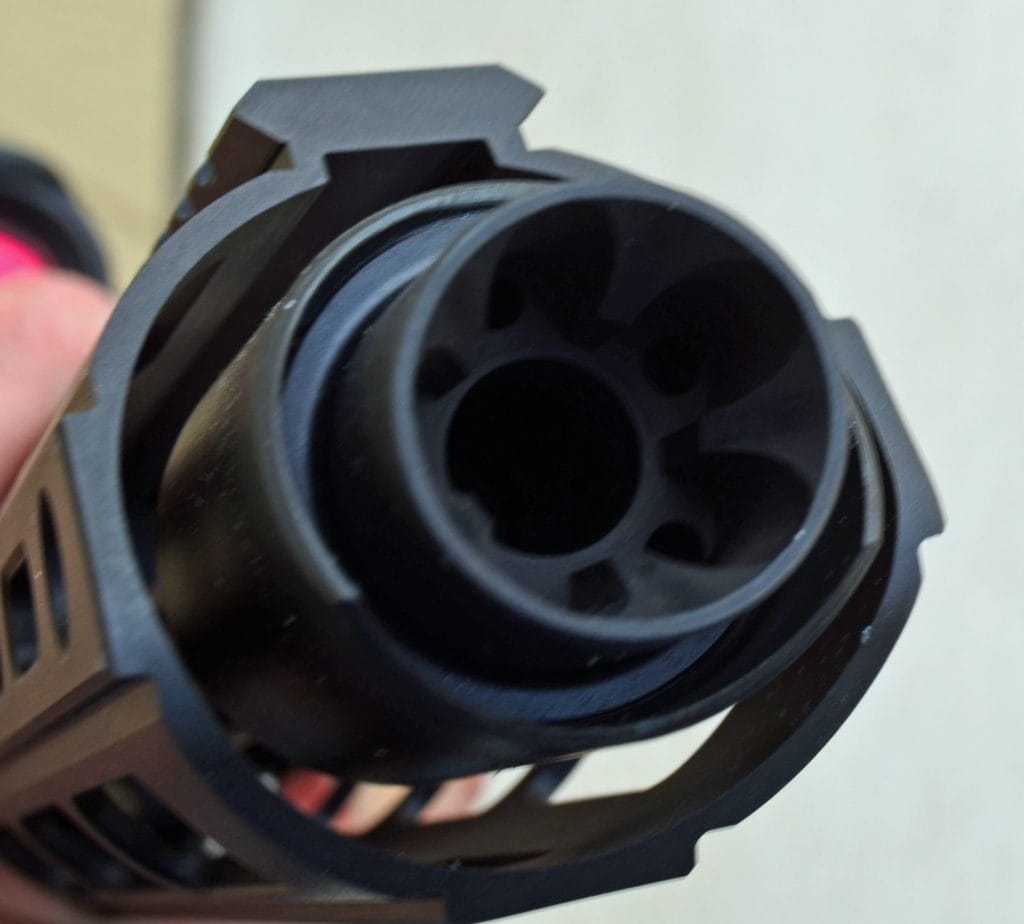 Unlike a silencer or suppressor (which muffle sound), the LMC concentrates burning gasses and sound in a blast chamber and shroud in order to redirect them downrange, where they belong. The end result is a more pleasant shooting experience. You still need ear- and eye-pro (don't be a dumbass), but your shooting buddies won't want to kick your ass at the cease fire like they did to that one guy who showed up with a BOSS a decade ago.
The forced direction of sound and flame has a secondary bonus as well, depending upon your ammo type. It lacks the cuts on the side common to most brakes and flash suppressors, and can give you a yuuuuge flame signature to up the fun factor while blasting holes in things.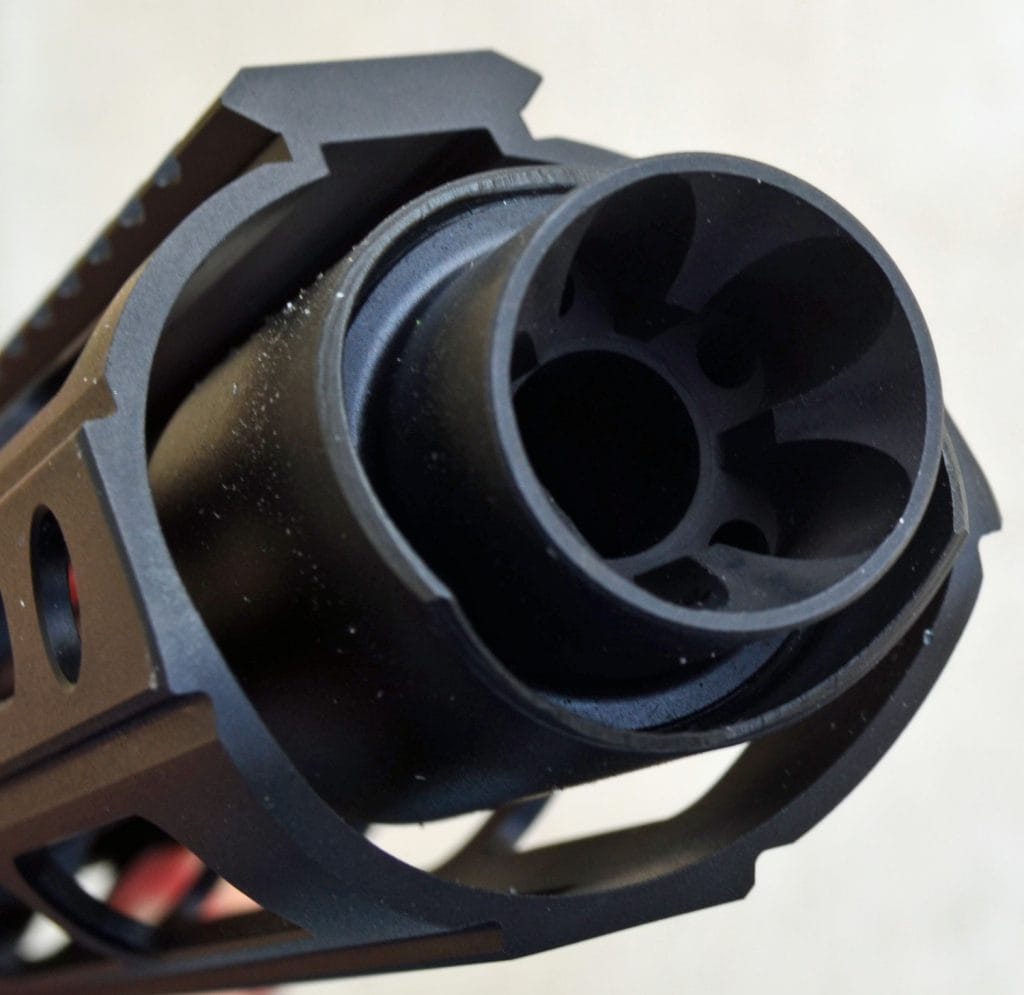 It is available in two configurations: 1/2×28 or 5/8×24. We went with the 5/8 x 24 and Hardened Arms went the extra mile by making sure we had a complete upper in .300 Blackout with one of their rails on it.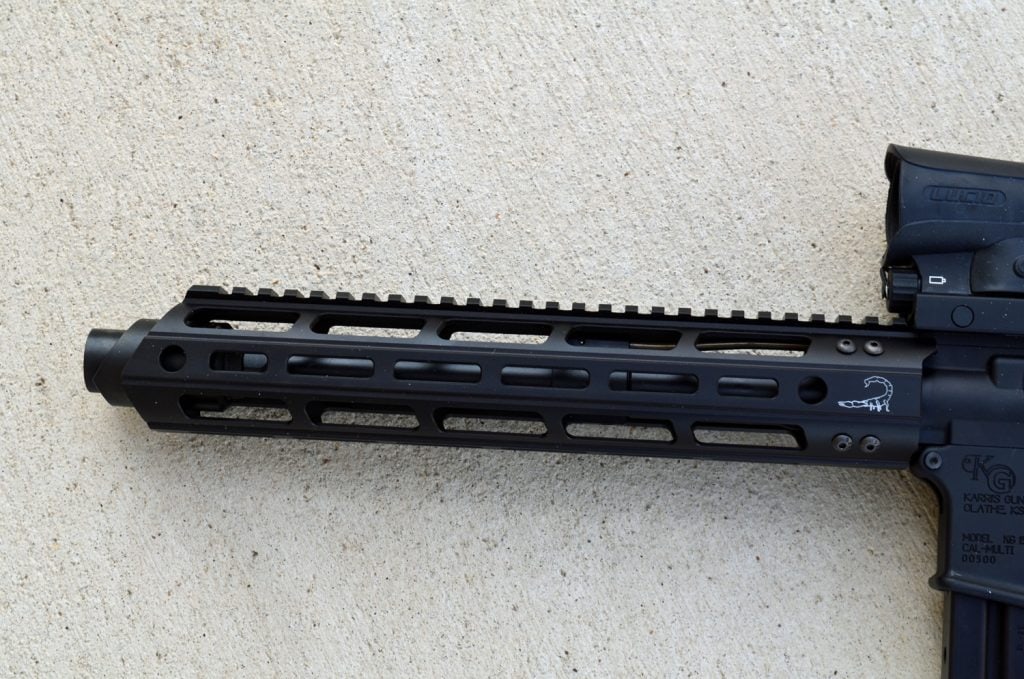 We ran it with both subsonic and super sonic loads, and while the 300 does not have much of a kick to it to begin with, we noticed it being even more pleasant to shoot than usual. We think one of these brakes would do wonders for 7.62 X 39 or even .308 if you get a chance to try one out.
In fact, we might just do that.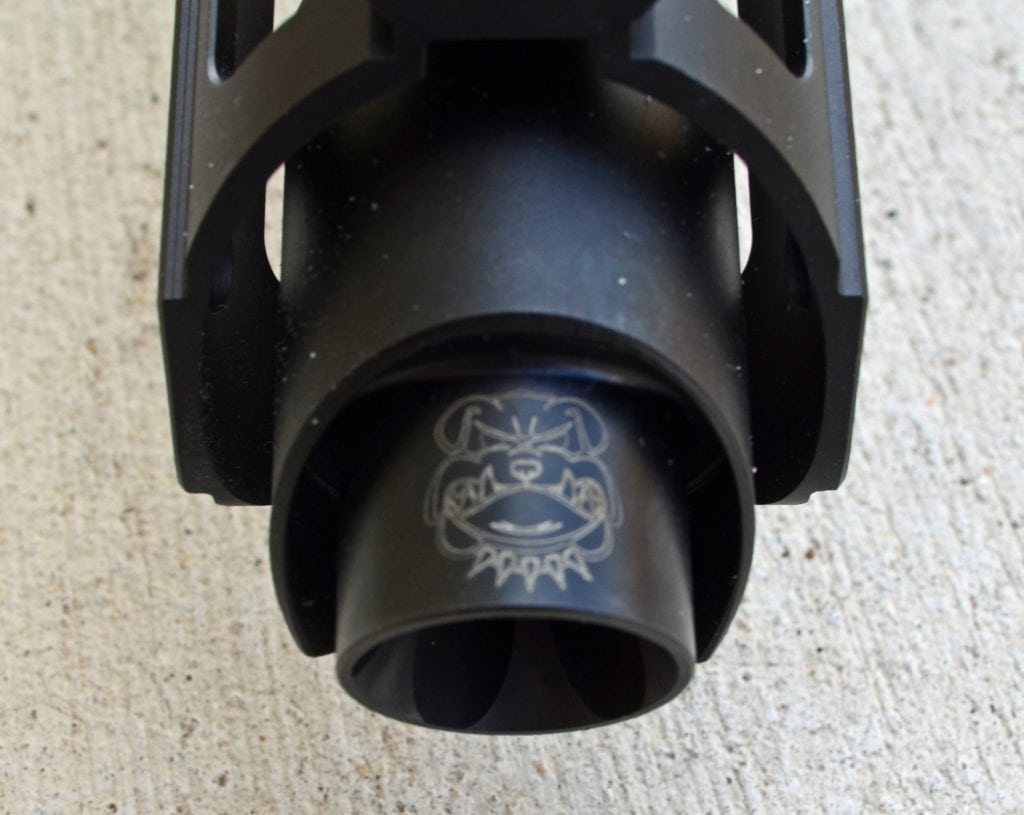 Now, recall that for every action, there is an equal and opposite reaction…more on that in a few.
A secondary benefit we see to this device is use on problematic uppers.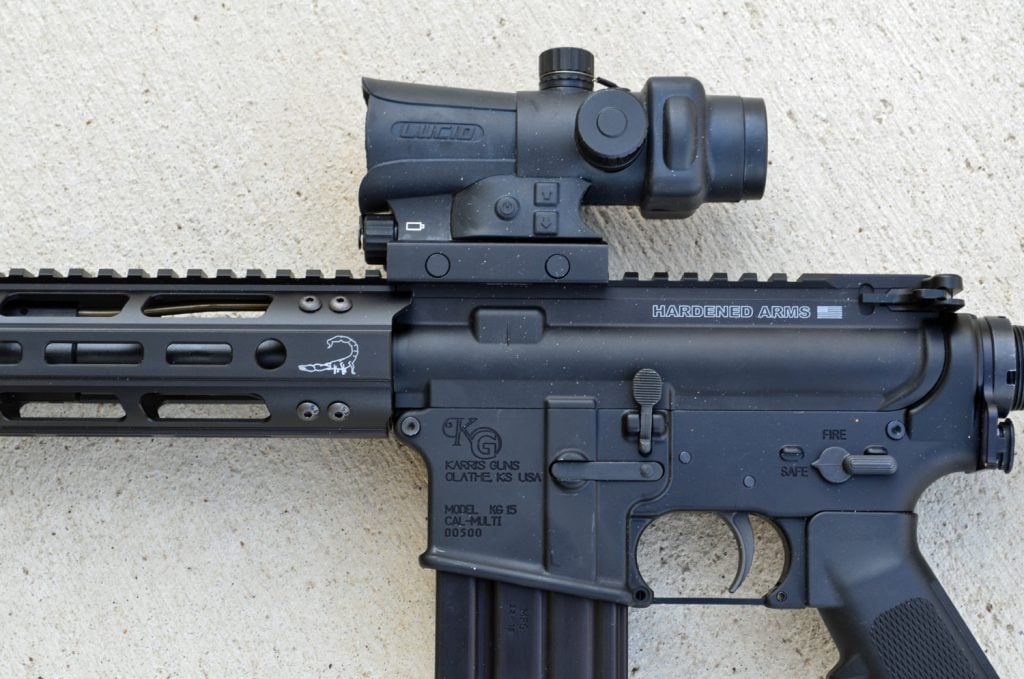 Most of us have run into this at one time or another: That 300 pistol upper that only runs with a silencer. That 7.5″ 5.56 upper that occasionally turns into a single shot with certain ammunition types.
This is usually something related to the gas system you're running incredibly short on sub 10″ barrels. Sometimes the gas port drilling by certain manufacturers is inadequate.
The gun is under gassed.
Hence Newton's Third Law.
While all that gas is headed downrange because of the LMC, there will be thrust rearward. This gives a boost to your bolt carrier group and aids in cycling the weapon. We saw a respected manufacturer have problems with an extremely short upper receiver at the SHOT Show Media Day at the Range this year. Our advice was to throw a silencer on the rifle in order to get it to cycle. Luckily, he had one, and it worked, but a device like the LMC could have just as easily saved the day.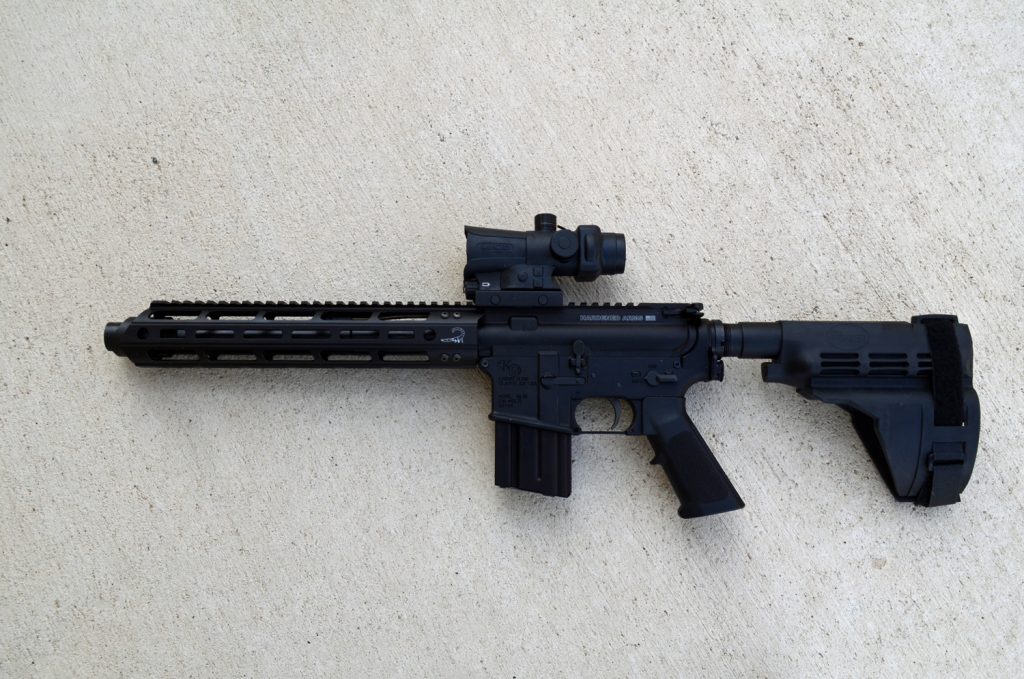 If AR pistols or SBRs are your thing and you want to achieve a better comfort level without using a can, take a look at the LMC and offering like it until you can scrape together the $200 for tax stamp. Or, wait until silencers are deregulated. That might even even be by the end of this century.
Check them out at http://www.hardenedarms.com/; and don't let the low prices fool you, these aren't low quality pieces. They are doing something right and passing on savings.
Brought to you today by Propper (@wearpropper), a member of JTF Awesome.
[arrow_feed id='48630′]
---
---
Mad Duo, Breach-Bang& CLEAR!
Comms Plan
Primary: Subscribe to the Breach-Bang-Clear newsletter here; you can also support us on Patreon and find us on Pinterest.
Alternate: Join us on Facebook here or check us out on Instagram here.
Contingency: Exercise your inner perv with us on Tumblr here, follow us on Twitter here or connect on Google + here.
Emergency: Activate firefly, deploy green (or brown) star cluster, get your wank sock out of your ruck and stand by 'til we come get you.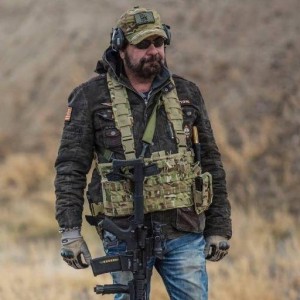 About the Author: Mike "the Mook" Searson is a veteran writer who began his career in firearms at the Camp Pendleton School for Destructive Boys at age 17. He has worked in the firearms industry his entire life, writing about guns and knives for numerous publications and consulting with the film industry on weapons while at the same time working as gunsmith and ballistician. Though seemingly a surly curmudgeon shy a few chromosomes at first meeting, Searson is actually far less of a dick and at least a little smarter than most of the Mad Duo's minions. He is rightfully considered to be not just good company, but actually fit for polite company as well (though he has never forgotten his roots as a rifleman trained to kill people and break things, and if you look closely you'll see his knuckles are still quite scabbed over from dragging the ground). You can learn more about him on his website or follow him on Twitter, @MikeSearson.