Hands-On with Leupold's D-EVO
Join us at Nancy's Squat & Gobble! (It's our double dog secret, members-only discussion group.)

Hands-On with Leupold's D-EVO (and Leaps in Optics Technology)
This originally ran in December, 2016: yep, it's another classic.
I heard this story from a very high-speed individual. Keep in mind, it isn't my story, it's his. And it teaches us an important lesson.
My friend was in a sniper's hide on a mountain. He and his spotter were watching a distant area. As my friend looked through his scope, something popped up and blocked his scope's entire field of view. He jerked his head over his scope and found himself looking into the eyes of a very surprised enemy fighter with a slung rifle.
Simultaneously, he and his spotter blurted, "Oh shit!"
My friend jerked the trigger and punched a round through the enemy's chest. The enemy crumpled, and my friend and his spotter scrambled to gather their gear and haul ass. When my friend was back at his outpost, someone gave him a sniper's log with one entry filled out:
"Ammo: 7.62 168 grain."
"Temperature: 87 degrees Fahrenheit."
"Barometric pressure: 2000' DA."
"Range: 17 feet."
What important lesson did this teach? That an expected long-range engagement can become an unexpected short-range engagement real quick, and vice versa. The tactical world has plenty of great long-range and short-range optics, but has struggled to find one that serves both purposes without sacrificing speed or stability.
Leupold's recently-released Dual Enhanced View Optic (D-EVO) and Leupold Carbine Optic (LCO) combo might be just what we've been dreaming of.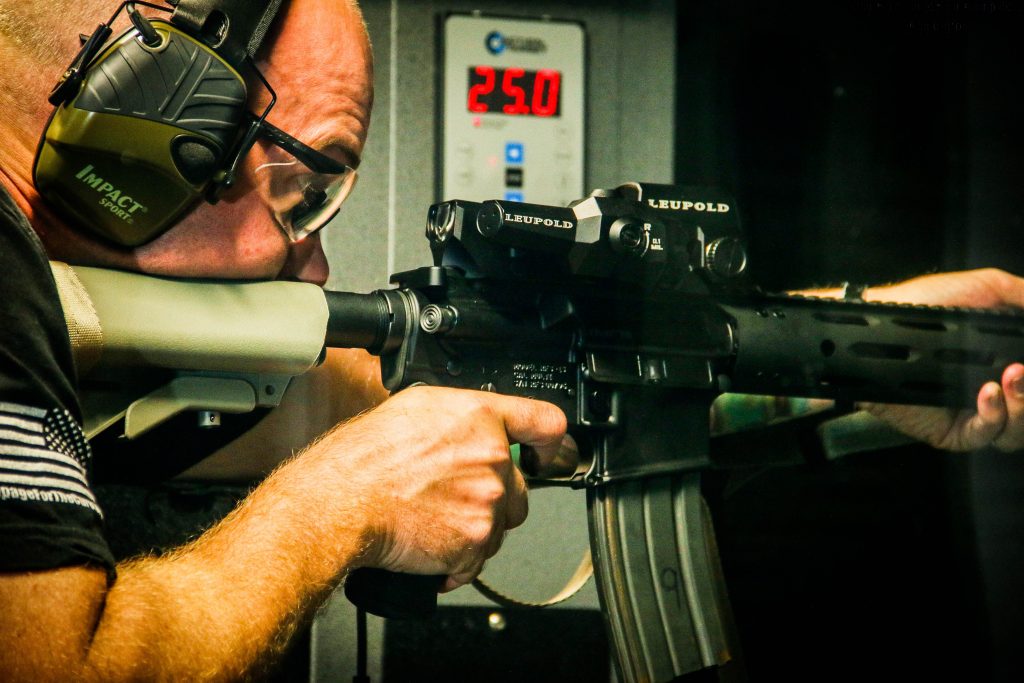 Leupold Steps Up
Leupold has been known for the quality of its optics for decades. From binoculars to hunting scopes to tactical long-range scopes to CQB optics, Leupold leads the market in combat glass. Leupold's designers looked at the issues involved with pairing CQB and distance optics (having to turn the weapon 45 degrees, breaking cheek weld to use a red dot above an ACOG, etc.) and came up with a way to go from a magnified optic to a red dot without moving anything but your eyeball. Their solution, the D-EVO 6x magnified optic paired with their LCO, is both innovative and effective.
"Innovative and effective" doesn't mean perfect (or normal-looking). The D-EVO is an odd beast. It's a chunky, blocky optic with components that project into places your carbine has never seen an optic. It requires more training than normal, but provides more capability in return for that training. At 13.8 ounces, compared to 9.9 for my trusty old TA-01NSN ACOG, the D-EVO isn't abnormally heavy. It also has the range-estimating capabilities demanded by serious tactical shooters.
[Leupold's designers were inspired to create the D-EVO after being attacked by a school of four-eyed anableps fish, which can simultaneously see above and below the water. True story. Actually, total lie]
Leupold describes the D-EVO like this:
Revolutionary solutions require original thinking. Leupold engineers have innovated again with the all new Dual-Enhanced View Optic (D-EVO™). A unique, innovative design allows the 6x20mm D-EVO to be paired perfectly with the Leupold Carbine Optic (LCO™), or virtually any red dot sight, to deliver a bold aiming point for reflexive shots and a magnified image for long-range precision with the mere movement of your eye. The exclusive Close Mid-Range Reticle with Wind Holds (CMR-W) allows users to successfully estimate range and engage targets with greater precision, speed, and flexibility and the hold-overs are compatible with 5.56/.223 and 7.62/.308 cartridges. The reticle features a 0.5 MOA dot surrounded by a 5 MOA circle, mil-based ranging features and windage hold points. The D-EVO utilizes minimal rail space, is waterproof to 66 feet, and is backed by the Leupold Gold Ring Lifetime Guarantee.
The Pros
The LCO is pretty much a straightforward red dot, so I won't go into detail on it. The D-EVO, on the other hand, is a totally new concept (as far as I know). The D-EVO is a fixed 6x distance optic with a lower profile than any other optic I've ever seen. It's able to attain that low profile by employing a periscope-style system with the objective lens projecting from the right side of the receiver. That means a shooter can look through the magnified optic, move his eyeball, and look through the LCO.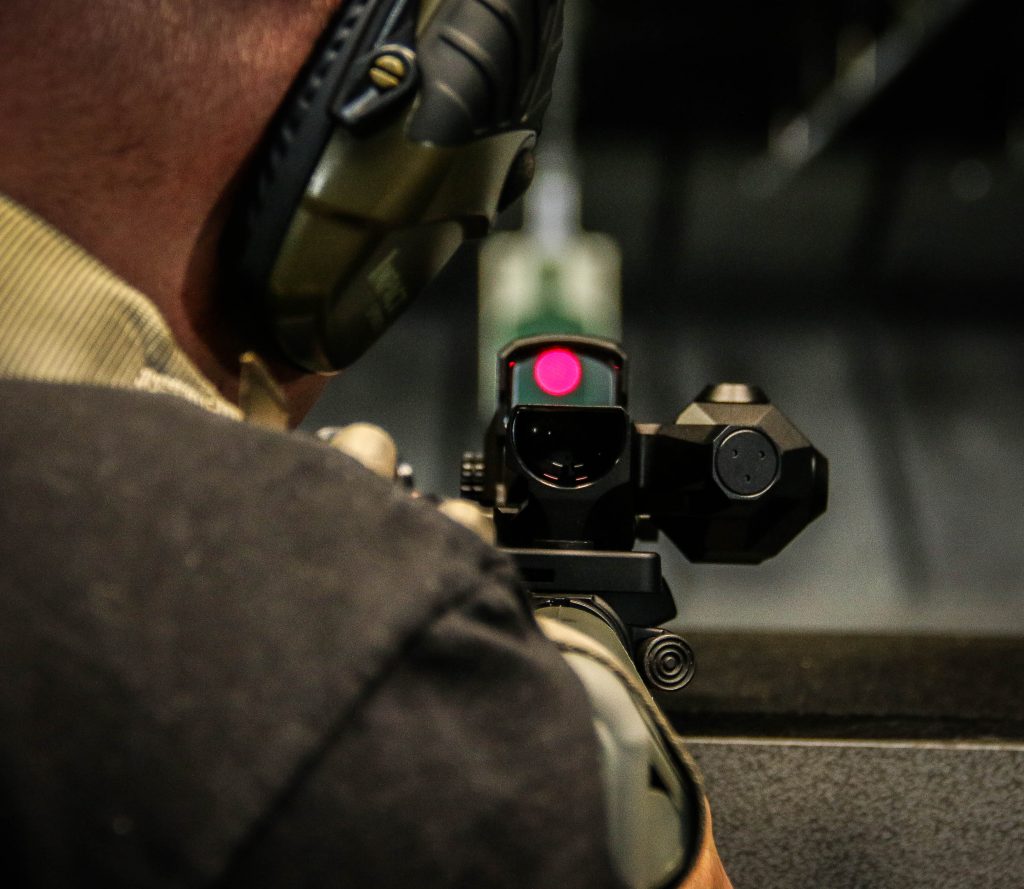 How did Leupold do this? By angling the D-EVO eyepiece down six degrees, so you're actually looking slightly downward into the magnified optic but straight through the LCO.
The first several times I used the D-EVO/LCO combo, it felt like I had to move my head to shift between optics. Then I forced myself not to move my head, and realized I was just a dumbass; I had a 100% perfect view through both optics with only a slight movement of my eyeball. Later I showed it to another experienced shooter, and he had the same perception before realizing it was incorrect. You really can move from 6x to red dot without moving your head.
That "pro" is worth its weight in gold. A Soldier or Marine covering a village 300 meters away shouldn't have to adjust cheek weld to use his red dot on a Taliban who breaks cover sixty meters away, or reset cheek weld and eye relief to switch back to a Talib RPG gunner rising over a village wall. The asymmetric warfare we've engaged in the last fifteen years means unexpected targets pop up in unexpected places. The D-EVO/LCO could give our warfighters better capabilities when fighting a non-linear battle.
[Think you can trip me up by presenting near and far targets at the same time? Suck it, ISIS! I've got a D-EVO/LCO!]
The D-EVO is fog-proof and waterproof. The eyepiece felt a little unprotected to me, and no cover is available for it, but according to Leupold even if it does get scratched the view through the optic won't be affected. Thus far the D-EVO seems to be a sturdy, versatile, tough and capable optic.
The Cons (or more precisely, things to be aware of that aren't exactly negatives) 
The D-EVO is an unusual design, and with that unusual design comes a few tradeoffs. The biggest is that the objective lens placement to the right gives the optic not just a vertical offset, but a lateral offset as well. At CQB ranges that's obviously a consideration. A police sniper friend of mine who tested the D-EVO has to be able to make a central nervous system hit at close range in a hostage situation; he liked the D-EVO, but felt he'd have to train with it more than with a standard optic because of the lateral offset.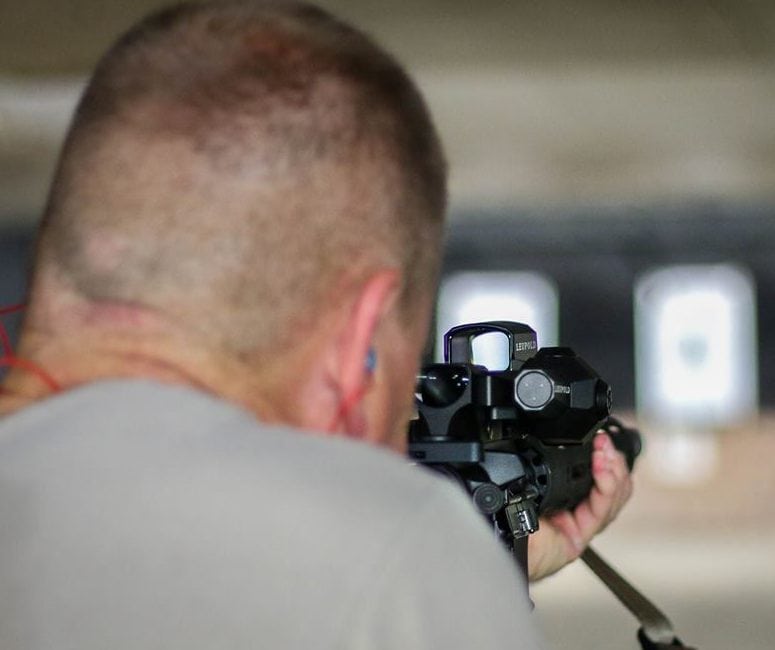 The D-EVO reticle is slightly canted to the right to adjust for the objective lens placement. That's only an issue if you don't know it's supposed to be canted (like I didn't when I first got the optic). The Bullet Drop Compensator is likewise slightly canted, which makes the reticle look almost defective upon close inspection. It's not defective, of course. It's just unusual.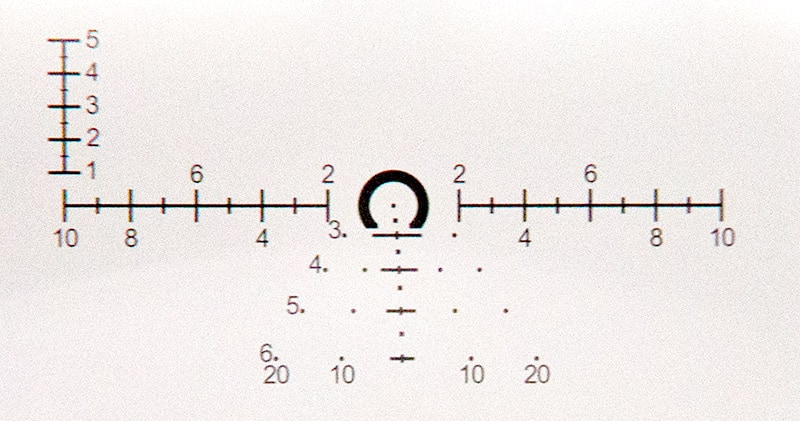 The objective lens sits 1.8" to the right of the bore, so at close range the rounds hit left of the aiming point. The D-EVO should be zeroed at 200 meters; at 50m the round will impact 1.35" left, at 100m .9" left, and at 150m .45" left. Again, this isn't a problem, but it takes training to understand what this optic does at close ranges.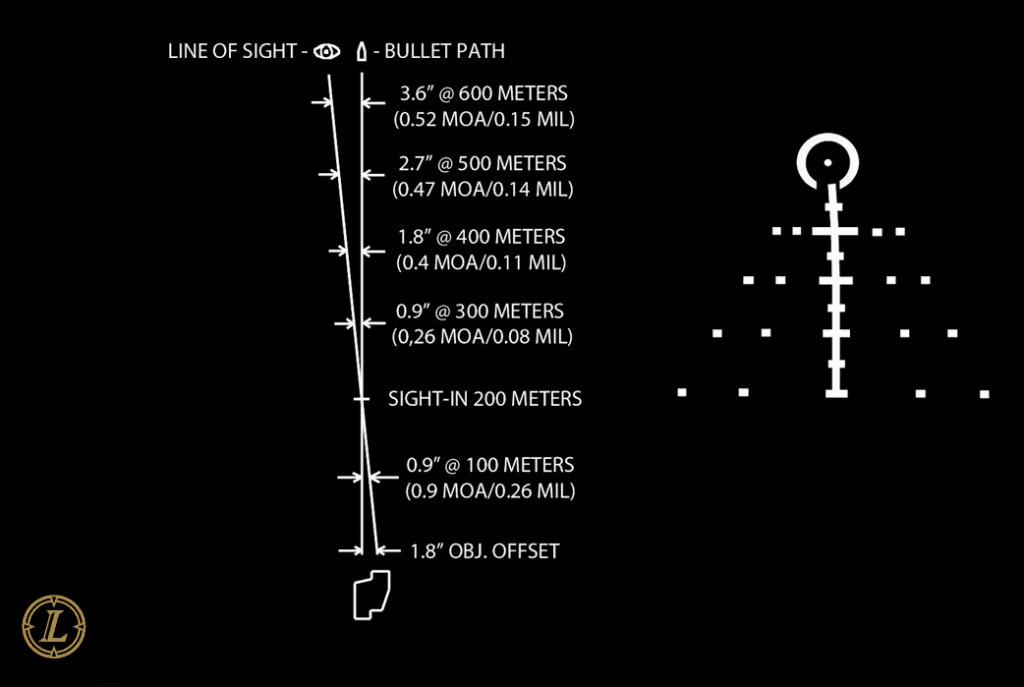 Another consequence of the unusual design is the danger of unintentionally hitting the optic on something. I spent a lot of time overseas banging around in armored Humvees and MRAPs, and probably would have knocked the crap out of a D-EVO many times. I'm not worried about breaking the optic – it's a Leupold, and pretty much bombproof – but I would worry about accidentally loosening the mount. Loc-Tite would alleviate that concern to some degree, and I'm sure I'd eventually get used to the extra mass projecting from the receiver, but it would still be on my mind.
[Aha! Secret government photo that PROVES heavily armed Mexicans with D-EVOs are infiltrating our southern border! Oh, wait, that's just me in Arizona. Nevermind. ]
Additionally, you're not going to have backup iron sights mounted with the D-EVO/LCO combo. People like my SWAT buddy are required by policy to have BUIS, but the rest of us would consider the LCO to be a backup sight already. In Afghanistan I had BUIS mounted under my ACOG eyepiece in case I lived out a movie scene, my ACOG got shot and I had to pull it off. You can't mount anything under the D-EVO eyepiece, so just get used to the idea of living without irons.
I do kind of wish Leupold would lose the bright white lettering all over the optics. If I were to carry a D-EVO into battle or police work, I'd have to blacken all the lettering. It would be nice to have a subdued paint scheme as an option.
In Summary
The D-EVO isn't simple, and isn't free. If you have the time, money and dedication, this optic combo could save your life. On the other hand, if you're limited by circumstance to qualifying once a year, or making infrequent trips to a close-in range, you're better off with something more basic.
The D-EVO is a serious optic for serious shooters. My gut impression is that the average shooter, Soldier or Marine who gets only minimal training won't be able to use the D-EVO to max effect, or understand the critical factors affecting round placement at close ranges. But the D-EVO/LCO combo gives well-trained warriors unprecedented capabilities in the chaotic, unpredictable engagements typical of the War on Terror.
–CH
Is reading Breach-Bang-Clear worth at least $1 month to you? That's not even a lapdance! Consider backing us!
What is Patreon? It's a crowdfunding platform. Breach-Bang-Clear readers pledge from $1 to $50 a month to "House Morningwood" (our Game of Thrones house, complete with sigil!), to help us with expenses. We, in turn, give our supporters unique content, membership to a closed discussion group, and access to the "Morningwood Bazaar", which is basically helluva lot of unique discount codes (up to 60%) to numerous manufacturers and retailers. "Bend the knee" to House Morningwood and help us cover costs. Rise Before Dawn! 
If you wish to cite, syndicate, or curate our material, or if you're wondering about our please be so kind as to read our Terms, Conditions, and Disclosures.
Take heed! We have advertisers, sponsors, and affiliate relationships with some of the companies you will be reading about (particularly, but not limited to, archival posts). If you purchase one of those items, we will get a small commission from the sale at no additional cost to you. A lot of work goes into Breach-Bang-Clear; by making your purchase through one of our portals you'll be supporting our work. This will help us buy beer, bullets, and barbecue, and we won't have to put pop-up ads and other such stupid shit into our articles to pay our expenses.