Gun porn: hex-fluted barrels and 300BLK
We've got some good news and some bad news for you about Legion Firearms. The good news is that they're making uppers in 300 AAC Blackout. The bad news is that the demand for it will have you waiting a few weeks before you actually get one in your hand. The gooder good news (one might even say better) is that the 300BLK rifles will be available with the Legion Firearm's signature hex-fluted barrel.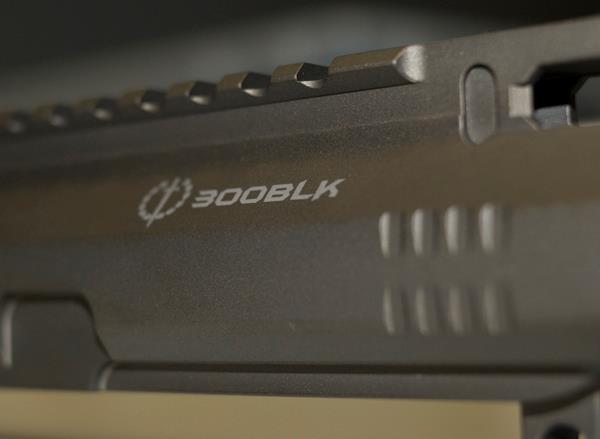 We know. What's a hex-fluted barrel?
The whole subject of the honeycomb hex-fluted barrels (that's what we call it, by the way, not sure what the 'formal' name is). So we're clear up front, though this was never intended to be part of an inexpensive mass-issue rifle, these barrels are not a gimmick or just some sort of aesthetic ploy to garner attention—though it does look bad ass. The decision to utilize hexagonal fluting (not to be mistaken for rifling) was made after studying vibratory motion, how vibration and oscillation works and how long it lasts. What Legion found after 3 years of study led them to incorporate the feature to significantly strengthen and improve the barrel.
Vibratory motion—not that kind, grunts, get your mind out of the sewer—travels longer through a curve than through a straight line. Think about the difference between banging a small metal barrel and an ammo can—which one will reverberate longer?
(Grunts: reverberate)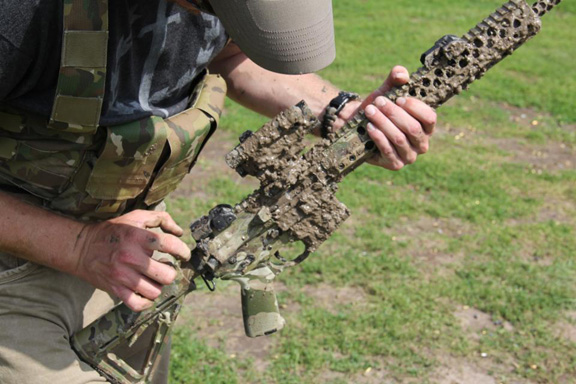 The barrel will, of course, because the greater part of the vibration in the ammo can will end at the corners. This barrel exploits that natural tendency of the underlying physics to improve performance and accuracy, which in turns allows you to shoot hippies, kill muj and scare the shit out of sissies at much greater distances with the Mk 1 eyeball than you could have before.
Jamie Wehmeyer of Legion Firearms clarifies. "The long term study of vibrations has yielded facts that the firearms industry has failed to acknowledge and capitalize upon for years. It's not that the industry is dumb or naïve, it's just that the different sciences frequently fail to cross-communicate enough to really affect each other in any productive manner."
The hex fluting of a rifle barrel will also help dissipate heat by virtue of its greater surface area, explained as follows:
"Dig it," Wehmeyer says. "It's simple science fact. Greater surface area yields greater heat dissipation, given there is no disparity in material and relative mass, and remember…strength and rigidity should not be measured by how much material an object contains but rather by its ability to retain its original form. Our barrels are designed and built for strength, heat dissipation and accuracy."
That's some big brain shit right there, but it makes sense.
Legion rifles have a number of unique features (over 30 proprietary treatments go into building each rifle). They're 416R ordnance grade stainless rather than CHF (Cold Hammered Forged), meaning they are brought down to an extreme cold temperature and slowly brought back up to high heat. They are cryo treated for stress relief and Cerakoted to prevent rusting and oxidation; since the barrels have very little carbon, throat erosion isn't much of an issue and the weapon fouls much less frequently than a standard rifle. Legion guarantees they will shoot sub MOA with cheap PMC55 type ammo and have documented one-hole groups with 3 rounds of 77 grain OTM (Mk262 Mod 1) 5.56mm at 100 yards. We've talked to several people who've shot LF-15Cs and LF-15Ds alike, and the universal response has been one of high praise, including one who advised he'd made shots out to 650 yards using M855 and MK 262 Mod 1 ammunition and another who shot sub-MOA out to the 300 using XM193 with little difficulty after putting over 8,500 rounds through a Legion rifle without the slightest attempt to clean it. (We like that because we follow the 'clean-it-every-year-on-your-birthday-whether-you-need-it-or-not' philosophy of weapon maintenance.)
If you want to know more of about hex-fluted rifles, or more about the outstanding Legion Firearms line of black rifles overall, visit their website or check their Facebook page.
Mad Duo clear!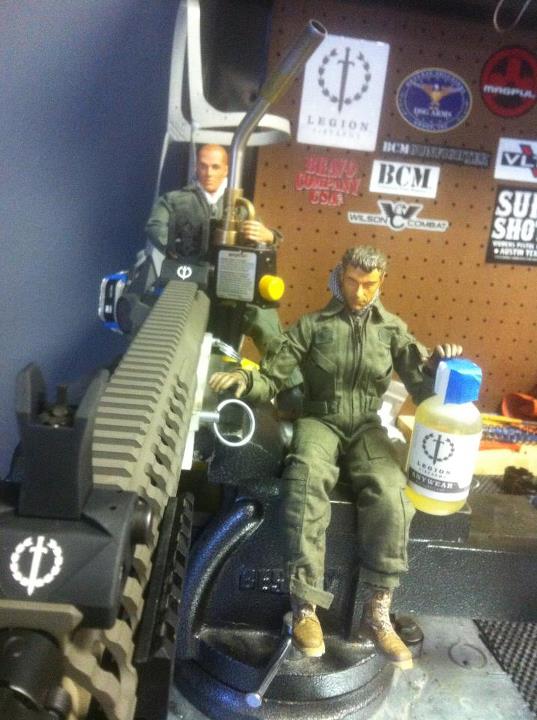 Richard "Swingin' Dick" Kilgore and Jake "Slim" Call are celebrities in the doorkicker world. An amalgam of several current and former military types, many of whom are still operational while others are just FAGs (Former Action Guys), the Mad Duo pontificate constantly on their blog and on Facebook. Their tactical wit and trigger-pulling wisdom is the stuff of trigger-pull legend. They are without a doubt the highest speed, lowest drag most steely-eyed little operators ever to venture into the dark and shadowy places of the snake-eater world. Their editorial commentary has been likened to a .308 op-ed to the head. Find them at breachbangclear.com or www.Facebook.com/BreachBangClear, on Kit Up!, Under the Radar, Tactical Fanboy and occasionally on SWAT Digest and Soldier Systems Daily.