Overview: Gerber US-Assist
No, not the baby food, though that always seems to come up during a search on the interwebz. Nay, this is Gerber Gear. It's just a little sharper and stabbier than anything you should typically use on an infant. Mad Duo
Overview: Gerber US-Assist
Sara Liberte
The Gerber US-Assist S30V has been on the market for quite a while now, and seems to fairly well traveled. We've seen more than a few while on shoots or out camping, which is a pretty solid statement given the company we typically keep in the field.
The US-Assist features a three-inch S30V steel blade, a swappable clip allowing for carry tip up or down, assisted-opening, a plunge lock, and a proprietary ball-bearing pivot system. Like pretty much everything from Gerber, it was designed and built in the USA; (in Portland, Oregon to be exact).
The blade feel's pretty solid at first grasp, and has some heft to it. The handle material is glass-filled nylon, making it a little on the heavier side for a pocket knife (well, unless you're a Gurkha). It's a tool that thus far has lent itself well to everyday EDC use, i.e.. opening boxes, cutting any annoying piece of tape or rope that gets in your way, or using it to slice up your sandwich or pizza on a lunch break. As an implement of field use it serves equally well camping or hiking, though there may be better options for those who are going long distances and are really weight conscious.
We have not yet found the Six-Fingered Man, so cannot attest to its functionality in combat.
The US Assist features Gerber's B.O.S.S. technology (Balls Of Stainless Steel), which certainly does provide smooth and consistent blade deployment. The stainless steel balls are there to reduce friction, and the cage system was designed to keep them contained for stable performance over the long haul.
You know, like Ranger panties.
The removable pocket clip allows tip up or tip down carry, but seems less robust than we'd like to be. It hasn't given way yet, but we suspect could snap it with less effort than we'd prefer. That said, it's holding up so far, of maybe we're wrong.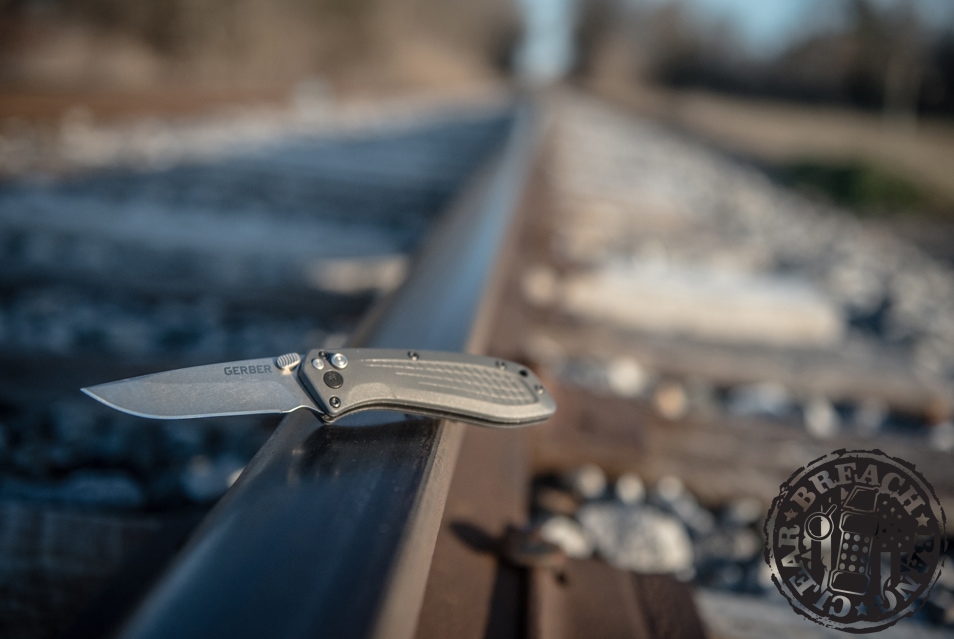 The US-Assist features dual ramped thumb studs allowing for ambidextrous assisted one hand opening. That means even the wrong-handed can get it out and open fast when out racticing street ninja knife fighting skills. Happily, those same blade-slingers won't have to worry about the blade accidentally opening up, as it features a plunge lock with cross bolt safety. We tried to open it with the lock on, and it's not happening without undue prying or other unrealistic pressure. Of course we'll keep trying, so you might want to check back and see if we got anywhere with it.
This knife is made in the USA and has a lifetime warranty, which is obviously a plus. The retail price of $119.00  seems pretty reasonable for an EDC blade and not so much that you'll want to throw yourself off a cliff if you lose it or break it.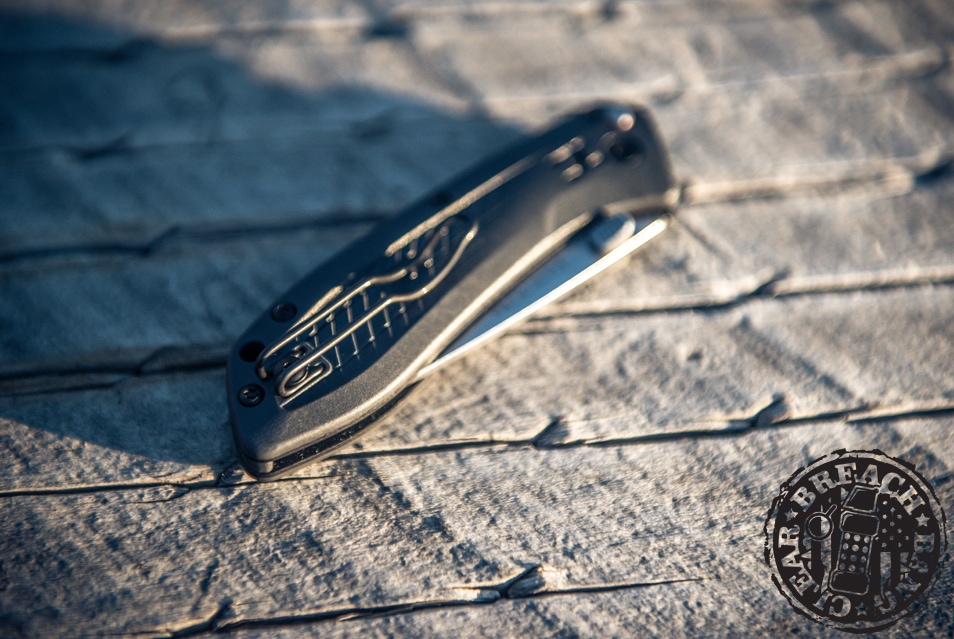 This article made possible in part by B5 Systems (@b5systems), a member of JTF Awesome.
Here are some details from the Gerber website:
▪ B.O.S.S. Tech™ – stainless steel ball bearings technology
▪ Scratch-resistant, removable pocket clip – able to carry tip up or tip down
▪ Ambidextrous assisted one-hand opening blade w/ dual ramped thumbstuds
▪ Blade Material: CPM S30V w/ stone washed finish
▪ Blade Length: 3.0″
▪ Overall Length: 7.2″
▪ Weight: 3.9 oz
▪ Handle Material: Glass-filled nylon
▪ Lock Type: Plunge-lock w/ cross-bolt safety (locks blade open or closed)
Find out more about this and other Gerber Gear products here online.
Sara Liberte
---
---
Mad Duo, Breach-Bang& CLEAR!
Comms Plan
Primary: Subscribe to the Breach-Bang-Clear newsletter here; you can also support us on Patreon and find us on Pinterest.
Alternate: Join us on Facebook here or check us out on Instagram here.
Contingency: Exercise your inner perv with us on Tumblr here, follow us on Twitter here or connect on Google + here.
Emergency: Activate firefly, deploy green (or brown) star cluster, get your wank sock out of your ruck and stand by 'til we come get you.
About the Author: Sara Liberte, who wone the MF lottery when it comes to last names, grew up the younger sister to an Army Ranger…she blames that for everything (awesome) in her life. A photographer/videographer of supreme talent and utter disregard for inclement weather, arduous conditions, or little things like the law of averages, Sara is an eleutheromaniac who loves firearms, motorsports, motorcycles and…well, all vehicles, really, as long as they're the kind that gets dirty and generates adrenaline. She travels the US in a van called the Dodge Mahal, dog at her side (he also rides in her motorcycle sidecar). If you need to find her, you'll have to look outside. Try moto-events, mountain ranges, or firearms classes.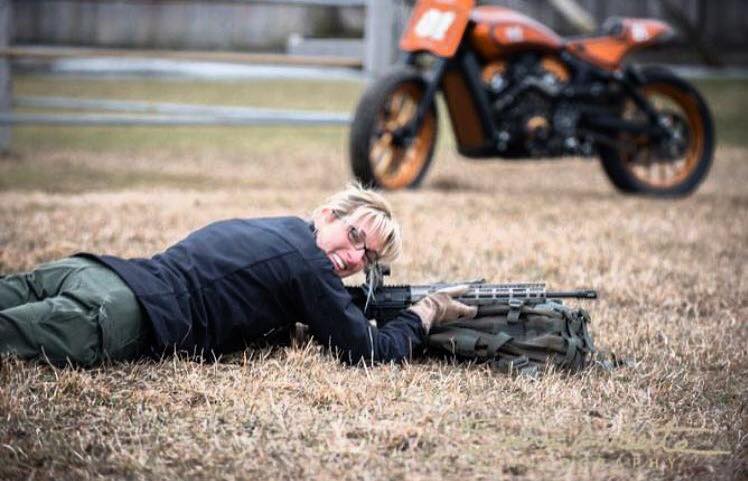 Liberte, whose favorite movie is "First Blood", runs the website Garage Girls and is the author of How to Repair and Maintain American V-Twin Motorcycles and 1000 Biker Tattoos. Her work has appeared in Easy Riders, In The Wind, Hot Bike, Street Chopper, IronWorks, Cycle Source, and RECOIL Magazine.
What more is there to say?
Follow her on Instagram, @saralibertephotography. She's on Facebook too.
Grunts: eleutheromania.