From the West With Love | Review of the Co-Pilot

The lever gun may feel like a throwback to some–but you can still face shoot with it, so it's good with us. Today John Marrs reviews the Co-Pilot by Wild West Guns. Even if it isn't your thing, enjoy the view. Mad Duo

From the West With Love- Review of the Co-Pilot
John Marrs
I've always been a big fan of lever action rifles. Their design and function are like a piece of art. Not to mention that they've been around with little change for over a century. An Alaskan hunter once told me that the lever action rifle in .45-70 Govt. Caliber is the most popular firearm for him and his like. The reasons he gave were that the lever action works even in the coldest temperatures and the 45-70 will stop anything on the continent. This is important because, as he said, "In Alaska, as soon as you leave your house, you are again part of the food chain." Apparently, they are also a good choice for hunting Dinosaurs, as Chris Pratt carries one in the Jurassic World movie.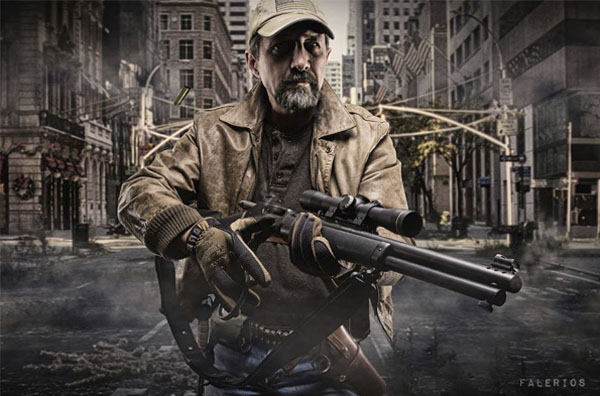 The Co-Pilot is a heavily modified Marlin model 1895 in .45-70 Govt. caliber Made by Wild West Guns of Las Vegas. Modifications to the rifle are intended to improve its accuracy, ease of use, portability and range. To see how much difference the modifications made, I went to the range with the Co-Pilot and a stock Marlin 1895 and put both rifles through the same tests.
To improve portability, the rifle is transformed into a take-down model. It has a threaded barrel and comes apart where the barrel meets the receiver. To disassemble, open the action and loosen the set screw on the end of the magazine tube below the muzzle. Then slide the magazine tube forward an inch or two, so it comes free of the receiver. Unscrew the barrel and magazine from the receiver and the rifle is disassembled. Reassembly is done by reversing the process. I really like this option, as it allows for transportation of the rifle in a backpack or other container that does not advertise it as a gun.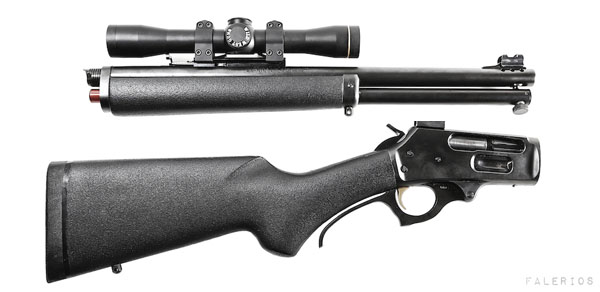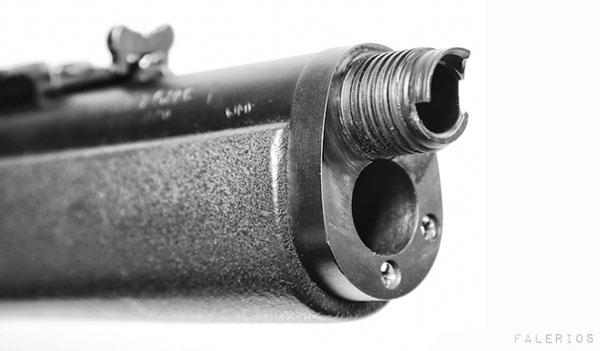 The only problem I ran into during reassembly was ensuring the barrel was not over-tightened. If it was, it threw the alignment of the magazine tube off and it would not go into the receiver. Once I figured that little nuance out, it was easy and fast. After about ten repetitions I could easily disassemble it in around 25 seconds and reassemble the rifle in about 45 seconds.
To improve handling, barrel length is reduced to 18.5 inches. The barrel is also ported to reduce recoil and muzzle rise. Overall length of the rifle is 37 inches. The porting made more of a difference than I thought it would. There was a very significant improvement when it came to recoil. Felt recoil was reduced and the gun had minimal muzzle rise vs a stock Marlin. This meant better control, less movement of the gun during recoil, faster recovery and faster follow-up shots. To further help with recoil, the stock butt pad is replaced with a Pachmayr Decelerator. They went with the Decelerator because it resists crushing over time and also absorbs recoil well.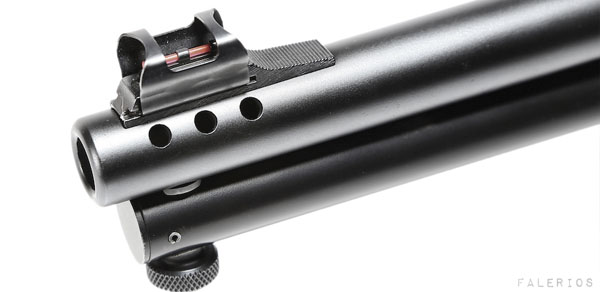 A rail is added over the barrel forward of the receiver to mount a scope "Scout" style. The rifle I tested was set up with a 2x Leupold. Forward mounting in this style makes for fast sight acquisition. Be aware though, that this mount limits your selection of glass. Many standard scopes will not work because you cannot get the needed eye relief. I really like this style of scope mount on this type of rifle. However, the rifle I tested had a Weaver Rail. I would suggest changing that to a Picatinny Rail. The Picatinny Rail allows a much wider range of optics to be used. I was advised by Wild West Guns that the Picatinny rail is available.
One of the drawbacks of the .45-70 is that it does not perform well at long range. The large, heavy .45 slug falls out of the air pretty quickly with a standard load. Not that it can't kill whatever it hits, because it is still very lethal, but you have to make big adjustments in your aim at anything much further than 150 yards. To improve the range, Wild West Guns chambered the Co-Pilot in their own cartridge, developed for this rifle. The new .457 WWG caliber is essentially a magnum version of the .45-70 Govt. cartridge. This round pushes a 350 grain .45 caliber slug out at 2,250 feet per second. It will still also fire the standard .45-70 round and can even single-feed a .410 shotgun shell, if for some reason you need to do that.
Most of my testing was done shooting the .45-70 cartridge so I could compare it with the standard Marlin. When I fired the .457 WWG, I of course had to rezero the scope for that cartridge. Once the gun was zeroed for the .457 cartridge, I fired some .45-70 through it just to see the difference in trajectory. At 100 yard (zero range) the .45-70 hit 34 inches low.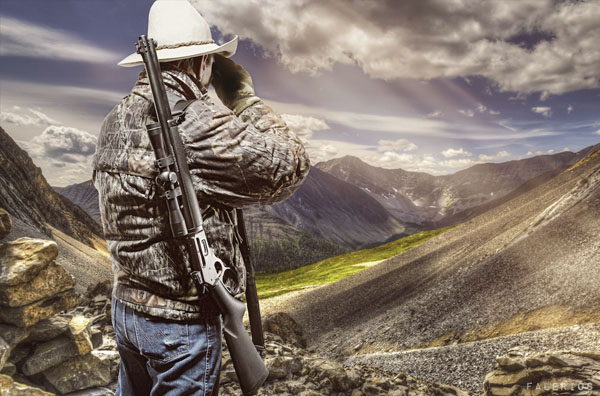 Accuracy was very good with either cartridge. It was no problem to get three round groups under 3 inches from a rest at 100 yards. The scope on the test rifle was only two-power; with a nicer piece of glass, that group could improve. That being said, I did not see any significant difference accuracy over the stock Marlin rifle. Marlin rifles are already very accurate, so there is little room for improvement in that area.
Another improvement on the gun is the sighting system. A proprietary Ghost ring rear sight is installed as is a fiber optic front sight. The stock rear sight is also left on the barrel, should you want to use it. The Ghost Ring sight is fully adjustable for windage and elevation, it is all metal and very rugged.

While most of the upgrades are visible, the inside improvements are even more impressive. The action is tuned and polished. It was extremely smooth when compared to the stock rifle. The trigger work was also very nice with a crisp break at around three pounds. A proprietary big loop lever is also installed. It is similar in shape to the Marlin lever but the edges are all rounded off to avoid knucklebusting when working the rifle quickly. The business end is also refined and lends to the smooth action. I do like this feature as it allows easy use while wearing gloves or if you have big gorilla hands.
The stock is laminated and finished in flat black, as is the finish on all metal parts. They also make a version in stainless steel and a nice looking laminated wood stock, if you prefer bright colored guns. I like the subdued finish, but would prefer a few choices in stock color like O.D. Green or Flat Dark Earth.
So, what's one of these gonna cost you? Well, they start at around $2,900.00. That might sound like a lot when a stock Marlin 1895 comes in at around $1,000.00 or less. Whether the improvements are worth the extra expense depends on how you will use your rifle. That's a question each potential buyer has to answer for themselves. Personally, I'll be spending the next few months figuring out how to get enough money to add one to my collection.
-John Marrs
---
You can visit Wild West Guns to learn more about the Co-Pilot here.
All of the excellent photography in this piece is by Kevin Falerios. To make contact with him (or just see more badass pictures) check out his webpage here, or follow him on Facebook or Tumblr.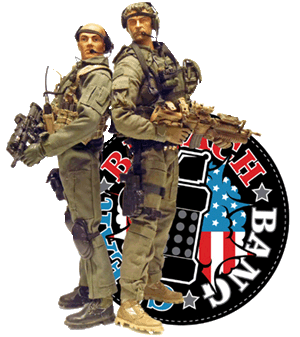 Comms Plan
Primary: Subscribe to our newsletter here or get the RSS feed.
Alternate: Join us on Facebook here or check us out on Instagram here.
Contingency: Exercise your inner perv with us on Tumblr here, follow us on Twitter here or connect on Google + here.
Emergency: Activate firefly, deploy green (or brown) star cluster, get your wank sock out of your ruck and stand by 'til we come get you.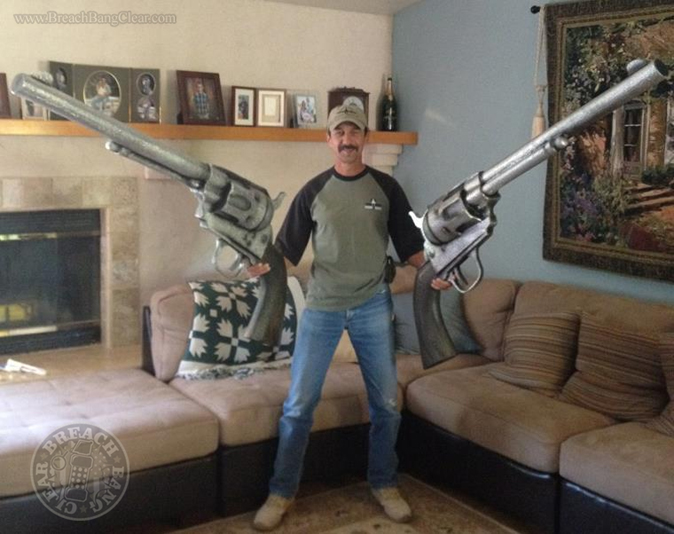 About the Author: John Marrs is a retired Patrol Sergeant who served the San Luis Obispo County Sheriff's Office (CA) for over 25 years. He worked on the department's SWAT team with both Entry and Sniper elements was well as holding the Sniper Team Leader billet. Marrs is a co-founder of his agencies Patrol Rifle training program, was a firearms instructor for his department, the basic police academy and the International Association of Law Enforcement Firearms Instructors (IALEFI). He is also the owner (and now full time director) of Spartan Training Resources in Atascadero, CA (also on Facebook here). In addition to his LEO service, Marrs spent 6 years in the U.S.Army and 15 years in the Army National Guard as an Infantryman. He worked his way to Staff Sergeant, then went to the Dark Side and completed Officer Candidate School, retiring as a Captain. He freely admits, "Yes, I went to OCS because I realized Officers carry less, walk less, dig fewer fighting positions and generally do less than a grunt." Sounds legit – at least he's honest.