Friday Fundamentals 04 – Shooting With a Flashlight
This article originally appeared on  tacticalprofessor.  It appears here in its entirety with permission with the good professor's permission. Mad Duo

Friday Fundamentals 04 – Shooting With a Flashlight
As originally seen on tacticalprofessor.
Several Negative Outcomes were brought to my attention this week. One was yet another incident of someone shooting their spouse, thinking it was a burglar. She died as a result of one shot to the chest.
The husband told police it was an accident. He told officers he woke up around 4:15 Saturday morning and heard noises in his house … He told investigators he grabbed his gun and when he saw a light on and someone standing in the distance, he took a shot. He said the person he ended up hitting once in the chest was his wife.
This sad situation bolsters my contention that when we pick up a pistol at home, we have to pick up a flashlight at the same time. That's why I made flashlight shooting an integral part of The Tactical Professor's Pistol Practice Program. To get some repetitions in and reinforce the habit for myself, I went to the range this week and shot the entire NRA Defensive Pistol I marksmanship program using a flashlight.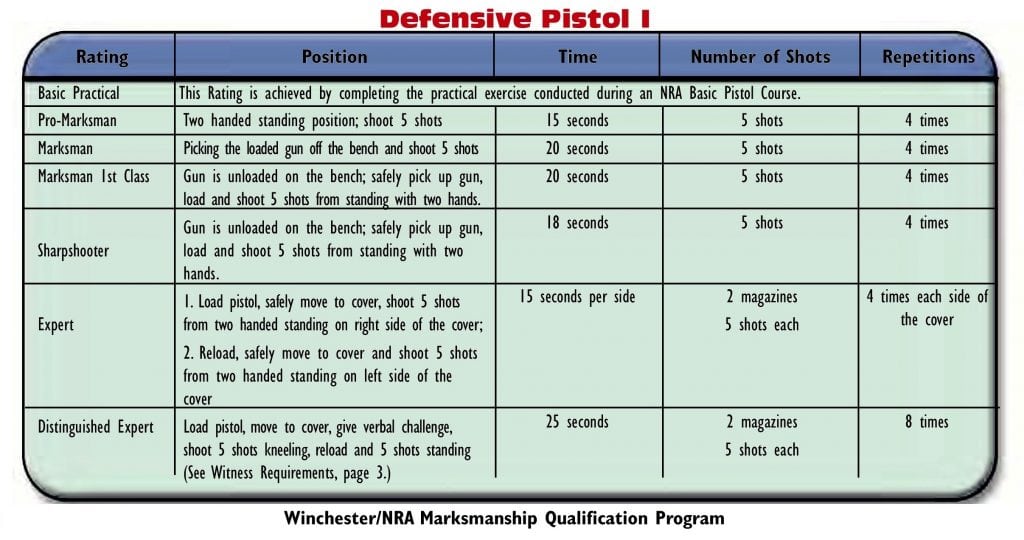 As a curiosity, I also used a timer instead of going by the PAR times in the program. The pistol I used was a Beretta Jaguar in .22 Long Rifle. Many in the industry poo-poo the .22 as a defensive tool but .22s have worked for me. An aspect of .22s I like in the practice context is that shooting several hundred rounds in one session isn't punishing, either physically or financially. I shot it at my gun club but the way Defensive Pistol I is structured, it can be shot at just about any indoor range. That's an aspect of the program I really like.
What I did was to have my pistol, my flashlight, and the timer on a stool in front of me. The target was downrange at the specified seven yards.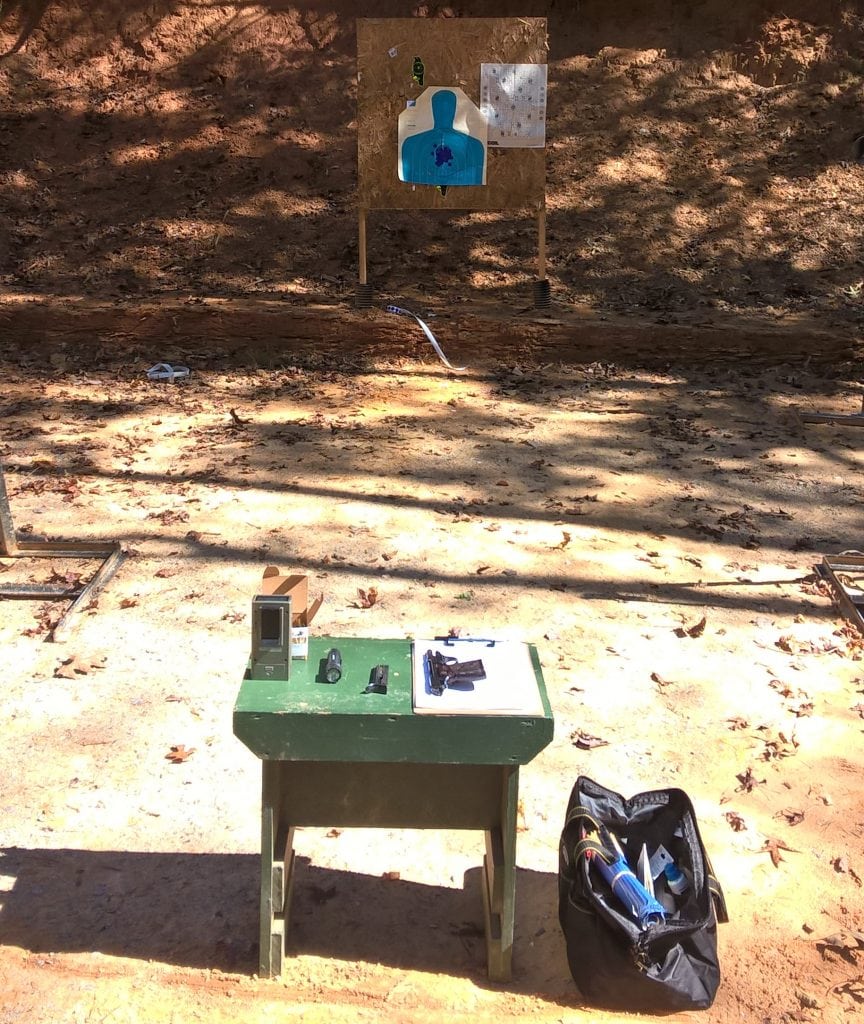 The target was a B-27 with the NRA AP-1 8 ring and X ring marked on it with a template.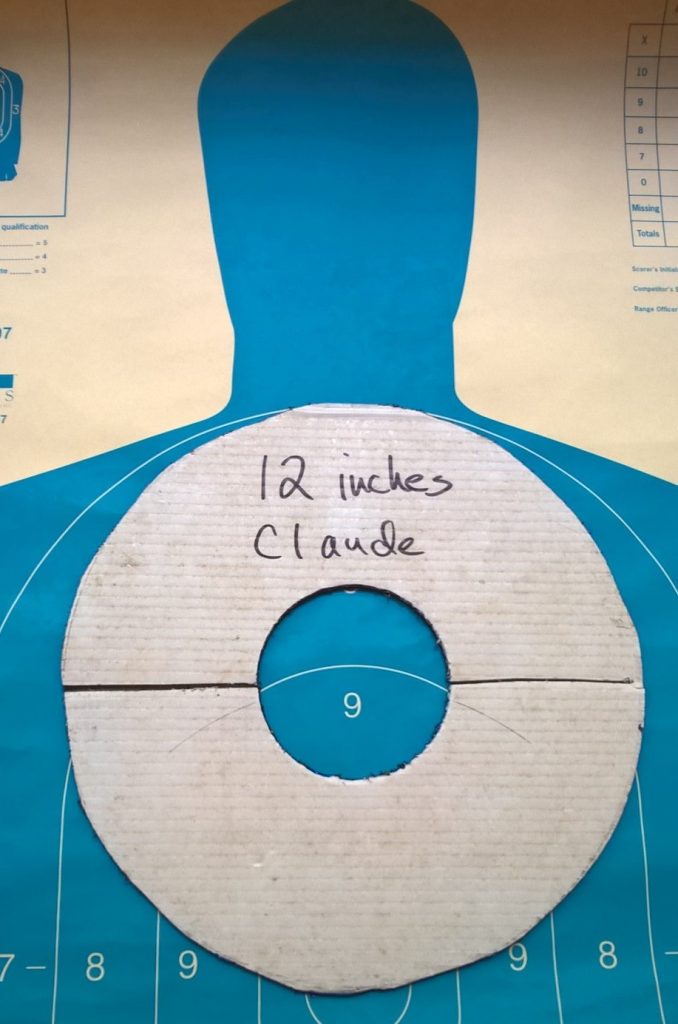 When the timer went off, I would pick up my pistol and flashlight simultaneously, assume the cheek position, and then shoot the specified string of fire. For the phases requiring loading the pistol on the clock, I picked up the pistol and magazine, loaded it, and then picked up the flashlight. After each string, I recorded my times. The NRA provides a scoresheet but it is set up for Pass/fail scoring, so I made my own scoring matrix.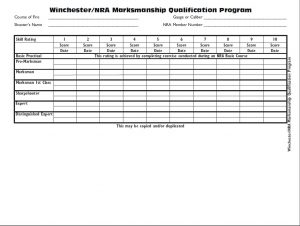 I checked the target after each string to make sure that I had the required 100 percent hits. At the end of each phase; Pro-Marksman, Marksman, etc., I marked the target with blue dots to cover my hits.
For most of the program, I used the cheek technique.
The Expert and Distinguished Expert phases require shooting from behind cover. There weren't any barricades readily available so I used the dueling tree in the bay to simulate cover.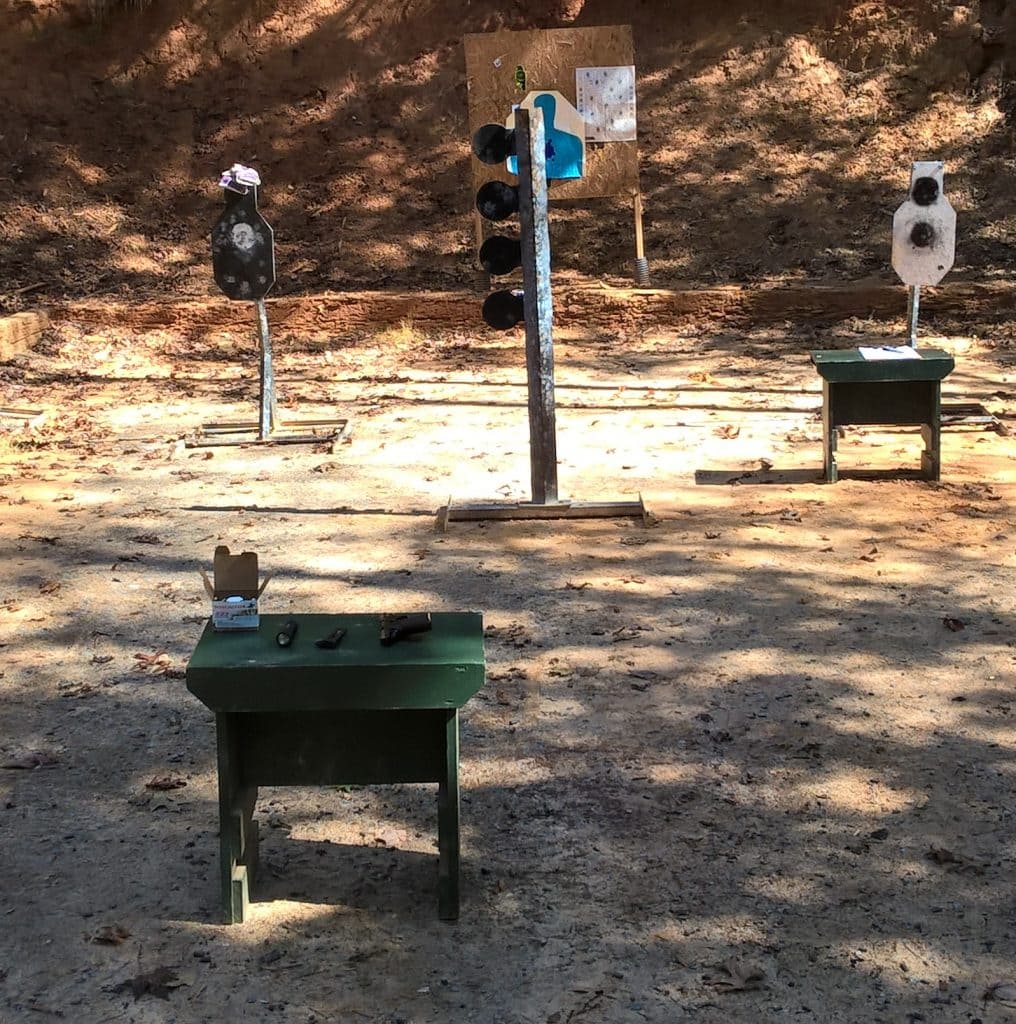 The Expert phase requires shooting around both sides of the cover. When shooting around the left side, I continued to use the cheek technique. When shooting around the right side, I used the Harries technique.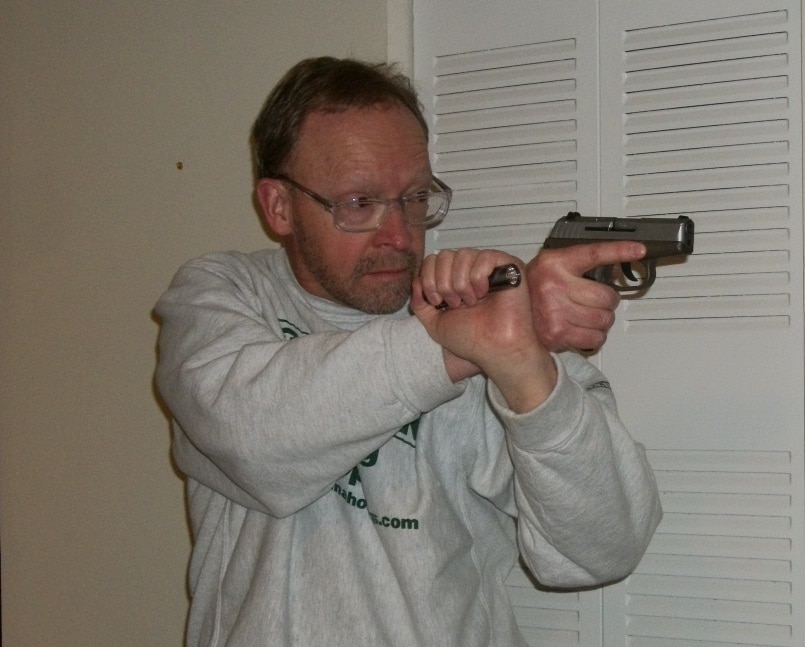 The Distinguished Expert phase doesn't specify shooting around both sides of the cover. However, it does requires eight runs instead of four, so I shot four around the right side and four around the left side.
I was able to maintain the 100 percent standard and got a good idea of my times to accomplish each Phase.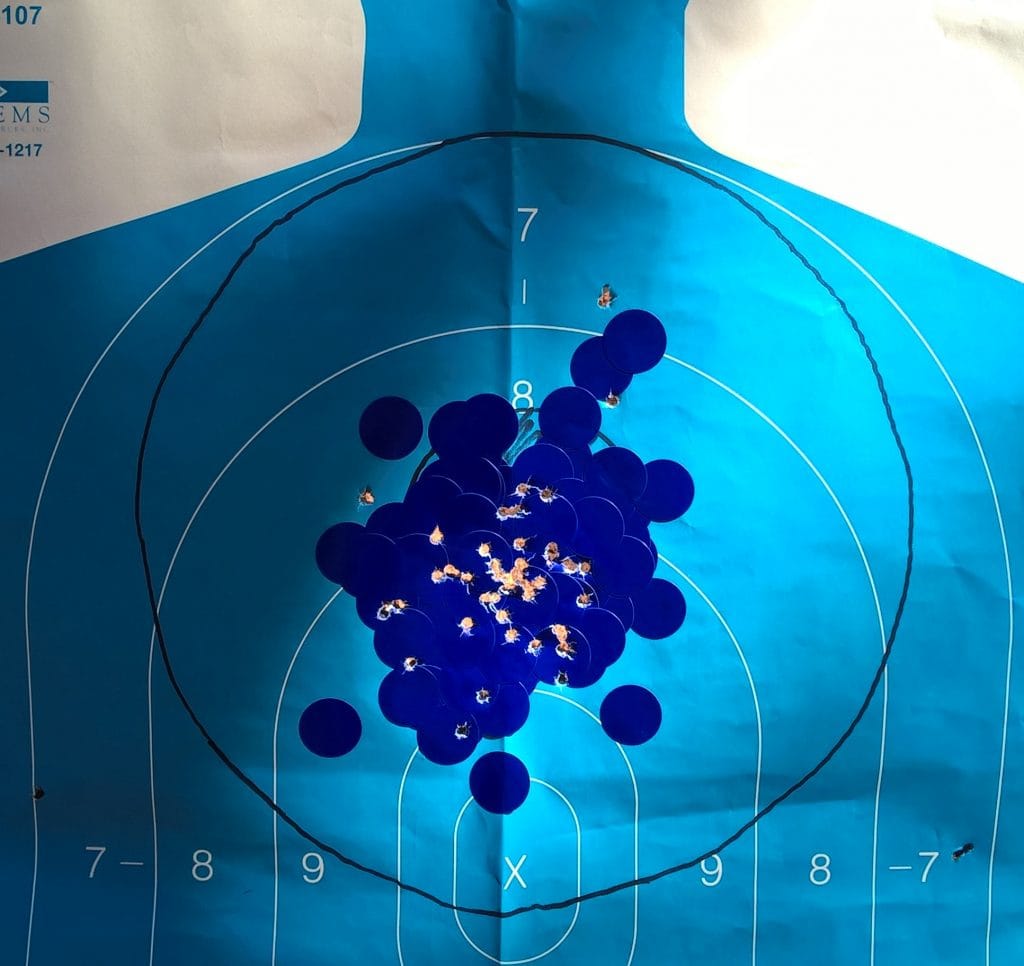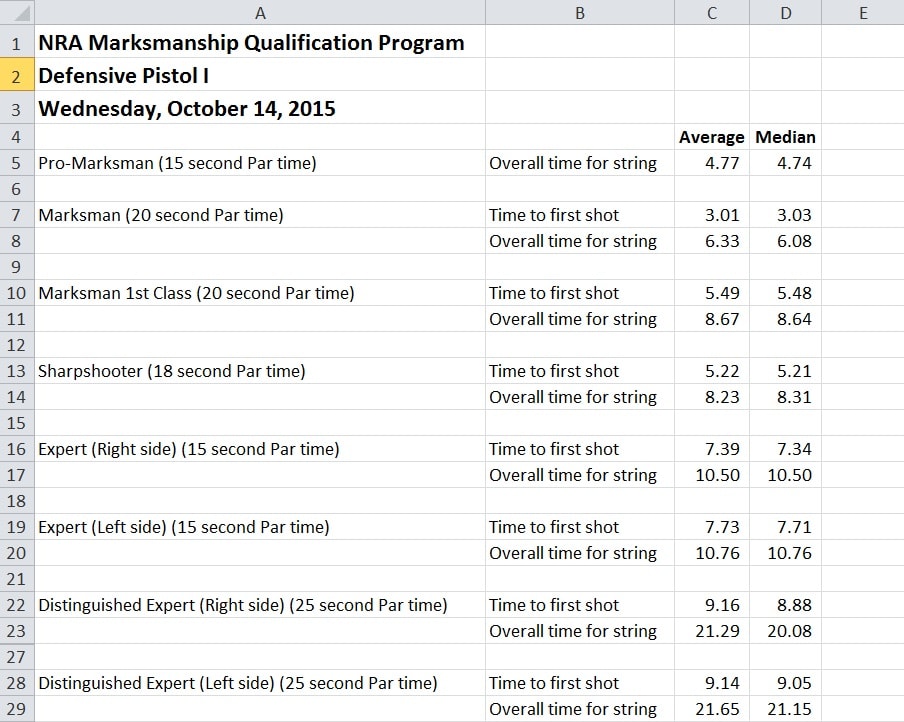 To finish off the day, I used the dots to create some eyes on the target. Then I shot a couple of groups at five yards.
Getting in relevant practice isn't necessarily hard; it just requires a little creativity and forethought.
This article originally appeared on the Tactical Professor blog.
We hope you got something out of this article. If you're looking for more fundamentals and critical thinking, visit the author's home page at The Tactical Professor. While there take a few minutes to read through the Gunfights and Gunbattles section. Some great stuff in there. you can also find him on Facebook, /ATLFirearms/.

More about ADS
ADS is a problem solving company. Comprised of over 360 employees, ADS identifies customer needs and creates product-based solutions.With over 335 long-standing business relationships, ADS can provide fulfillment for almost any requirement. In addition to†fulfilling customer needs, ADS actively creates research-driven content. This content assists in various ways, from energy-saving initiatives to safety solutions. Meaning, they help save money and lives with actual, real world based studies. Visit them online here.
---
---
Mad Duo, Breach-Bang& CLEAR!
Comms Plan
Primary: Subscribe to the Breach-Bang-Clear newsletter here; you can also support us on Patreon and find us on Pinterest.
Alternate: Join us on Facebook here or check us out on Instagram here.
Contingency: Exercise your inner perv with us on Tumblr here, follow us on Twitter here or connect on Google + here.
Emergency: Activate firefly, deploy green (or brown) star cluster, get your wank sock out of your ruck and stand by 'til we come get you.
Grunts: ruminate.
"If you don't own a rifle, you're wrong. Doesn't matter what caliber, even .22 Long Rifle such as a Marlin 60, own one. Have some basic idea of how to use it and practice periodically." Claude Werner