For Close Encounters – Nighthawk Custom Tomahawk
"A durn sight easier to carry than my ten gauge." Everett Hitch

"Coulda used this on LV-426." Cpl. Dwayne Hicks

"I carrya mine inna da sock holster." Instructor Zero
For Close Encounters – Nighthawk Custom Tomahawk
An installment of the 2017 Banging Gift Guide
David Reeder
The recently released Tomahawk pistol-grip shotgun is certain to do two things: 1) make you look really cool carrying it, and 2) create vast amounts of asspain on the interwebz every time you mention it.
I'm not here to argue its practicality, whether the lack of a stock will "break your wrist," or if all the specialty work and features make it worth the asking price. I'm writing this to tell you its out there, because way deep down even the most vociferant detractors kinda actually want one. It's okay to admit it.
Grunts: vociferant.
The Tomahawk, which does not require any NFA paperwork (see below),  is a twelve gauge manual action shotgun with a 16″ Vang Comp backbore and ported barrel. Its overall length is just 26," magazine capacity is 5+1. Both the pistol grip and forend come courtesy of Hogue. Looks like you can run a sling through the grip end of it, or attach an aftermarket QD method up front (or, if you're Steve Fisher, just stick it in your pocket).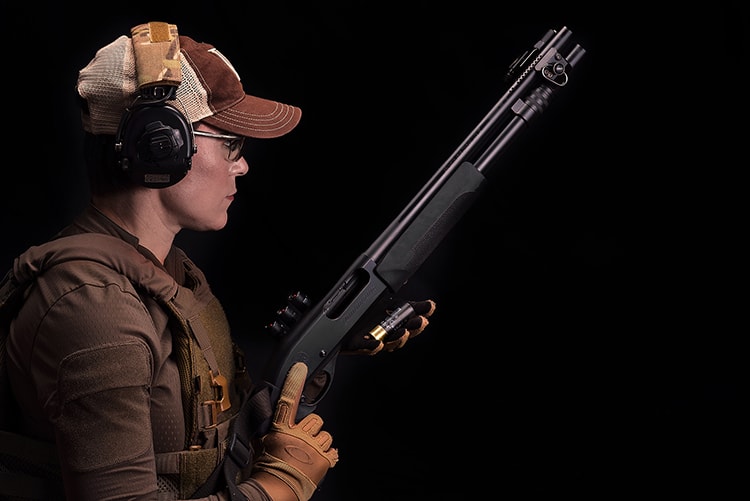 If you're interested in more information, Todd Burgreen evaluated a Tomahawk on Getzone.com.
Part of his findings:
"The Nighthawk Tomahawk was tested with Hornady American Gunner Reduced Recoil #00 and Federal Premium Low Recoil FliteControl #00 buckshot (9 #00 pellets). The Federal Premium buckshot load utilizes a special wad for tighter buckshot patterns — thus longer effective range. However, the role of the Tomahawk as a close range blunderbuss could justify the use of "normal" patterning buckshot represented by the Hornady American Gunner loads. The newer buckshot loads with specialized wads could maintain too tight a pattern limiting its greatest attribute of lead dispersion at distances most associated with practical Nighthawk Tomahawk deployment."
Nighthawk Tomahawk 12 GaugeLOADVelocity avg. (fps)  Pattern 10 yards (in)Pattern 20 yards (in)Winchester PDX1 Defender1,1203.757.5Hornady Reduced Recoil Buckshot1,2804.58Federal Premium PD Buckshot (low recoil)1,13524.5
Fred Mastison also wrote about the Tomahawk on Personal Defense World. Here's an excerpt:
"I am constantly asking myself just what applications a new weapon would have so the Nighthawk Tomahawk got the same treatment. The answer to that question was extensive, but I kept coming back to home defense and vehicle applications. This gun is easy to run and even with a little training can be effectively used by people of any stature. Its small nimble nature not only makes it easy to store, but quick to deploy and fight with."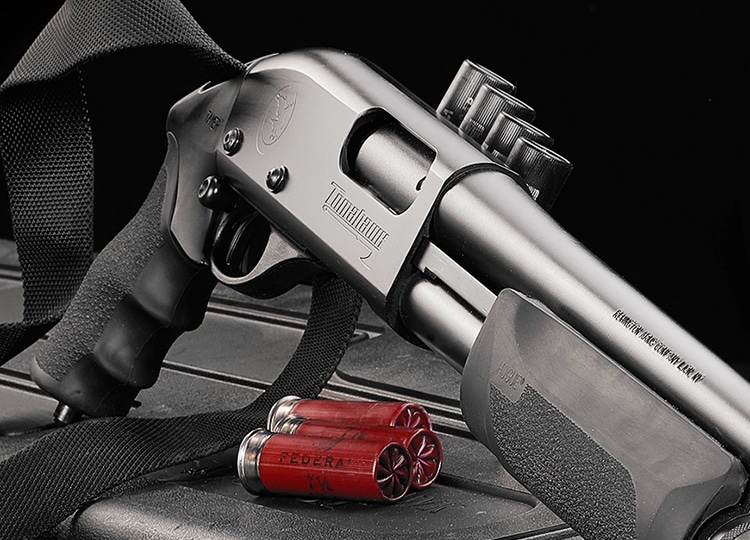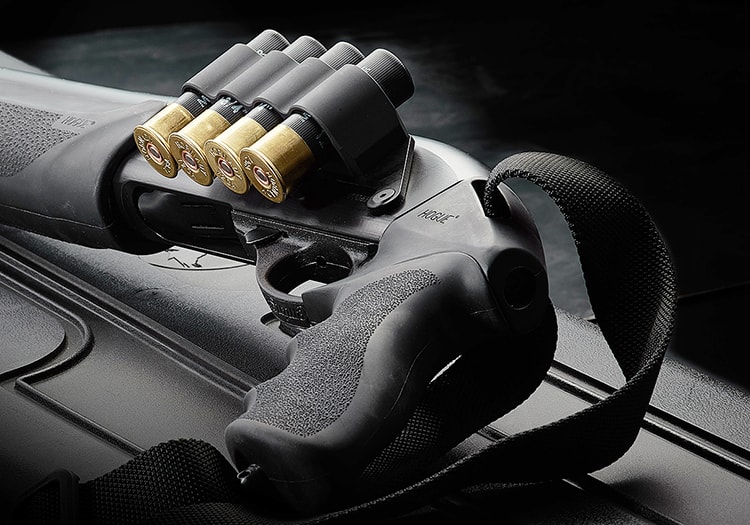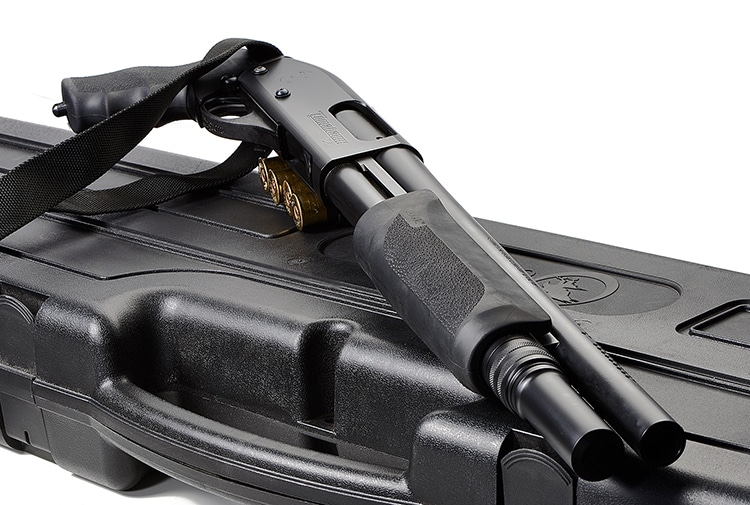 Tomahawk Specs:
• Overall Length: 26.1″
• Barrel Length: 16″
• Hogue Overmolded Pistol Grip and Forend
• Vang Comp Barrel Porting and Backbore
• 4 Round Side Saddle
• Front Bead Sight
• Big Button Tactical Safety
• Hand Honed Action and Rails
• 1-Shot Machined, Solid Billet Extension Tube to Match Barrel Length
• Black Cerakote Rust Resistant Finish
Find the Nighthawk Tomahawk online here on their website: http://www.nighthawkcustom.com/tomahawk.
Need more shoppin' help? Check out the full lineup of the Banging Gift Guide 2017.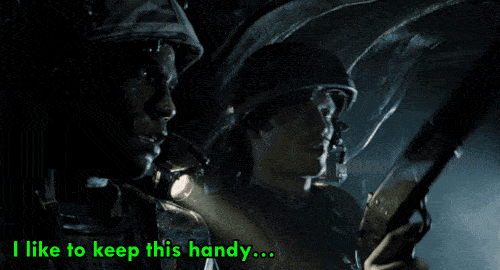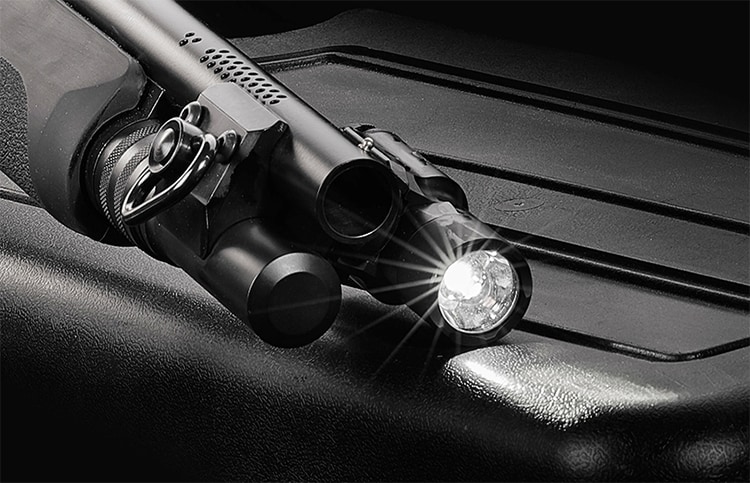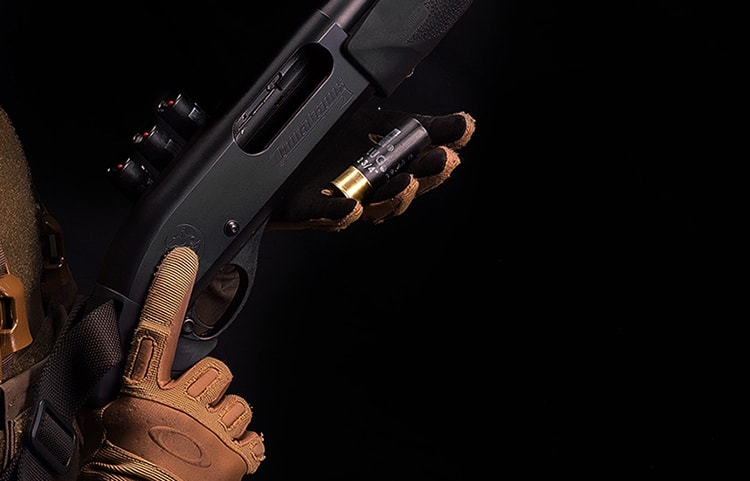 Here's a look at the BATFE letter Nighthawk advises they received, categorizing the Tomahawk.
Support Dark Angel Medical. They are a part of JTF Awesome .

---
---
If you wish to share or repost, please so kind as to follow our terms and conditions.
Mad Duo, Breach-Bang& CLEAR!
Comms Plan
Primary: Subscribe to the Breach-Bang-Clear newsletter here; you can also support us on Patreon and find us on Pinterest.
Alternate: Join us on Facebook here or check us out on Instagram here.
Contingency: Exercise your inner perv with us on Tumblr here, follow us on Twitter here or connect on Google + here.
Emergency: Activate firefly, deploy green (or brown) star cluster, get your wank sock out of your ruck and stand by 'til we come get you.
T&C: All original material published by Breach-Bang-Clear is the copywritten property of Breach-Bang-Clear, Inc. If you wish to repost, republish, or otherwise share our content, feel free to reproduce an extract of up to 225 words and one complete, unaltered image, preceded by attribution crediting the source and author's name, to include a link to the Breach-Bang-Clear home page, with a link back to the full article on our website, BreachBangClear.com. You do not require our permission to do this. Please do not reproduce our content in its entirety without contacting us first. We do allow full syndication on a case by case basis (credited, and posted with a canonical link, as is common practice and in good form) but only when mutually agreed upon beforehand. If you wish to reproduce a complete article, please contact us for permission to publish first.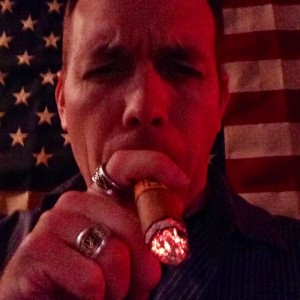 About the Author: It might not be too surprising that David Reeder, who never met a $50 word he didn't like, one of the "leaders" of the pedagogic and frequently obstreperous Breach Bang Clear team — insomuch as they have a leader (the terms orchestra conductor and rodeo clown are equally apropos). A former POG who tastes like chicken, Reeder cannot play the harmonica. He founded Breach-Bang-Clear quite accidentally at his young son's behest several years ago. He is the Mad Duo's Chief Wretched Flunky and Breach-Bang-Clear's HMFIC. A LEO for many years and former AF Security Forces SNCO, he was an O/C at the National Homeland Security Training Center for many years and a longtime MOUT instructor at the Bold Lighting UWS. Reeder has appeared on Fox News Business and written for a number of publications, from US News & World Report and Military.com to RECOIL Magazine and Soldier Systems Daily. All of that sounds way cooler than it actually is. You can read more about him here. Follow his banality on Instagram, @davidreederwrites.
"I have no taste for either poverty or honest labor, so writing is the only recourse left for me" Hunter S. Thompson

"Some editors are failed writers, but so are most writers." T.S. Elliot

"Either write something worth reading or do something worth writing." Benjamin Franklin