SHOT Show 2018: First Annual Banging Brouhaha!
Banging Brouhaha 2018 is the inaugural rally of the badass Hogs & Heifers staff and Breach-Bang Clear's wretched minions. Come drink and help us raise some money. Breach-Bang-Clear
SHOT Show 2018 – Breach-Bang-Clear + Hogs & Heifers
Spend some of your SHOT 2018 Enjoying Libations With Us at the Banging Brouhaha
Breach-Bang-Clear Staff
We'll make this quick and to the point – Tuesday evening a bunch of us will be rallying at the Hogs & Heifers Saloon (see more below) to have a good time and raise some money for a couple of good causes. The primary focus will be for the LVMPD (Las Vegas Metro Police Department) Honor Guard. A secondary focus (if we can get the details sorted ahead of time with an appropriate organization) will be autism research.
Join the Breach-Bang-Clear crew, Crown Royal, Axe Monkeys, Raidon Tactics some of the Special Forces Association, CRI Counter Terrorism School, and the LVMPD Honor Guard at Hogs & Heifers Tuesday the 23rd. It all kicks off at 19h00L, and will go 'til…well, whenever.
*The Honor Guard will do the Pledge of Allegiance at 2000 — be there for that!*
If you or your organization would like to help support the Banging Brouhaha, you'll need to reach out to Penny Osiecki, [email protected] She'll be handling all the $$$ and making sure it gets where it needs to go. Otherwise just plan on hurling some steel — we'll have an axe throwing cage set up all night, courtesy of Axe Monkeys.
If you know one of our crew and can get one of the event shot glasses ahead of time, you should do so. They come with a guarantee of two complimentary shots courtesy of Crown Royal.
You can read up on Hogs & Heifers in Sharon Durand's Small American Business article about 'em.
Who is Qualified to attend the Banging Brouhaha at Hogs & Heifers?
Can you drink? Can you throw an axe without hurting yourself? Do you love America? Do you like boobs?
If you can answer at least one of those questions in the affirmative, then it's you who should be attending the Banging Brouhaha.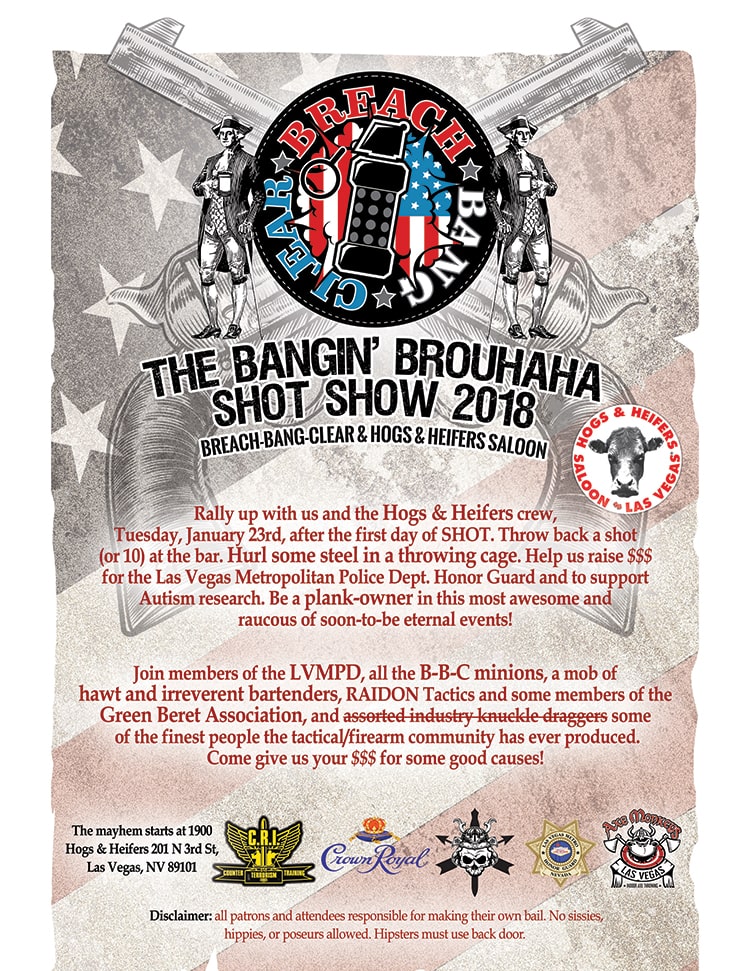 ---
---
Breach Bang Clear
This has been another pulchritudinous installment of Breach Bang Clear. Breach Bang Clear is the warrior scholar's choice for commentary and analysis of national and international events, gun news, tactical industry news, and of course gear reviews. Here we embrace the abstruse, encourage civil discourse, meet uninformed dogma with snarktastic vituperation, and always eschew sesquipedalianism. Think and be dangerous.
Grunts: sesquipedalian.
If you wish to share or repost, please so kind as to follow our terms and conditions.
Comms: The Following Is Our PACE Plan
Primary: You should immediately subscribe to the Breach-Bang-Clear newsletter here; you should also be reading all our pontifications and every single Op-ED we publish.
Alternate: We present superb gun pr0n, knife pr0n, and tactical industry news on on the Breach-Bang-Clear Facebook page; there will be more of that, and some military humor as well, on our Instagram account (@breachbangclear), so be sure to check in there frequently.
Contingency: There will be an additional chance to read tactical news, gun reviews, outdoor gear reviews, adventure equipment reviews, and blade pr0n on our Google + account;
Emergency: Activate firefly, deploy green (or brown) star cluster, get your wank sock out of your ruck and stand by 'til we come get you.
T&C: All original material published by Breach-Bang-Clear is the copywritten property of Breach-Bang-Clear, Inc. If you wish to repost, republish, or otherwise share our content, feel free to reproduce an extract of up to 225 words and one complete, unaltered image, preceded by attribution crediting the source and author's name, to include a link to the Breach-Bang-Clear home page, with a link back to the full article on our website, BreachBangClear.com. You do not require our permission to do this. Please do not reproduce our content in its entirety without contacting us first. We do allow full syndication on a case by case basis (credited, and posted with a canonical link, as is common practice and in good form) but only when mutually agreed upon beforehand. If you wish to reproduce a complete article, please contact us for permission to publish first.