Small American Business: Hogs & Heifers
Small American Business: Hogs & Heifers 
Sharon Durand
"No lemon, no lime, no salt, no sugar, no olives, no onions, no tomato juice, no pineapple juice, no frozen drinks, no margarita glasses, no martini glasses, no wine, and no fucking whining." Michelle Dell
Hogs & Heifers Saloon in Las Vegas, Nevada can be described as either slightly out of control or controlled chaos, with a story behind everything. The story started in New York City in 1992, when the late Allan Dell opened an All-American classic country and southern rock-n-roll dive bar called Hogs & Heifers. Hogs & Heifers was like the bar in the original Star Wars movie; you never knew what you were going to get when you walked in. The first bartender he hired was Michelle Dell, who later became his wife. She subsequently became the sole owner after Allen's sudden passing in 1997. The décor, routines, and style of dress worn by the bartenders was all Michelle.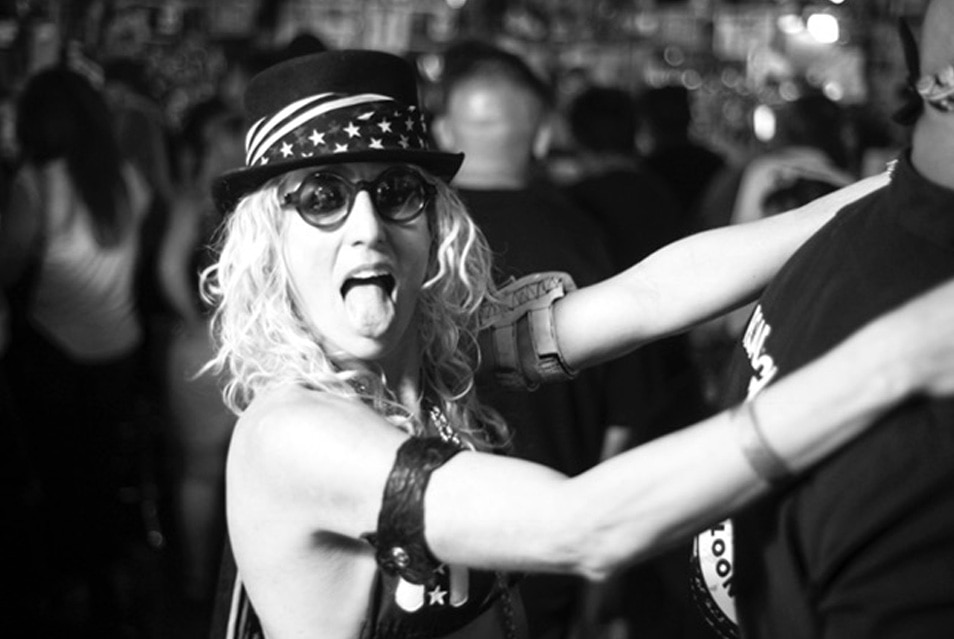 It's said that imitation is the sincerest form of flattery. Or as Michelle maintains, "If it looks like a rip off and sounds like a rip off, then it must be a rip off!"
She is of course referring to the movie Coyote Ugly, a movie that "borrowed" key elements Hogs and Heifers was known for, namely the memorabilia, donated bras displayed on the walls, and of course the sexy bartenders dancing on the bar. Michelle ultimately pioneered the concept of dancing on the bar out of necessity. Freezing cold NYC temps, combined with the lack of heat beyond what a few space heaters could produce, prompted Michelle to fire up the jukebox, hop up on the bar, and dance to stay warm. The fact bar patrons loved it made it a win-win. Even mega celebrities like Julia Roberts hopped up on the bar, danced to The Devil Went Down to Georgia, and donated her 34B Maidenform bra, which is now in safekeeping for obvious reasons.
Disclaimer: I did not donate my bra in the making of this Small American Business spotlight. However, I'm sure if given the opportunity…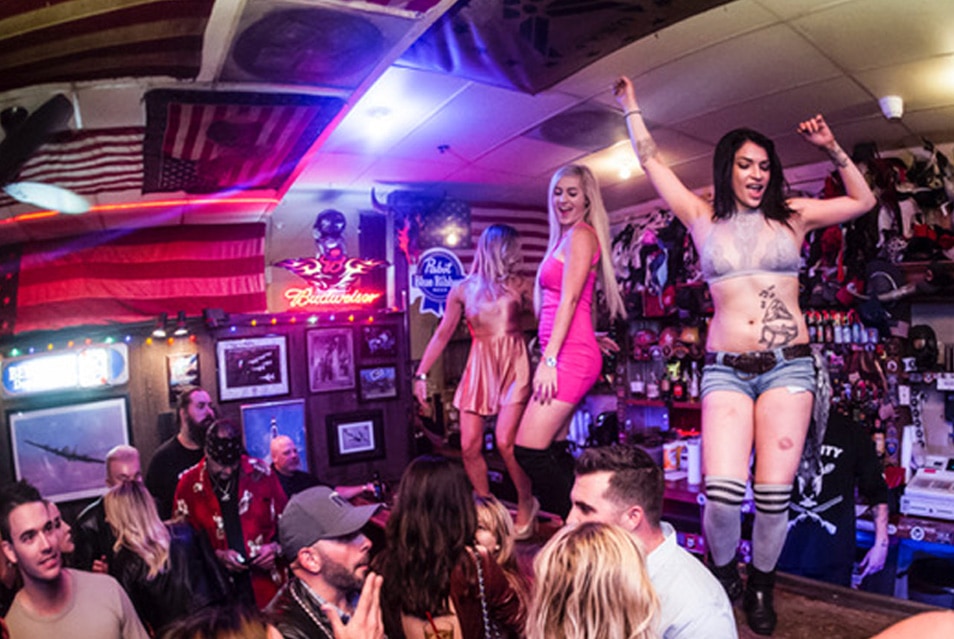 The success of the NYC location drew the attention of the city of Las Vegas, which was looking for businesses that could survive without gaming while also being entertainment savvy. After finding the perfect location on N 3rd St — a stand-alone building with ample motorcycle parking out front and a hotel/casino right across the street — Hogs & Heifers Las Vegas opened on July 6, 2005. Sadly, a little over ten years later Michelle had to make the heartbreaking decision to close the flagship NYC location after the rent skyrocketed from $14,000 to $65,000 a month, making it impossible to keep their doors open.
Thankfully the story continues with Hogs and Heifers thriving twelve years after their Las Vegas grand opening, with locals and tourists from around the world and all walks of life flocking to the world famous biker/dive bar that is pure Americana, loud and unashamedly rowdy, and an all-around kickass good time. The sexy, crazy, loud, ballsy, in-your-face (I could go on, but you get the idea) bikini-top clad bartenders dance on the bar, entice ladies to dance with them and to donate their bras (they average about a thousand bras a month, with well over 10,000 displayed) all while interacting with the crowd via megaphones.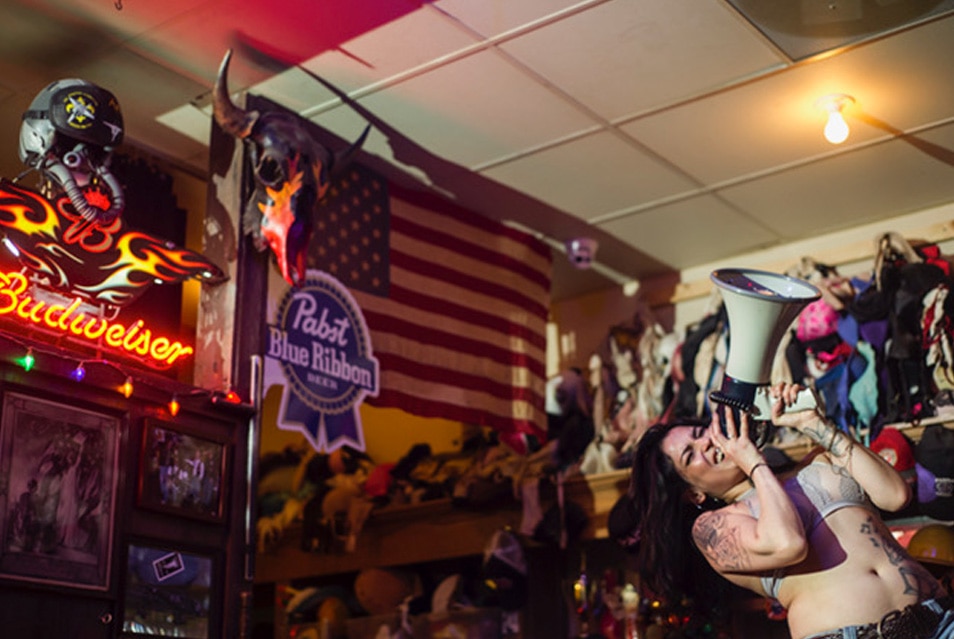 If you think what they do is easy, it's not. They run the jukebox like orchestral conductors, singing along and shaking their asses, seamlessly transitioning from one musical genre to the next all while serving beer, shots, and basic cocktails. They do not do fancy, so if you're looking for a finely crafted cocktail created by a "mixologist," Hogs & Heifers is definitely not the bar for you. It's a get in, get out, BYOF (no food is served there but you're welcome to bring your own) cash-only bar, and Michelle's mantra is simple:
"No lemon, no lime, no salt, no sugar, no olives, no onions, no tomato juice, no pineapple juice, no frozen drinks, no margarita glasses, no martini glasses [although she does make a mean martini], no wine, and no fucking whining."
Better believe the bartenders will put you on blast via megaphone (a fair warning for all you snowflakes or those with Katagelophobia out there!) and shame you into ordering a couple shots of tequila (one for you, one for the bartender) if you dare order a blended margarita. As Yelp Reviewer Alex B explained, "Yes the bartenders are loud and pushy…and fun. Them yelling at you and you getting butt hurt is like complaining that the chef at Benihana keeps throwing food at you. Bring your adult panties and a stack of cash and have fun with it."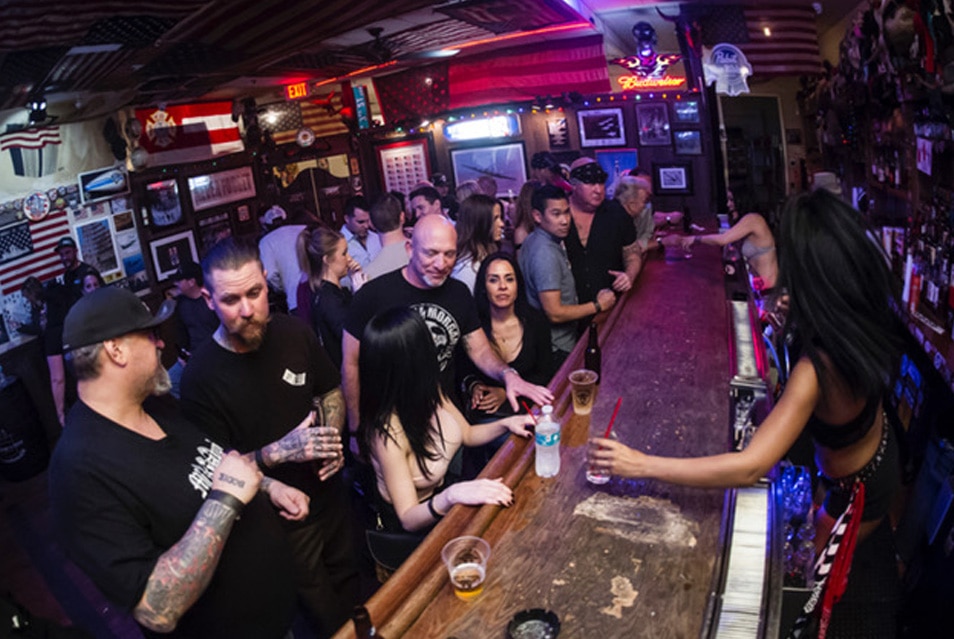 Grunts: Katagelophobia.
Having fun and letting loose is the Hogs & Heifers experience Michelle and her team are all about. They regularly put on outdoor/street events, like the Rally in the Alley for the Las Vegas Bike Fest.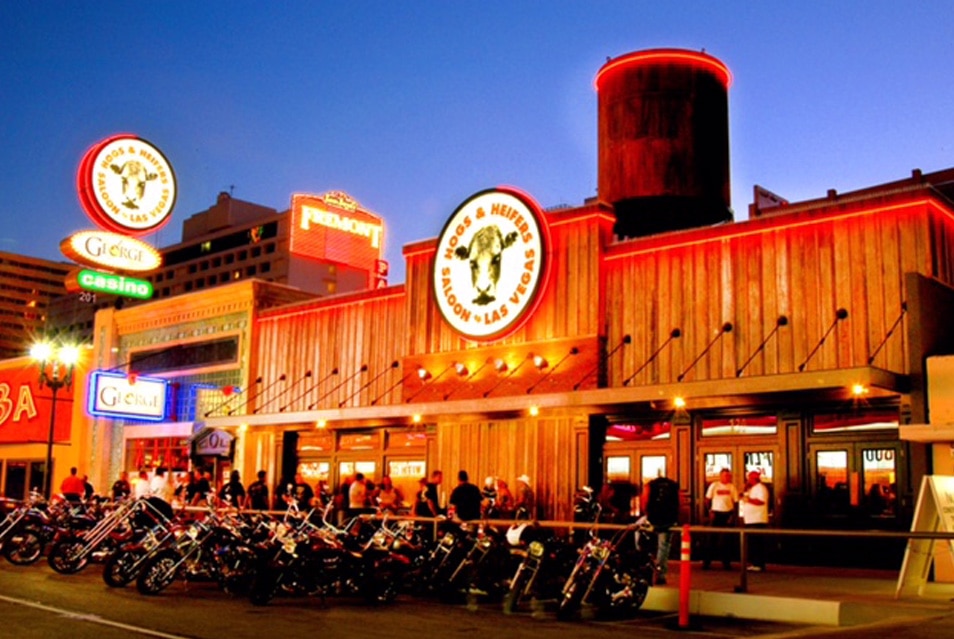 But they're also all about being an active participant in their community by giving back, something near and dear to Michelle's heart since she was raised by a single mom who benefitted from the kindness of charity to make ends meet.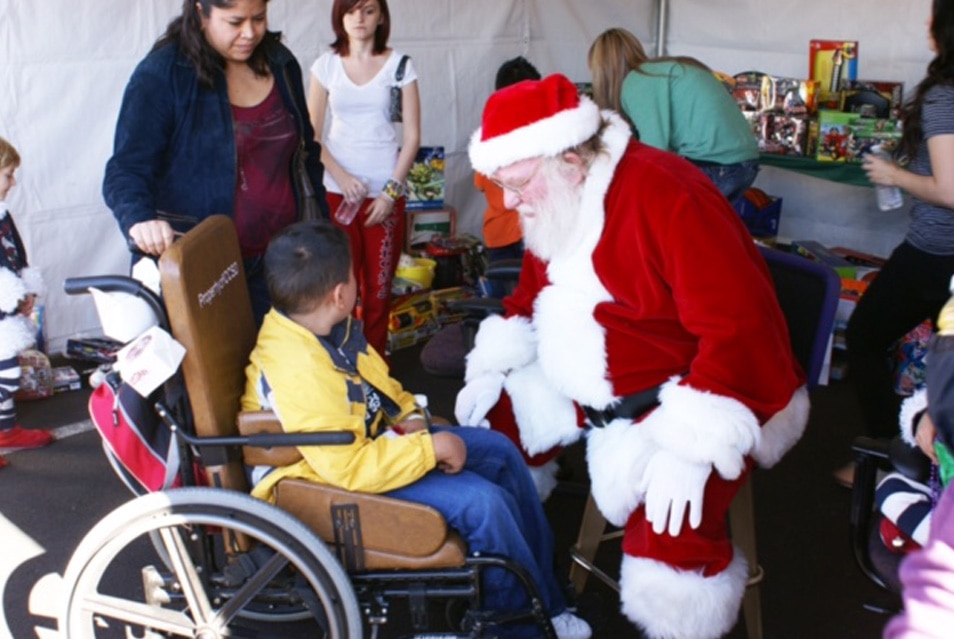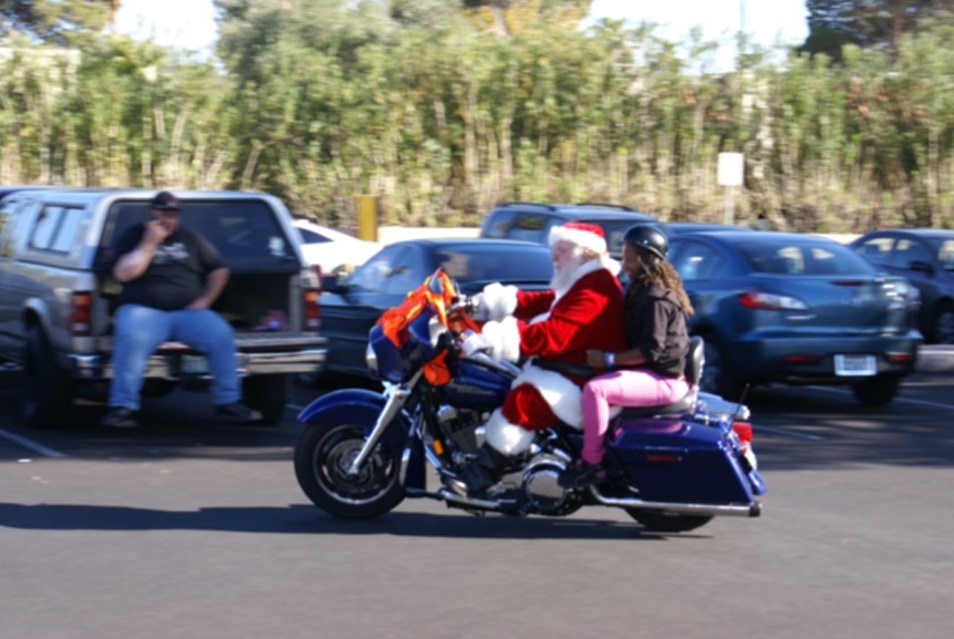 Hogs & Heifers holds numerous charity events throughout the year, benefitting organizations like the Nevada Childhood Cancer Foundation (NVCCF) with Hog Wild for Kids, which sends 250 children battling life threatening illnesses and their siblings to camp at no charge to the families. The bar also supports the Sunrise Children's Hospital with their annual Holiday Toy Run, a hands-on event with the staff personally delivering toys, giving the children motorcycle rides, face painting, and of course visits from Santa, Mrs. Claus, and the elves.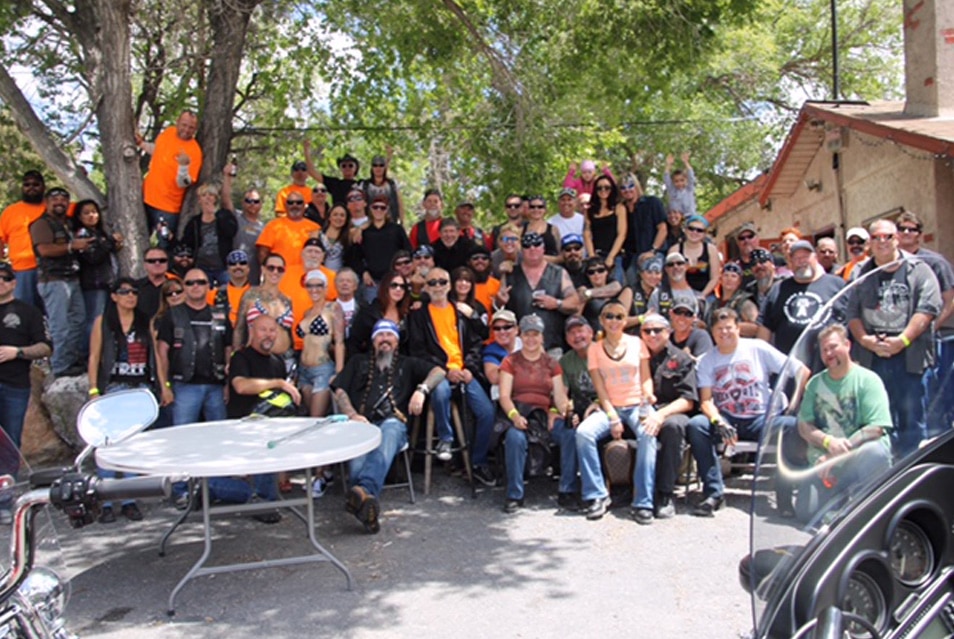 Customers are actively encouraged to donate as well, the benefit being they can actually see their generosity in action in the community. Michelle is also a staunch supporter of the military (show your military ID and the first drink is on the house!), law enforcement, firefighters, and first responders. They work with the Terry Farrell Firefighter's Fund and have events on Memorial Day and Veterans Day. They are currently looking to work with ROVER (Regional Outreach Veterans Engagement Resources), an organization dedicated to serving veterans and their families. The bar even has a special room called the Flag Bar, which is like a museum if you will, displaying all the flags, patches, stickers, gear, and other memorabilia donated from members of the armed forces, law enforcement, firefighters, and first responders.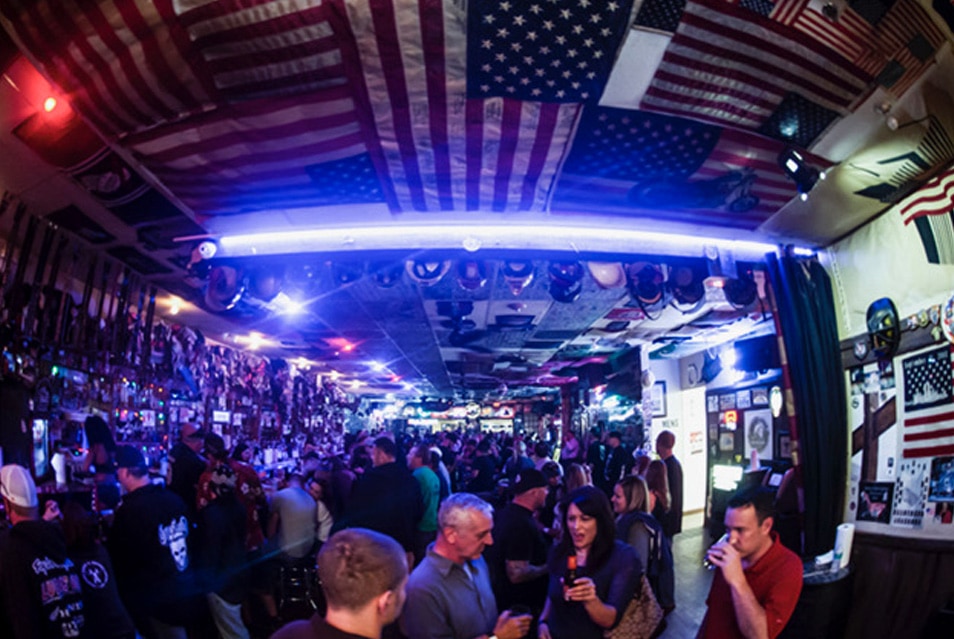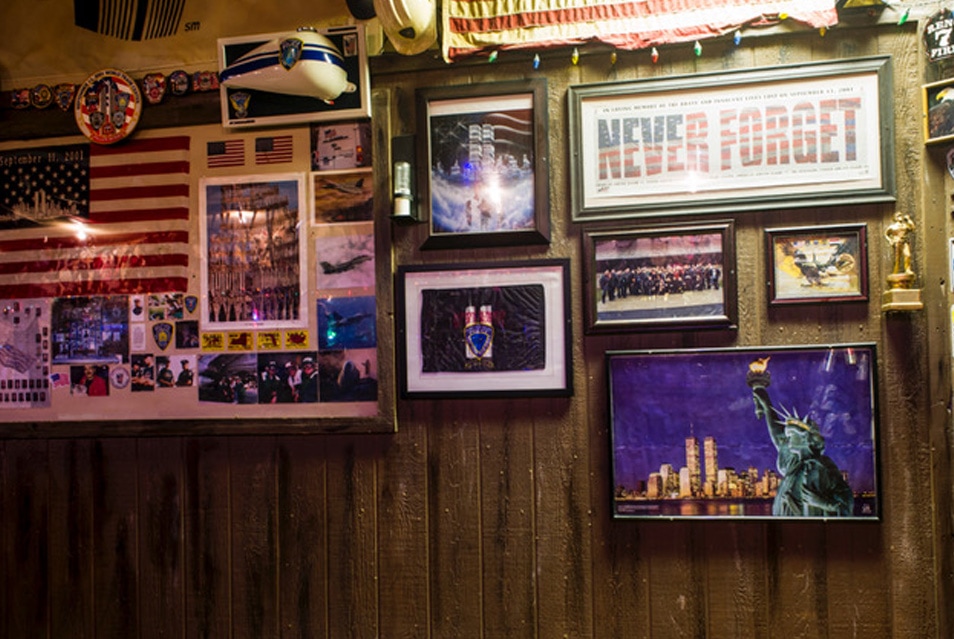 As for where the Hogs & Heifers story goes from here, Michelle has zero interest in opening a chain of bars, even though she's been approached to do so. To her, business is life, but she chooses to retain the non-cookie cutter Small American Business spirit of Hogs & Heifers that emphasizes "Family, Good Friends, Good Times, and celebrating Americana."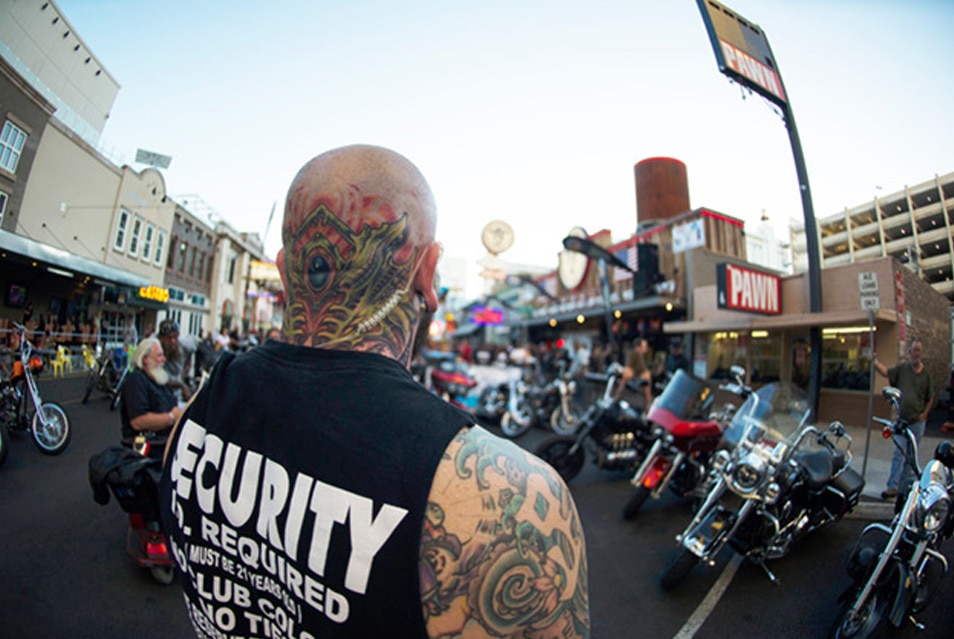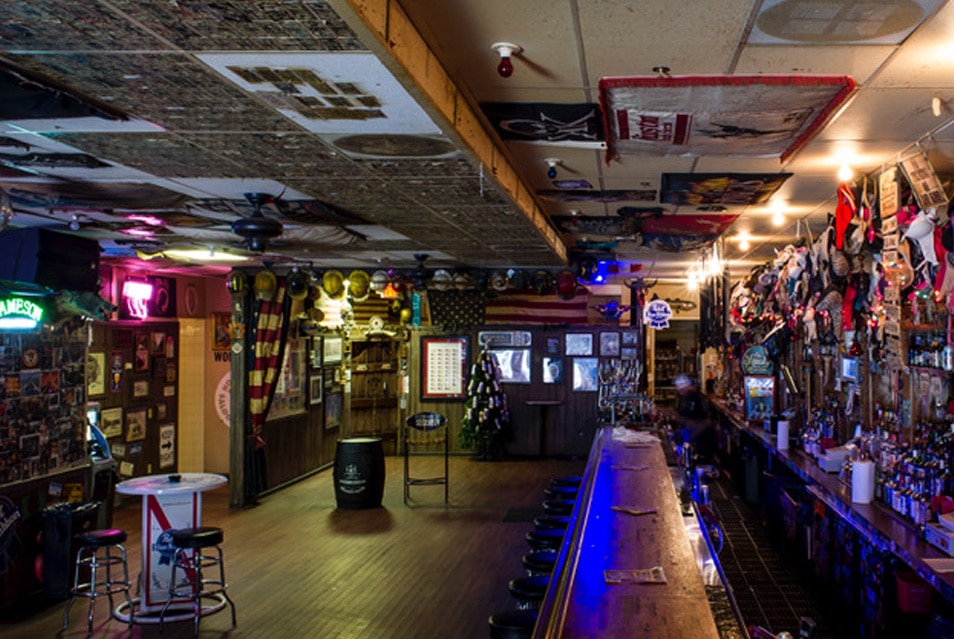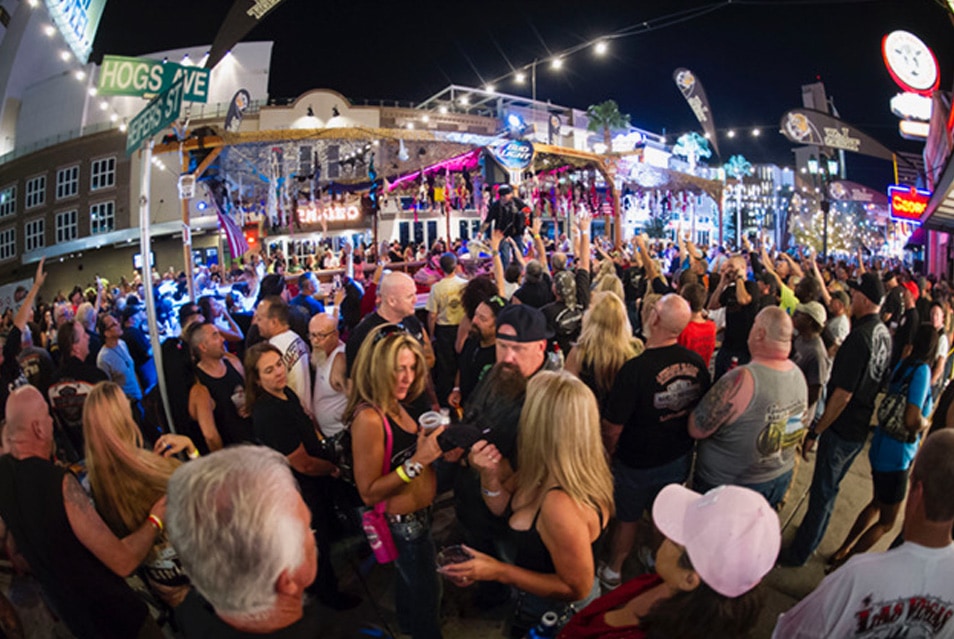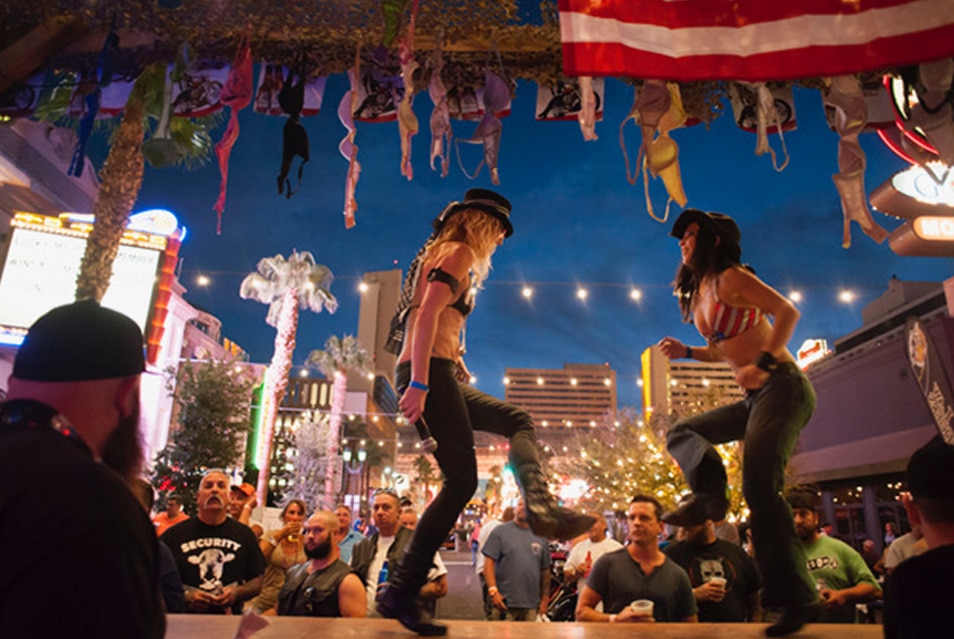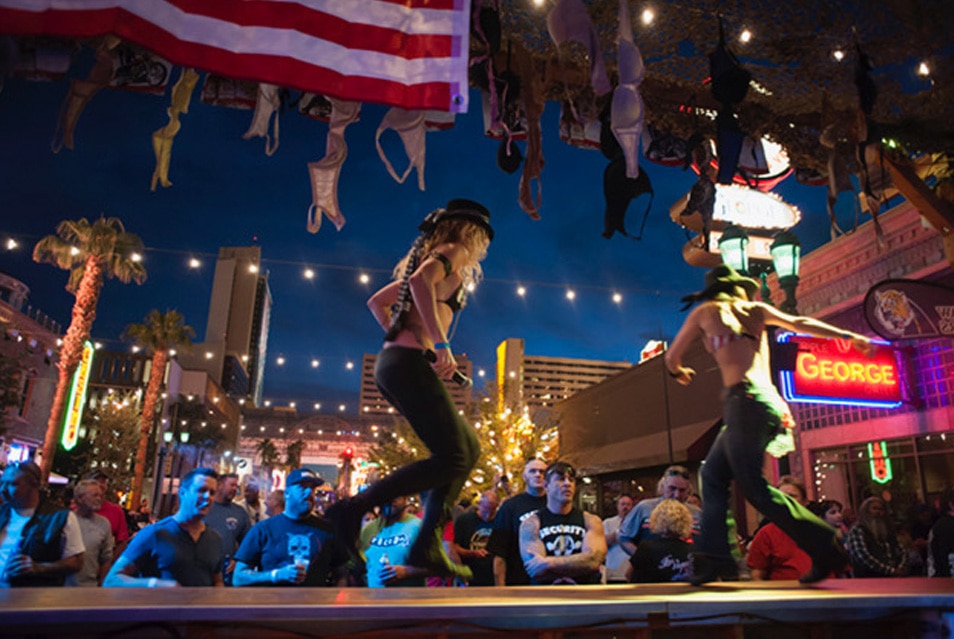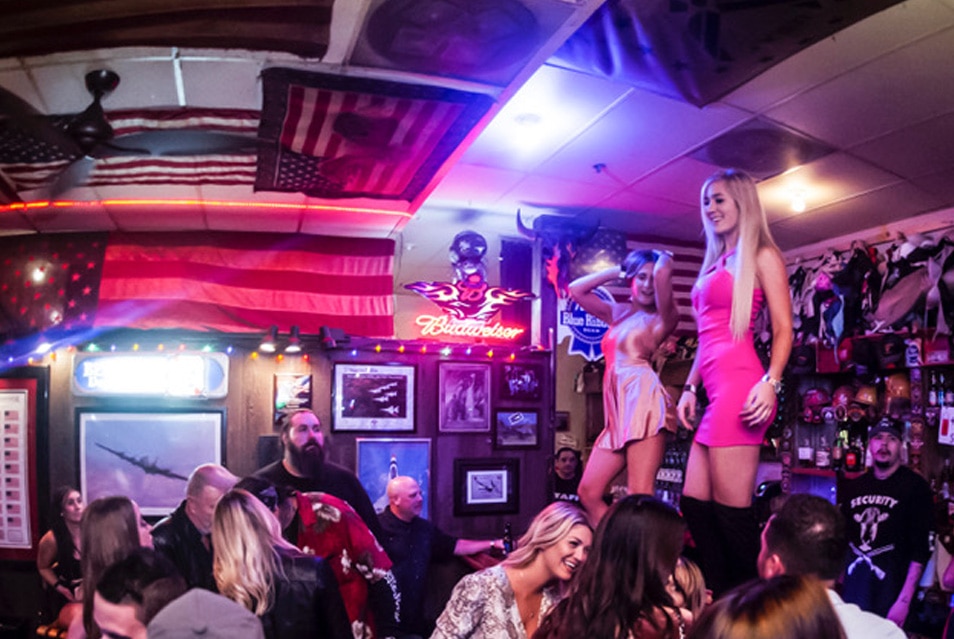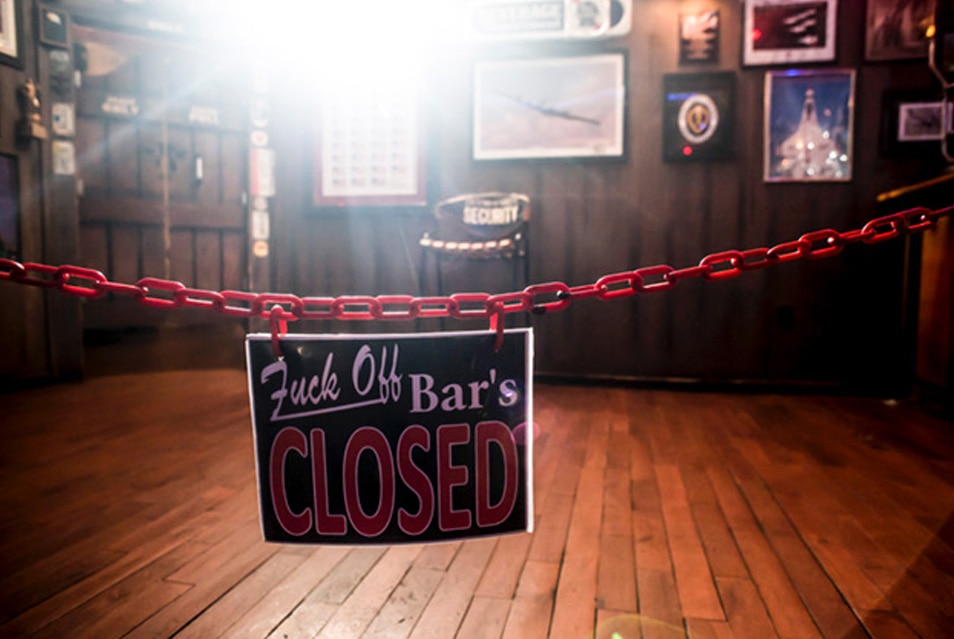 If you're ever in Las Vegas, make sure to visit Hogs & Heifers Saloon (or you can do it now, online, if you wanna). Have a few drinks (or more, no judgments!), toss a bra, visit the attached gift shop, and be sure to tell them Breach-Bang-Clear sent you!
Hogs & Heifers is on Facebook and on Instagram, @hogsandheiferssaloon_usa.
– Sharon Durand
Why come to visit our double secret closed and private discussion group? Because of the Morningwood Bazaar and the conversation, obviously. 

Disclaimer: We are not endorsing Nancy's Squat & Gobble, nor do the opinions therein reflect those of the entire Breach-Bang-Clear staff. That said, while Nancy's is indeed a shady place, only a few people have actually gotten food poisoning there, and most of the girls have all their teeth. The one-legged bartender really does make a mean Old Fashioned, and if you ask nicely she'll even do it with burnt rosemary smoke.
Take heed! We have advertisers, sponsors, and affiliate relationships with some of the companies you will be reading about (particularly, but not limited to, archival posts). If you purchase one of those items, we will get a small commission from the sale at no additional cost to you. A lot of work goes into Breach-Bang-Clear; by making your purchase through one of our portals you'll be supporting our work. This will help us buy beer, bullets, and barbecue, and we won't have to put pop-up ads and other such stupid shit into our articles to pay our expenses.