Don't Build a Shitbox: The Path and Prioritizing
Today Dave talks about not making your rifle a box of shit, and also quotes a Harry Potter book. Mad Duo

Don't Build a Shitbox. The Path and Prioritizing 
Dave Merrill
Oh, you've seen them…
$800 base rifle
$150-250 rail system
$100-150 buttstock
$40 Walmart optic
Or my favorite:
$500 Glock
$300 slide work
$100 magwell
$0 Shitty plastic OEM sights
(I'll refrain from showing you some to save some embarrassment on both ends.)
It's bad enough to see it posted on an internet forum or Facebook, but infinitely worse when seen on a duty rifle.
It's not that hard to get caught up in wasting money on junk. Think about a dollar amount you've spent through your shooting career on useless items. I cringe at the mere thought of how much I've blown. This isn't a post about "weapon snobbery" but a post about priority of upgrades, and ultimately saving you money. Does it make sense to take care of aesthetics, secondary enhancements, or force multipliers first? What do you think when you see a beat to shit old ghetto ride with $2k rims? This is the same thing. Ultimately it depends on what you're going to use it for. If all you're going to do is make cool pictures for Instagram, disregard this post entirely.
But if you're actually going to use it….
For a defensive (or offensive) weapon, the most pragmatic way is to follow the path. Depending on role, some steps may change (you're not likely to use a light or sling on a competition rifle, for example) but here are the broad strokes for the GPR. That is, General Purpose Rifle.
The Path
First, you have to start out with a decent weapon. You can't build a house on sand and you shouldn't expect to build a great rifle off of a bargain basement foundation either. It doesn't have to be expensive but it shouldn't be a jumble of Chinese flea market parts. Do your research and save your paper route pennies.
Sights: You should first have functional sights. If you don't have a way to aim, you have an expensive noisemaker instead of a rifle.
Light: It's 2015 so I really shouldn't have to explain this one. It's dark roughly half the time, and there's always the potential for darkness when indoors (and dark corners outdoors).
Sling: Well, you gotta carry it. Preferably in a manner in which you can use your hands for administrative tasks or negotiating obstacles.
At this point, you've reached your functional baseline. This is your basic no-frills rifle. Scoff if you want, but you can do everything you need to do unless you have specialized purposes. This is where you should start further modifications if desired. But don't go nuts yet, because aesthetics are the last on the list.
Your very next purchase should be a quality Red Dot Sight (RDS) or other optic, depending on your use. A RDS is much better than iron sights for almost everything. They're better in low light, for moving targets, aging eyes, holdovers, they're faster, and more. It's so much of a force multiplier that several of my friends put it in the "mandatory" camp. Don't get me wrong, every rifle that I may actually use sports an optic of some sort. This is why it's the very next item on the list.

Beyond the optic, every improvement you make will be largely incremental. I'm not saying this in a negative manner–any improvement is still improvement. There are distinct advantages to free floating forends and better triggers and improved controls, and I have all of those too. Just don't put them first on the list. Allocate your spending accordingly.
Avoid extraneous accoutrement. That is, if you like a widget, does it make you better in a quantifiable manner? Grab a shot clock and run some drills. Does it help you shoot better or more consistently? Consider keeping it. If it doesn't? Banish it to the parts/trade box of shame. Or give it to your douchebag nephew who just discovered guns on Youtube.
Allow my nerdery for a moment in this next analogy: Your rifle should be like the sword of Gryffindor, it should only take it what makes it stronger.
And of course there's more.
Magazines, ammunition, and training are constants. These are the consumables. They are the Watchers. They should always be in the back of your mind. Waiting. Giving you the hard look. And expecting respect and attention. All the time. Recognize and take heed. Anything less is just Instagram.
With handguns it can get more amorphous, but sights are still always first.
By no means am I saying your weapon can't look subjectively cool—pure functionality is how you end up with Soviet Khrushchyovka apartment blocks. It might give you a place to lay your head, but it's not going to inspire any poetry. Aside from simply "looking cool", some upgrades can make you feel like the gun 'has soul' or that it's 'really yours'. While that isn't particularly important to many, it may be to you.
Note there are some circumstances where it might make sense to change your buttstock (or forend, or other widget) in lieu of upgrading sights: If you already have the buttstock (or forend, or other widget). Unfortunately (and sometimes fortunately) there are sometimes departmental requirements to not modify any weapon. This can be a bad situation if your brass is ignorant, but a good situation if the end user is ignorant. If the end user is ignorant, it only effects one person—if the brass is ignorant it influences everyone.
Now stop buying shit just to buy shit and go shoot.
–DFM
---
---
If you wish to share or repost, please so kind as to follow our terms and conditions.
Mad Duo, Breach-Bang& CLEAR!
Comms Plan
Primary: Subscribe to the Breach-Bang-Clear newsletter here; you can also support us on Patreon and find us on Pinterest.
Alternate: Join us on Facebook here or check us out on Instagram here.
Contingency: Exercise your inner perv with us on Tumblr here, follow us on Twitter here or connect on Google + here.
Emergency: Activate firefly, deploy green (or brown) star cluster, get your wank sock out of your ruck and stand by 'til we come get you.
T&C: All original material published by Breach-Bang-Clear is the copywritten property of Breach-Bang-Clear, Inc. If you wish to repost, republish, or otherwise share our content, feel free to reproduce an extract of up to 225 words and one complete, unaltered image, preceded by attribution crediting the source and author's name, to include a link to the Breach-Bang-Clear home page, with a link back to the full article on our website, BreachBangClear.com. You do not require our permission to do this. Please do not reproduce our content in its entirety without contacting us first. We do allow full syndication on a case by case basis (credited, and posted with a canonical link, as is common practice and in good form) but only when mutually agreed upon beforehand. If you wish to reproduce a complete article, please contact us for permission to publish first.
About the Author: A combat veteran of the United States Marine Corps, Dave Merrill is a former urban warfare and foreign weapons instructor for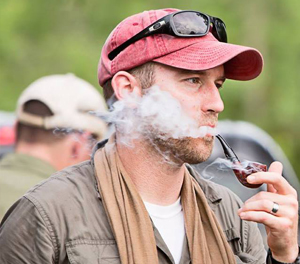 Coalition fighting men. An occasional competitive shooter, he has a strange Kalashnikov fetish the rest of the minions try to ignore. Merrill, who has superb taste in hats, has been published in a number of places, the most awesome of which is, of course, here at Breach-Bang-Clear (but also RECOIL, Concealment, Carnivore, and others). He loves tacos, is kind of a dick and married way, way above his pay grade. You can contact him at Merrill(at)BreachBangClear.com and follow him on Instagram here (@dave_fm).