The Dallas Police Ambush: First Thoughts

The Dallas Police Ambush: First Thoughts
Chris Hernandez
Last night two "snipers" opened fire on police at a Black Lives Matter protest in downtown Dallas. At last count, eleven officers and one civilian had been shot, five officers killed, at least one in critical condition. Two or more shooters reportedly carried out the attack. As of 0035 local two or three suspects are in custody, and one suspect is barricaded in a building trading fire with officers and claiming to have planted bombs.
It doesn't appear to be a jihadist attack, or random violence. This was a deliberate attack on police officers, because they were police officers. The officers were at a peaceful protest, probably just BSing and watching the show, when rounds suddenly rained onto them.
The attackers were initially reported to have been in elevated positions, firing down onto police. Around midnight central, a video of one attacker was shown on several news networks. He wasn't in an elevated position. He apparently drove up to a building near several police officers and cars, got out with an AR-15, took cover behind a column, and opened fire.
Fox showed the unedited video without watching it first. In that video, an officer approached the suspect without seeming to know exactly where he was. The suspect saw the officer first (I think) and opened fire. The suspect and officer had a close-range firefight around a column, and the suspect shot the officer from less than five feet away. After the officer fell, the suspect shot him again before gunfire from other officers forced him to retreat. One witness said the suspect emptied a magazine into the fallen officer.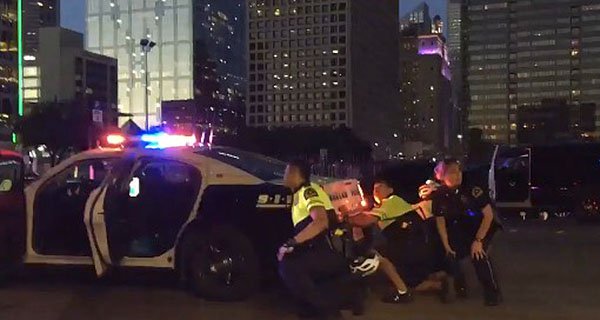 The attack's immediate sparks were almost undoubtedly the recent police shootings of black men in St. Paul, Minnesota and Baton Rouge, Louisiana. The shooting in St. Paul looks unjustified, and BLM has every right and reason to protest it. The Baton Rouge shooting was almost certainly justified, which of course means BLM will make a saint of the armed, convicted felon sex offender who reportedly threatened a man with a gun and then resisted lawful arrest.
If the shooters really are in custody, they will probably make grand, revolutionary-style proclamations about the need to kill evil, racist police. The fact that the police officers they killed had literally nothing to do with either recent shooting will mean nothing to them. Police agencies nationwide will wisely take extra precautions during BLM protests, but I think (hope?) this was limited to Dallas. I doubt multiple teams of anti-cop extremists are willing to throw their lives away in order to kill a few of us.
Unfortunately, I do think the attackers had significant training and experience. You don't shoot eleven cops at any distance through blind luck. I wouldn't be shocked if we learn the shooters are veterans, maybe vets who were kicked out for misconduct.
In the following days, we'll hear many things on social media:
This is President Obama's fault for saying police discriminate against black people.
No, President Obama is pro-police and his tendency to immediately take sides before investigation means nothing.
This proves we need gun control.
This has nothing to do with gun control.
This was the media's fault for publishing stupid, inflammatory anti-cop propaganda like this, which only proves the media knows nothing about lethal force encounters and encourages violence against police.
No, the media isn't responsible for a criminal's actions.
This proves the entire BLM movement wants to murder officers.
No, BLM is peaceful and would never advocate violence against an innocent cop.
This was a false flag attack [according to one friend of mine, conspiracy theories are already up and running].
—
No, it wasn't. We'll soon confirm that this was exactly what it looks like, a racially-motivated attack by anti-police extremists.

I'll collect more information over the next few days and write a full analysis. RIP to the fallen officers, strength and honor to those still in the fight. And please, if you're a cop, watch your back and watch out for each other.
–CH
---
Breach-Bang & CLEAR!
Comms Plan
Primary: Subscribe to our newsletter here or get the RSS feed.
Alternate: Join us on Facebook here or check us out on Instagram here.
Contingency: Exercise your inner perv with us on Tumblr here, follow us on Twitter here or connect on Google + here.
Emergency: Activate firefly, deploy green (or brown) star cluster, get your wank sock out of your ruck and stand by 'til we come get you.
Chris Hernandez Mad Duo Chris (seen here on patrol in Afghanistan) may just be the crustiest member of the eeeee-LITE writin' team here at Breach-Bang-Clear. He is a veteran of both the Marine Corps and the Army National Guard who served in Iraq and Afghanistan. He is also a veteran police officer of two decades who spent a long (and eye-opening) deployment as part of a UN police mission in Kosovo. He is the author of White Flags & Dropped Rifles – the Real Truth About Working With the French Army and The Military Within the Military as well as the modern military fiction novels Line in the Valley, Proof of Our Resolve and Safe From the War. When he isn't groaning about a change in the weather and snacking on Osteo Bi-Flex he writes on his own blog. You can find his author page here on Tactical 16.