Bobcat Tactical Solutions MCP mine probe
The MOLLE Compatible Probe is a newer, better tool for EOD techs from Bobcat Tactical Solutions.  Nathan Murr.
Bobcat founder Andrew Bottrell joined the navy in 2004 and served as a Machinist Mate on the USS Santa Fe (SSN-763), a LA class submarine. After serving as a submariner, he put in for a transfer to become an Explosive Ordnance Disposal technician. Andrew then proceeded to earned his EOD "crab" to go along with his "dolphins". While in Coronado, he was issued a mine probe that he, as well as others in his unit, found to be unsatisfactory. They all agreed that the issued probe was overly complex, prone to breakage and overall simply unsatisfactory for their need. This got Andrew thinking that there had to be a better system. However without any other options available, the unit continued to use the issued probe.
In 2011 Andrew found himself in Kabul Afghanistan, clearing IEDs and destroying ordnance. Unfortunately, he was severely wounded while serving in combat in October of that year. The catastrophic extent of the young sailor's injuries resulted with him being medevaced from the battlefield and sent back CONUS to begin an extremely long road to recovery. He has recently received a medical discharge from the service. Undaunted and looking for a new endeavor, Andrew found himself wondering what to do next. Since the idea for a better, more robust and cost effective mine probe had been on his mind for some time, Bobcat Tactical Solutions, LLC came into being.
Starting his business in San Diego, Andrew designed a new mine probe with characteristics he felt would make ideal for the EOD mission. He proceeded to take his invention down to his old unit for thorugh field testing. His old teammates trained hard with the new mine probe and tweaked the design, making it a more versatile piece of gear. Once the EOD techs settled on a solid design, Bobcat Tactical Solutions began to produce the "MCP" probe locally from G10 polymer.
G10 is very strong, and will not break as easily as the issued probe. Better yet, its also non-magnetic, non-ferrous, non-sparking, non-metallic, and non-conductive (all important features when dealing with mines, IEDs and other explosive devices)! The probe comes in two lengths, 10" and 13", but can be cut down to a custom length by the end user. The MCP is thin enough to slip behind MOLLE/ PALS webbing (which is how it got its name): the MOLLE Compatible Probe.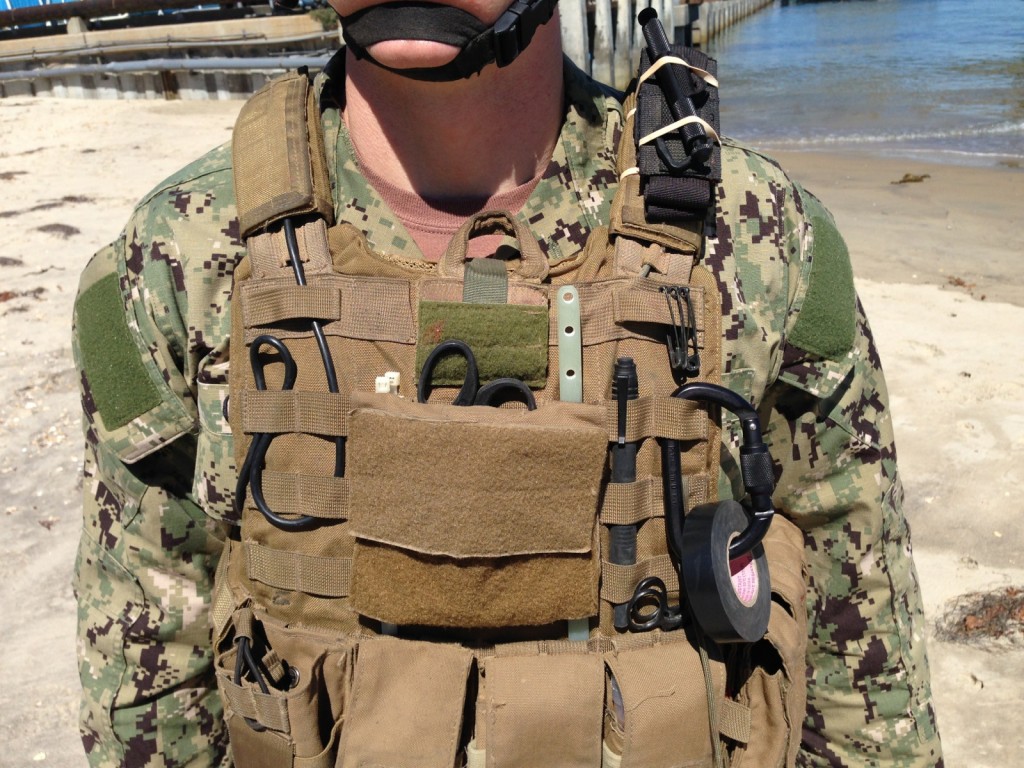 Instead of carrying a sectioned probe that needs to be assembled before use, the MCP is easily carried on your PC or flak. Slid down the front or back of your webbing, it rests out of the way but ready to quickly use. This way it's easy to access with either hand. The probe is also textured so you can use it in low light, and while wearing gloves. It's also available with or without a simple lanyard. With build in, one inch increments marked on the probes body, you can also use the unit to show scale. This comes in handy while taking pictures of ordnance or booby traps or for after the IED is defused. Obviously it would be great for overall documenting of the scene.
We can also see its value to non-EOD grunts to use for sensitive site exploitation (SSE). There are multiple color options, and honestly it's a great design. The KISS principle is alive and well, and that's often the best way to approach hard use, life or death combat equipment. Andrew understands that his invention is a sort of "niche" piece of gear, mostly intended to be used by the small field of EOD techs throughout the services. Outside of the military, the lrobe would be equally at home in our nations LEO  bomb squads or even for humanitarian operations overseas. Andrew advises the unit is more than just a simple spike of polymer, it also enhances tactile sense of movement while in the hand. As with a surgeon (which an EOD tech is, in many ways), control and response of the probe in the user's hand are often the difference between life and death. For those in this line of work, this patent pending mine probe is just the ticket. Please feel free to contact Andrew for more information and pricing, or you can purchase the probe from many defense companies such as TSSI, ADS and Darley Defense.
Contact: Andrew Bottrell [email protected]; there isn't a website or Facebook page for Bobcat (yet), you'll need to send him an e-mail if you're interested.
If you're someone who can use one of these tools, or know someone who would use them, please share the post and spread the word. First, it's a good piece of kit. Second, we want to do this young man a solid and help him achieve success.
Mad Duo, Breach-Bang & CLEAR!