The 1968 Bullitt Mustang
Mad Duo
The car chase in Bullitt (see below) may well be the greatest vehicle chase in Hollywood movie history. Some might argue the chase in The Seven-Ups or the much later one in Ronin holds that honor, and doubtless there are others, but we reckon Bullitt sits there at the top. A number of factors come into play in our evaluation, from cinematography to the vehicles themselves: a Mustang vs. a Charger? What's not to like about that?!
Silodrome recently published an overview of the famous Highland Green Mustang Fastback driven by Steve McQueen in the 1968 film. We thought we'd share.
"The script called for a 10+ minute chase scene involving the now-famous jumps down San Francisco's steep streets, so Balchowsky [a Hollywood car-builder and professional driver] fitted heavy-duty front springs and reinforced the shock towers. A stronger anti-roll bar was installed in front, as well as Koni shock absorbers, and engine power was increased thanks to ported heads and carburettor/ignition upgrades.

The Fastbacks [two were used during filming] were both running S-code 390 cubic inch (6.4 litre) V8s with 4-speed manual transmissions, and they had their fog lights removed, as well as the "Pony" grill badge, Mustang lettering, and GT badges. A set of American Racing Torq Thrust wheels completed the look of the car – interestingly the same wheels can still be ordered brand new, almost 50 years later.

In stock trim, the 390 cubic inch V8 was capable of 320 hp and 427 lbf.ft of torque, and could do the quarter mile in ~13 seconds with trap speeds of 105 mph."
This is a very short version of that chase — if you have the time we suggest you scroll down to the full version. It's worth the time (not least because it contains the city part of the chase). Either way, crank your volume up if you like the sound of a powerful motor running.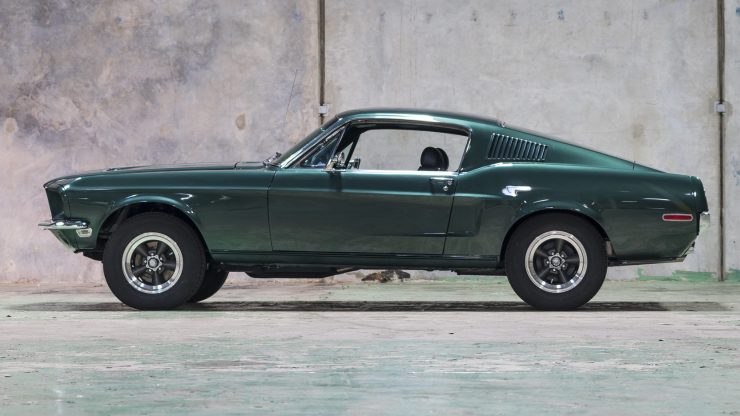 Here's a longer version of that pursuit. Look, youngsters! Windows you have to roll down by hand before shooting out of them!
https://www.youtube.com/watch?v=VX4zDjlhbbU&t=1s
Read Silodrome's article in its entirety here on their website.

Follow EOTech on Instagram, @eotech.
[arrow_feed id='47175′]
---
---
If you wish to share or repost, please so kind as to follow our terms and conditions.
Mad Duo, Breach-Bang& CLEAR!
Comms Plan
Primary: Subscribe to the Breach-Bang-Clear newsletter here; you can also support us on Patreon and find us on Pinterest.
Alternate: Join us on Facebook here or check us out on Instagram here.
Contingency: Exercise your inner perv with us on Tumblr here, follow us on Twitter here or connect on Google + here.
Emergency: Activate firefly, deploy green (or brown) star cluster, get your wank sock out of your ruck and stand by 'til we come get you.
T&C: All original material published by Breach-Bang-Clear is the copywritten property of Breach-Bang-Clear, Inc. If you wish to repost, republish, or otherwise share our content, feel free to reproduce an extract of up to 225 words and one complete, unaltered image, preceded by attribution crediting the source and author's name, to include a link to the Breach-Bang-Clear home page, with a link back to the full article on our website, BreachBangClear.com. You do not require our permission to do this. Please do not reproduce our content in its entirety without contacting us first. We do allow full syndication on a case by case basis (credited, and posted with a canonical link, as is common practice and in good form) but only when mutually agreed upon beforehand. If you wish to reproduce a complete article, please contact us for permission to publish first.