YWR | Her Brother's Keeper
What do you get when you take a sardonic, left-handed revolverphile EOD tech with a love for rocket ships, unbridled cynicism, a dog that farts a lot and a laptop? You get Your Weekend Read: Her Brother's Keeper.
Like what you read here on Breach-Bang-Clear? Support us on Patreon.

Lookit, that! Mike Kupari's new book Her Brother's Keeper is available in its Kindle edition and will be out in the hard copy very shortly. Kupari, as some of you may know, occasionally pontificates right here on Breach-Bang-Clear and is the co-author of the sorta-shoot-em-up-kinda-Lovecraftian-a-little-dystopian Dead Six series of novels with the bestselling author (and creator of much liberal ass pain) Larry Correia. Mr. Correia, of course, is the author of Monster Hunter International.
None of us have read Her Brother's Keeper yet. It's apparently an action space-opera novel. Here's an excerpt:
"Everything the Zanzibari had built, all of their achievements, were rendered unto dust and carried away by the winds of time. Only fragments of their once mighty civilization remained, broken remnants buried between layers of silicate. Zanzibar, now a cold and dead world, wheeled quietly around Danzig-5012 for four million years before another living being set foot on it."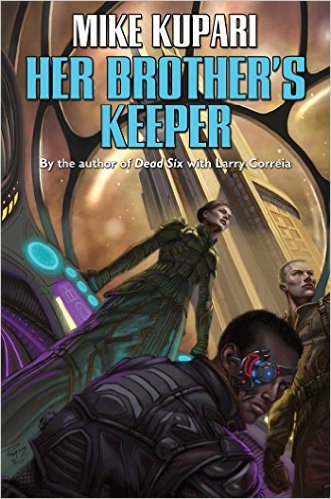 Now, since we know from some of his late night ranting on social media that MK's gonna quote Ozymandias  (Pharoah Ramesses II, as written by Percy Shelley) we're pretty sure there will be some lesson about the rise and fall of civilizations buried in the book.
Kupari is also a wrong-handed Air Force EOD combat veteran of Afghanistan. Now a civilian, he has spent a disturbing amount of time rendering safe a number of things that would otherwise blow shit up. Much of the time he was doing that in a place where favorite local pastimes include such activities as shooting, blowing up or even eating Westerners. We reckon he enjoys such fuckery for the same reason he prefers to carry a sixgun — which is to say, WTF?
Buy a copy of Mike's book. It will convince him to write more here and will help him purchase that .44 Magnum Old Model Vaquero he's been wanting.
We'll leave you with these words of wisdom.
"I've learned from video games that waddling around in a crouch makes you practically invisible. I'm going to try it at work tomorrow." Mike Kupari
Order the book here. You can read a short story set in the same milieu right here.