New From Vortex: Viper Eyepiece and Updates for Strike Eagle LPVOs
Vortex is one of my favorite companies. They push the boundaries in both budget and high-end directions. They are also innovative, and good people should you ever need warranty work. Here are the newest releases.
Viper HD Reticle Eyepiece
Let's start with the brand new Viper eyepiece. Following Vortex's penchant for naming optics and optic accessories after slithering reptiles, we get the Viper Reticle Eyepiece  (see below). This eyepiece isn't an optic by itself. Instead, it attaches to your favorite Viper spotting scope and adds a reticle overlay to the scope. The idea is to give your spotter an edge in calling your shots. The eyepiece gives you either MOA or MRAD elevation and windage corrections in measurements even cavemen machine gunners like me understand. The good news is your spotter is more effective, the bad news is you can't blame him if you suck.
Vortex Strike Eagle – Updates
On top of this new eyepiece, we are also getting updates to the 1-6X and 1-8X Strike Eagle optics. These optics are part of Vortex's line of cheap-o optics… Uhm I mean budget optics. The Strike Eagle series are honestly great optics for the money and they are a welcome addition to those of us who want a budget LPVO. The series made a big splash and might have been one of the first true budget LPVOs that wasn't total junk.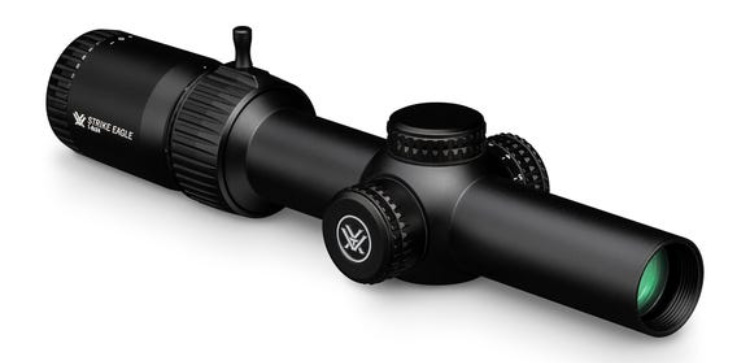 The changes include an integrated throw lever, which after running LPVOs for some time is a welcome addition. At this point, we know the ability to rapidly transition your magnification is the point of an LPVO, and a throw lever makes that a possibility. The other change is the addition of a new reticle, the AR-BDC3, is what the new Strike Eagle series is made for. With AR in the title, you can predict that it's designed for the 223 Remington and 5.56 NATO loads.
Note: Vortex Reticle Eyepiece: vortexoptics.com/vortex-viper-hd-reticle-eyepiece.html?vortex_reticle=1494
---
…
Vortex scopes, red dots, rangefinders, binos…buy 'em or not, but if you're gonna, do it via one of our links.

Find Vortex Optics at PSA (Palmetto State Armory).

Find Vortex Optics at Primary Arms.

Find Vortex Optics at Rainier Arms.

Find Vortex Optics at Weapon Outfitters.

Vortex Optics: they're on Amazon.
Find Vortex Optics at Brownells.com.

Vortex Optics: believe it or not, they're online at Wal-Mart.

⚠️ Some hyperlinks in this article may contain affiliate links. If you use them to make a purchase, we will receive a small commission at no additional cost to you. It's just one way to Back the Bang. #backthebang