Review: the Voodoo Tactical SRTP
Today's review of the Voodoo Tactical SRTP (Short Range Tactical Pack) comes to you courtesy of guest writer Gregory Wong. As you can imagine, we do our level best to make fun of Greg. It's inappropriate and wong, but we do it anyway. Mad Duo
Voodoo Tactical SRTP (Short Range Tactical Pack) Review
Greg Wong
As you may have seen at SHOT, Voodoo Tactical has unleashed a new pack to the  market. Named the Short Range Assault Tactical Pack, it has about 28.5 liters of storage space with plenty of pockets to hold your tools and accessories. The bag empty is very light and when rolled up in its most compact configuration compresses nicely to save space.
The frame has a rather interesting wishbone design. There is a "trampoline style" mesh frame the back of the bag that keeps your back from being directly up against the pack. This enhances ventilation/breathability and helps prevent some of those hotspots that occur from hours of rucking on trails or when traveling abroad. There are also a padded waist belt and shoulder straps to keep the pack oriented properly on the wearer and to maintain the load.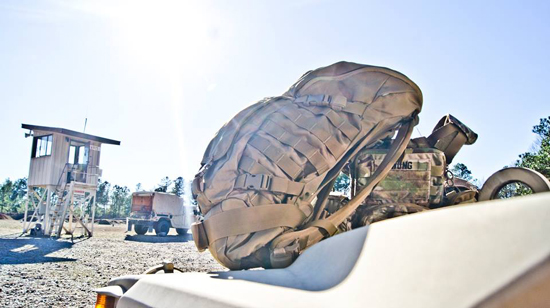 One absent feature, something I have become accustomed to from all the TA50 I have received over the years, was a drag handle. Normally something like that wouldn't garner so much attention but the lack of one seems to stick out the more I think about it. The pack does have a respectable amount of external Molle real estate. If you want a Nalgene bottle on the side its the perfect place for something like the HSGI Soft Taco.
It would be nice to have had Velcro on the the primary flap that opens the bag, as it has become common practice to throw favored patches or nametapes on there. One of the flaps that hangs down the front of the pack has plenty of space for small tools and other utilities. It also buckles into place keeping it secure. Its the perfect place for multi-tools or flashlights. Unbuckle that flap and another pouch that is directly attached to the main body proved to be a great place for storing snacks and other soft items. On the main flap there is a rather large pocket suitable for admin items such as wallets, phones and other items you need to keep readily available.
Unzip the main compartment and a small mesh pocket sits on the inside of the main flap. It is great for those more valuable items you wish to keep inside the pack and not get mixed with the main cargo. With ample room inside there is plenty of space for several combat uniforms or short term sustainment gear. With a medium size pack like this you really bring just what you need. There is also an internal pouch ready to accept a hydration bladder as well as slots for the hose to be routed out to the wearer.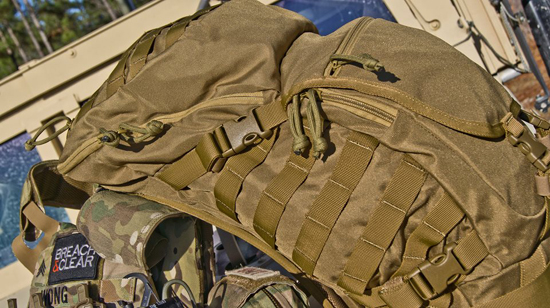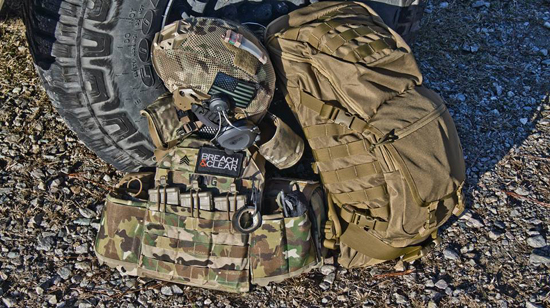 I was able to use this as a range bag the other day keeping some of my soft goods in the main compartment and some of my smaller items organized in others. I also had my camera with me, so having that extra internal mesh pouch was good for keeping the batteries and memory cards separate from everything else. That day I had some cold weather gear, an HSGI Costa rig, hydration system and a few others things packed and ready to go. Earpro, gloves and other range gear all fit into the bag with everything else. Being much smaller than my Arcteryx Khard 45 and bigger than my Greyghost gear Stealth Operator pack, it's right in between size wise. This  gives me the perfect pack for the day or two carrying a load but staying light at the same time.
The pack also includes a rain cover. Instead of using your own poncho or a jacket to cover the pack when at a rallypoint you can just utilize the built in rain cover to ensure your gear will be protected from the elements. It simply pulls out of the zipper compartment at the base of the pack. You can use this while you are walking in the rain to keep your gear dry on the go as well.
Overall I enjoyed using the bag. I can imagine that this bag and I will travel for many miles on more adventures. If you are looking for a lightweight simple pack that will get you where you need to go without bringing more than you need. This bag more than gets the job done.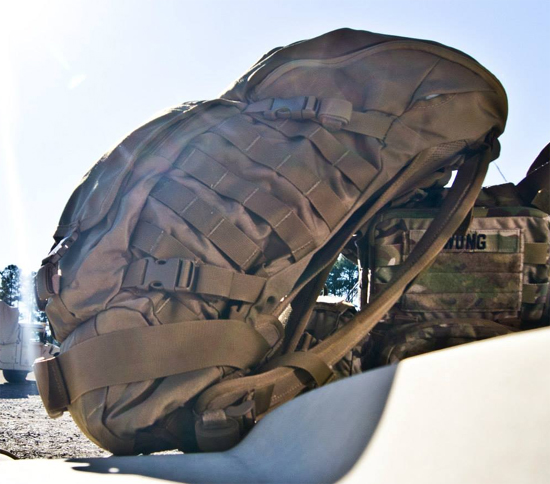 You can get the pack here.
-Spartan117gw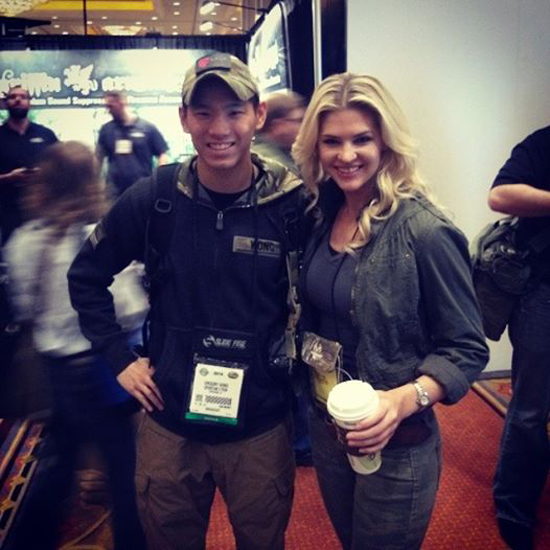 About the author: Greg Wong hails from the 112TH Signal Battalion (SO) (A). He is a self-professed MilSim airsoft junky and fps gamer who was with the 82ND before moving on. He is self-deprecating, analytical and a good sumbitch. If loving him is wong we don't wanna be right.
Note: Here's Greg's video review. You'll have to forgive the occasional mumble during his delivery. He was packing for a PCS move and that was filmed during the wee hours of the morning.
Mad Duo, Breach-Bang & CLEAR!
Comms Plan
Primary: Subscribe to our newsletter here or get the RSS feed.
Alternate: Join us on Facebook here or check us out on Instagram here.
Contingency: Exercise your inner perv with us on Tumblr here, follow us on Twitter here or connect on Google + here.
Emergency: Activate firefly, deploy green (or brown) star cluster, get your wank sock out of your ruck and stand by 'til we come get you.
About the author: Greg Wong is a former 80-deuce paratrooper (1st Bde; C Co., 1st BSTB to be specific) who later served with the 78th Signal Bn in Japan before going on to spend about two years with the 112th Special Operations Battalion (Airborne). A self-professed Reenactment and MilSim junky and fps gamer, he did his six years active, then a couple more in an Army Reserve CASH in LA before getting out entirely. Many people know him from his participation in Off Duty Gamers, others know him from his consulting on FPS games like Battlefield and Ghost Recon.
He's active with the 82nd Living History Association and the Jurassic Park Motor Pool, and is a dedicated WWII history buff. A self-deprecating, analytical, good-natured sumbitch, he currently works for both PTS and Ho-Tac.
If loving Greg is Wong, we don't wanna be right.
Greg's website is online here. You can also follow him on Instagram, @Spartan117GW, or subscribe to his YouTube channel.