This review comes to you courtesy of the NCOIC of the BB&C Metrotactical Division, Breach-Bang-Brian.
Review: Brad Thor/ScotteVest Alpha Jacket
At first glance, it's just another soft shell jacket, even if does have an award winning novelist's name in the title.  A closer look reveals it is, to the delight of my pounding vestiary heart, so much more.  So much more, in fact, there's an 8 page owner's manual that goes along with this jacket – don't fret, it's not THAT complex, but there is a lot going on inside this jacket.  Here is an X-Ray version of it. (Grunts: vestiary.)
First – the specs:  The Brad Thor/ScotteVest Jacket is constructed from a lined polyester soft shell material which has an integrated IR reducing treatment.  It's also not black – it's a shade of dark grey that blends in with shadows much better than just plain black…they call it Squid Ink.  It's got 35 pockets and retails for $200.00 (US).
Next: The pockets.  I admit, I'm a bit of a geek when it comes to EDC (that's Every Day Carry for you non-tacticool types who don't stay up to speed on the latest awesome acronyms).  I frequently check the EDC blogs and I'm always on the lookout for new gadgets and tools to carry around.  The first thing that came to mind after doing a little research on this jacket was,  "I'm gonna need a bigger night stand".
The first thing that came to mind after doing a little research on this jacket was,  "I'm gonna need a bigger night stand".
This garment holds everything.  Not in a figurative sense.  I mean everything.  It holds everything, in a well thought out manner including a RFID (radio-frequency identification) reducing pocket for your passport, credit cards, etc. to assist in defeating skimmers.  There are even sleeve pockets to accommodate a dagger for last-ditch self defense (I love that one).  There are systems to run wires (ear buds, battery cables, etc.) from pocket-to-pocket and to ear bud "buckets" near the collar.  There is even a strip of PALS to accommodate any number of items.
"Look, I'm not Kyle Lamb or Jim Erwin and I don't pretend to be.  But I really respect those guys.  The idea here was to make a jacket that those guys, and others like them, could wear in to the field, or on a range or just when they are travelling." Brad Thor
The jacket will hold larger items such as an iPad, large file folders (the real manila type, not the virtual computer type) and travel documents, etc.  There are also two separate pouches for sunglasses/other glasses with elastic enclosures.
 
Even with all of the features I've listed, there are many, many more – like removable logos for when you want to fly a little under the radar.  In fact, though it might seem counterintuitive, this jacket is all about not "printing" and not screaming "TACTICAL!" though it certainly does allow you to maintain total readiness in a variety of environments.  To be honest, it seems like a bit much and is very possibly over-engineered. (Oh, grunts: counterintuitive.)
One of the questions we had at the outset was: Why is a novelist like Brad Thor involved in a project like this? Brad, who wears a toupee, has a wooden leg and frequently imitates my manner of dress without giving me any credit, is very well known in the 'action thriller' novel genre. You've probably seen him on the news, since he often speaks about matters of both foreign and domestic policy as they relate to terrorism – but was he just lending his name to the jacket, or did he have a hand in the design?
My first thought was that it was called the ScottEvest after his famous character, Scott Horvath.  Turns out I was way off.  ScotteVest is an actual company with a long history in the garment industry.  (You can read more about them here.)
I had a chance to chat with Mr. Thor and get some insight in to the genesis (grunts: genesis) of the Alpha Jacket as well as what we can expect to see form the accomplished author.  Here is what I was able to extract from Brad with very little effort (no coercion or waterboarding was involved):
One of the first things Mr. Thor told me was how extensive his involvement was during the design project. This was not just some licensing deal where he put his name on a product and got to start cashing checks. Apparently Brad met the CEO of ScotteVest a while back, and actually spent over a year working with the design team to build a product that would appeal not just to the garden variety world traveler, but also to the armed professional that must carry a ton of gear into harm's way – but doesn't want to be readily identified as an armed professional.
The RFID pocket was actually his idea. The company has taken it a step further and created a product that totally eliminates radio frequencies.  True story. If you want to take your cell phone completely off the grid, ScotteVest now has a product that will do that – look for a review of the ScotteVest Blackout Bag here soon, by the way.
I mentioned to Brad that when I first learned of the jacket – and the name ScotteVest – I figured it was a play on his main character, Scott Horvath.  He not only put that idea to rest, but also informed me Mr. Horvath is actually "wearing" a ScotteVest product in his latest novel, Hidden Order.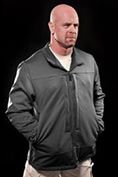 One thing that really stood out during the interview was when Brad told me he has the highest respect for people who put themselves in harm's way and who train others to do the same.
"Look, I'm not Kyle Lamb or Jim Erwin and I don't pretend to be.  But I really respect those guys.  The idea here was to make a jacket that those guys, and others like them, could wear
in to the field, or on a range or just when they are travelling.  They can be comfortable carrying all of their necessary gear and not look like a guy who is carrying a bunch of tactical gear."
I've had the chance to wear the jacket since September, and I've certainly filled up some of the pockets.  I immediately took to the color of the jacket – Squid Ink, which is not quite black.  Next was the fact they printed very handy icons near many of the pockets.  This was actually quite helpful in deciding what gear to place in which pocket.  The interior phone pocket has a clear plastic front to allow the wearer to see the screen of their smart phone and actually use the tactile function of the screen.
The material has a nice feel to it and it is cut a little longer than most soft shells.  And there are just too many features to list here, but suffice it to say, you might want to increase your cardio if you fill this thing up and have to go running through the streets of some non-permissive urban terrain (like Detroit, or Chicago).
One drawback: you will need to do a self-pat-down when doffing the jacket because you will undoubtedly forget what you left inside of it and where.  Just think of it as good training for perp searches.
In keeping with the most Metro-Tactical of traditions, I don't wear cheap shit.  Not "inexpensive" – cheap, as in poorly built.  This is a quality garment, ruggedly built, and it really does hold a ton of gear. Plus, it looks cool.  Well, I look cool wearing it.  And that really is the most important feature of the jacket.
More on the Brad Thor Alpha Jacket here.
Mad Duo, Breach-Bang & CLEAR!
In closing, the Mad Duo would like to share some home movie footage of Breach-Bang-Brian in his natural habitat.