Why do I hate cops? Easy. They roll heavier than we did outside the wire downrange, they use helicopters and machine guns and militarized stuff and drive tanks into crowds, they systemically kill innocent people across the country…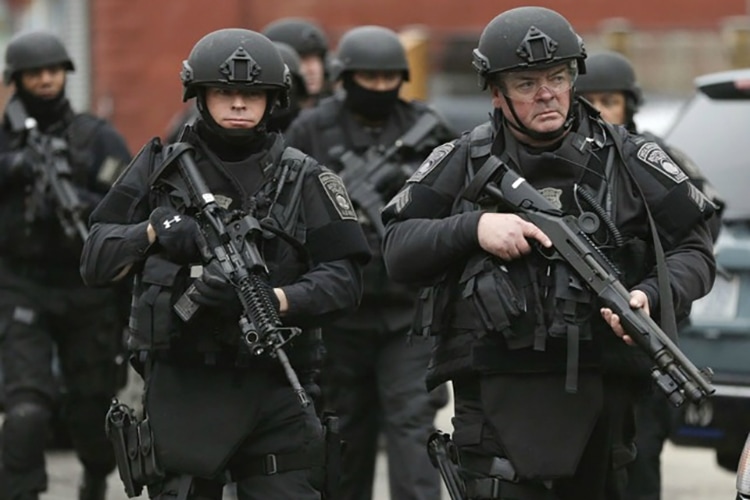 Not really.
Hope that didn't turn you away. Hope you stay and read my thoughts about the growing public hate for law enforcement. David Reeder, my boss, and editor of this site, was a cop. He and I had this conversation the other night, and I told him that I wanted to write this article. I am not, nor do I ever think that I will be, a cop – that makes me the right guy to write it. Although most of our writers are veterans, we have a significant number of LEOs on the team. Hernandez is a cop, also military. Montgomery and Heath are cops – so is COWAN! (also former military). So too are many other contributors here.
What Reeder and I (and some of the others) agreed on is that this piece would not be judged fairly by the masses if it was written by a law enforcement officer. So here goes.
Lately, everywhere I look on social media, the news and even in public places, I hear how much people hate cops. They talk about things like "the militarization of police" and discuss how the boys in blue "don't really need" armored personnel carriers, rifle-protective vests, AR-15 rifles, NODS, etc. Those stupid "when did this become this" memes are everywhere.
People have been beating this drum loud lately, and frankly, I'm tired of hearing it. It's just plain ridiculous and asinine to ask law enforcement to do such a dangerous job without those special tools at their disposal. Hell, I own all those items (though not, unfortunately, MRAP) as a FREE CITIZEN and I'm not even responding to riots, fighting drug cartels, gangland violence or doing much of anything cool.
So why do I own armor, night vision, black scary guns and a shit ton of other "military" type gear? Because I can.
As a free American, I can own anything I want, including a machine gun, a silencer or even what the press calls "a tank". I have friends that own tanks and flamethrowers, other friends that own anti-tank guns and have legal access to explosives and badass gear, you name it. They are all citizens just like me, and not involved in law enforcement in any way. The funny thing about it is, we all follow the law. Some guys just collect this fun stuff for the hell of it, and others collect if for when there is no law enforcement to be found, like what happened in Katrina or the LA riots.
If you say cops shouldn't have access to "military" style equipment, then you might as well just say, "let's cancel the Second Amendment."
Look, I hate that cops give me tickets when I speed. I hate that cops can carry their gun into places I cannot, all across the country. I hate that there are good cops, as well as bad cops that might arrest me over some bullshit arbitrary infraction. I hate that there are laws I do not agree with but am forced to follow.
None of that matters when I stop to think about a couple of things. We still live in a free and just nation (despite our civil liberties being slowly robbed away). We live in a country that is more civil and safe than any of the ones that I carried a rifle in when I deployed. We live in a country where citizens can own machine guns, tanks and flamethrowers, and there are actually a bunch who do. Some of those people are good and some of them are bad – but we also live in a nation that is governed by the people we pick.
We are responsible for both the good and the bad, WE are responsible for the sensible laws and the oppressive. We have the power to change it, should we choose to do so. Every day men and women kiss their families goodbye and head off to work. They are regular people just like you and me. Some go to an office, some go build houses, some go tend to the sick, and some go arrest hardened violent criminals. Our cops.  They are people just like you and me, only they are asked by the citizenry to go and do a job we are unwilling or unable to do ourselves. Without that thin blue line of men and women "On the Job" standing guard, certain chaos would likely erupt.
They aren't getting rich, they aren't all sleeping in their patrol cars, they aren't all dirty and taking bribes. Sure, there are bad ones. Every organization has them because every organization is composed of PEOPLE. And unfortunately, people make mistakes. They cut before measuring twice, nick arteries during surgery, back trucks into poles, talk to friends on company phones, on company time.
Most people don't care when a carpenter cuts a board wrong though, or when a concrete truck is loaded withfewer yards than ordered. That's because, for most of us, the cost of failure doesn't involve death as a constant. Law enforcement is asked to do what can be a dirty, violent job. Regardless if an officer is writing you a roadside ticket, breaching the door of a crack house, responding to a domestic assault or investigating a petty crime, the danger is there. They are literally walking targets in their uniforms and are occasionally injured or killed for wearing it.
When they don't wear that target indicator, though, we bitch that they are being "sneaky" and are deceitful as a whole.
I firmly believe in outgunning your opponent whenever possible. Even more important, I prefer to outsmart over out-gun. If you are trying to kill me with a pistol, I want a rifle. If you have a rifle, I want a machine-gun. I want armor, APCs and helicopter support, especially if you're shooting or throwing burning bottles and bricks at me.
Why? Because when I was hunting little brown men in man-dresses with AK-47s, that's what I needed to make it home. What difference does it make to the man fighting evil if its MS-13 holding the AK and not the Taliban? Setting aside ambushes like we recently saw in Pennsylvania, the way things are going with ISIS these days, a terror cell might very well be an unknowing cop's next warrant.
The problem with cops isn't their gear and weapons. It's the fact that they are people no different than anyone else. They make mistakes, like everyone else. Can you honestly say that if you worked in a police department for 20 years, you wouldn't make a single mistake? Of course not. No one can.
I'll conclude with this. If you don't like the job cops are doing (and granted, not all of 'em are doing a great job), then go get the badge and do it yourself. You don't have to do it full time. You can be a Reserve or Auxiliary – at a minimum you can go on a citizen's ride-along and see for yourself what it's like. You don't like your sheriff's department? Then go run for Sheriff. Get on the local city council. Demand a higher standard for your own local cops, with better training, decision making, and judgment.
Just be willing to pay for that higher standard and training. You'll get no argument here they could use more. The wrong people get hired everywhere, for every job, for many reasons.
Mitigate the problems you see with LEOs with action and not Facebook posts. Go talk to local LEOs and ask them point blank what they need to be successful at their job. When they tell you, go get it for them. I personally don't tell people what they need or don't need, or how to do a job I've never personally done. It's striking how many people lack the same reservation.
---
Declare for Morning Wood!
Come, stroll the awe-inspiring aisles of the Morningwood Bazaar.  Earn the right to wear our sigil and speak our words.
If you wish to cite, syndicate, or curate our material, or if you're wondering about our please be so kind as to read our Terms, Conditions, and Disclosures.
Take heed! We have advertisers, sponsors, and affiliate relationships with some of the companies you will be reading about (particularly, but not limited to, archival posts). If you purchase one of those items, we will get a small commission from the sale at no additional cost to you. A lot of work goes into Breach-Bang-Clear; by making your purchase through one of our portals you'll be supporting our work. This will help us buy beer, bullets, and barbecue, and we won't have to put pop-up ads and other such stupid shit into our articles to pay our expenses.