The lowdown on Potomac's Advanced Combat Shirt
Today COWAN! takes a look at the next great thing in tactical haute couture. COWAN! is, as you no doubt know, renowned both for his tactical sartorial perspicacity. Take a moment and let him give you the lowdown on the Potomac ACS. Mad Duo
Grunts: sartorial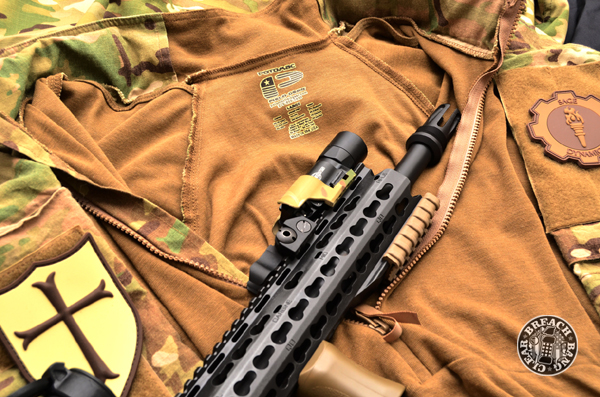 I received the Potomac Field Gear Advanced Combat Shirt in Multi-cam about 6 months ago. Normally a review of a product can be done in a few hours or a few days; however I tend to do things a bit differently. Many of the people who may buy this shirt are in the door kicking genus and as such deserve a more thorough review of the products they are going to spend their hard earned money on. So that's exactly what I did. Since Its also very hard to wear Multi-Cam as a civilian (im LE, but still a civilian) without a beard for prolonged periods of time, I had to do so sparingly.
First, the specs. The Potomac Advanced Combat Shirt is fire resistant (more on that later), anti-microbial, sweat wicking, heat regulating and anti-static. The sleeves are touted as being of a "stronger quality" material, with the usual array of Velcro adjustments and insignia/patch real estate. The ACS also has a unique feature of built-in (but removable) spacing material that acts as a barrier between the body and plate carrier, which is by far the best feature of the ACS. Of course these specs are most from the maker, which is all well and good, but do these "specs" hold up after 6 months? Yes, yes they do.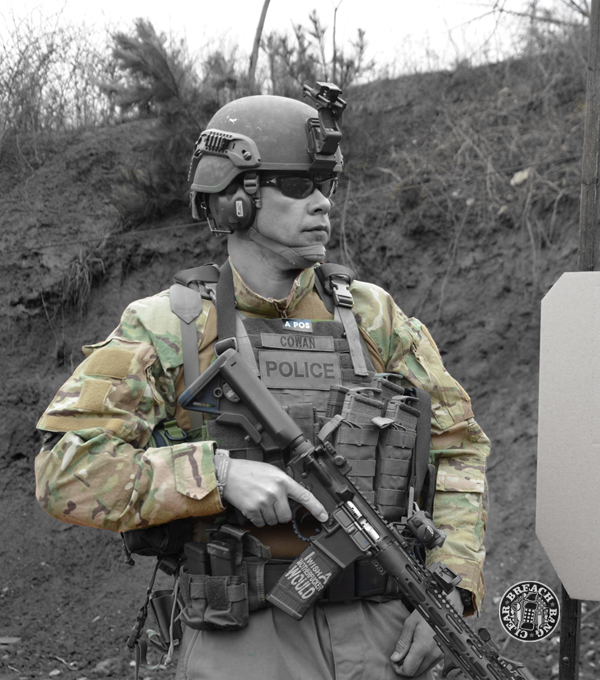 Some things are hard to test. "Anti-microbial" is one of those things, so I opted to not wash the shirt for the duration of the review; a little extreme maybe, but worth it as it's entirely possible that the grunt down the line may not have access to laundry for some time. With repeated wear from winter to summer, the ACS did its job as far as sweat wicking and heat management. Nestled under a 15-25 LBS plate carrier each time I put it on, the ACS's best feature was easily the spacer material. Every plate carrier, no matter how well designed, is going to cause fatigue. It's matter of when, not if. Pushing 8-10 hours of wear on a few occasions, the Spacer material protected my shoulders from strap bite and my chest from being abused by the front plate lip. The material is placed right where it is needed; upper chest shoulders and back. It doesn't add noticeable weight to the shirt and isn't prone to shifting under rigorous movement, it actually creates a pocket between carrier and body, which greatly aids in keeping your core temperature down. The material itself is porous in design; it doesn't retain heat or moisture at all.
The sleeves held up very well to repeated wearing. Velcro is still serviceable and the MultiCam pattern has not faded or worn in high contact areas. The sleeve material is a little stiffer than what I have seen with other combat shirt designs, but it's not so stiff that it hinders movement or makes you feel in any way that you are going to have to smoke check someone wearing your Class-A jacket. Also, for people such as myself who like to pick up heavy things and put them down repeatedly, the sleeves provide more room for guys who can actually wear a "Gun Show" T-shirt and not get chased into an alley when walking by a Gold's Gym. Rest assured, unless your 1 rep max is a Ford Explorer, your arms will fit.   The sleeves have pockets, which I didn't use because I would have forgotten whatever it was I put in there, but they look nice and are probably awesome for the kind of person who uses a sleeve pocket. It looks like you could get an IPod in there or a Zune if you are a time traveler from the past.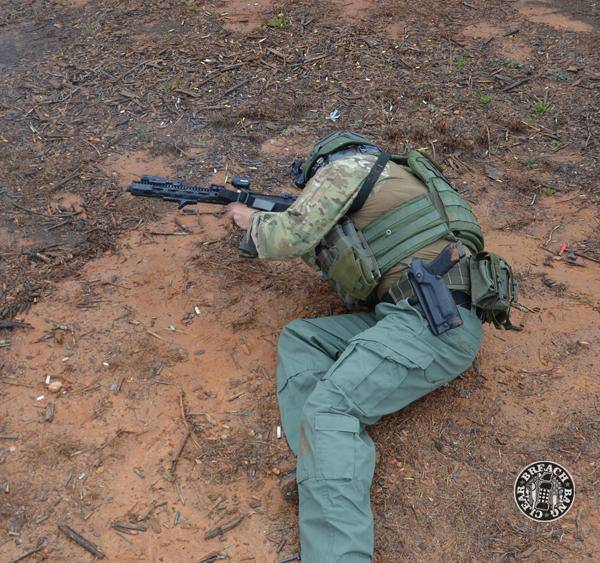 I think the collar bears mentioning because many people experienced the abomination that was the ACU Crane collar. Seriously, the Crane collar has probably killed people. Its design is so horrible that it could only be an ironic joke of tailored clothing design from a disgruntled employee that just happened to work for the lowest bidder. Well, the ACS collar is awesome. Light on the chafing and it doesn't make you feel like you are wearing a dog collar (unless you like that feeling, hey…no judgment here).   Even with the half-chest length front zipper run all the way up, the collar is comfortable.
Fire resistant? You bet your ass. I set the shirt on fire (it wouldn't stay lit without the help of an accelerant, one minute burn and not so much as a hole) here's a few pictures.
[Note – no he didn't actually set up an IED to see if the shirt would withstand that kind of flash and fire. Please do not give him any ideas. Mad Duo]

Yes, I loved the ACS the entire time I was reviewing it. I loved it like it was a perfect ethereal angel sent down from heaven to show me what kind of kit Archangels were wearing these days. I loved it unconditionally right up until it was time to wash it for the first time. Well, spoiler alert, those awesome spacer barrier pads strategically placed throughout the shirt? They do not react well to laundering. Perhaps my mistake was throwing the shirt in, pads still inserted. I really don't know. All I know is that when the shirt came out of the dryer, the pads that had not found their way out of the shirt were twisted and crammed into the corners of their pockets like a hobo sleeping in a refrigerator box. I caringly removed those still in the shirt and then set to putting them all back in their place. I'm pretty sure I yelled at a few people during this process, which lasted the better part of an hour as it was a bit of a puzzle to get them in correctly (they have to be right side up and aligned to the pocket) and the fact that you are trying to put fabric inside of another fabric and get it to lay flat was not lost on me.
My lesson learned? Remove the pads and hand-wash them, don't do what I did.
Really, don't.
My final opinion is that as far as combat shirts go, the Potomac Advanced Combat Shirt is great. It does the job the combat shirt was intended to do and does it very well. The pad design is unique, adds value to the design and helps carry the burden of a PC, which makes this a worthwhile purchase all on its own.
Find Potomac Field Gear online here; on Facebook here and on YouTube here. The ACS i
Have a few minutes to read some more? Check out COWAN!'s Ten things to know about violence.
COWAN!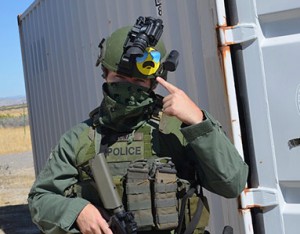 About the Author: Aaron (Breach Bang COWAN!) is an idiot savant of the tactical variety from a little place we like to call Hotlanta (though apparently no one from down there calls it that). COWAN! is the Lead Instructor and HMFIC of program development for Sage Dynamics who believes every article should be roughly the equivalent of a doctoral thesis. To call him thorough would be to damn him with faint praise. We call him COWAN! because anything in all caps with an exclamation point after it must be awesome. A former infantryman turned PSC contractor and LEO, COWAN! has served in several SWAT and training billets. His company, Sage Dynamics, is a reality-focused firearms and tactics training company that provides practical instruction for the civilian, police and military professional. An identical twin whose brother went on to become Agent 47, COWAN! is the author of the novel Rushing Winter and the designated fluffer on the set of numerous training videos here.