The Morning Wood Tactical Buyers Club
The Tactical Buyers Club – it's a thing. If you throw in a few bucks in for membership, you'll get unique buying opportunities and special pricing from participating companies, and the occasional bit of free loot from us.
We refer to the Tactical Buyers Club as "House Morningwood."
Wait, what? Why?
You have questions. Read on.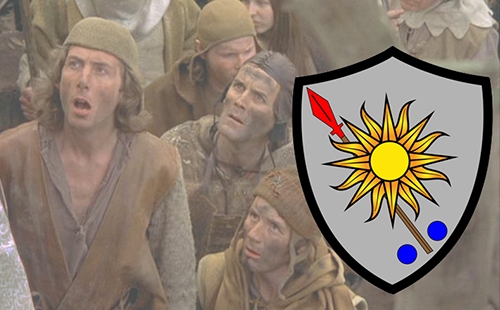 What is the Tactical Buyers Club?
It is a rewards program you get access to when you back Breach-Bang-Clear (#backthebang on social media) and the various individual contributors who help us do what we do.
People who support us via Patreon (a recurring platform for crowdfunding) have access to special pricing, early deals, and giveaways.
Collectively, all companies in the club are referred to as the "Morningwood Bazaar." A bazaar is like a medieval marketplace, souk, or bourse. Only our bazaar is a virtual one selling badass tactical gear and firearm accessories instead of primitive shit.
There are also fewer lice and better toilet paper.
Plus you'll have the right to wear a kewl sigil and proclaim our stirring words (keep reading).

How do I join the Tactical Buyers Club?
Simple. If you like what you see on Breach-Bang-Clear and our social frequencies, give us $1 a month, or $5 a month, or however much you'd like to pledge.
The more money you pledge on Patreon, the higher your discount codes.
What kind of companies are involved?
The best kind, and lots of them. Tactical Tailor, All Skill No Luck, Shield Arms, Ballistic Advantage, ASP USA, and many more, all in the "Morningwood Bazaar." Go check it out for the full list.
🚩

Why House Morningwood? ⚔️

Because we didn't want it to be boring. And we're fucking nerds, okay?

Don't judge us.

We set up our Patreon account like it's a "Great House." Think something like 14th century Europe or, if you're nerds like us, the houses from George RR Martin's Game of Thrones series (book or tv, doesn't matter). We have ranks from Smallfolk (peasant) all the way up to noble Lords.

It may not be possible for you to be one a Knight of the Kingsguard or a crow in the Night's Watch, but you can be a Lord of Morning Wood.

If you don't follow the series, don't worry about it. You can still save a fuckton of money on some of the best companies out there.
Rise with the Dawn!

Learn more about the Tactical Buyers Club (House Morningwood):
Links are underlined and in blue.
Join the Tactical Buyers Club.
Declare for House Morningwood.
See current news from the Morningwood Bazaar.
Read about the House Morningwood sigil, its words, and lore.
This post will be updated as new benefits are added, we remember what we forgot, or we have to fix something we fucked up.
Is reading Breach-Bang-Clear worth at least $1 month to you? That's not even a lapdance! Consider backing us!
What is Patreon? It's a crowdfunding platform. Breach-Bang-Clear readers pledge from $1 to $50 a month to "House Morningwood" (our Game of Thrones house, complete with sigil!), to help us with expenses. We, in turn, give our supporters unique content, membership to a closed discussion group, and access to the "Morningwood Bazaar", which is basically helluva lot of unique discount codes (up to 60%) to numerous manufacturers and retailers. "Bend the knee" to House Morningwood and help us cover costs. Rise Before Dawn! 
If you wish to cite, syndicate, or curate our material, or if you're wondering about our please be so kind as to read our Terms, Conditions, and Disclosures.
Take heed! We have advertisers, sponsors, and affiliate relationships with some of the companies you will be reading about (particularly, but not limited to, archival posts). If you purchase one of those items, we will get a small commission from the sale at no additional cost to you. A lot of work goes into Breach-Bang-Clear; by making your purchase through one of our portals you'll be supporting our work. This will help us buy beer, bullets, and barbecue, and we won't have to put pop-up ads and other such stupid shit into our articles to pay our expenses.