Spur AB Stock | Swedish Upgrade for the G-3 Pattern Rifle
The Heckler & Koch G3 was one of the 20th Century's most prolific arms. In production since 1958, with over 7 million built, and used by dozens of countries, it ranks with the FAL, M16, and AK-47 as one of the most iconic Cold War service weapons.
Heckler & Koch ceased production of the G3 in 1997, although the rifle continued in service and was employed in the Afghanistan conflict. It remains in front-line service with the Greek, Turkish, Pakistani, and Mexican armed forces. Many other countries still have the rifle in their inventories, including Sweden.
Carl Gustafs and Husqvarna license-produced the G3, for several decades, for the Swedish armed forces. It was designated the AK4. Starting in the 80s, it was superseded by the AK5, a 5.56mm assault rifle based on the FN FNC. The older AK4 rifle continues in service with the Swedish Home Guard, and that's where Spuhr AB came in.
Håkan Spuhr, the owner and founder of Spuhr AB, designed a new buttstock for the G3 pattern rifle. While the G3 is durable, reliable, and cheap to mass-produce, some consider its ergonomics to be sub-optimal. The stock is long, giving the rifle a length-of-pull in excess of 14". For tall shooters, or for shooting from the prone, this doesn't make much of a difference. For people of smaller stature, or people wearing body armor, equipment, or heavy clothing, this can leave the weapon feeling unwieldy. An overlong stock also inhibits accurate shooting from the standing position.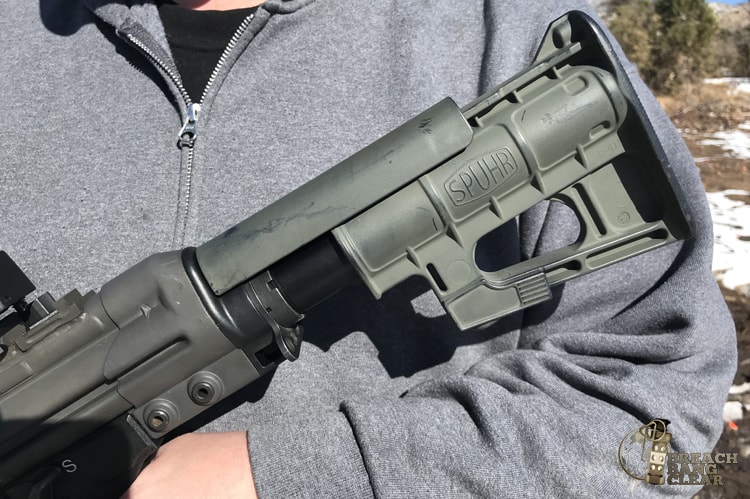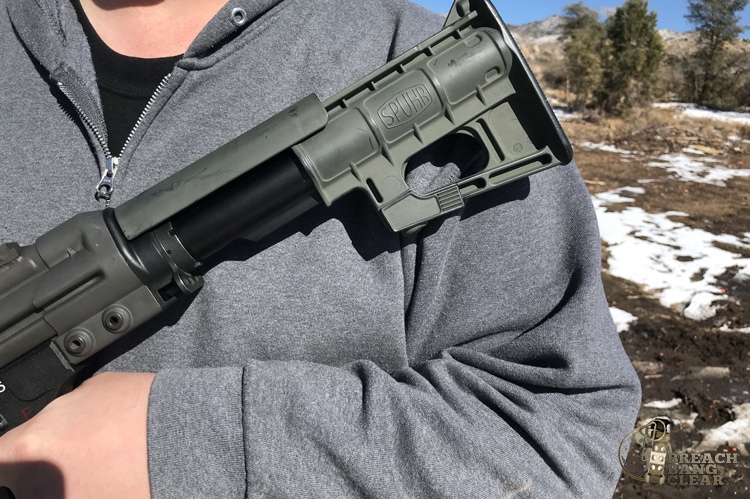 Above: the Spuhr G3 rifle stock. To adjust, simply pull down on the textured lever on the bottom of the stock. This unlocks it, allowing you to slide it inward or outward to your preferred position.
The plastic stock rides on a machined aluminum tube and has six positions. It features integral, ambidextrous sling attachment loops, a plastic cheek rest (replacement rests of different heights are available), and mounts solidly to the receiver end cap with three screws. NOTE: Some PTR-91 rifle variants, like my PTR-91 FR, do not come with the buffer screw. My PTR-91 GI model, however, did. This screw is necessary for proper mounting of the Spuhr stock. If your gun lacks this screw, you can find it online from several vendors.
The stock has a length of pull with a wide range of adjustment, from about 12″ to more than 14″. This allows the rifle to be adapted to different shooters wearing different types of clothing and equipment, including vests and body armor.
There are AR-15 stock adapters for the G3 on the market already, but the Spuhr stock is specifically designed for the HK pattern rifle. Some AR-15 stock adapters don't fit the G3 rifle particularly well; collapsed all the way in, they're about right for an average shooter, and only get longer from there. The G3 has a longer receiver than the AR-15, with more space between the pistol grip and the buttstock. This adds unnecessary length of the adapted stock. The Spuhr buttstock does not have this issue.
Aside from giving the HK-pattern rifle an adjustable length-of-pull, the Spuhr stock also raises the comb to where it's about level with the stop of the receiver. This has two benefits: one, it gives the weapon a straight-line recoil impulse, which improves controllability; two, it allows you to use optics mounts which were designed with flat-top, AR-15-pattern rifles in mind. Håkan Spuhr says that his stock makes the G3 controllable in full auto, but I have not been able to test that myself. I will say that it seems to noticeably reduce muzzle rise, even during rapid fire.
There is a tradeoff to the raised comb, however: it renders the factory iron sights unusable. Some American shooters may consider this to be a deal-breaker, but the Swedish Home Guard did not. In fact, they went so far as to remove the iron sights from their rifles completely, replacing them with Aimpoints and other optics. I followed suit on my personal rifle, a PTR-91 GI-R model. (I think the iron sights on the G3 are crap anyway.) It features a Picatinny rail welded to the receiver, upon which I mounted a Meprolight reflex sight.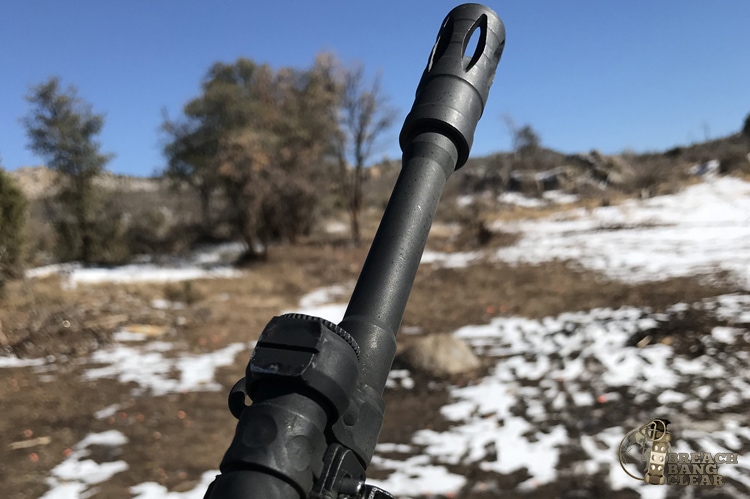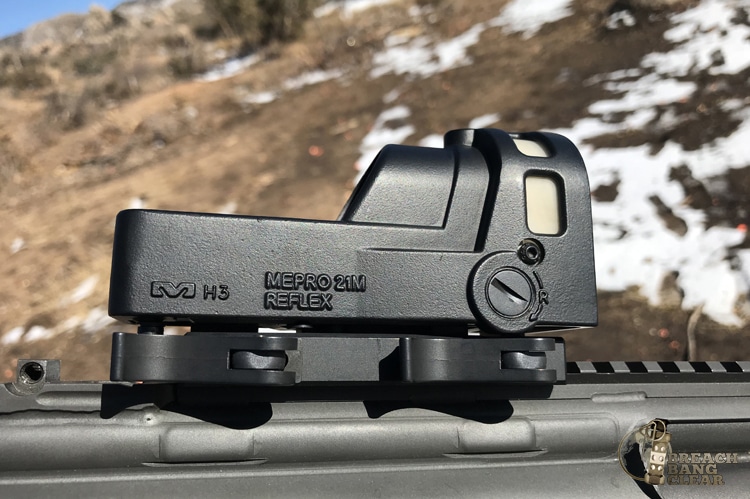 This permanent modification to the rifle is not necessary, of course. Håkan Spuhr informed me that, in an emergency, you can remove the cheek riser to use the rifle's iron sights. It won't be especially comfortable, but it is possible. The cheek riser is held in place with a single screw, which can be removed easily.
I mounted the stock on two different rifles: A PTR-91 FR, which is an all-US-made weapon with a heavy barrel, and an older PTR-91 GI-R, which has an HK-profile barrel and is made with some surplus parts. The FR model has always been muzzle-heavy, and the long stock only exacerbated this. With the Spuhr stock, it handles better, though it's still somewhat front-heavy (I'm considering replacing the plastic trigger housing with a steel one, in an attempt to shift the center-of-balance rearward some).
On the GI model (or similar rifles, such as an actual G3 or an original HK-91), the stock definitely improves the handling. This is subjective, of course, but with the Spuhr buttstock in place, my PTR-91 GI-R handles more like an M16 (but one with a collapsible stock). Reducing the length of pull shifts the weight closer to the shoulder and improves the balance.
Above: gunsmith and outdoorsman Jesse Lambert fires the PTR-91 rifle.
Support our tribe. Buy some of the books we've written.


If there is one downside to the Spuhr stock, it's the cost. There is presently only one US importer, and as of this writing, the Spuhr R-410 stock costs $285.00. That is more expensive than even the Magpul UBR. One of the chief advantages of the PTR-91 rifle is its relatively low price, compared to other .308 battle rifles. You can get a PTR-91 GI-R rifle, with welded top rail, for less than $1000 online (plus shipping an FFL transfer fees). Original HK surplus magazines are still inexpensive, starting at about $5.00 apiece.
However, you get what you pay for, and I found the stock a worthwhile enough upgrade that I'm going to purchase a second one for my other rifle. The high quality of the Spuhr stock, as well as the improved ergonomics and handling it affords, made it a worth the price tag to me.
This stock should work with most HK-style, roller-locked weapons. It will mount to the G3, the HK91, and clones, and also the MP5. It will work with standard or heavy buffers and comes with installation instructions for each. It is not designed to fit the CETME but might be adaptable with some gunsmithing. (Please, do your research before you break out the Dremel. When in doubt, consult an actual gunsmith.)
NOTE: As of this writing, the stock only comes in black. I spray-painted mine green, to match the handguard of my rifle. If you have an HK-pattern rifle or carbine and would like to bring it into the 21st Century, you can get your own Spuhr stock from Mile High Shooting Accessories, of Erie, Colorado.
If you're interested in an affordable, high-quality, G3-pattern rifle, I can personally recommend the PTR-91. All current production PTR-91 rifles feature a paddle-style magazine release, something even the imported German HK91 lacked.
You can see more pictures of the stock at the Spuhr AB website. Follow them on Instagram, @spuhr.
Check out some of the other stuff Kupari Khan has written right heeeeeeerrrre.
---
Declare for Morning Wood!
Why become a patron? Not for the dick pics. So you can access the Morningwood Bazaar, obviously.
Exclusive discounts up to 60% off all kinds of guns and gear. 
Plus, unrivaled camaraderie where we only make fun of you most of the time.
Access to Nancy's Squat & Gobble, our closed Facebook discussion group.
If you wish to cite, syndicate, or curate our material, or if you're wondering about our please be so kind as to read our

Terms, Conditions, and Disclosure

s.
Take heed! We have advertisers, sponsors, and affiliate relationships with some of the companies you will be reading about (particularly, but not limited to, archival posts). If you purchase one of those items, we will get a small commission from the sale at no additional cost to you. A lot of work goes into Breach-Bang-Clear; by making your purchase through one of our portals you'll be supporting our work. This will help us buy beer, bullets, and barbecue, and we won't have to put pop-up ads and other such stupid shit into our articles to pay our expenses.