Son of ALICE – Pack from SpecOpsShop
SpecOpShop LLC is a rapidly growing Texas based business specializing PenCott pattern uniforms and Boonies (yes, we capitalized it, deal with it). They offer a wide array of patterns for their style and are starting to gain some serious traction with dudes looking for the latest and greatest in concealment. They're constantly expanding their line and are frequently introducing some very unique and interesting gear to the market.
An example of this innovation is their new Son Of ALICE Pack.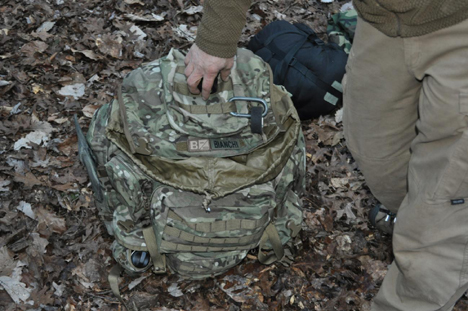 The SOA stands apart from many of the other "Modern ALICE" designs. Its not just another cool guy ruck, as it stands, it might soon be THE cool guy ruck. One of our lads had the opportunity to meet up with the gang over at Domari Nolo Defense Consulting and was able check the pack out. Domari-Nolo is a new gear and training company started up by a former Marine in Mechanicsburg, Pennsylvania. They are one of SpecOpShops lead distributers, and over all simply just good people.
The first thing you notice about the Son Of ALICE is the size. It's not much bulkier than a standard Vietnam-era large sized ALICE of yesteryear, but is cramed with pouches and features. It sports a whopping total of 11 zippered pockets, 3500 cubic inches of storage in the main body and additional 2000 cubic inches of room in the outside compartments. Weighing in at 8lbs and 6 oz. out of the box, the ruck is worth the initial pounds to stand up to the heavy loads it can be expected to haul. Constructed of a mix of 500D cordura and 400D packcloth, it utilizes Nexus Fastex buckles and heavy weight zippers. This sucker is up for the long haul, pun intended.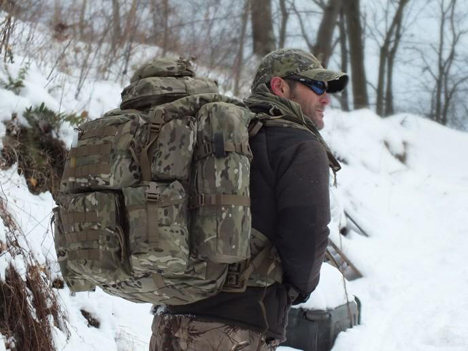 Built specifically for the Down East Industries 1606 Airborne Assault Frame, the layout is as simple and effective as the philosophy behind its design: take a solid, straight forward design and update it with gusto. The polymer Down East frame is a lightweight, high strength design that is up to the worst strain and abuse that can be thrown at it. Its not going to break and fail you like the older MOLLE frames of the early 2000s. It's a popluar choice being used in several of the other contemporary top end rucks.
The main compartment is best described as cavernous, featuring a individual "radio" pocket and deep bottom. Virtually any realistic piece of gear, including a 5 gallon water can, will fit inside. (Good news when helo resupply drops them a klick down the mountain from your hide or LPOP.) You could damn near hide a single dancing mom in this thing – you certainly could if she was a midget. The ruck's main compartment has a draw string top for 'overfill', and can be cinched down nice and tight. The lid features an additional pocket, which is convient for small items, documents, etc. just like the original ALICE's map pocket.
The thing our boy liked the most about this pack (and granted while he's not too bright, he has spent his share of time humping gear over the horizon) was the 11 pockets on the outside. Having the ability for each piece of mission essential gear to have its own home is a big deal. It makes finding those items a lot easier in low light, or when speed is critical. It also allows for an entire team set up with these rucks to standardize their layout, with IV kits being in the top pouch, comm batteries in the top left side pouch, etc.  you get the idea. Although he didn't have the opportunity to ruck any distance with it on my back, the boys at Domari-nolo did a pretty through field trial before deciding to carry it.  He did have the chance to shoulder it with a full load and wear it around for a bit and attests that the load is evenly distributed and as close to "comfortable" as the weight of 5 cider blocks on your back could be, all things considered. He was equally impressed by the quality stitching and thoughtful layout of Son Of ALICE.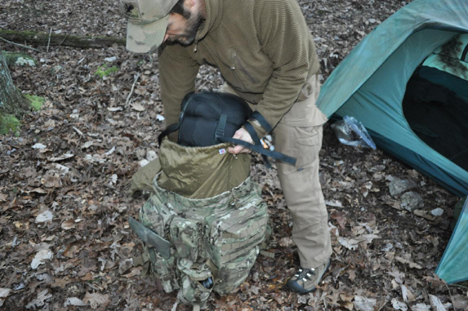 It's a pretty sure bet he'll breaking down soon to buy the coyote brown version…some of the other boys may get one too.
If you're in the market for a new ruck, check out the Son Of ALICE by SpecOpShop. It's worth your time, and the cash. Go to domari-nolo.com sometime in the next two weeks for a special introductory price, and be sure to visit SpecopsShop.com for their full kit.
Mad Duo Clear!