Today's "Small American Company Spotlight" illuminates Bad Company Tactical.
We are always looking for the newest cool-guy gear, small businesses (especially veteran-owned) and kit that's made for a specific purpose. Recently we stumbled upon a small gear shop hailing from the proud nation of Texas. Started by a former Army Green Beret, BCT (Bad Company Tactical) has some interesting designs and unique products. One section of products that really stands out is their system of weapon retention devices.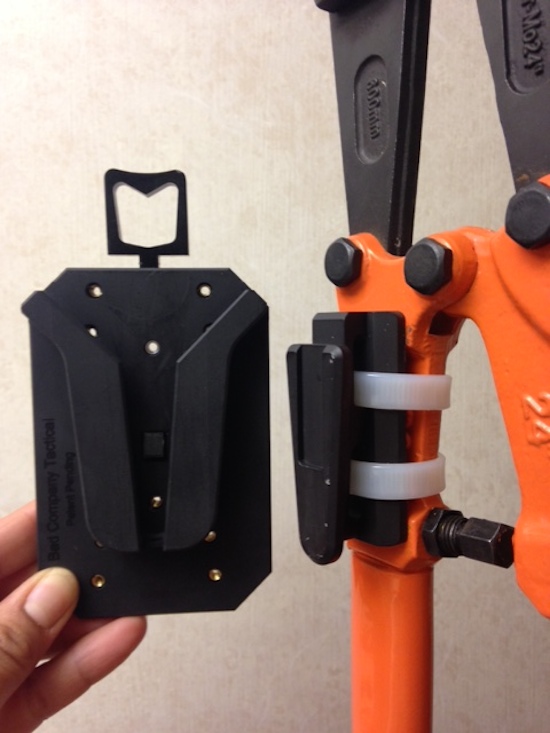 They have several models that adapt to your rifle, shotgun, grenade launcher or breaching tools, allowing you to stow your weapon or tool out of the way when changing tasks. For fast roping, climbing or going hands on this system looks simple and effective.
The Rifle adapter clamps onto standard Picatinny rail, either on the left, right or top of the weapon. With several sizes of adapter to choose from, you can set the adapter up in minutes and have an unrestricted view through your optic.
The company has made several adapters, allowing you to mount a base on your pistol belt, MOLLE paneled armor, or even hard mounted to a vehicle. You have the option to lock your weapon or tool into the base plate, which might be useful for doing EPW searches or retaining your M4 in a humvee, ATV, or motorcycle.
Made out of strong Aluminum, the adapters are build for combat and are up for some serious use, while retaining a slim and low weight profile. Bad Company Tactical also makes pistol adapters, The "R2S" . This adapter attaches securely to ANY pistol equipped with an accessory rail, can even be fitted to currently fielded grenade launchers such as the HK M320.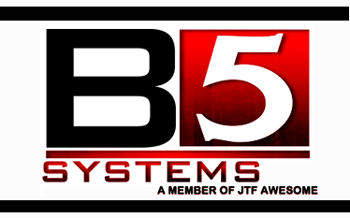 The really cool thing about their pistol adapter, is that provides the ability to access and immediately stow pistols sporting a suppressor. Up to this point, options have been limited for this requirement, particularly the ability to "reholster" one handed with a hot can. With an added adapter, you can still retain the use of a white light or IR illuminator or laser.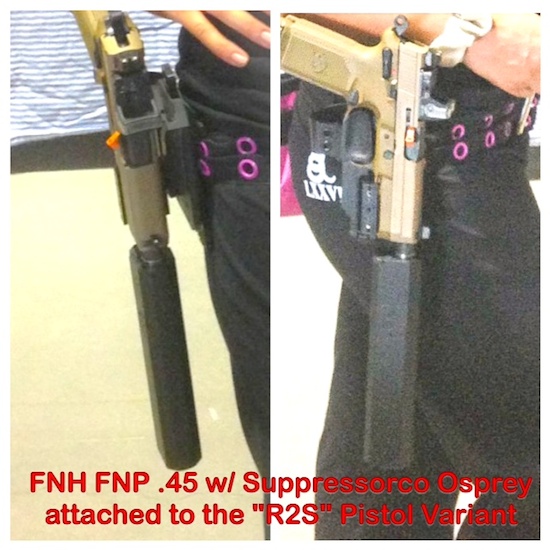 The company also has a selection of more traditional holsters and soft nylon goods, such as their "Montesquieu Magazine Rack" (MMR) which is named in honor of Baron Montesquieu, a French noble who helped pioneer modern government with his views and studies.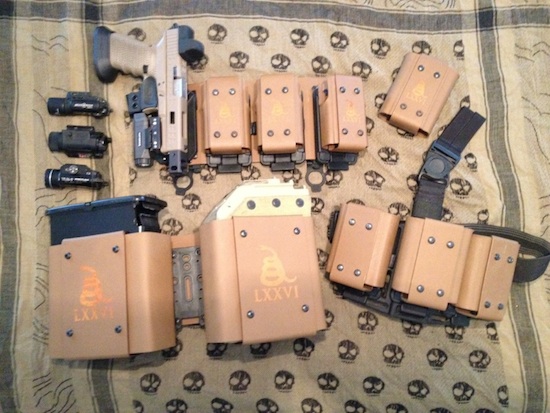 Baron Montesquieu hated big, oppressive government and served as an influence on our founding fathers. The MMR has the ability to use Bad Company's own rapid retention system, as well as BladeTech TMMS mounting systems. This design has the users ability to quick change his set up as its goal. The magazine pouches can be adjusted at four different points allowing for a custom fit. With the push of a button the user can switch out from one magazine type to another. This is a great feature for dudes swapping weapon systems out on a frequent basis.
The company also has a selection of packs and other accessories, so we recommend heading over to their website and checking them out. We are very interested in their Rapid Retention system, so we intend of investigating it further, so when we do we'll give you a full review.
BadCompanyTactical.com is the URL. You can also find them on Facebook. We strongly recommend you go through some of their pictures on Facebook. You can see a number of ways people have used their MMS there, from rigging up hoolies and bolt cutters for carry to a number of different methods of mounting weaponry.
Watch the video below to learn more about where they come from, their philosophy and further information about their products.