Guerrilla Armament Glock Sale
Pistols, magazines and parts – RUMINT has it that Guerrilla Armament is having a pre-owned (that's fancy talk for somebody already shot them) Glock sale this week. They're inviting locals to come by and 'shoot the bull' if you have the chance. Prices are (in their own words):
Glock 22's with night sights- $359 (WHAAATTTTTT!)
Glock 17's Gen 3's like new- $469 (Pretty F'n rad)
Glock 21's- $429 (Ridiculous I know)
They are offering a discount on Glock mags, trigger upgrades, and mag extensions with purchase of Glock pistols.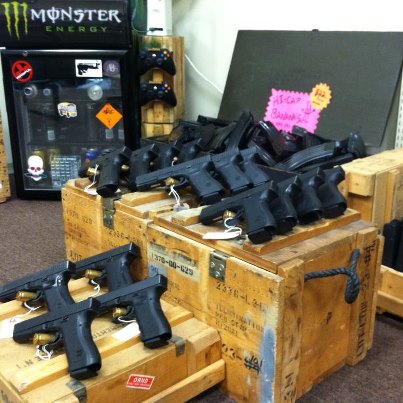 GA also has some new weapons in this week, including Smith&Wesson M&P10 308, KAC 308/AR10 mags, Aimpoint T-1's and H-1's, Multi-Tasker tools, and ammo (22lr and 9mm ball ammo). Additionally their G-Code Holsters shipment has arrived. All INCOGs have been sold, but more are due to arrive shortly. More than 1500 high capacity and standard capacity mags arrived today, so you may want to see what they've got.
Note: There is no guarantee Kassi will be on hand to assist you, and even if she is there's little chance she will tolerate much bullshit…still, she's as good a reason as any to visit (though having gear in stock is always a Good Thing).
Guerrilla Armament is on Facebook here https://www.facebook.com/GuerrillaArmament if you need to talk to them. Give them a like, extend your most salubrious and solicitous saluations and tell them Breach-Bang-Clear sent you.
Mad Duo, Breach-Bang-CLEAR!