Review: PDT New Generation Mask
No, this isn't about Cobra Commander but a close second: Jeff Takeda. If you've used sim gear, you know the safety equipment is usually terrible, hot, and cumbersome. Today Jeff brings you through a possible alternative. Mad Duo 

Review: PDT New Generation Mask 
Jeff Takeda
I first used Simunitions back in 2002 at an Active Shooter training course with my previous police department. It was a great class put on at a school by a mobile training team from a nearby Sheriff's department. In the first scenario I responded to a report of "shots fired" armed with an AR-15 outfitted with a SIMS kit. My partner and I were met by about twenty five role players who were running around screaming. In the background we could hear the sound of gunfire. It echoed in the school quad, and we couldn't quite tell where it was coming from. I grabbed a kid by the arm as she ran out, asking "Where's the shooter? What's he wearing?" She yelled back, "By the cafeteria! Green army jacket!"
Two more officers joined us, we formed a contact team, got into a diamond formation, and ran towards the cafeteria. I was on point. As I turned the first corner, a guy in a green Army jacket popped out of a class room adjacent to the cafeteria. He held a stainless .357 revolver in his left hand and was pointing it towards a group of role players. I raised my AR-15 and thought, "I got your ass!" But I couldn't get a sight picture. I couldn't get a cheek weld on the rifle because of this stupid, bulky, facemask thing I was wearing. Even worse, I could barely see, as the lens of the facemask started to fog up from the sprint across the quad. I did the best I could and fired four rounds towards the bad guy. In the seconds while I was fighting with the facemask he fired two rounds at us, hitting my partner. None of our rounds hit him.
I'm not blaming the equipment for my lack of marksmanship and loss of focus. I became aggravated by the gear and allowed it to affect my performance. There is a definite benefit to having these types of distractions in training because it will happen during the real deal. However, the facemask did have quite a negative effect on the training. The fogging was the biggest issue, because I couldn't see anything. And this wasn't a "put the blast shield down, Luke" Jedi training kind of moment. The bulky, foggy mask really took us out of the scenario. Plus, the masks were very uncomfortable if worn for a long period of time. As a result scenarios never lasted more than ten minutes. There had to be a better solution.
Protective mask systems for force on force training have improved over the years. I've used a variety of them during tactical training, Paintball, and Airsoft games. The paintball industry especially has produced some great masks that are lightweight, comfortable, and don't fog. However, some of these masks are not safe to use with SIMS or UTM as they lack the required protection. They don't integrate well with military or law enforcement ballistic helmets, communications gear, or night vision devices. There really hasn't been a solution that provides full protection, offers a high degree of comfort, integrates with helmets, AND won't fog easily.
PDT is attempting to change all that with their New Generation Mask System.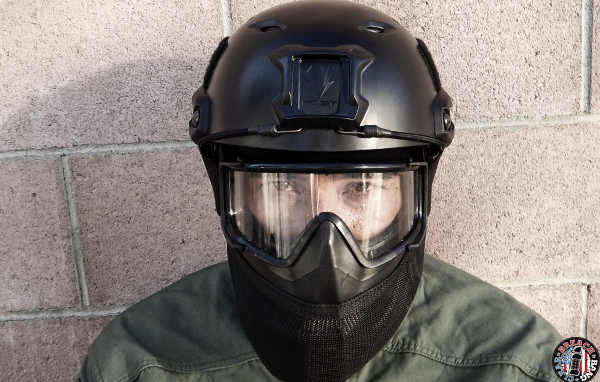 I was fortunate enough to get my hands on the PDT helmet system and test it over the past several months. I have used it extensively during Law Enforcement tactical training and recreationally in airsoft games. So what makes the PDT mask different?
The PDT mask provides full face and ear coverage, yet has a lower profile than other masks made specifically for non-lethal marking cartridges. To cover the ears, the PDT utilizes a soft, flexible rubber that wraps around the head. It is kept in place by the goggle strap, which loops through the left and right sides of the goggle. Each end of the strap has an attachment buckle, the female portion on the left side and the male portion on the right side. When you put the mask on, the back of the strap goes across the back of your head, keeping the mask in place. The buckle ends of the strap are designed to go across the back of a ballistic helmet. This helps secure the mask to the helmet.
The lower portion of the mask which protects the mouth features a durable, flexible mesh, reinforced by the same soft rubber that covers the ears. This lightweight, breathable material helps reduce fogging. The lower portion is also low profile. Combine the low profile shape along with the flexible material, and you are able to get a proper cheek weld with a long gun and get a sight picture! It's like magic!
But wait, there's more! There are splits in the left and right sides of the lower portion of the mask, which close with Velcro. This allows a chin strap from a helmet to pass through, firmly, and comfortably securing the helmet and facemask together.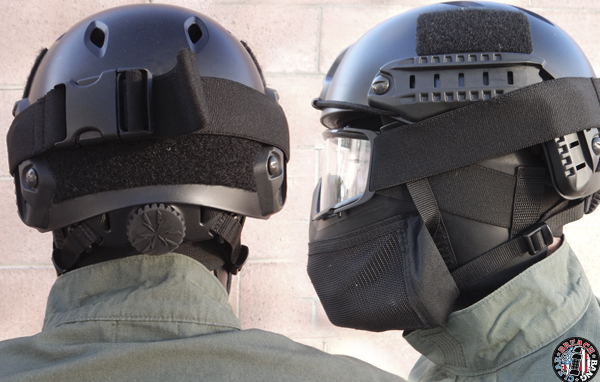 The PDT also boasts a "proprietary anti-fogging lens technology" that PDT claims mitigates the two temperature extremes that cause fogging. Well, we'll see, because for some reason I fog up everything (even just regular shooting glasses when I'm running around).
Testing
I tested the PDT facemask using a variety of helmets including an Ops Core FAST Bump helmet, an ACH mid-cut helmet, a PASGT style ballistic helmet, and even a knock off replica IBH helmet made for airsoft. I tested the PDT facemask in various conditions. I tested it during SWAT training inside a local mall in the summer in Southern California. I also tested it at an indoor airsoft field during the summer, while running around for four hours with a bunch of other sweaty guys. I tested it in outdoor winter conditions at another Airsoft field, running around for a couple of hours. I have put a good 20 to 30 hours in this facemask in total over the past year. So how did it hold up? I broke my review down into the following categories.
Comfort and Integration with Gear
If you're a cop or a military guy used to the old school SIMS masks that make you look like a third rate Darth Vader (second Star Wars reference), then the PDT system will be a very welcome change. The facemask is lightweight and relatively comfortable. It's more breathable so you won't sweat as much. If you're an Airsoft/Paintball MILSIM type that uses a helmet, you will also find the PDT system to be a great option for full coverage face protection that's as comfortable as a Dye paintball mask.
The PDT mask integrates very well with all the helmets I tested it with. If you have ever tried to wear a ballistic helmet on top of a traditional paintball mask you will find that the helmet pushes the mask down on your face causing it slide down your face. That's if the side ear protection will even let you get the helmet on. It's uncomfortable and annoying. The strap system coupled with the pass through for the helmet's chin strap on the PDT system secure the mask and prevent this from occurring. There is also a "shelf" on the top of the goggle that slides under the lip of the front of the helmet. This supports the helmet but doesn't cause the helmet to push the mask down. The shelf also covers the gap you usually find between the top of the mask and the bottom edge of the front of the helmet.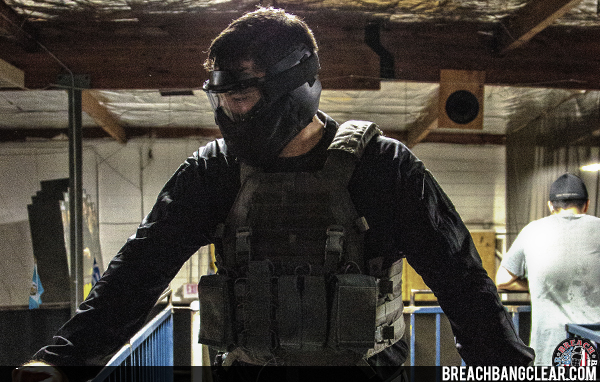 Weapons Integration
The low profile shape of the lower portion of the mask along with its flexible material combine to allow the user to get a better cheek weld with a long gun. I tested the mask with several sighting systems on different weapons. The results were hit and miss (no pun intended). Using an Aimpoint T1 or Eotech I was able to see the reticle on the optics with no trouble. However, I was unable to get proper sight picture while using the iron sights on a standard M4 with a standard front sight tower and Troy rear flip up sights. I was also unable to get a proper sight picture while using the iron sights on an MP5 or AK-74 with iron sights. I was able to see both the front and rear sights in all cases, however I could not line them up, due to the mask getting in the way. However, if you are using any of the modern red dot optics mentioned, you won't have a problem getting a sight picture.
Protection
Unlike some other systems designed for SIMS or UTM I have seen, there is not a permanent neck protector attached to the PDT system. However, included in the kit is a removable throat protector that can be added if desired. This is a nice option to have, especially for airsofters, who usually don't use throat protection but still have the ability to integrate their helmet with the PDT mask. Overall, the mask did a great job of protecting me from SIMS, UTM, and airsoft projectiles.
Fogging
As I said, I have a tendency to fog up any type of eye protection, even regular shooting glasses. In fact, when wearing goggles I usually use the ones with a built in fan like the ESS or Oakley models. Much to my surprise, I experienced very little fogging with this mask. I mean almost zero fogging, even while running around for several hours. I only experienced a little bit of fogging while using the PDT system at an indoor airsoft field in the heat of the summer.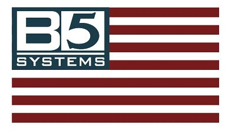 Conclusion
If you are military or law enforcement and accustomed to the standard issue SIMS protective face mask/helmet you will find the PDT system a godsend. It's comfortable, integrates with your ballistic helmet, and for the most part does not fog. You can get a pretty good sight picture with the mask when using an optic that is slightly higher than the standard iron sights on an AR-15 type platform. All in all the PDT New Generation Mask will be a welcome change for you. And if you're an airsofter or paintballer, the PDT system is also a great option as it gives you the option of full face protection as well as compatibility with a wide array of helmets.
-JT
---
You can visit the PDT Tech homepage here, or you can purchase them here
Mad Duo, Breach-Bang& CLEAR!
Comms Plan
Primary: Subscribe to our newsletter here, get the RSS feed and support us on Patreon right here.
Alternate: Join us on Facebook here or check us out on Instagram here.
Contingency: Exercise your inner perv with us on Tumblr here, follow us on Twitter here or connect on Google + here.
Emergency: Activate firefly, deploy green (or brown) star cluster, get your wank sock out of your ruck and stand by 'til we come get you.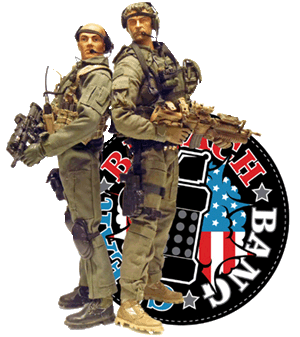 About the author: Jeff Takeda is a former U.S. Marine and is currently employed as a police officer in Southern California.  He has a varied background in both security and law enforcement operations.  As a Marine, Jeff served as an infantry squad leader and as a Marine Corps Security Forces member.  In addition, he served in the U.S. Army National Guard as a military policeman in the state of California.  In the private sector, Jeff was part of an overseas security team, operating in the former Soviet Republic of Kazakhstan.  Jeff has been a sworn police officer for over 12 years and has served as a detective, field-training officer, and firearms instructor.  He currently works uniformed patrol and is a member of his department's SWAT team.   Jeff is also a military / law enforcement training consultant for Professional Training And Simulation (PTS), a company that produces high quality Airsoft guns and accessories for training purposes.