Review: CamelBak [Revised] HAWG Pack
CamelBak has updated, revised, and re-released their HAWG pack. So if you were one of the ones grumbling like grandpa about it being gone, rejoice. Today our semi-tamed Australian, Apocalypse Josh, gives you a look over the features. Mad Duo
Review: CamelBak [Revised] HAWG Pack
Apocalypse Josh
I caught up with the reps from CamelBak at the SSAA SHOT expo, and they were kind enough to send me one of the re-released Mil-Tac H.A.W.G. packs before they hit the shelves. I'm always on the lookout for a new pack, and always want to set myself up with something that does double duty. Here's a link to the now-discontinued pack, which if you can find it, seems to be highly thought of in the pack communities.
I've not been able to give the pack a thorough field test, as it needs to go back to CamelBak after I've had my paws on it. That said, I have had a good look over it and this is what I can tell you about it.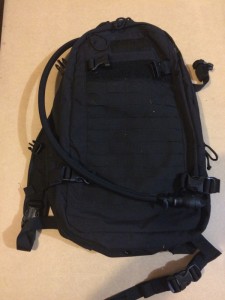 Unlike the older the four-channel, seven-row PALS/MOLLE of the Mil-Tec H.A.W.G., the carriage grid on the new H.A.W.G. appears to have been replaced by a more sleek and unobtrusive five-channel, ten- row of the new 6/9 style platform, or something very similar to it.
There is a broad panel of loop-field on the top front of the pack for putting IDs and morale patches. The back of the pack has three raised areas of 5mm closed-cell foam, making up the Air Director back panel for optimal load distribution and breathability. It has a really good feel on the back, even when the pack is loaded up. There are kidney flaps to guide the waist straps, with buit-in D-loops on top to give a good range of motion when wearing it.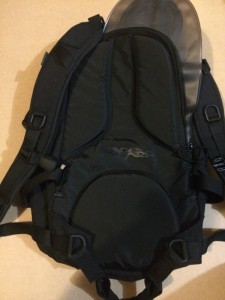 The back of the pack opens up with a long asymmetrical zipper, which allows the fitting of a 3L hydration bladder (in this case the CamelBak Mil-Spec Antidote Reservoir Long with Quick Link). I liked the look of the bladder too, but as it's a returner, I didn't try it out. However, it features a bite valve adapter which is very cool, since manually opened adapters can be a pain. The tube clicks off for faster refilling with auto shut-off so no leaking, and the new Fillport is reported as the industry's largest opening with air-light ¼ turn open/close for quick, secure seal. It also can't be over-tightened.
The interior of the hydration section is also padded, giving you an insulated compartment both from your pack and your back. Cold drinks stay that little bit colder, and you don't have a cold weight pressing on your back as you hump it around. Loops in the top of the bag take the hook on top of the hydration bladder.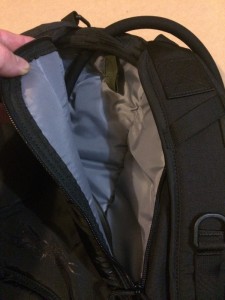 The older H.A.W.G. has a total capacity of 23 L in its 48cm (17″) x 26.5cm (12″) x 26cm (10″) and weighs a surprisingly low 1.2kg (2.75lbs), which comes from it having a 500D Cordura on the outwards facing surfaces. 420D nylon makes up the shoulder harness, back side and raised pod panels. The shoulder harnesses are filled with 10mm EVA foam, and all the internal surfaces are made of lightweight 210D nylon. The mixtures make for the reduced weight.
The top front of the pack features a stash pocket, with a dummy-cord and clip built in. Its also worth noting that all the zippers are fitted with string pulls to silence them, which is a feature I like seeing on so many packs these days. The 6/9 webbing will take all PALS/MOLLE pouches and accessories I've tried on it, so it's simple enough to hot-swap your existing pouches into the H.A.W.G.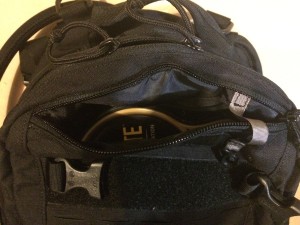 Twin ports behind the shoulder straps give access to the hydration tube, and in an interesting addition, there are two access points tucked in behind the waist straps. these allow you to rout the cables up under the arms rather than over the shoulders, where they could perhaps snag on weapon straps or the like. You could also feed the waist straps back into the pack, to get them out of the way if you weren't intending to use them.
Inside the main pack, there are two zipperable sections. The front section, which has dual zips and opens 3/4 of the way down, is lined in lightweight 210D nylon, has sewn-in pockets on the back, a triple pen slot, two note-book sized pockets, and one the width of the pack. These would be good for the administrative-type gear you might have, but don't need to secure in any special way.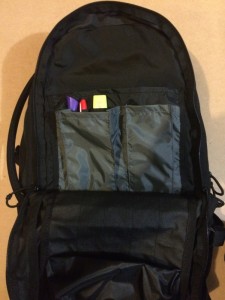 Maps, phone charger gear, a survival tin or even a IFAK like the ITS ETA kit could sit in one of these. Drainage grommets with mesh lining are found in the bottom of the section.  The front section was quite spacious, and would certainly do to stuff with a number of items, especially if they would lay flat easily. The 6/9 webbing is sewn right into the front of this section so there isn't any padding between your pouches and the contents of the first section, something to be aware of if you are loading up the outside of the pack.
The inner section, which sits between the front "admin" section and the distinct hydration section, is even roomier. Again, it features a dual zip 3/4 opening and the same drainage grommets in the bottom. But has the advantage of the internal padding on the hydration side, keeping condensation from forming and spreading to your stored items.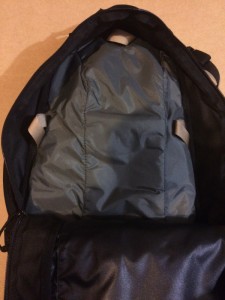 The pack is pretty featureless, although it does have three wide webbing loops sewn in at 3, 9 and 12 o'clock, giving you attachment points for gear, or even to run shock-cord through to for some internal spiderweb structure to pack things down. I think that would be where I'd fit the McNett Gruntline, if I were keeping the H.A.W.G.  for myself. I like a bit more internal structure to my bags, because I often have a lot of small needfuls kicking about, but for a small daypack like this, I suppose I would make do.
It was very comfortable to wear, easy to don and doff, with the shoulder straps sitting nicely, and adjustable, with a pretty standard sternum strap to keep it locked down for long, arduous or exciting traverses. The bases of the shoulder straps were set securely into the bottom corner of the pack, and looked like they'd take some abuse. While I didn't get a chance to test it under heavy loads, the waistband seemed to sit nicely on my hips and keep everything where it needed to be.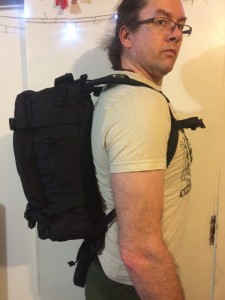 The twin top and bottom compression straps were a nice touch, with hook-and-loop webbing keepers built in. They would allow bulky but soft gear like sleeping bags, outerwear and the like to be stuffed in, then buckled down tight to reduce bulk. Twin rows of webbing sewn onto the base of the back would allow got you to set a sleeping roll, tent sustainment kit or other bulky but smallish items to the outside of the pack without too much hassle.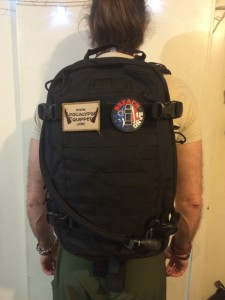 I found the way it sat to be really comfortable, both directly against my back, but also in relation to my shoulder blades, neck and hips.  I had no feeling that it would interfere with the kinds of scrambling, crawling and other misadventure that I find myself doing. It also had a nice sturdy drag handle for those times when I might want to be pulled out of any of those situations, or just to keep my hands on it while waiting for a plane.
All in all, the new CamelBak H.A.W.G. is a very nice pack. It's a simple design with sophisticated elements and is certainly a new look at an existing product, which is always good to see.
---
For more information, you can visit CamelBak online here, or give them a follow on Facebook.
Mad Duo, Breach-Bang& CLEAR!
Comms Plan
Primary: Subscribe to our newsletter here, get the RSS feed and support us on Patreon right here.
Alternate: Join us on Facebook here or check us out on Instagram here.
Contingency: Exercise your inner perv with us on Tumblr here, follow us on Twitter here or connect on Google + here.
Emergency: Activate firefly, deploy green (or brown) star cluster, get your wank sock out of your ruck and stand by 'til we come get you.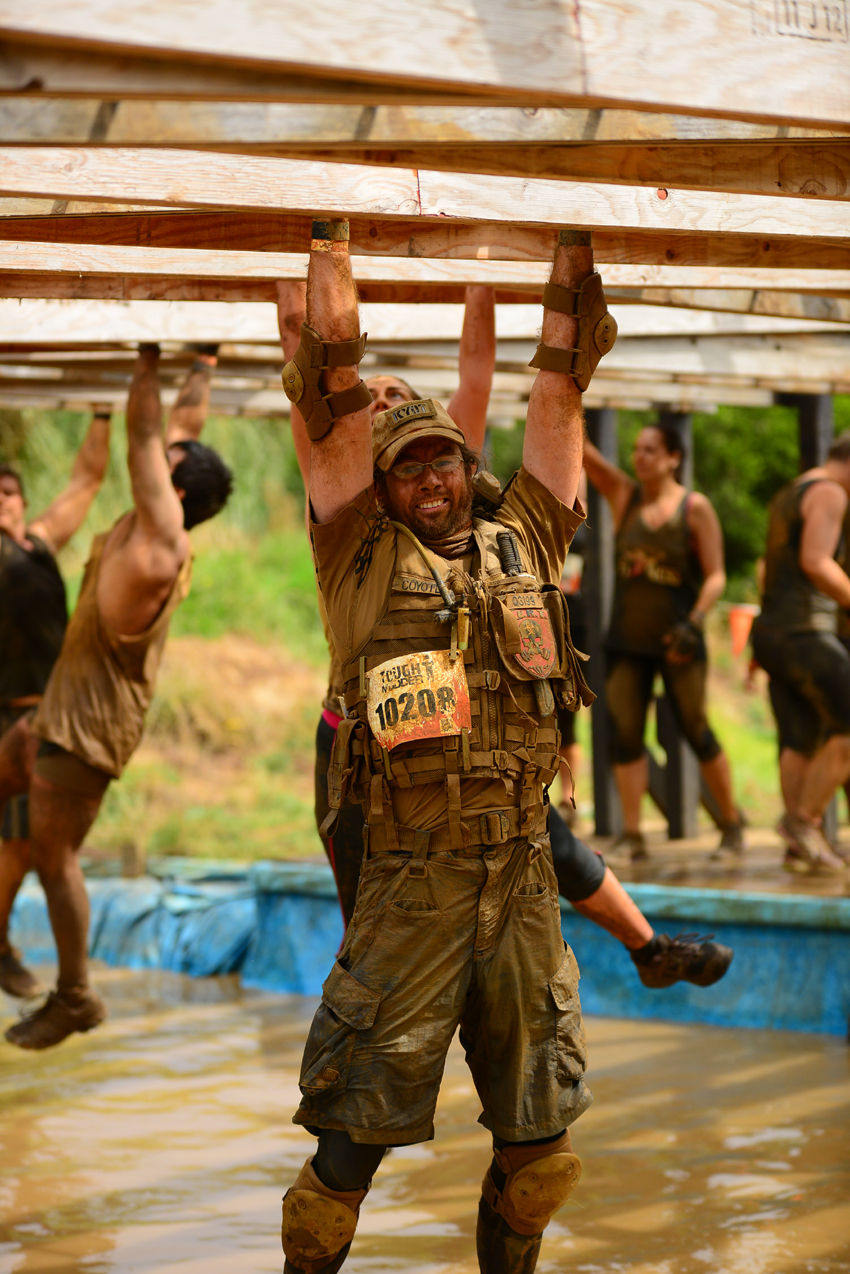 About the Author: Josh Orth is a second generation expat currently dwelling in the arguably civilized outskirts of Melbourne, Australia. He's lived in deserts, jungles and urban sprawls around the world and traveled/adventured into assorted inhospitable places around the world and has a keen sense of the speed with which the trappings of 'civilized Western life' can disappear. This has led him to begin writing about his interests and observations when it comes to the gear, skills and other necessities of self reliance of being equipped for whatever a capricious, occasionally indurate life might throw at him. This isn't by any means to say our eccentric friend truly experiences genuine vorfreude about dystopian life, but if he had to he might not complain. Read more by Josh at Apocalypse Equipped.
Grunts: vorfreude.