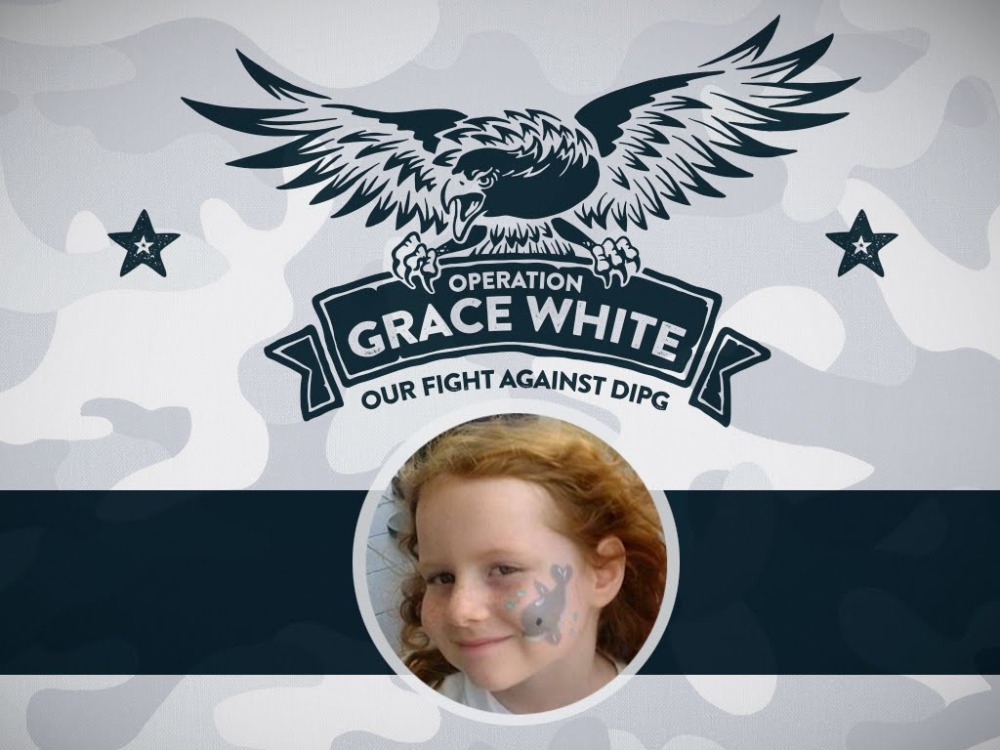 "If cancer was a dude I'd shoot him in the face." Scott White.
Grace White is 6. She was just diagnosed with a rare and inoperable brain tumor, the result of an illness called DIPG (Diffuse Intrinsic Pontine Glioma) and just completed Day 5 of radiation and chemotherapy. It's a cancer that offers a very low chance of recovery. She is currently receiving care at the Cincinnati Children's Hospital. As you can probably imagine, Grace and her family (father Scott, mother Amy and 3 siblings) could use an assist – prayers, well-wishes or monetary support as you are able – you can do so via Operation Grace White.
Can we help every kid or family that needs it? Sadly, no, but we can certainly do what we're able when we're able. There are a number of ways you can do so. First and most obvious is to contribute to her GoFundMe account, which as we understand it will soon be transitioning to a charity*. Funds contributed will be used to help cover travel expenses, medical costs and whatever else is required. Hopefully some of it will be used to make her stay there as awesome as possible. I have no idea if she will be able to leave the hospital at times or what her travel/visitor limitations are, but I do know being stuck in the damn hospital really sucks. You should also know (and there's now easy way to discuss this, so I'll just come out and say it) that if God forbid the worst happens, money raised by Operation Grace White will be used to further adolescent cancer research.
The current rate of recovery from DIPG in children is currently 0% – that is zero. 10% of all children with DIPG will make it beyond a year. This is where your prayers (which are arguably more important than the money) come in. You don't have to get into your wallet to offer up one of those. In fact you could do it right now.
*EDIT:
"We started the nonprofit process today and expect it will be set up within the next 2 weeks. It will be the Operation Grace White Foundation. Once that is set up the GoFundMe will go away and all future contributions will be tax deductible. The Foundation will raise funds for DIPG research as well as to help families of children with DIPG." Scott White
Operation Grace White can be found here: https://www.facebook.com/OperationGraceWhite The GoFundMe site is here: http://www.gofundme.com/amycobblewhite.
One last note, and I saved it until last because I didn't want it to be the primary focus. Grace's dad is one of ours. He's a warfighter, an SF O5 who just flew home from Special Operations Joint Task Force Afghanistan on a Red Cross message. Does this make Grace any more precious a child than someone else's? Of course not – every child is precious, and if you're not the sort of man who'd trade your life for a child's you're not much of a man – and you sure as hell don't embody the essence of an American Warfighter or Peace Officer. Still, we have been given the chance to make a difference. Let's do so.
RALLY ON GRACE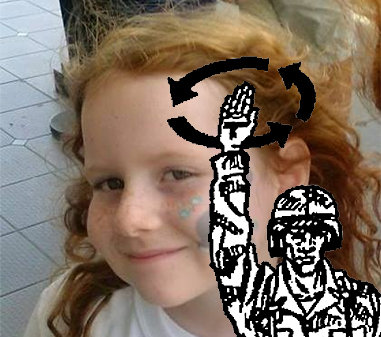 Read more about the story here: http://anmnews.com/ltc-in-the-army-special-forces-comes-home-from-afghanistan-to-be-with-his-6-year-old-girl-diagnosed-with-dipg/
Also be advised that soon (I'm told hopefully within the next 10 days) there will be t-shirts available for purchase (another way to support Operation Grace White). Those will be online at Blue Force Gear and Jim's Gun Jobbery ASAP (we will follow up with links).
Stand by for further. Please share.
Mad Duo David
You can read more about the author here.