Apparel Review – the TAD Praetorian Hoodie
Dave Merrill
When I was first asked, "Hey dick, do you want to review a jacket?" my response was, "Sure. I've been wearing those most of my life" What immediately followed was the dark rumbling of dread from down deep that perhaps it would be something in a Kryptek pattern. Too late. I'd already committed.
With some trepidation I signed for the box when UPS delivered it. Did that driver have just a slight smirk on his face? He must know already. (Grunts:
trepidation
)
To my pleasant surprise it wasn't something in a camo pattern at all; quite the opposite. Inside was a charcoal gray (technically, "Heather Slate") Triple Aught Design (
TAD
)
Praetorian Hoodie
. For full disclosure I will say that while I have experience with some TAD items I wouldn't call it, "one of my brands." It's not that I've had any severely negative experience or that one of the founders slept with my sister, just that I generally gravitate towards other 'outdoor performance gear' manufacturers for day-to-day use.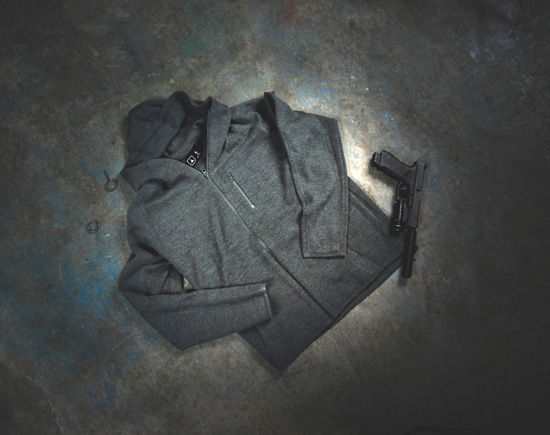 As soon as I picked up the hoodie it had that feel. Merino wool.
Awesome.
For those that haven't tried anything in Merino wool I definitely recommend it. Soft and stretchy (without that gross lycra feeling), a breathable insulator, and fire resistant to boot. Merino wool makes for exceptional base and mid layers. Dog hair doesn't stick to it as easily as other materials, which is a plus for me. Definitely a far removed cousin from that itchy stuff your grandfather wore in the Great War
Anyway, onto the details. TAD calls this 'Covert Style' and I couldn't agree more. No extraneous Velcro or ten thousand pockets here. The gray *ahem* Heather Slate color is
uniform and goes with about anything; which is great because according to my wife I can't match anything. It's an athletic cut so you might have to size up. I'm normally a
medium mid-layer wearer and I believe I could have pulled it off comfortably but I'm not exactly swimming in the size large either (I'm a bit under 5'11" and ~170lbs).
The Praetorian has a full length zipper, two non-zip front pockets, and a 'Napoleon pocket' on the left chest (hereby referred to as the, 'iPod pocket'). The front YKK zipper
operates incredibly smoothly and isn't cumbersome or prone to snagging. The zip runs all the way up to chin length to aid in warming if needed. At first I was concerned that I would be losing items left and right in the non-zip front pockets but so far that has proved only to be a theoretical concern. Like all other TAD gear I've used, the seams are robust and reinforced to put up with use and abuse.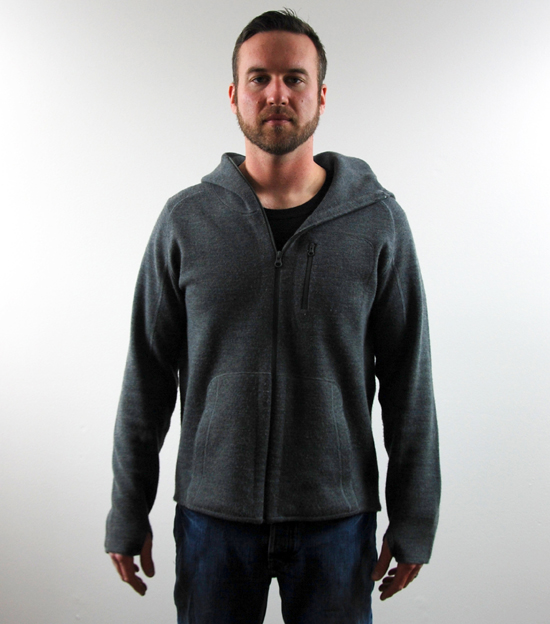 The forearms are doubled up on the outside from the cap of the elbow all the way to the wrist. One feature I like on a mid-layer is thumb holes and the Praetorian does not lack these. Thumb holes make for easy layering and the Praetorian is thin enough that it can be adequately worn on the inside or the outside of most gloves. The lack of a gap between a mid-layer and gloves means no biting cold during these terrible mid-western winters.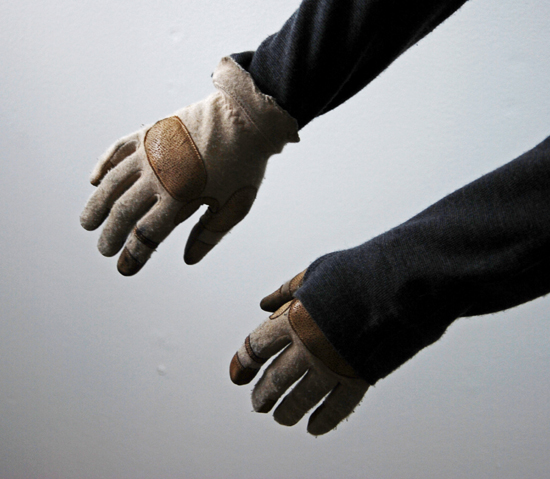 The Praetorian sports a drop back hem which is beneficial for warmth retention. With my arms extended the front of the Praetorian comes right up to my belt line. For my torso length maybe another ¾" of material would be ideal but it's certainly not a deal breaker.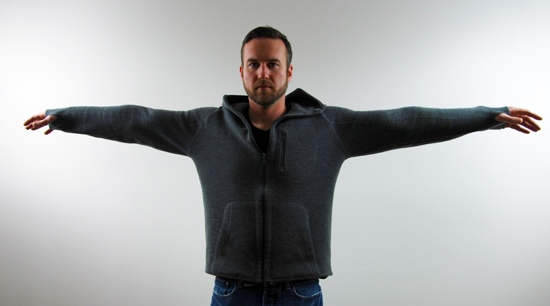 The hood is incredibly generous. When I say, 'incredibly generous' I mean Obi-Wan Kenobi. Straight Jedi. You can easily wear a helmet under the hood if need be.
Noteworthy that when the front zip is all the way up it still fits a non-kevlared head just fine. Hoods in general have been a subject of contention for me. I don't like how they get in the way when you lay back and that you have to put them up when layering or donning gear. However, the hood on the Praetorian lays flat and isn't too terribly difficult to extract even if you happen to inadvertently layer over it.
Yeah yeah yeah, so how does it actually feel? 
It's soft, warm, and snug without that, 'I'm wearing pajamas and gym clothes all day' feeling. It's a woobie you can wear everywhere. Of course, my wife immediately
attempted to steal it.
Fire resistance was not tested, much to the chagrin of a, "friend" who immediately looked up how to make homemade napalm and offered assistance with the trial (Pro-tip: Chris is a dick).
Even with the snowpocalypse that apparently comes every other week this winter I knew I had to take a run in it (Cue the, 'It's the perfect texture for running…' Youtube vid).
They weren't lying about the breathability of this layer.
It didn't overheat me when beating feet nor did it collect enough sweat to turn me into an ice cube after. I can't give the Praetorian all the credit though, as I was also wearing the magical glow belt that prevents both frost bite and hypothermia.
I would not hesitate to recommend this to someone as a mid-layer as part of a complete thermal management system or as a simple stand-alone. Great piece of gear.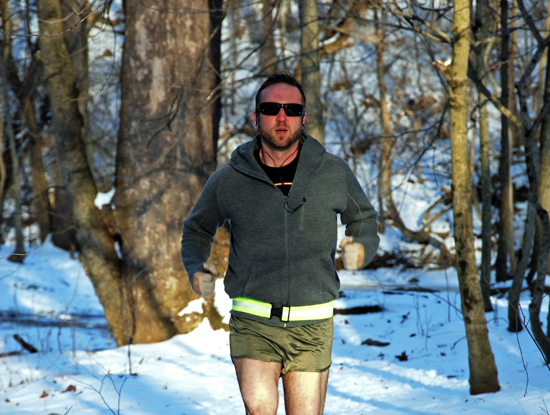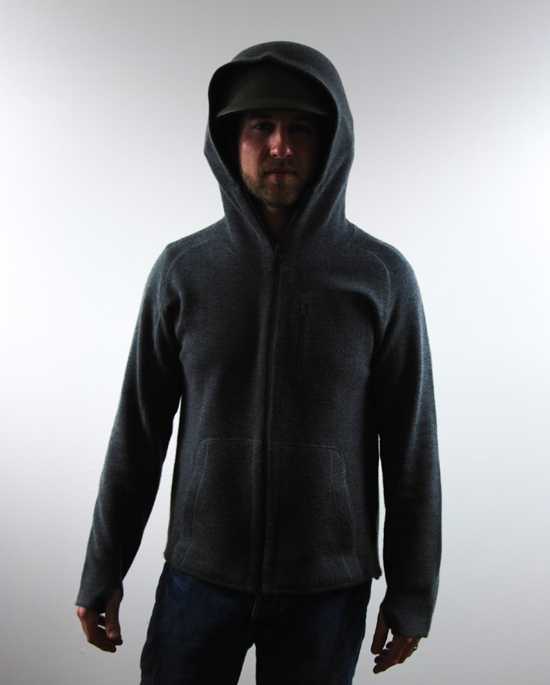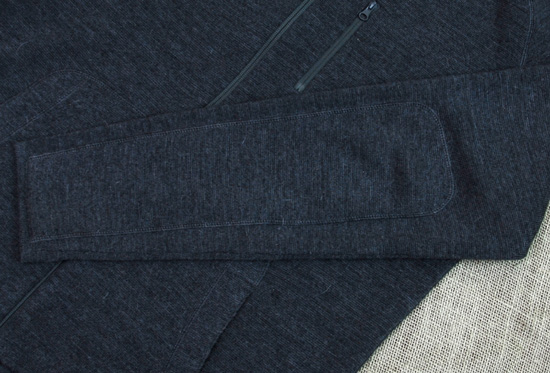 -DFM
---
Mad Duo, Breach-Bang& CLEAR!
Comms Plan
Primary: Subscribe to our newsletter here, get the RSS feed and support us on Patreon right here.
Alternate: Join us on Facebook here or check us out on Instagram here.
Contingency: Exercise your inner perv with us on Tumblr here, follow us on Twitter here or connect on Google + here.
Emergency: Activate firefly, deploy green (or brown) star cluster, get your wank sock out of your ruck and stand by 'til we come get you.
About the Author: A combat veteran of the United States Marine Corps, Dave "Mad Duo Merrill" is a former urban warfare and foreign weapons instructor for
Coalition fighting men. An occasional competitive shooter, he has a strange Kalashnikov fetish the rest of the minions try to ignore. Merrill, who has superb taste in hats, has been published in a number of places, the most awesome of which is, of course, here at Breach-Bang-Clear. He loves tacos, is kind of a dick and married way, way above his pay grade. You can contact him at Merrill(at)BreachBangClear.com and follow him on Instagram here (@dave_fm).