MNKF | Hasbun – Half Face Collab, SEAL Admiral Bowie Knife
A Hasbun and Half Face Blades Collaboration, today in Monday Night Knife Fights. 
On May 21, 2016, Vice Admiral Robert S. Harward was chosen to be honored by the SEAL NSW Family Foundation and was presented with this custom handcrafted Damascus Bowie knife. The knife was designed and built by Andrew Arrabito of Half Face Blades, and scrimshaw was performed by the legendary Presidential scrimshander, Mike Hasbun.
[Photos courtesy of Hasbun]
About Vice Admiral Harward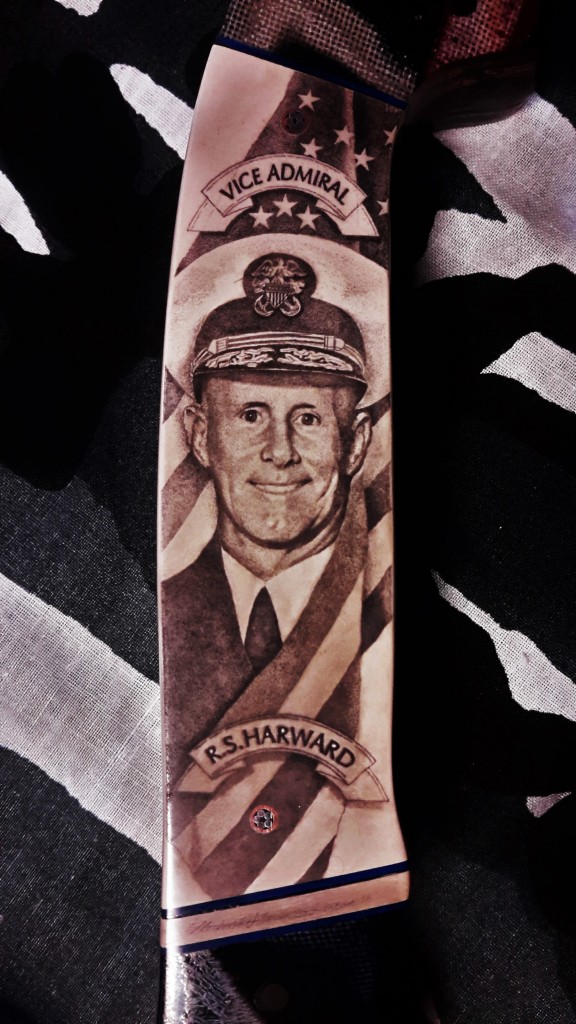 Vice Admiral Robert S. Harward, Jr. is a U.S. Navy SEAL and a former Deputy Commander of United States Central Command. He served there under the leadership command of General James "Mad Dog" Mattis. He filled a billet as the Deputy Commander of U.S. Joint Forces Command and previously commanded Combined Joint Interagency Task Force 435.
Harward assumed command of Naval Special Warfare Group 1 in August 2001 and deployed shortly after September 11, 2001, to Afghanistan. He commanded Task Force K-Bar and directed special reconnaissance and direct action missions throughout the country. In October 2002, Harward deployed as Commander, Task Force 561 where he commanded Naval Special Warfare Task Group-Central in Iraq. His forces included all the assets in the Naval Special Warfare inventory and forces from the Polish GROM, the British Royal Marines and the Kuwaiti Navy.
In August 2003 he reported to the Executive Office of the President at the White House and served on the National Security Council staff as the director of Strategy and Defense Issues. In April 2005, Harward was assigned to the newly formed National Counterterrorism Center in Washington, as the Chairman, Joint Chiefs of Staff representative to the Senior Interagency Strategy Team.
From June 2006 to July 2008, Harward served as the Deputy Commanding General, Joint Special Operations Command, Fort Bragg, North Carolina, and has served multiple combat tours in Afghanistan and Iraq. On Nov. 3, 2008, Harward assumed the position of Deputy Commander, United States Joint Forces Command.
In 2011, Harward was reappointed to the rank of Vice Admiral and assigned to the position of Deputy Commander, United States Central Command.
About the knife
The Bowie knife was designed and built by Andrew Arrabito (Navy SEAL Ret.), owner and bladesmith of his small veteran company Half Face Blades. Half Face Blades wants to take the bladed tools we use in many different walks of life a little further, making functional yet personalized custom knives and tools with a distinct beauty and rugged nature.
These knife bolsters are made from a retired American flag and WW2 wool military uniform.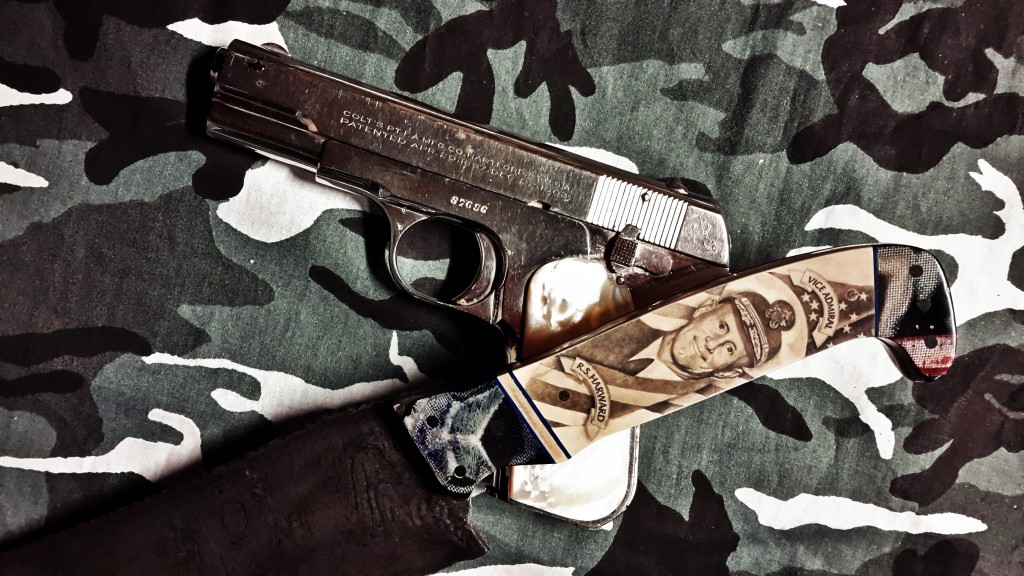 Jeffrey Case (a Marine from 3/5 with combat tours during the beginning of the Iraq war) sent Half Faced Blades a retired American Flag he carried with him during the war, plus his grandfather's WW2 wool trousers. Case's grandfather was a 3/9 Marine who fought in many battles during World War 2 including the Solomon Islands, Guadalcanal, Guam, and Iwo Jima, and was present for the original flag raising on Mount Suribachi.
Arrabito made these items into a stabilized substance similar to Micarta in order to craft the bolsters for this Bowie knife.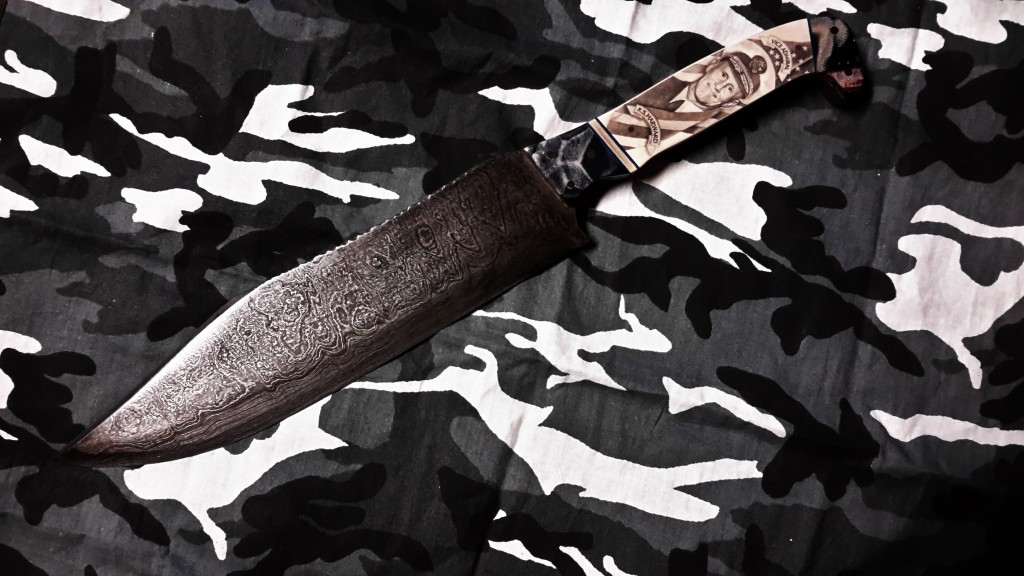 The scrimshaw was performed by Presidential Scrimshander Michael Alexander Hasbun.
Hasbun has performed similar work for other Naval Specwar officers as well as for President George W. Bush, President George H.W. Bush, Vice President Dick Cheney, Sarah Palin, Lt Col Oliver North, Mexican President Vicente Fox and a host of other VIPs and celebrities. He is known throughout the world for his painstaking photo-realistic detail with regard to scrimshaw and other art forms.
The SEAL NSW Family Foundation was established to support individual and family readiness through an array of programs specifically targeted to assist the Naval Special Warfare community in maintaining a resilient, sustainable, and healthy force in this era of persistent conflict and frequent deployments.