MIDWEST URBAN DIRT TRACKER
There is a certain sense of freedom piloting a motorcycle down the dotted line at a hundred plus miles an hour, weaving in and out of traffic. That feeling gets multiplied x1000 when you put that motorcycle on a dirt flat track and throw in another dozen or so bikes. Some are very familiar with this strange feeling, others can only dream what it must be like. To those that know what it feels like, there is not much that compares. To take that feeling to the next level is to build the perfect machine to transcend you to that feeling.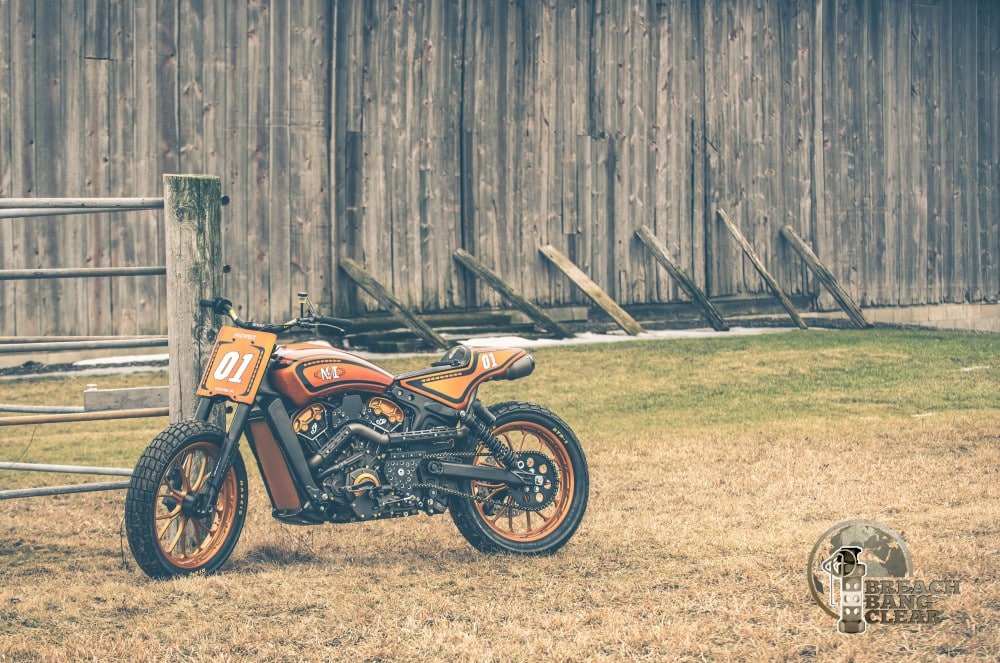 Indian Motorcycle, tagged as America's FIRST Motorcycle, has been wide open on the throttle with the launch of it's the newest model; the Indian Scout. The iconic brand under the Polaris umbrella asked it's dealers to participate in a custom build project. The idea was to showcase the ability of this model when it comes to "customizing" and making the motorcycle uniquely your own. The contest would include the custom bikes being posted up online and available for public online voting. The top 3 bikes and owners would be shipped down to Daytona Florida, (all expenses paid) for Daytona Bike Week. Rob Schopf at Indian Motorcycle of Metro Milwaukee was up for the challenge and reached out to another local business with an idea to create a bike that could showcase their brand and essence of the company. He reached out to Midwest Industries, a manufacturer of tactical weapon accessories, that are proudly made in the USA. Rob took the idea and ran with it, and created this beauty of a beast seen here.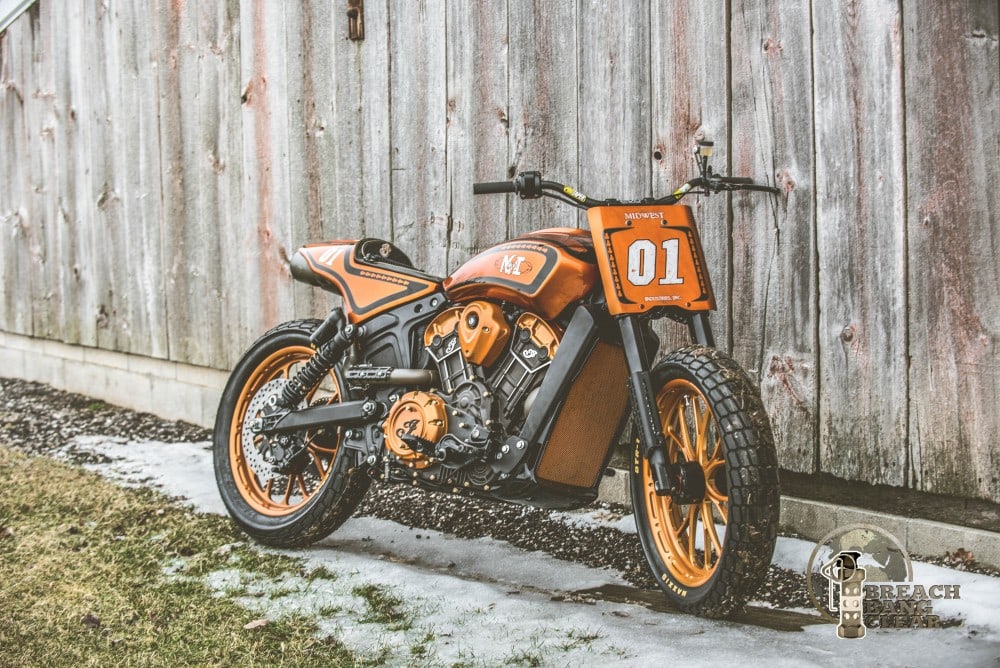 Rob has a background in racing and big horsepower, so he knew he wanted this bike to have some racing appeal, opting for the dirt-tracker look, which just goes hand in hand with the style to best represent Midwest Industries. This was going to be the bike that would create that feeling I mentioned above. This bike would be all business, no messing around. The unique part of what Rob created is that this motorcycle includes tons of tactical accessories that Midwest manufactures in-house, just miles down the road from Rob's dealership.
The build started with a brand new 2016 Indian Scout and was quickly torn down to just the frame. Removing fenders, fuel tank, and suspension, these would no longer be needed. The engine was taken apart so powder coating could be done on the engine covers. The frame was powder coated a satin texture black giving a great contrast to the bright orange color.
I noticed this bike online when I caught wind of this contest going around. I immediately voted for this bike because of the stance it had, it was a style that I appreciated. I also liked the colors and unique exhaust. After traveling to Milwaukee early this spring, I stepped into Rob's dealership and was blown away to see this bike sitting on the floor. I recognized it right away as the bike I had voted for in that online contest. What I wasn't aware of were all of the details in this bike utilizing rifle accessories and other tactical components. Upon closer look, I noticed spent ammunition shell casings attached to the engine fasteners, this completely enhanced the tough look of this Indian Scout. I started to investigate this bike further and found even more details of high caliber.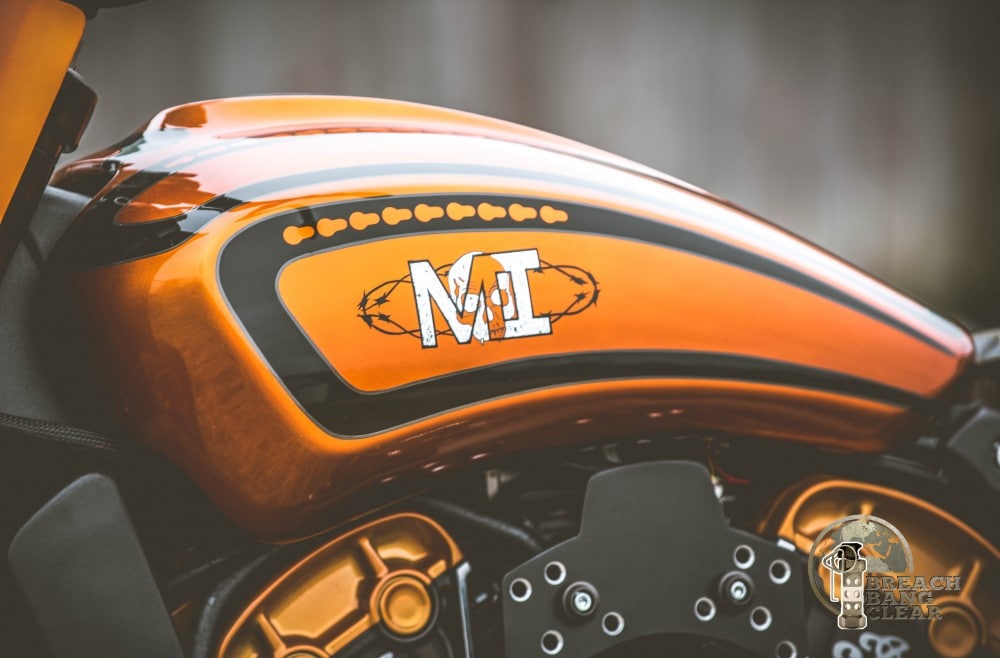 The foot controls had been fabricated and set up as mid-controls for better dirt tracker positioning, the closer I was to this bike, the more I liked it. I knew there was a lot of work into the mid-control set up. The team had custom fabricated mounting brackets and adapted the footpegs, but the best part was the muzzle brakes from Midwest Industries for the shift and rear brake pegs, what attention to detail.
The stock rear fender and structure were completely removed and a rear tail section, in holding with the dirt-tracker racing look, was fabricated from aluminum. Working with aluminum is no easy task, but they did a flawless job. The rear suspension they used required some modification to the lower portion of the frame, this made room for the longer rear shocks from Progressive Suspension helping to keep this in line with that dirt-tracker look.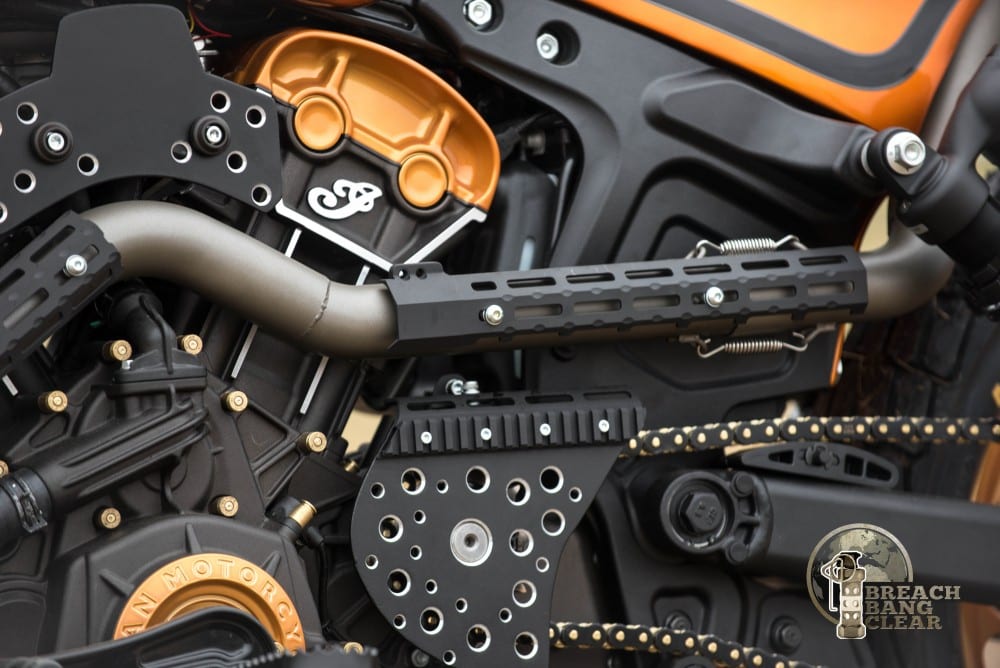 The work didn't stop there, this build featured a final chain drive, and the stock front end was removed. Rob and his team used a set of inverted Showa forks that were mounted on modified triple trees. I found more cool details here, Midwest hand guards were adapted to fit as fork guards on the fork lowers.
Even the wheels had tons of work into them. This wasn't just buying a set of wheels and bolting them on. The team took a pair of 19″ Performance Machine wheels and adapted them for the front and rear by constructing custom hubs and spacers to work for this Scout application. Yea, like I, said these guys put a ton of work into this build. The wheels and hubs were powder coated to match the bike and finished off with a set of Maxxis DTR-1 dirt track tires.
The exhaust system is tough looking and is a one-off custom setup that was designed with two things in mind: 1. Show off the right side of the Indian Scout engine 2. Incorporate more of a race-style in conjunction with the custom tail section. They used Midwest hand guards as heat shields on both the front and rear headers. You should hear this thing. Rob fired it up in the showroom for us and it's just brutal, sounds so mean.
I really liked the handlebars and how they incorporated a quick release scope mount from the Midwest. The paint is brilliantly matched to the powder coating and was laid down by Jason at Artistimo Custom Design. He used a candy base coat with black striping accented by including a key mod design. Silver leaf was used to bring out the logos and numbers. "01" on the number plate and tail section are in reference to the founding year of Indian Motorcycle – 1901.
After getting the "full-on" tour of this bike from Rob, I convinced him to grab the bike and take me over to Midwest Industries. We spoke with Troy Storch Owner of Midwest Industries and asked if I could photograph the bike with a few of his rifles. He was hesitant at first, letting some stranger take both his custom Indian Scout and a .223 and .308 out for some "photo's" is a stretch of an ask, but with Rob being there Troy trusted us with both, of course giving fair warning if we came back with anything "out of place", there would be hell to pay. I wasn't about to make any mistakes, Troy has a seriousness about him that means business. I had all intentions of obeying his request. Rob helped me locate this cool barn out in the Milwaukee area and we spent some time shooting, (with just my camera), I didn't want to disappoint Troy by taking liberties with his equipment.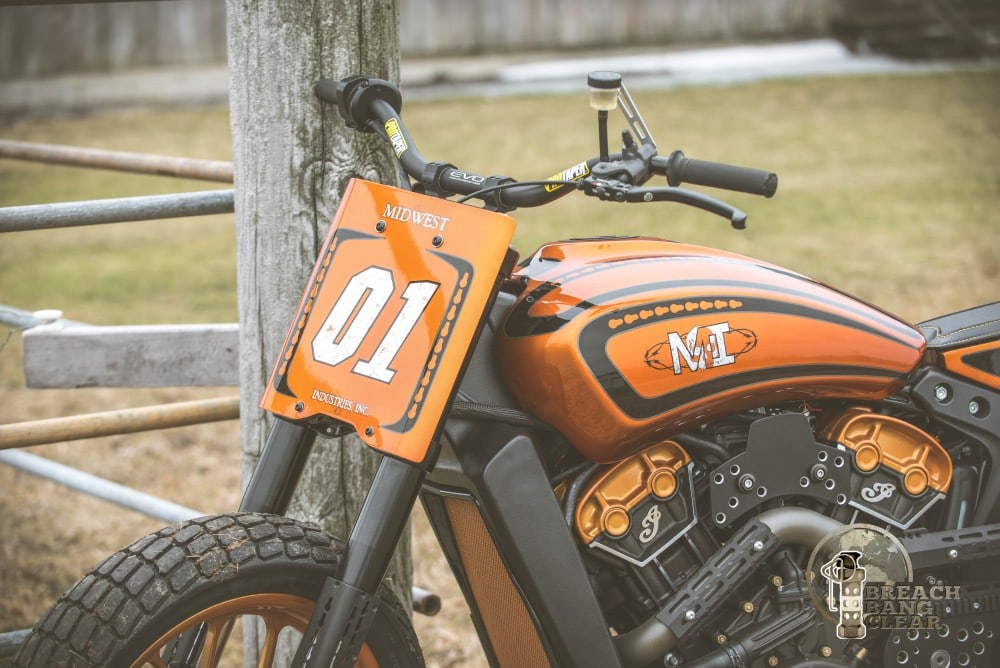 Needless to say, Troy is stoked with this build and looking forward to taking it to various trade shows to have on display in Midwest Industries Booth. When not on the road working trade shows, this custom Scout will be proudly displayed in the Midwest Industries showroom giving anyone that looks at it that feeling, if just for a moment, of what it would be like to be blasting down the road over 100 miles per hour.
SIDEBARS:
Indian Motorcycle America's First Motorcycle
In 1897 George M. Hendee founded a bicycle production company called the Hendee Manufacturing Company. The bicycles carried brand names such as Silver King, Silver Queen, and American Indian, which was shortened to simply "Indian" and became Hendee's primary brand name. In 1901 George Hendee hired Oscar Hedstrom to build gasoline engine-powered bicycles to pace bicycle races. He completed the first motorized bike in May and shipped it 38 miles to Hendee in Springfield, Massachusetts. The machine and the other two bikes Hedstrom built in 1901, proved to be powerful and reliable, establishing the company's reputation for outstanding performance. Later that year the company's first factory was established on Worthington Street in downtown Springfield.
In October 1919, the company introduced the first Indian Scout, a mid-sized model with a 606cc side-valve V-twin engine. It was reliable, fast, and highly maneuverable, and it enticed many people to start riding.
Indian Motorcycle and the War
Indian Motorcycle was producing the Model 841 for the U.S. Army. The Model 841 was powered by a 45-ci, side-valve V-twin, with cylinders longitudinally at a 90-degree angle. The engine was air-cooled and the bike used shaft drive. With its focus on the production of military motorcycles, for the United States and its allies, the company provided very few units for consumers. Of the 10,431 units the company produced, 5,000 were built for the French government for use in the early stages of WW II.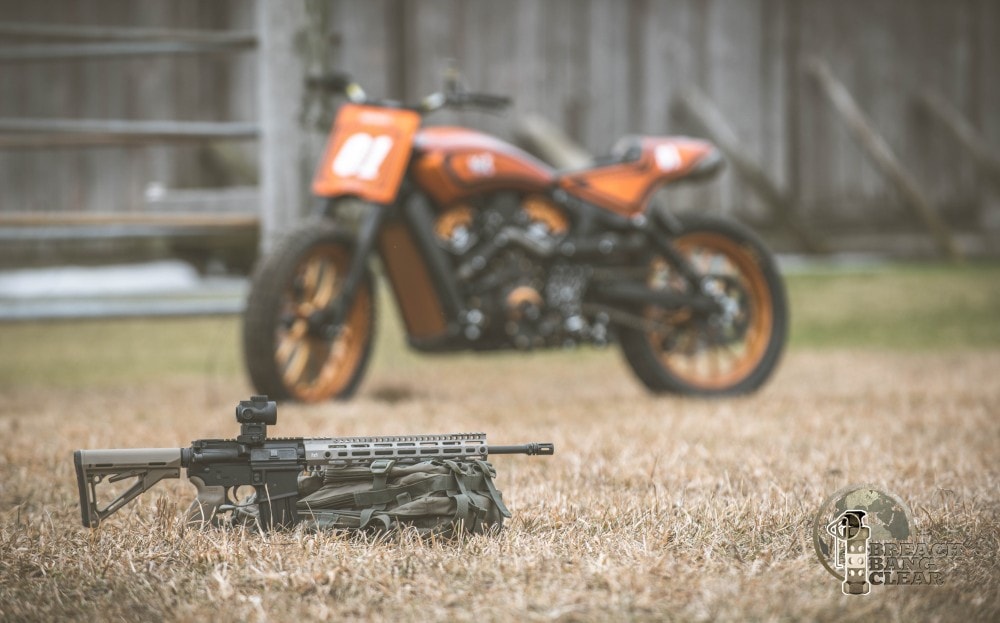 Midwest Industries is a quality manufacturer of tactical weapons accessories. With a goal to manufacture the highest quality parts at affordable prices while providing top notch customer service. The majority of Midwest products are designed and manufactured in-house in Wisconsin, kept in stock, and are backed by a lifetime guarantee.
Midwest Industries AR-15 Rifle
Model # MI-15  .223 rifle featured with the Flat dark Earth Colored G3 lightweight handguard in the 12" length and an MI Quick Disconnect (QD) MRO optic mount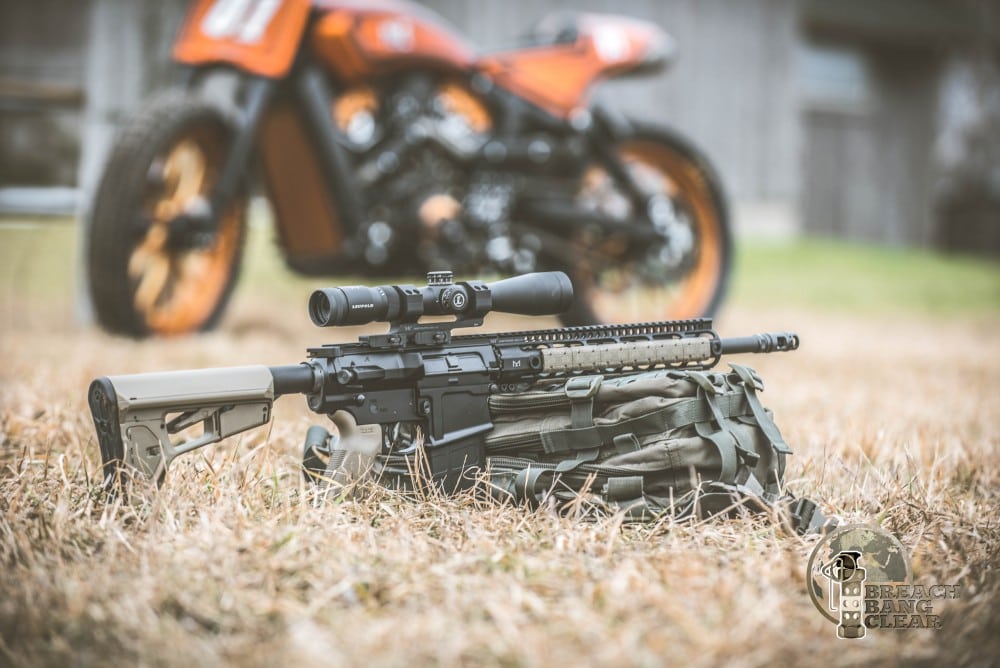 Midwest Industries .308 Rifle
Model # M-10  16 INCH .308 rifle featured with Flat Dark Earth Magpul furniture and MI Quick Disconnect (QD) 30MM scope mount.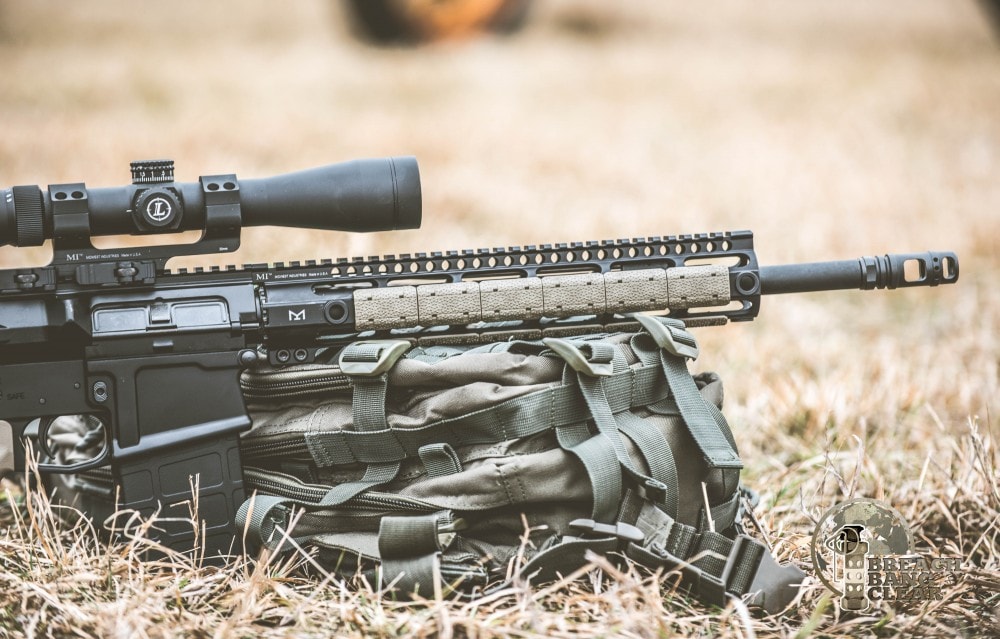 Flat Track Racing
The American Motorcycle Association (AMA) took on the great duty of making flat racing legit in the early 20th century, known to have been connected to events as far back as 1924. In 1932, AMA first created Class A for AMA Pro Flat Track Racing. (This was shortly after the formation of the AMA itself.) AMA's Class A was an open class for essentially anything you could imagine. The crucible of racing was used by manufacturers to turn prototype machinery loose into the dogfight-on-the-dirt to drive innovation. This was obviously quite expensive and only major teams, with factory backing, could afford to be competitive. Later, the AMA introduced the Class C, that offered accessibility to everyday persons. This class let racers use street-legal motorcycles to bring the cost of racing down, and thus, allowed more racers to compete.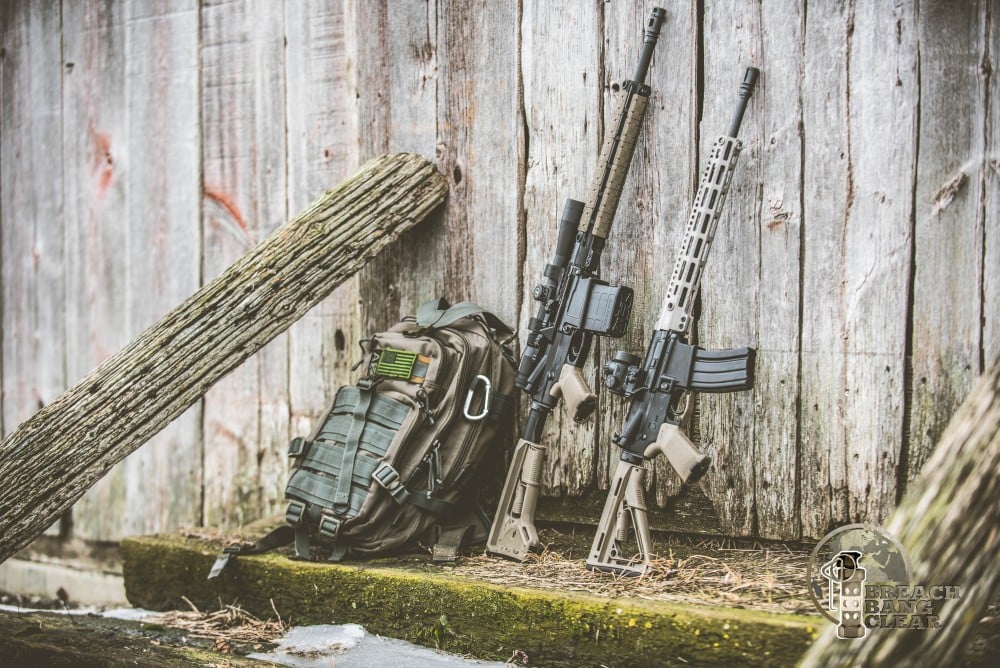 These Class C speed addicts opted for the readily-available American brands, Indian and H-D, as the bikes were easy to source and maintain. As budgets shrunk during the Great Depression, the Class C series became the premier class in dirt track racing. The working-class could still afford to get out there and mix it up on the weekends.
Enjoy Breach-Bang-Clear? How about doing us a solid. Back us by joining Great House Morningwood – you'll get stupid awesome rewards for it.