Mechanix Gloves – now in MC
Today we're going to share a review of some Mechanix gloves by one of the ninja-yakuza-whatever shooters of the SOCAL Asian Mafia: Short Round. Er, Greg Wong. Wong is an Army veteran of the 82nd Airborne who likes to play dressup at conventions, which we used to make fun of until we saw some of the hawt cosplay wenches he was bringing home. We made fun of him for his MilSim habit too, then we realized Max Mullen and some of our friends do it too. Now we just make fun of him with inappropriate ethnic jokes 'cuz he's the only Asian on the team.  Mad Duo
"가슴 乳房 乳房 ນົມ សុដន់." That's what we think.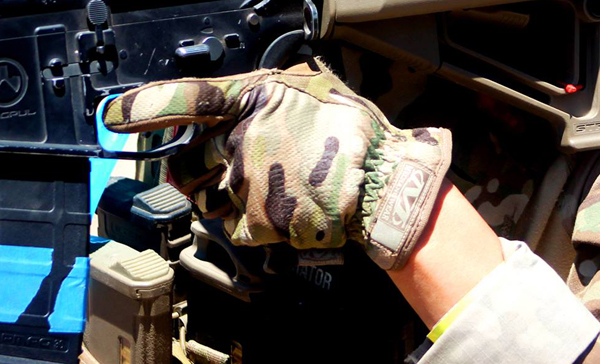 Mechanix Gloves in MC and .5mm
So this year the wonderful team at Mechanix Wear [Note: Short Round Wong really likes Mechanix Gloves ] released their Multicam and .5mm gloves into the world. These gloves have been in development for some time, and how they modified and altered the gloves during development really says something about their design team . One thing that I've always appreciated about Mechanix is that when it comes to protecting your hands is that they are a gloves first company. Competitors out there make great gloves but in many cases their glove line is not their primary focus. Mechanic, on the other hand, lives, breathes, and dies by the gloves they make. It's a genuine passion.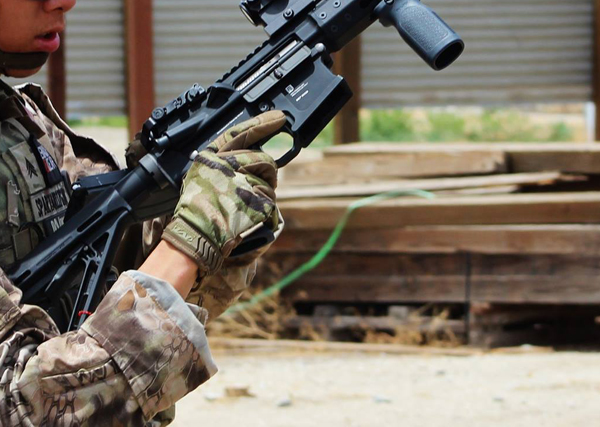 First off lets take a look at the .5mm gloves. For a while one of the few tactical gloves that had a solid balance of durability and dexterity was the SKD Pig, which is no pushover by any means. Mechanix answers back with the sleek .5's and boy do these things rock. The .5mm gloves really feel like a second skin. They function very well for use with touch screens and phones, and the amount of dexterity is truly impressive. If you were ever frustrated by the difficulties presented when digging in your pockets for something while wearing gloves, you'll immediately notice a difference while running these. The cut is also excellent. There is no webbing between the thumb and index finger so no extra material gets in the way when utilizing your secondary weapons platform. An improvement made to these and all future gloves is a paracord loop at the base of the wrist. Though a simple feature, it is a wonderful thing to have for pulling the gloves off or hanging from your kit.
When manipulating a rifle or pistol your hands feel very well protected but nimble due to the very slick texture of the gloves. And the gloves hold up very well. Mechanix has done a great job by creating a new lean, mean glove for the shooter or grease monkey in us all.
Now onto the main course. It took a while and several iterations but Mechanicx Multicam gloves finally hit the market on 6/25. I had the chance to watch the evolution of these gloves a year or so ago when I swung by Mechanix while on leave from Fort Bragg. Back then the gloves  had a much different base color. It was much like bright desert tan found on a Desert Combat Uniform. The cut was great, but that color had to go. Finally, after feedback from me and many others in the tactical community, they opted for a much more natural looking Coyote brown.
Later in the year I saw the prototypes Mechanix was going to show at SHOT. They looked much better. In May I was able to attend a 'Milsim Operation' (American Milsim: Broken Home 3). One of the guys who works at LBT, and who just happens to be one of the founders of the Milsim company, had helped advertise the gloves a few months before (he's the guy on the booth art sporting the gloves in the snow from SHOT). Mechanix sent me and the guys from AMS production samples of the gloves to run at the operation. The months of testing and effort getting the materials and color just right paid off.  I couldn't have been happier to see a set of Multicam Originals with my name on it. The color was spot on and everything I loved about the cut and dexterity of the original gloves had been carried over. I wear size small gloves and the fitting was on point. The Coyote base looks great and features from the .5mm such as the paracord loop have been incorporated into every Multicam gloves design.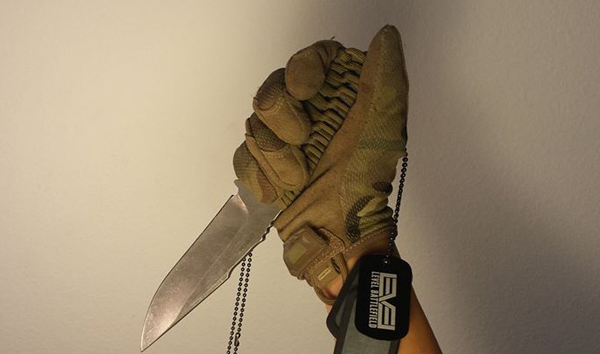 Currently there are 3 options available: Original, Fast Fit, and M-pact. On the M-Pact gloves the camo is actually incorporated into the rubberized padding so that there is no break in the pattern. Of the three available options I find that I prefer Fast Fits. Just days after the gloves were launched I and a few friends took the crew from Mechanix out to the Airsoft field for some Gloves for Tags objective games. Gloves for tags is an event Mechanix wear holds for the Battlefield Gaming community where if you knife certain players and take their tags you can win free gloves. It was a ton of fun and quite a few guns were provided by PTS Syndicate.  During the event I rocked the Fast fits and for anyone who really hates straps or velcro these are the gloves for you. I used to be skeptical about how well the Fast Fits would stay on the hands but after rocking them for several weeks I can say these things go on and stay on.
Overall both the .5mm's and Multicam gloves are a hit out of the park. Any Soldier going overseas should really take a look into these if they want a more camouflaged and affordable option for their next deployment. I think the balance of affordability and quality of Mechanix wear is hard to beat. Check out their website if you feel like nabbing a few, and if you want to save a few bucks try out the code MWS117GW to save you 20%. Thanks for reading!
http://www.mechanix.com/multicam
#multicam #mechanixwear #tactical #tacticalgloves #milsim #spartan117gw
Mad Duo, Breach-Bang & CLEAR!
Comms Plan
Primary: Subscribe to our newsletter here or get the RSS feed.
Alternate: Join us on Facebook here or check us out on Instagram here.
Contingency: Exercise your inner perv with us on Tumblr here, follow us on Twitter here or connect on Google + here.
Emergency: Activate firefly, deploy green (or brown) star cluster, get your wank sock out of your ruck and stand by 'til we come get you.
About the author: Greg Wong is a former 80-deuce paratrooper (1st Bde; C Co., 1st BSTB to be specific) who later served with the 78th Signal Bn in Japan before going on to spend about two years with the 112th Special Operations Battalion (Airborne). A self-professed Reenactment and MilSim junky and fps gamer, he did his six years active, then a couple more in an Army Reserve CASH in LA before getting out entirely. Many people know him from his participation in Off Duty Gamers, others know him from his consulting on FPS games like Battlefield and Ghost Recon.
He's active with the 82nd Living History Association and the Jurassic Park Motor Pool, and is a dedicated WWII history buff. A self-deprecating, analytical, good-natured sumbitch, he currently works for both PTS and Ho-Tac.
If loving Greg is Wong, we don't wanna be right.
Greg's website is online here. You can also follow him on Instagram, @Spartan117GW, or subscribe to his YouTube channel.