The Mandarin Mandalorian Mojito
This article was shamelessly brought to you by MadDuo.com, the store we've finally revamped. Not that we'd be blatant or anything, but if you're looking to spend money on something that doesn't have boobs, you could do worse than MadDuo.com. You see MadDuo.com, which is our store, has lots of great stuff in it. Yessir, that MadDuo.com is sure worth checking out. That's "MadDuo.com."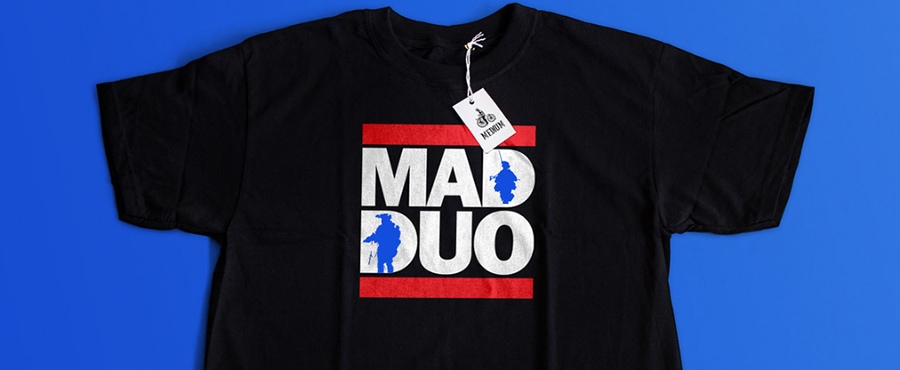 Life as a stormtrooper ain't easy — it's even harder when you're really small.
I first wrote about Darryl Jones a couple of years back. I thought his work was brilliant then and I'm pretty sure I like it even more now, and I never tire of following the (mis)adventures of Eric.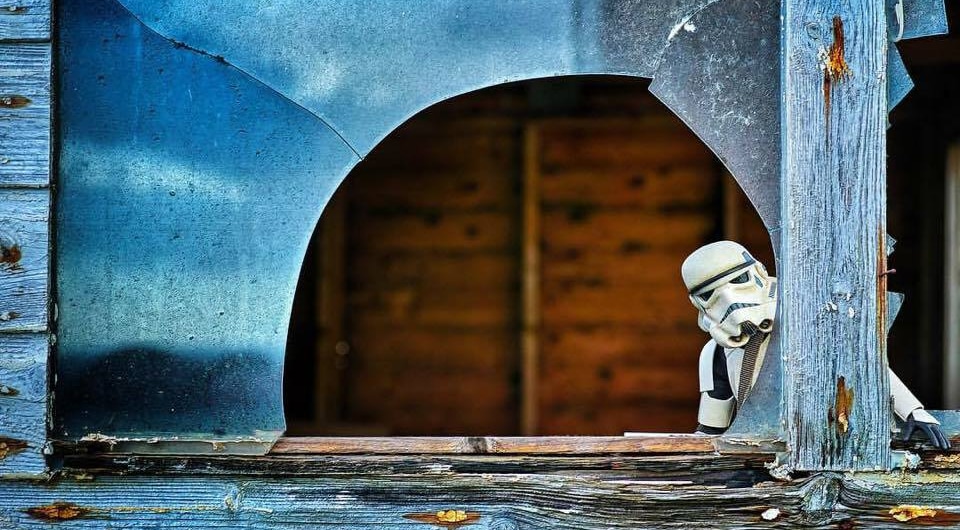 You know, the little stormtrooper. Who plays guitar.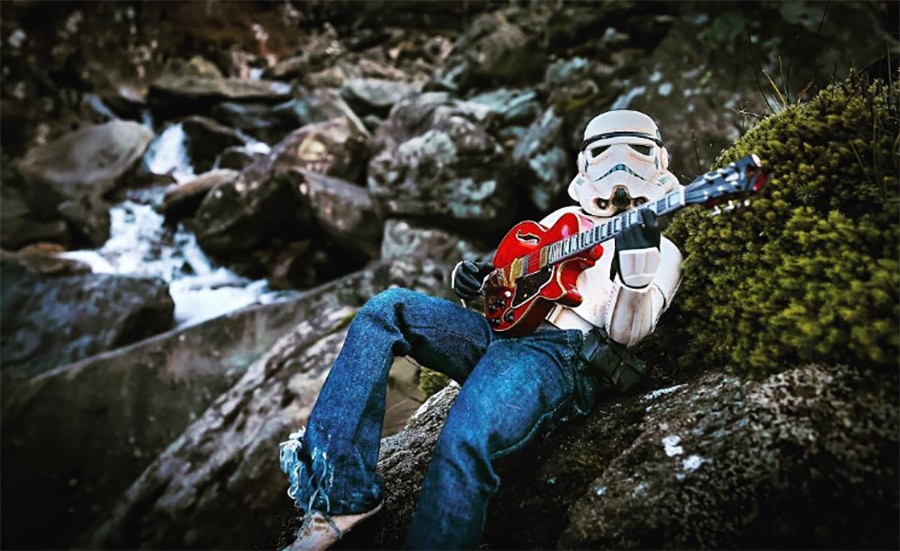 And travels all over the world (our world).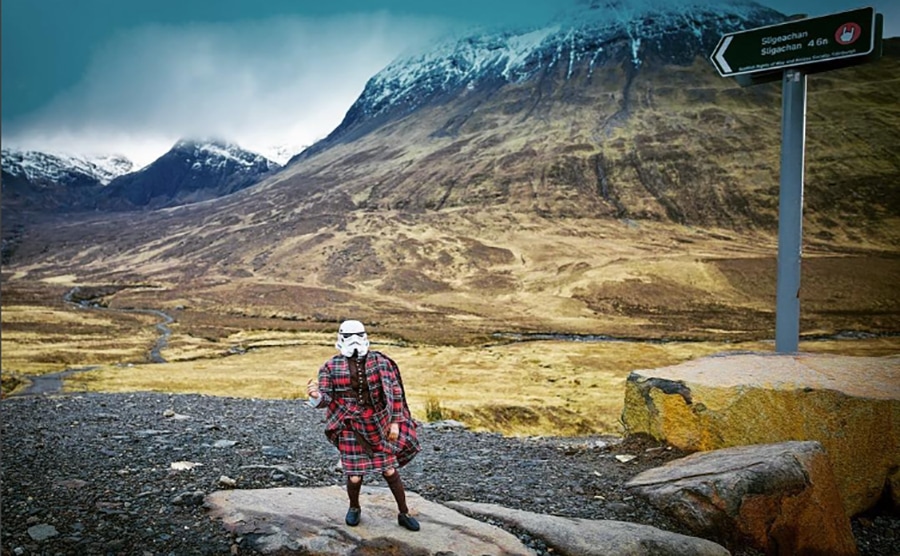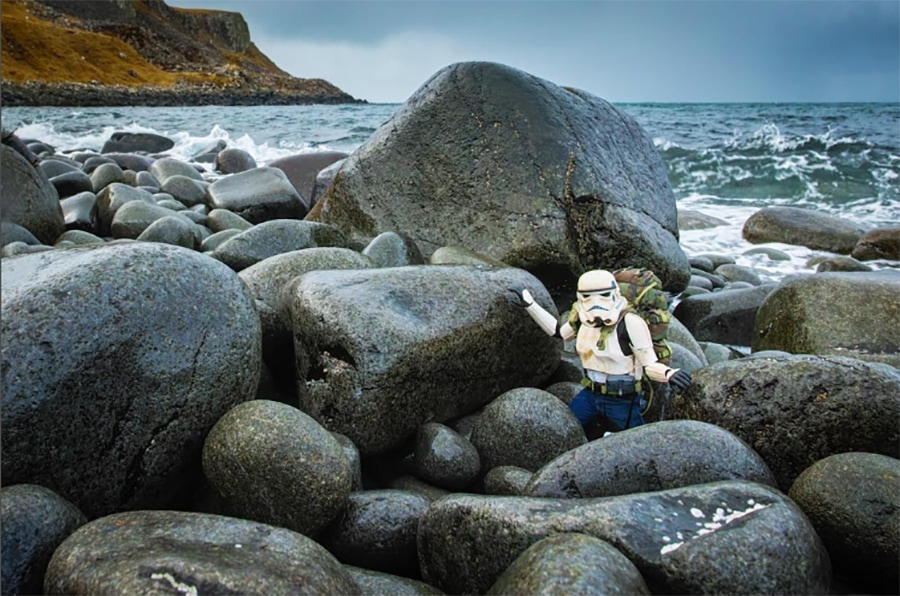 Jones is part of the oh-so-superbly-named Grumpy Cock Studios (@grumpycockstudios), a food and drink photography studio based in the UK. Eric apparently helps them with their work.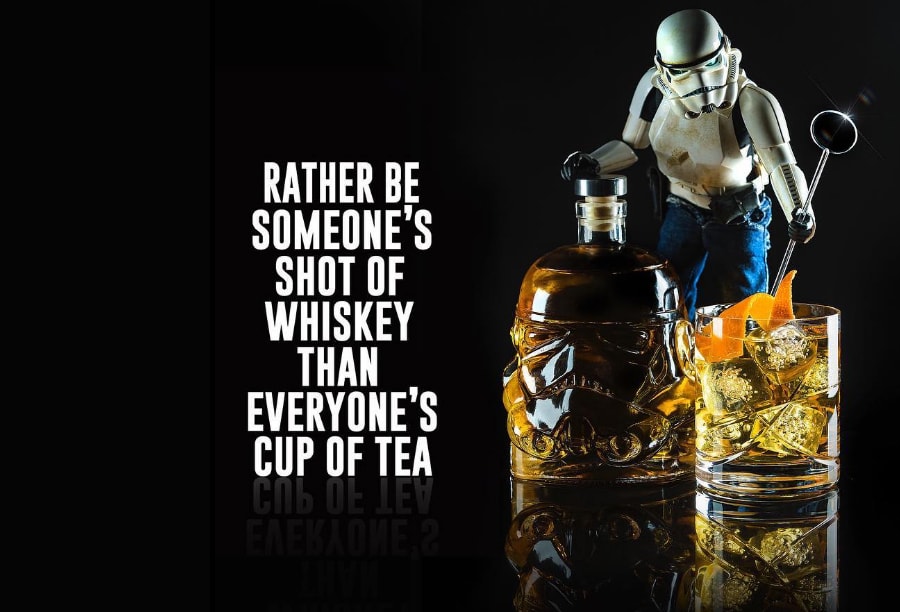 This might help explain Eric's most recent work, wherein he published the recipe for a Mandarin Mandalorian Mojito, developed in partnership with a minuscule Boba Fett.
Says Eric, who is evidently drunk enough to sing,
"Boba has finished after a long, hard day,
time to relax, chill out and play,
A summery drink is needed – only one way to go!
the refreshing Mandarin Mandalorian MOJITO!
Juice of the Bantha toe,
a little sprig of mint
add a dash of fresh lime,
but only a hint…
All muddled together,
add some chopped orange too,
have a Happy star wars day,
and May the 4th be with you…."
Grumpycock Mandarin Mandalorian Mojito:
Key Components:
•60ml Fermented juice of the Bantha toe (if not in season, dark Rum will do, we like to use @krakenrum )
•Sprig of Mint, hint of lime, 2 tbsp crystalised Wompa Snot (granulated sugar will do), Mandarin oranges, Fentimans Soda Water and crushed Ice.
Making it happen:
•Add the crystalised Wompa Snot (sugar) to your receptacle. Gently Muddle 8 mint leaves and a dash of lime juice in an Empire glass. (Collins)
•Fill with the finest crushed ice shards from the planet Hoth, mix in some sliced Mandarin wedges.
•Now splash in the 60ml of Bantha Toe juice and top up with Soda. All ready to go.
As you can see, Grumpycock uses nothing but fresh ingredients.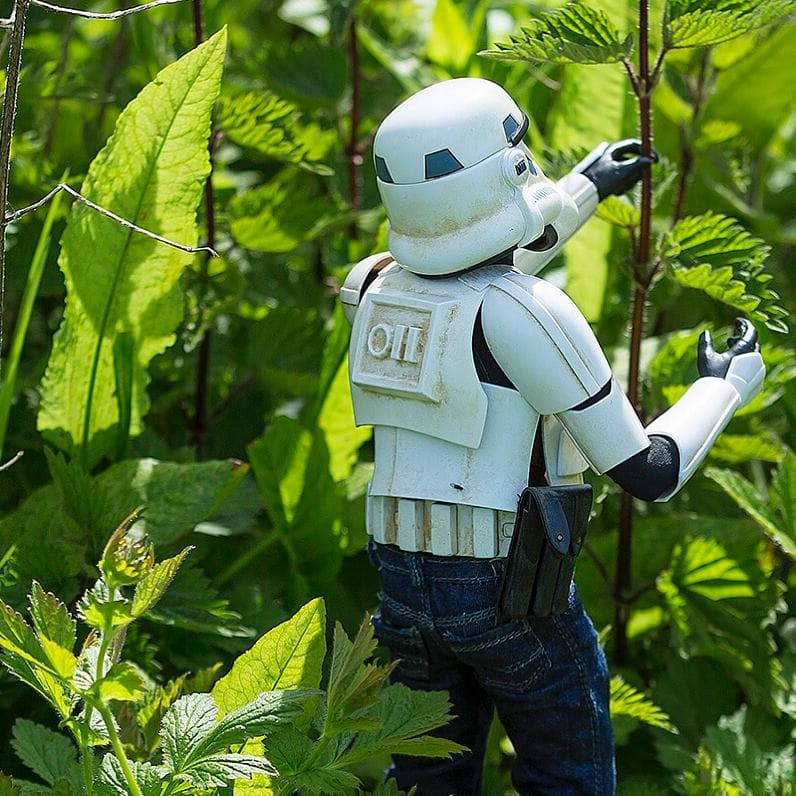 You can follow Eric's adventures (and those of his friends, and his photographer Darryl) on Instagram, @darryljones. GrumpyCock Studios is online here.
Wanna upgun your team? Check out US Elite Gear!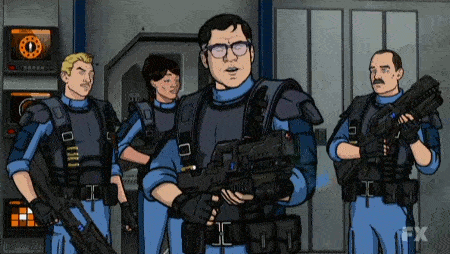 Remember to use one of our discount codes.
     💸 breachbangclear = 10% off your order
     💸 breachbangforce = 15% off Blue Force Gear
     💸 bbcshipfree = free flat rate $99 > orders
     💸 breachbangkuhl = 20% off Kuhl products
Many more 💸 codes to save 💰 are available to our Patreon supporters.
Why come to visit our double secret closed and private discussion group? Because of the Morningwood Bazaar and the conversation, obviously. 

Disclaimer: We are not endorsing Nancy's Squat & Gobble, nor do the opinions therein reflect those of the entire Breach-Bang-Clear staff. That said, while Nancy's is indeed a shady place, only a few people have actually gotten food poisoning there, and most of the girls have all their teeth. The one-legged bartender really does make a mean Old Fashioned, and if you ask nicely she'll even do it with burnt rosemary smoke.
Take heed! We have advertisers, sponsors, and affiliate relationships with some of the companies you will be reading about (particularly, but not limited to, archival posts). If you purchase one of those items, we will get a small commission from the sale at no additional cost to you. A lot of work goes into Breach-Bang-Clear; by making your purchase through one of our portals you'll be supporting our work. This will help us buy beer, bullets, and barbecue, and we won't have to put pop-up ads and other such stupid shit into our articles to pay our expenses.