Knight and Vickers in Vegas – Hunter S. Thompson It's Not
Knight and Vickers in Vegas
Hunter S. Thompson It Is Not
Chad Lemme
If I might quote some scripture from The Book of Fear & Loathing, the late, self-proclaimed Doctor of Journalism Hunter S. Thompson referred to Las Vegas as, "…the vortex of the American Dream."
It's hard to argue with that notion hearing the piercing scream of a live bald eagle within arms-reach, smack in the middle of the 2017 Shot Show. This is it. We have found the vibrant pulse of freedom, and it is a whole spectrum of sweet.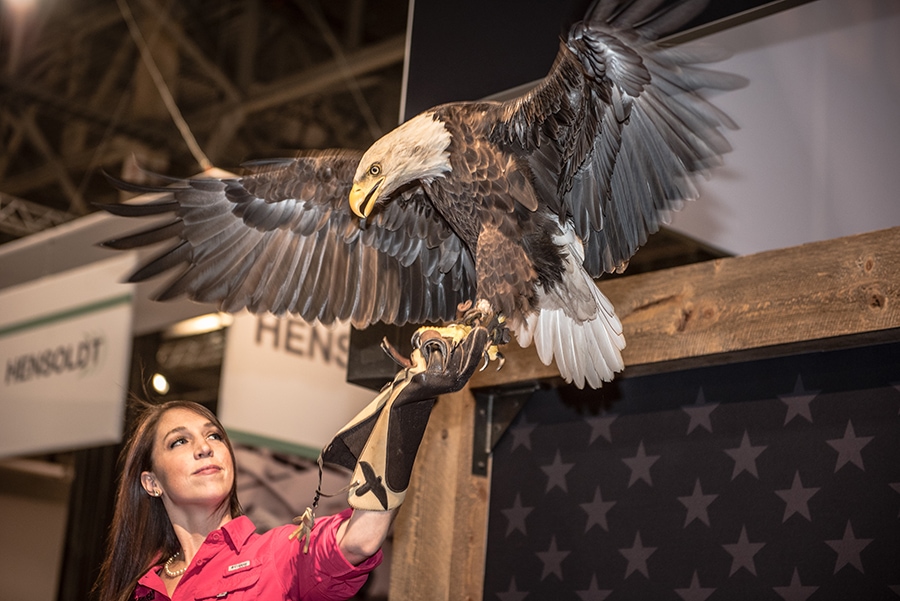 Aside from the lavish hotels, though, and the splendidly kitschy casinos packed wall to wall with freaks and their twisted fantasies lies something more real. Here too, if for only a week in January, gather the greatest, most innovative minds behind the American war machine dedicated to securing the freedom we all too often take for granted.
Here I had the rare opportunity to shake hands with, and stand alongside two such individuals, two men who have each played enormous roles in that very fight. It was a true honor.
While wandering aimlessly through the Knight's Armament booth I turned and saw the man himself: C. Reed Knight Jr. And he was about to commence a book signing with none other than a longstanding veteran of the Special Operations Community, Larry Vickers. Neither of these men need an introduction, and I doubt I could do them any justice even if I tried.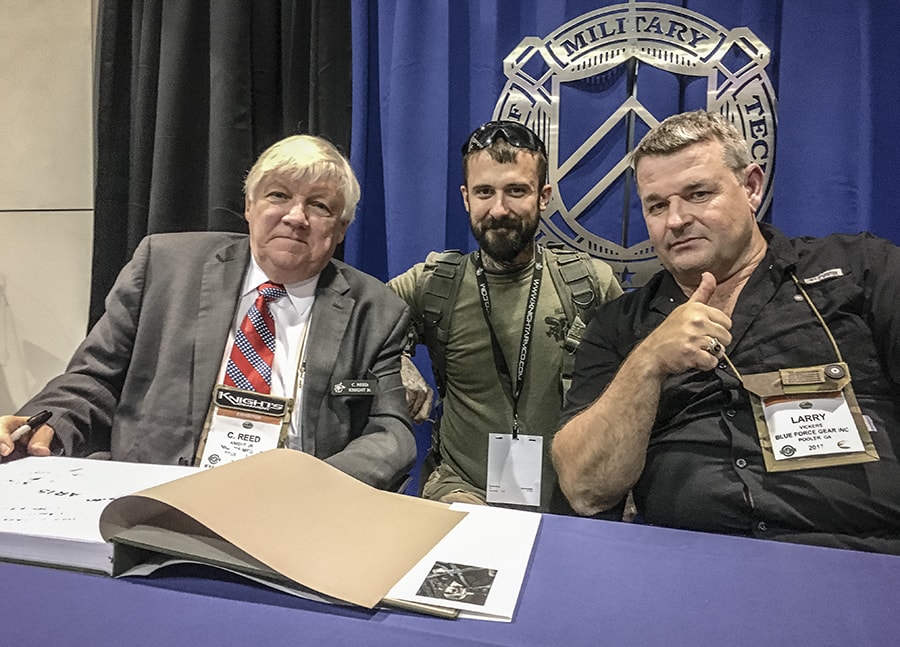 >What an opportunity. Needless to say, I bought a book, and waited anxiously to have it signed by both of them. I will never forget this moment as long as I live. I've spent time with many celebrities, in many different facets, and rarely do I get 'star-struck.' But in the company of such fine gentlemen, who have committed their entire existence to the fight for our freedom, I found myself incredibly humbled. I look up to men of this caliber far more than I do rock gods or movie stars, and that will never change.
It should go without saying that the book being released by Mr. Vickers is outstanding at worst, showcasing the early history of the AR-15. Its simple cover led me to notice the words 'Volume 1' at first glance. I would be lying if I said that I didn't immediately thank the gods that we get to look forward to second volume, or possibly more.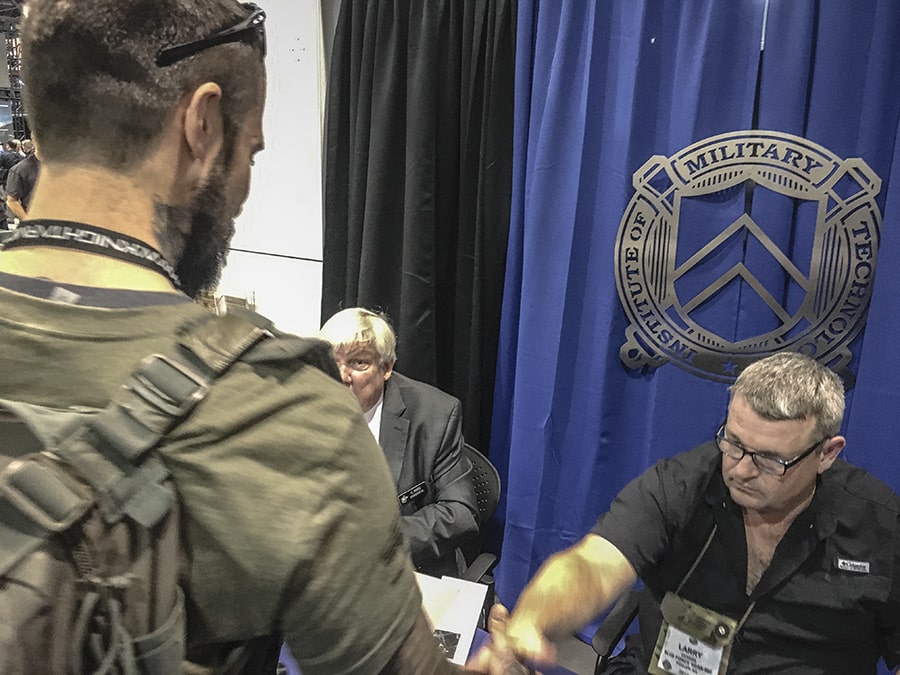 The book is a beautiful pictorial beginning with Eugene Stoner's idea all the way through the A2 Carbine (Model 723) used by American Special Operations Forces in the early 90s. There is also a nice foreword by C. Reed Knight Jr., eloquently summing up his relationship with Eugene Stoner, from idea to conception, and all the way through their legacy. The photos are large and detailed, and the accompanying text displays all variants and manufacturing information, the likes of which a clone geek or history buff could stare at for hours on end.
I will shamelessly admit that I am both.
This all happened within my first few hours of Shot '17. I'm anxious to see what the rest of the week has in store. I doubt much of anything could beat my encounter yesterday, but I have my fingers crossed, and my expectations high. If you need me, I'll be riding the freedom train straight through the heart of Vegas.
More to follow.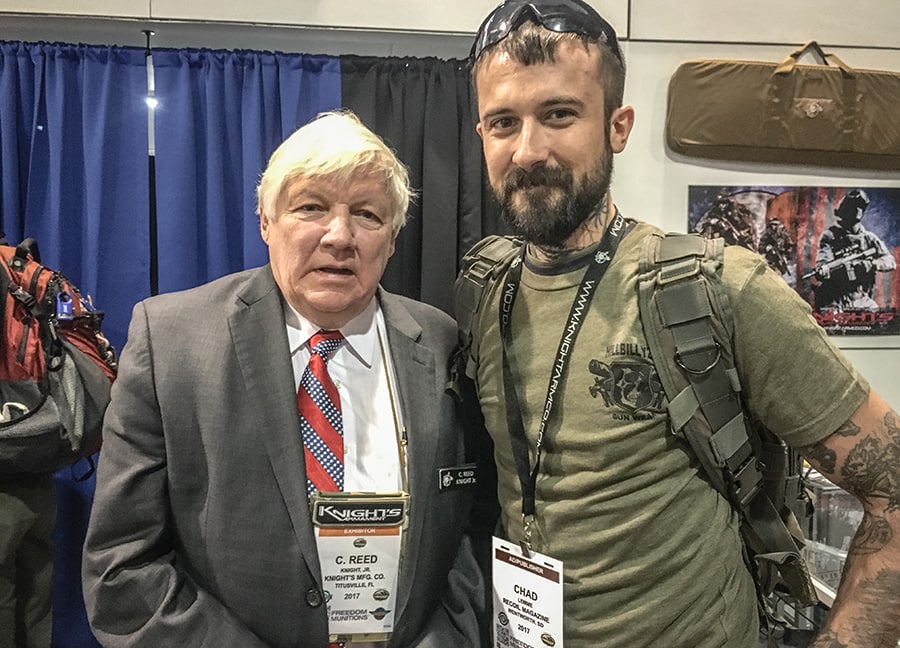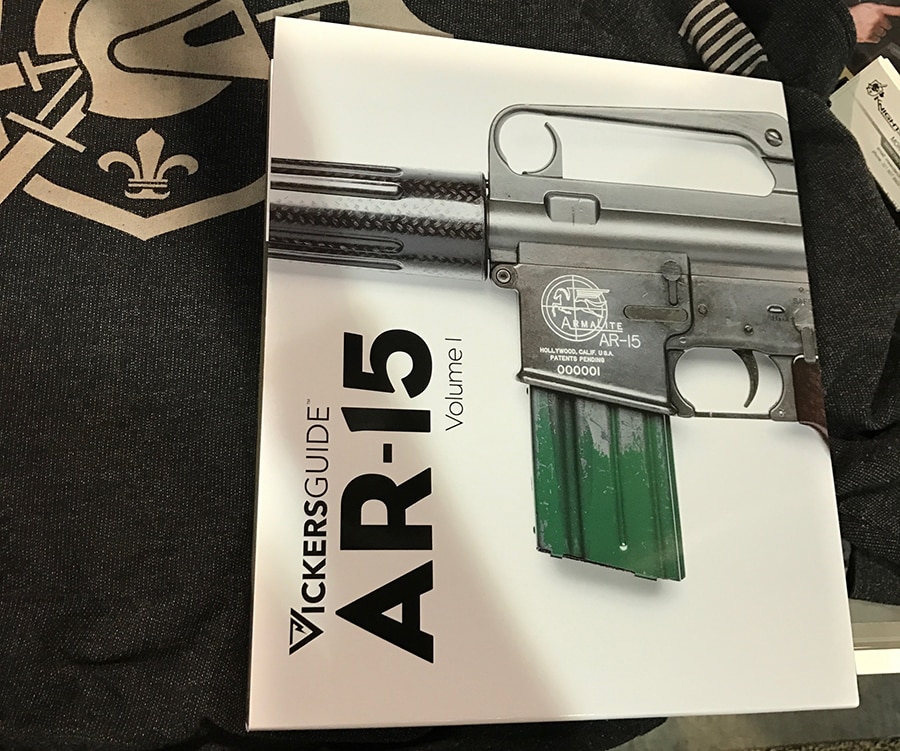 You can read more about the book here on Soldier Systems Daily.

---
---
If you wish to share or repost, please so kind as to follow our terms and conditions.
Mad Duo, Breach-Bang& CLEAR!
Comms Plan
Primary: Subscribe to the Breach-Bang-Clear newsletter here; you can also support us on Patreon and find us on Pinterest.
Alternate: Join us on Facebook here or check us out on Instagram here.
Contingency: Exercise your inner perv with us on Tumblr here, follow us on Twitter here or connect on Google + here.
Emergency: Activate firefly, deploy green (or brown) star cluster, get your wank sock out of your ruck and stand by 'til we come get you.
T&C: All original material published by Breach-Bang-Clear is the copywritten property of Breach-Bang-Clear, Inc. If you wish to repost, republish, or otherwise share our content, feel free to reproduce an extract of up to 225 words and one complete, unaltered image, preceded by attribution crediting the source and author's name, to include a link to the Breach-Bang-Clear home page, with a link back to the full article on our website, BreachBangClear.com. You do not require our permission to do this. Please do not reproduce our content in its entirety without contacting us first. We do allow full syndication on a case by case basis (credited, and posted with a canonical link, as is common practice and in good form) but only when mutually agreed upon beforehand. If you wish to reproduce a complete article, please contact us for permission to publish first.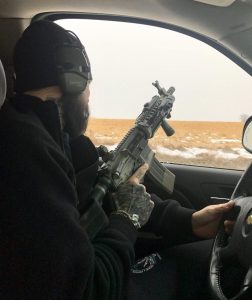 About the Author: Chad, a peculiarly erudite combat veteran, could be described as an abstruse warrior mystic, but that really doesn't capture the man. He actually tells his bio best, so we'll leave it to him.
The following may harm your reading comprehension skills, if not your cognitive processes altogether. I assure you, your time would be much better spent reading the well-written articles by any of the other staff at Breach-Bang-Clear. Only the brave or stupid or brave and stupid would venture my raving…but without further adieu, I present to you, me.
Hi, I'm Chad. I'm new here and am employed far beyond my ability. I'm sure I'll prove that during the course of my stay, and if empirical evidence stands true, it will prove to be a short stay. In fact, the editor and I regret the whole thing, and I speak for both of us when I say that, we are truly sorry. But, I possess a First Degree Black Belt in the English language and have lost many friends discussing such. I have the tools, but I lack the maturity. I am living and breathing proof that people can be children well into their thirties.

I've toured the Middle East, reside in the Midwest, and cannot in good conscience recommend either. I also work on the fishing vessel Orca which is the finest ship on the high seas. Ask any of the crew; they'll tell you. I drive truck and hate it, GO RUCK and love it, and draw for hire. about which I'm indifferent. I also own a dog that can't think but I love her anyway. The rest of my life is little more than a series of fuzzy nights resulting in legal matters that would land me, and many others, in jail, so we shall forbear writing of them.

Anyway, enough about me. If you'd like to send me your bios. I will be more than happy to disregard them all as I hope you have mine.