JTT: Painting Your Optics
JTT: Painting Your Optics
Fifty Shades of FDE
If you've been following me on social media, you know I'm a huge fan of rattlecanned rifles. It's a great solution for those who want to customize the look of their weapon. I've done a few, and they turned out great. Really, the hardest thing about painting your rifle is actually committing to painting your rifle.
For those on the fence, I recommend you start on something small. Today I'll go over a small, simple project of rattlecanning an optic. My friend Sean McCauley of Cloud Defensive knew I needed some glass for my SCAR 17, so he sent me a well-used Vortex Viper PST 1-4×24 optic that needed a new home, along with a BoBro Engineering mount.
Sean runs his guns hard, and it shows. The Viper's exterior was beat up pretty good but the glass was still in perfect condition and clean. A new paint job would give it a fresh look, and you know me, it had to be FDE.
Materials: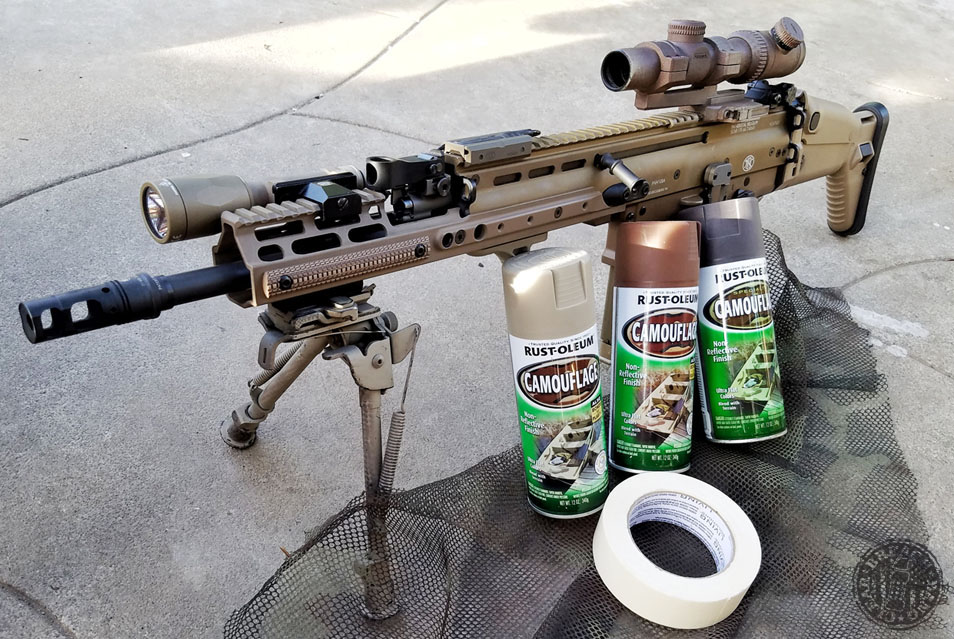 -Paint Cans. I use Rustoleum Camouflage because it's inexpensive and available at Home Depot.
-Masking Tape. You can use any kind of tape, but masking tape is the easiest to use and doesn't leave residue behind.
-Pattern stencils. I like to use camo netting to get a scale-like pattern. You can use virtually anything like leaves, etc.
That's all you really need, so let's get started!
I break the entire process into three phases: Preparation, Painting and Drying. This is the same for painting anything.
Preparation:
Start with cleaning; wipe down the surface to take off dirt, dust, oil residue from your fingers, etc., and keep it from interfering with the paint making contact with the surface. You can wipe it all down with a cloth soaked with rubbing alcohol if you like, but it's not necessary.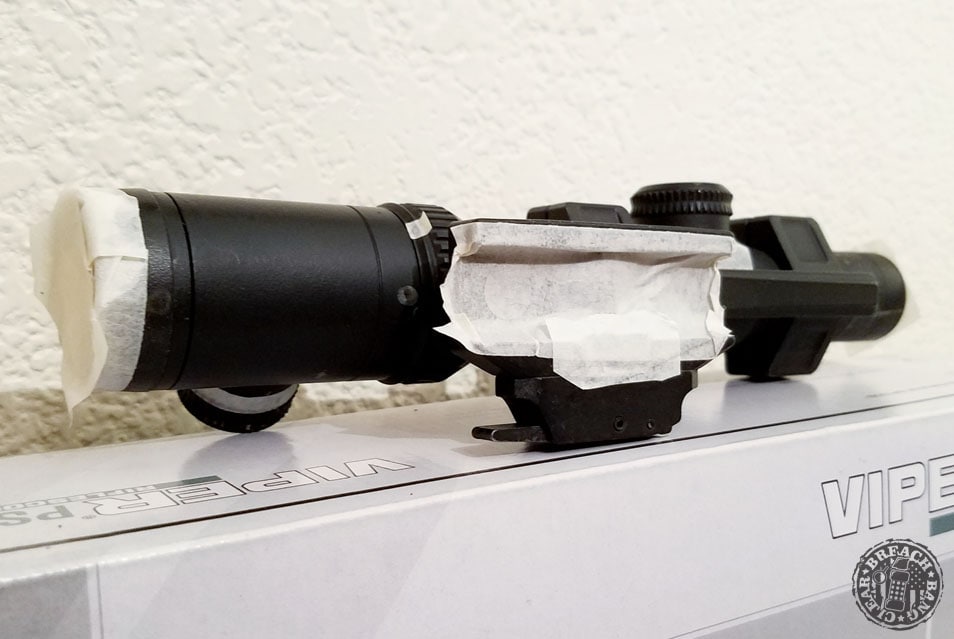 Next is taping off with masking tape. This is very important; you don't want paint in critical areas. In this case, for the optic, the critical areas are obviously the lenses. Other areas I tape off are the numbers on the dials, a fiber optic indicator for magnication level, the serial number in case it needs warranty work, and the bottom contact area of the BoBro mount where it attaches to the picatinny rail.
Painting:
Find a good platform to place the item. If you can hang it, great. If you can't, that's fine too. Ideally you'd want at least a table height if possible.
Now the best technique is to shoot short bursts from about twelve inches away.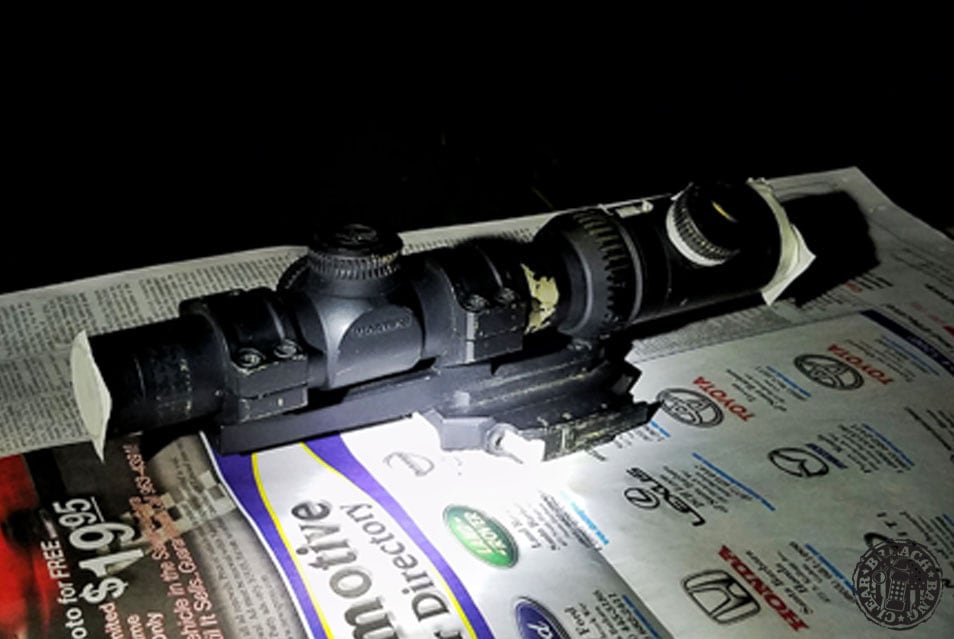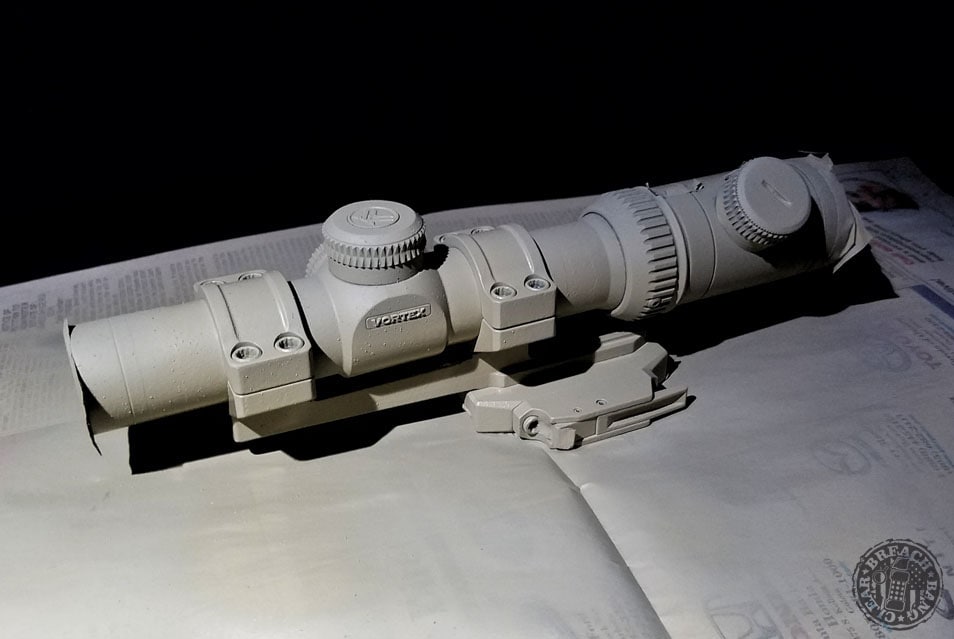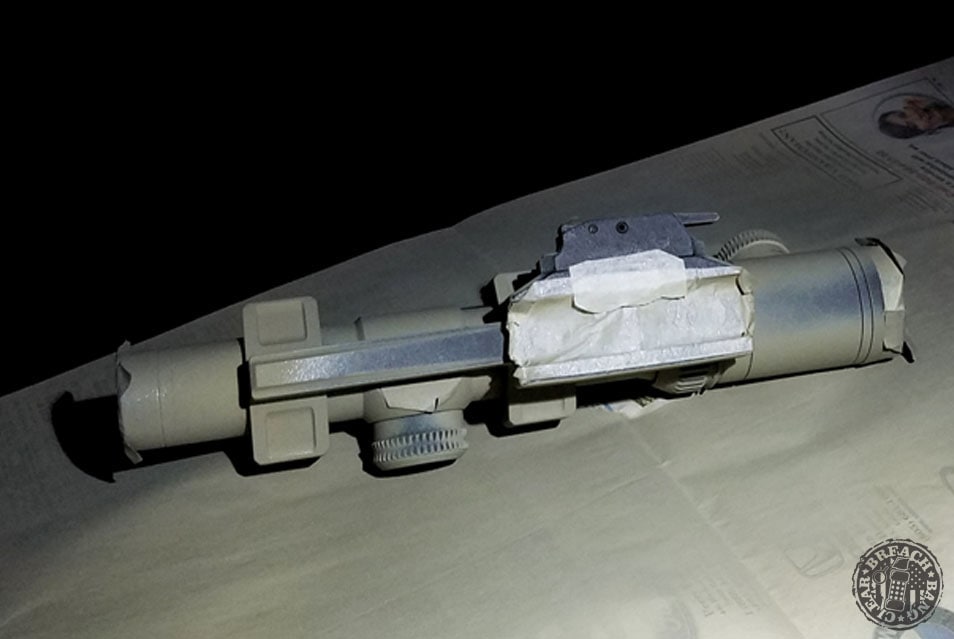 I started with the base layer. It's best to use the lightest color you have and apply a light coat (for this optic I used a light sand color). The key is to have many light coats, letting each one dry before applying the next, and hitting all the angles from high and low. Once the initial coat was dry enough, after I waited at least fifteen minutes, I carefully picked it up from the masking tape areas and flipped it over on its side to spray the bottom half.
Keep in mind that I was doing all of the painting at night with the scarce amount of spare time in my schedule. I would normally take much more time letting each coat dry, but time is not a luxury I have at the moment. Plus I'm impatient as hell, and wanted to see how this would turn out.
So I moved onto the next color, light brown. I wrapped the scope as tightly as I could and started to spray lines in a random fashion. Having the netting or stencil close to the surface gives you more definition rather than having it loose. I repeated this process by moving the scope and replacing the netting until I got the desired effect.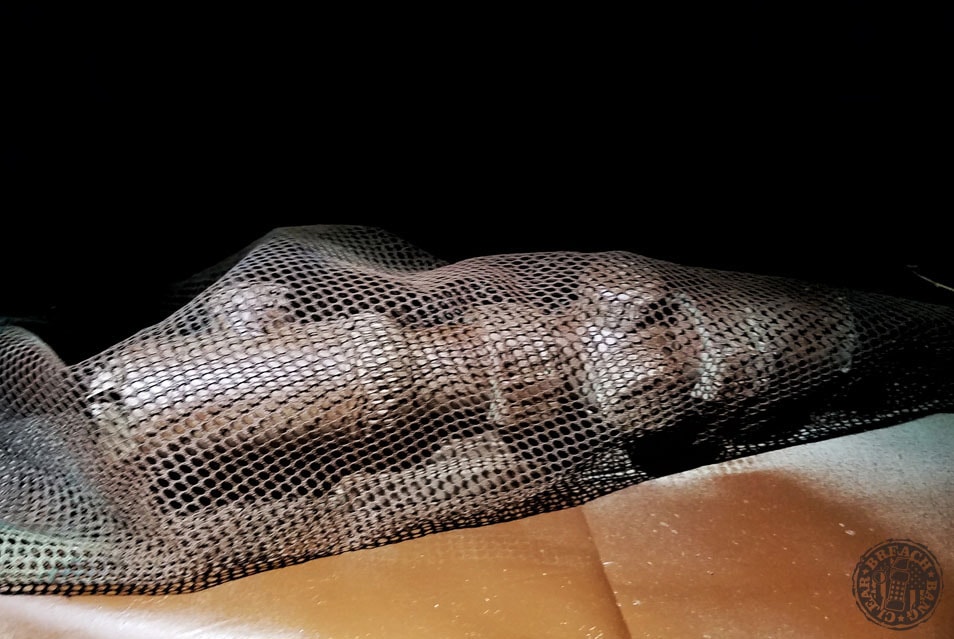 I then moved on to the third color, dark brown, and again I used the netting. I thought I went a bit overboard with the dark brown so I went back with the light sand color, something I've never done before. It started looking off to me, so I had to overlap back and forth between light sand and light brown until it started to look right. After a bunch of extra light coats, I felt like Goldilocks because it was just right.
This is what they call Rattlecan Magic. It's an art form that takes practice and experience.
Drying:
This part is crucial and tedious, but I stuck with it. I threw the Viper into a closet so it wouldn't get touched by anyone. I left it overnight and didn't do anything until I got home from work the next day. Once I got the chance, I slowly started to remove each piece of masking tape. I couldn't be happier with the result. It came out looking Burnt Bronze, almost the same finish as standard Razor optics but with some unique camo patterns.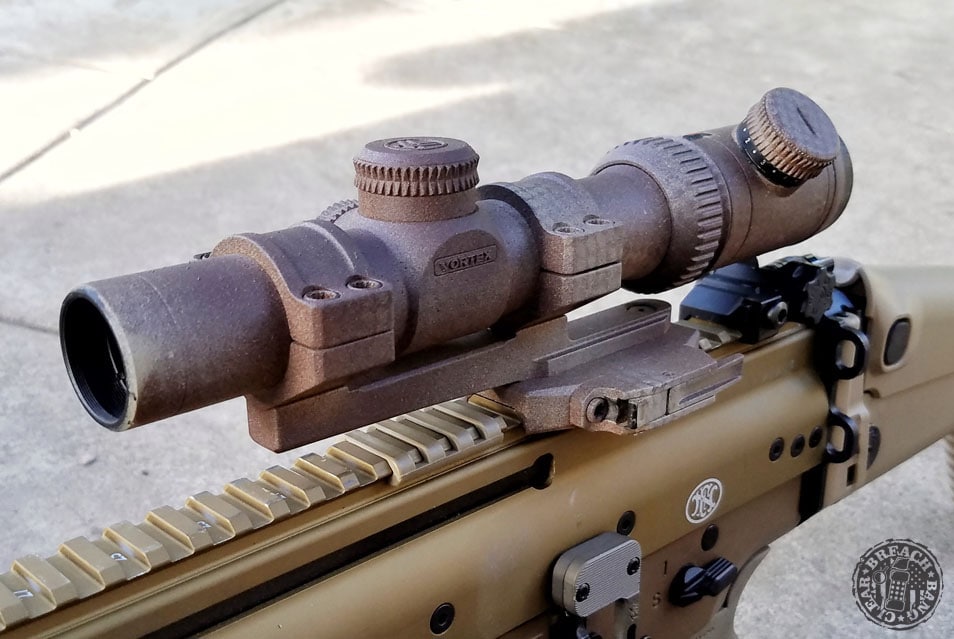 As you can see, there's not much to it. Some paint will rub off from use, but that just means you actually use your firearms, so it adds character. If you want something more permanent go with a qualified Cerakote applicator, but expect to spend some money. Like I said at the beginning, start small before you spray your whole rifle.
Good luck with your projects and tag me in your pictures. I always like to see what everyone comes up with.
If you want to read up on how I did my rifle, go here.
SIG SAUER is a member of Joint Task Force Awesome. Find 'em on Instagram, @sigsauerinc, and on Facebook, /SIGSAUERinc/.
[arrow_feed id='48369′]
---
---
If you wish to share or repost, please so kind as to follow our terms and conditions.
Mad Duo, Breach-Bang& CLEAR!
Comms Plan
Primary: Subscribe to the Breach-Bang-Clear newsletter here; you can also support us on Patreon and find us on Pinterest.
Alternate: Join us on Facebook here or check us out on Instagram here.
Contingency: Exercise your inner perv with us on Tumblr here, follow us on Twitter here or connect on Google + here.
Emergency: Activate firefly, deploy green (or brown) star cluster, get your wank sock out of your ruck and stand by 'til we come get you.
T&C: All original material published by Breach-Bang-Clear is the copywritten property of Breach-Bang-Clear, Inc. If you wish to repost, republish, or otherwise share our content, feel free to reproduce an extract of up to 225 words and one complete, unaltered image, preceded by attribution crediting the source and author's name, to include a link to the Breach-Bang-Clear home page, with a link back to the full article on our website, BreachBangClear.com. You do not require our permission to do this. Please do not reproduce our content in its entirety without contacting us first. We do allow full syndication on a case by case basis (credited, and posted with a canonical link, as is common practice and in good form) but only when mutually agreed upon beforehand. If you wish to reproduce a complete article, please contact us for permission to publish first.
About the Author: Fifty Shades of FDE is a full-time LEO in California for a large agency with approximately 10 years experience on the job. He's a husband, father, firearms enthusiast, and (like many of our Minions and Flunkies) training whore. He is a supporter of the Second Amendment and a proponent of law abiding citizens' right to defend themselves with concealed carry permits, but no matter what anyone says he's not actually Lee Byung-hun, nor has he ever been in a Kim Jee-woon movie. That's not even the right country. A fully vetted member of the SOCAL Asian Mafia, the author runs a pretty badass Instagram account called @fiftyshadesofFDE, and writes his own gun/gear reviews on www.fiftyshadesoffde.com Contact him by e-mail if you'd like. No dick pics, please: [email protected]. Note: We've been trying to get 50SFDE to color his hair and start dressing like Vash the Stampede for over a year now, but so far no joy. If that changes we'll advise most ricky-tick.