Review: High Threat Environment Vehicle Tactics Training Video
Review: High Threat Environment Vehicle Tactics Training Video
Fifty Shades of FDE
Almost weekly, we are reminded of the dangers law enforcement officers face on the streets. Coordinated gang members, active shooters, and ISIL sympathizers have increased the scope of danger to law enforcement. Just weeks ago, two officers in Iowa were killed while inside their vehicles. Whether you're in law enforcement or a civilian with a CCW, you are going to be around vehicles on a daily basis. Knowing how to effectively fight from a car may save your life.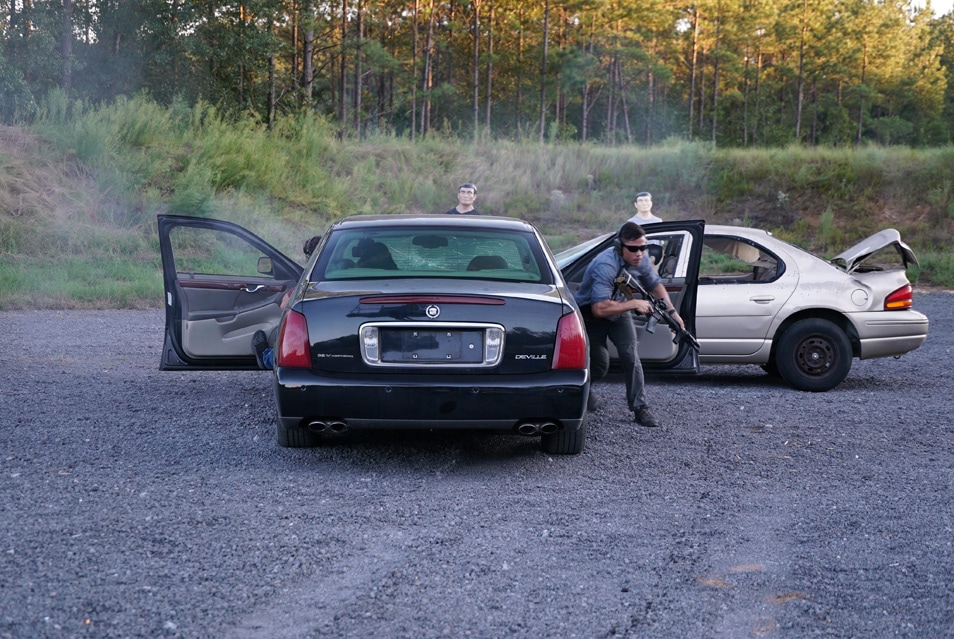 In preparing for violent encounters, firearms and tactics training videos are great tools for enhancing your skills. Panteao Productions produces some of the highest quality training videos with experienced instructors. In their most recent production, Aaron Barruga of Guerrilla Approach introduces techniques for fighting in close quarter around vehicles.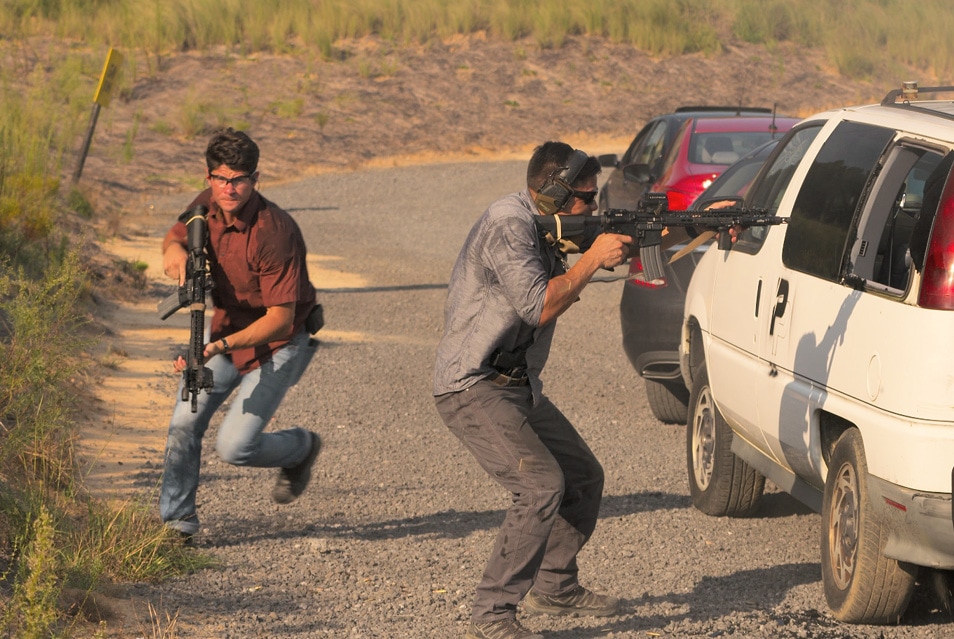 Aaron is former US Army Special Forces, and his vehicle tactics program is designed for high threat, counter-terrorism environments. Aaron acknowledges that he has never worn the badge, but identifies the similarities between constraints placed on a Special Forces missions and law enforcement. He explains that use of lethal force must be exercised deliberately, but also with discrimination.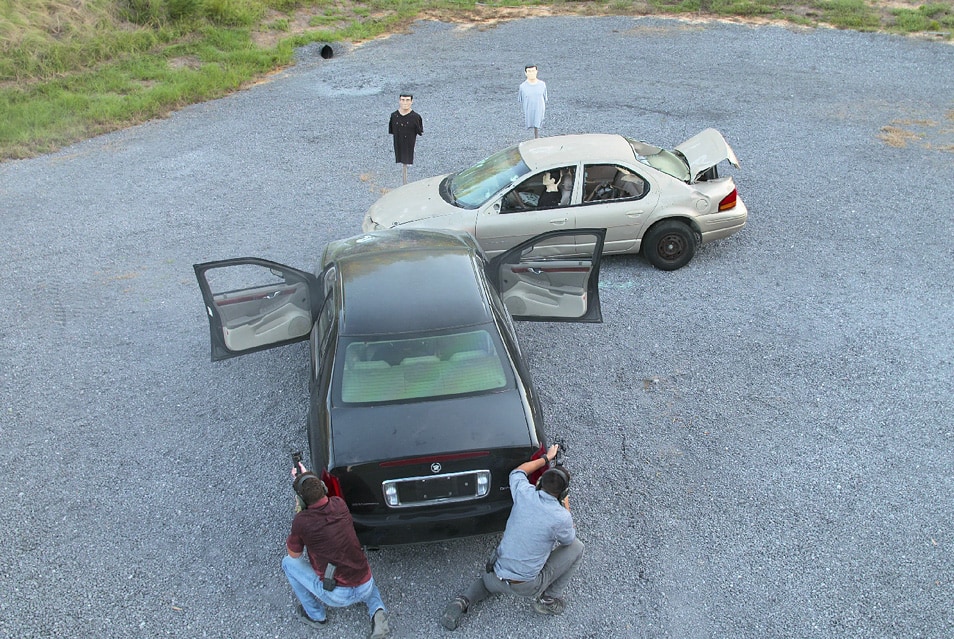 In Special Forces, unnecessary collateral damage destroys rapport with foreign countries at the state level, or reveals the sensitive nature of an operation. Aaron compares this to the accountability law enforcement is held to when officers decide to use guns. This establishes the intent of the video with introducing military tactics for law enforcement, but within reason.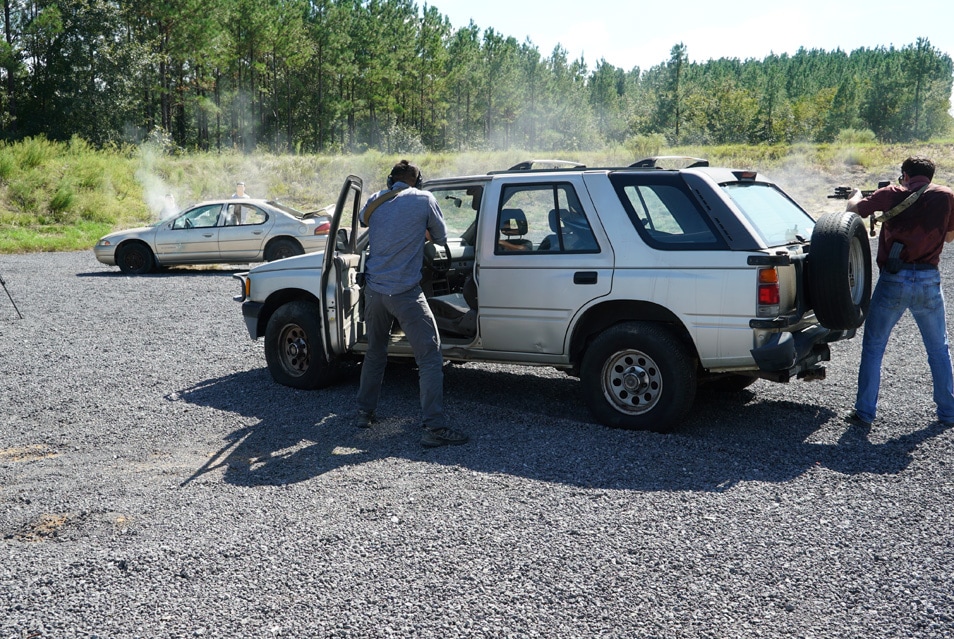 The video begins with Aaron explaining his purpose: he wants to change the training culture within law enforcement. I know firsthand how little training we get, and how much is outdated – especially when it comes to fighting from a a vehicle. The scenarios Aaron presents are realistic, and in line with many recent LEO ambushes.
Aaron uses the term "real world" A LOT. He goes into detail on the pros and cons of multiple tactics that are popular because of doctrine and the Internet. A unique feature of this film is the use of multiple video angles, to include elevated spots help the audience get an idea of different angles and perspectives in a complex attack.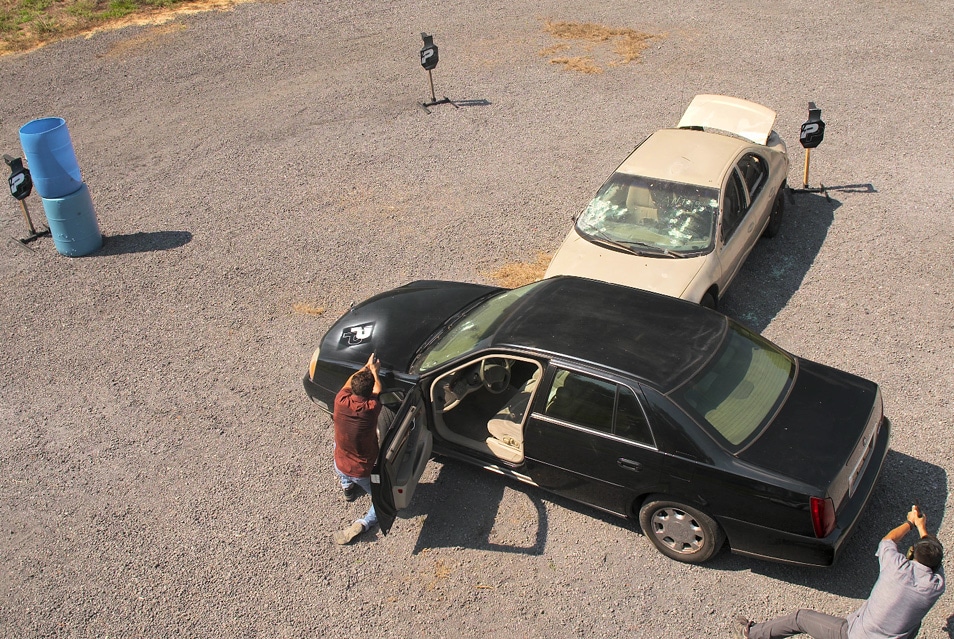 My key takeaways from the video are:
-Vehicles are poor cover and there is limited application with how you can expect to use them in a sustained fight.
-Bullets are unpredictable and come by the magazine, so a single data point from a single bullet is insignificant compared to what happens in the real world.
-Mindset and purposeful training are more important than looking cool.
-Practice bailout techniques with a carbine and pistol.
-Exterior shooting positions; be in the best fighting position that gives you the advantage.
This video is full of relevant information and gave me practical knowledge for engaging in situations with multiple attackers. I highly recommend this video to every law enforcement professional; no matter your assignment, everyone drives a car. Even if you're a civilian, you may not be a target of a coordinated attack but you could always be at the wrong place at the wrong time. Knowing how to position yourself and what to use for cover can make all the difference.
Aaron also stresses that the video is just that, a video. You need to get out and train on a real range, dry-fire, go hot, and improve your skills.
-Fifty Shades of FDE
---
---
[Aaron's video can be streamed from Panteao Productions and DVDs can be ordered from Guerrilla Approach]
Mad Duo, Breach-Bang& CLEAR!
Comms Plan
Primary: Subscribe to our newsletter here, get the RSS feed and support us on Patreon right here.
Alternate: Join us on Facebook here or check us out on Instagram here.
Contingency: Exercise your inner perv with us on Tumblr here, follow us on Twitter here or connect on Google + here.
Emergency: Activate firefly, deploy green (or brown) star cluster, get your wank sock out of your ruck and stand by 'til we come get you.