Friday Night Gunfights: True Detectives Bus Throwdown
Friday Night Gunfights: True Detectives Bus Throwdown
Tom Marshall
This time on the Silver Screen Shootout (that's even better alliteration than Friday Night Gunfights), we turn to the smaller screen, and look at a gunfight in HBO's hit crime series True Detectives (Season Two)
OVERVIEW: The shootout in question occurs in Season 2, Episode 4, Down Will Come. A multi-agency law enforcement "task force" (really just an ad hoc raid team) is executing a warrant on a known drug manufacturing location.
Here's a look. The fight actually begins at about 01:03, and rolls pretty much through the end; the shooting actually stops around 07:35. The pace, length, physical and mental impact, and confusion of this scene are all significant (Rachel McAdams, "Ani Bezzerides", actually puked during the filming of the scene from the physical stress). That may actually be the most realistic thing about it.
HIGHLIGHTS:
1:18 – "Contact, 6 o'clock" great contact call. Loud, calm, with direction of incoming fire
2:15/2:35/2:55 – Textbook fire and maneuver. One man shoots, one man moves. Communication between both shooters
3:40 – Reload on the move
4:43 – Press check
6:10 – 6:27 – Attempt battlefield pickup, transition to secondary/edged weapon
7:12 – Interlocking fields of fire
THE GOOD: Excellent display of movement techniques once things get going. Communication between officers is calm and concise, everyone is making consistent use of cover and concealment and there is great continuity of fire – that is, somebody always has a gun on the target while someone else is moving. There are also multiple depictions of well-executed emergency reloads. Some other good points:
• At least three of them lived.
•  It's make believe, and on TV.
• Good use of suppressive fire, which does have its place in an LE environment (though in LEO parlance it's called "directed fire").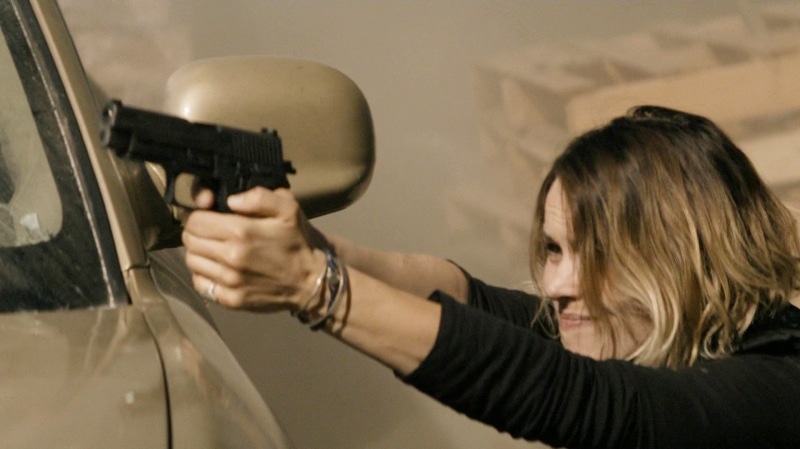 THE BAD: Everyone clinging to vehicles as they move and return fire. Vehicles, at best, are "enhanced concealment" and should be used to keep the lead off only in extremis. They will not reliably stop bullets in the same fashion as some of those brick walls would have, and should not be depended on as a primary cover strategy. The raid opens with a gaggle of officers walking very dramatically down the middle of the street. This looks cool, but announces your presence and makes you more susceptible to multiple casualties – which was illustrated in the scene.
Some more bad points:
• Terrible violation of the dress code. Gangbangers pulling security for an industrial sized cook operation calls for something more than ten LEOs in soft armor, pistols, and a shotgun.
• Failure to listen to sage advice. Why not wait on them to exit and use the open air option, or take them down away from their stronghold? There's very likely a good reason the fat old cop got to be fat and old.
• No attempt to split and "L" out on the hostage taker.
THE UGLY: Well, lots of it, not least the fact that this is not that unrealistic scenario in some places. Patrol officers are far better trained and equipped nowadays than they have ever been previously, but LEOs are still capable of extraordinary blunders in a fight — many of which should be tactically retardataire but are not.
Grunts: retardataire.
Why bring a pistol when a long gun will do? Why bring a shottie if you can bring a rifle? The use of optics-equipped carbines in this situation would likely have decreased the number of casualties and shortened the amount of time officers spent trading fire with the bad guys. High angle, medium range (20+ yards) shots with a pistol are low-percentage engagements for most of us. A short-barreled carbine with a red dot or low-power glass would have made much shorter work of anybody shooting from a window. An officer with a carbine could have better suppressed, if not eliminated, such threats. This has been recently illustrated—both positively and negatively—in actual OIS footage from Buckeye, AZ and Dundalk, MD respectively. (We've recently addressed both shootings in previous reviews. Just because this particular shooting is fictitious doesn't mean it has nothing to teach us.)
Departments not issuing patrol carbines, particularly for the type of high-risk warrant service depicted in this clip, are setting their officers up for potentially tragic failure. Also, any suspected cook house should be treated as a potential explosive and hazmat situation, and all tactical plans should factor these risks into consideration.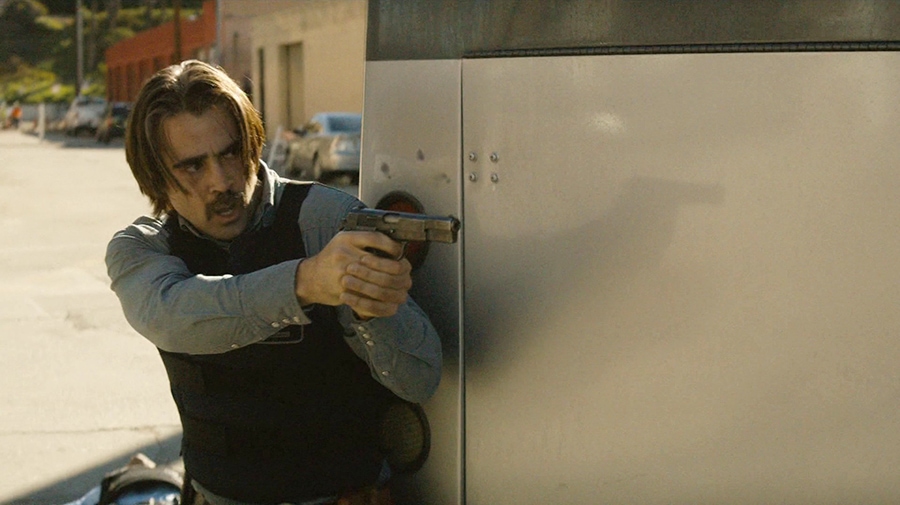 Some other ugly points:
• No attempt to render aid to downed civilians and other officers.
• No perimeter in place to keep bad guys from going mobile and contain squirters.
• Negligent brass. Any supervisors responsible for, "Bosses said go in and take them," would be as negligent as the officers making the hit.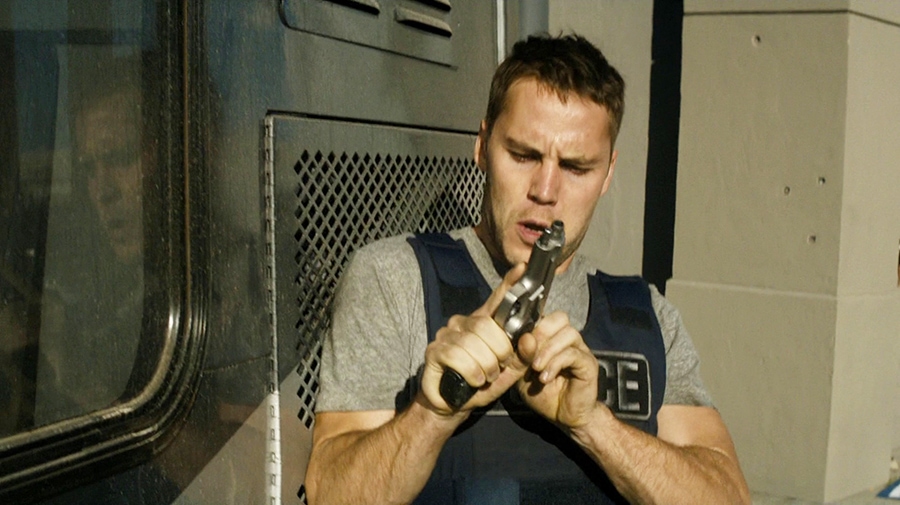 For the Purists — ZEROING IT IN
We'll update this as readers comment and we're able.
• Did they use a threat matrix to evaluate the need for the involvement of a specialized unit? The NTOA and common sense both recommend it. How many are in there? What are they armed with? What is the proximity of civilians?
• Did it occur to no one to grab a couple of extra magazines before a raid?
• Was this hit so important there wasn't any time to do some intel gathering and rehearsals?
• No fire, EMS, HAZMAT…?
• Note: hat tip to Detective Ray Velcoro (played by Colin Farrell) for his choice of the Browning Hi-Power; perhaps not the best choice with which to throw down against AKMSUs and Steyr SPPs, but class. Smug, borderline supercilious glance at Trooper Paul Woodrugh for his use of the S&W 4006 (though that's CHP's fault).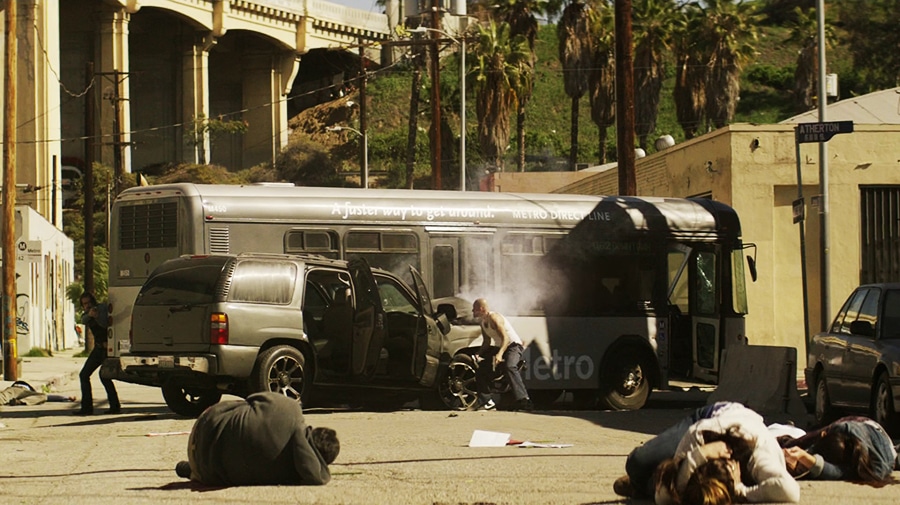 What did we miss? Let us know in the comments section. TTPs, equipment, whatever. We're geardos and gunnerds to the Nth degree. We could talk about this all day.
If you wanna see some more, check out the work on of our guys is doing over at the Internet Movie Firearms Database.
-TM