First Educational Musket Range–Grand Opening March 19
When a spark hits black powder you get a big flash and a huge plume of smoke. But how many of us have ever fired a black powder firearm? Well, our chance comes this weekend.
Muskets bring us back to the initial big-dick pipe hitters of the past, who most certainly were not using the C-Clamp grip. If you happen to be near Williamsburg, Virginia or want to head down there for a vacation, this event may be for you. So read on.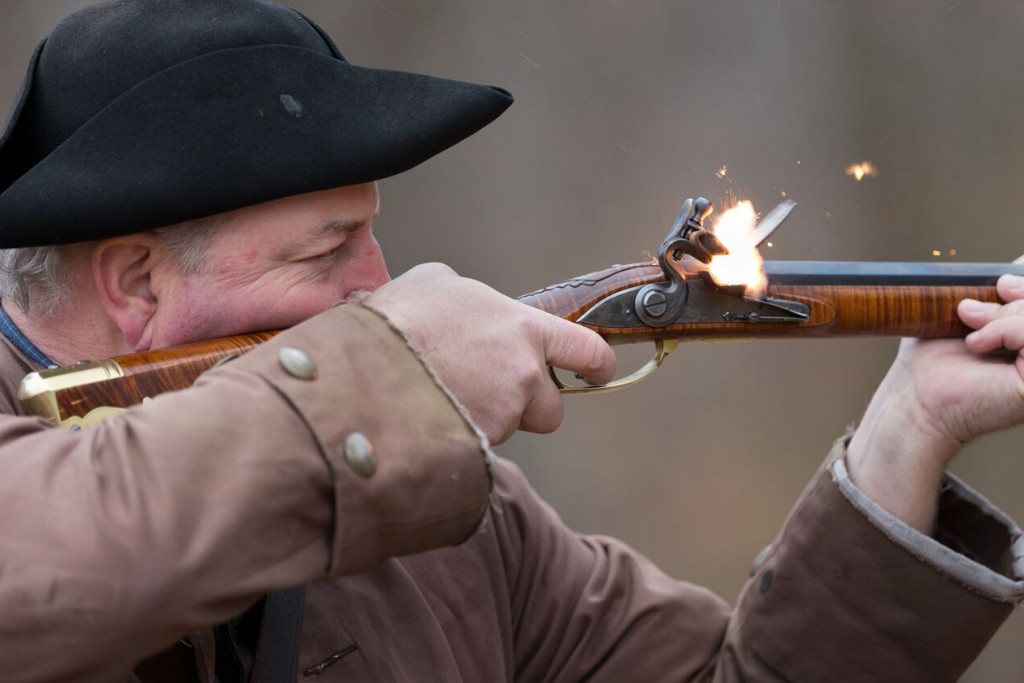 "Colonial Williamsburg's educational musket range celebrates its grand opening March 19, for the first time offering Revolutionary City guests an opportunity to learn about and operate the types of firearms that won independence and supported life and livelihood in early America.

Guests learn from costumed interpreters about the history of flintlock weapons, particularly in colonial Virginia, their mechanics, use in hunting and defense, plus safety and proper handling.

"We provide guests an engaging, educational experience that immerses them in the period of our nation's founding. The educational musket range embodies that, but on an entirely new level," said Peter Seibert, Colonial Williamsburg director of historic trades and skills. "For decades our guests could learn about these pieces and watch them being operated. Now they can really experience them – the weight, the smell, and the sound – not to mention how challenging their operation was for people whose lives often depended on it."

Guests will able to prime and fire replicas of two of early America's most important firearms: a 'Brown Bess' British short land service pattern musket and a fowling piece, a precursor of the modern shotgun.

The range's Brown Bess replicas reflect the variety manufactured between 1768 and 1804 within a broader category spanning from 1717 and 1815. They are the type of musket used by both British and American soldiers during the American Revolution.

Muzzle-loaded fowling pieces were used to hunt ducks and other waterfowl in Tidewater Virginia and for farmland pest control. Notably, during the period they could be legally owned by free blacks for the latter purpose.

The range is accessible only by ticketed guests via a shuttle from the Williamsburg Lodge. Admission includes instruction, safety equipment firearms, ammunition, and targets.

To participate, guests must reserve spaces in advance and present photo ID to purchase tickets on-site. Tickets are $119 and are available to guests ages 14 and older. Children under 18 must be accompanied by a parent or guardian. Additional information is available at Colonial Williamsburg ticketing locations and hospitality properties, online at www.colonialwilliamsburg.com or by calling 855-296-6627."
This seems like a fun and educational event for the whole family.
Please be so kind as to give the Tactical Tyrion series your attention.
---
Declare for Morning Wood!
Why become a patron? Not for the dick pics. So you can access the Morningwood Bazaar, obviously.
Exclusive discounts up to 60% off all kinds of guns and gear. 
Plus, unrivaled camaraderie where we only make fun of you most of the time.
Access to Nancy's Squat & Gobble, our closed Facebook discussion group.
If you wish to cite, syndicate, or curate our material, or if you're wondering about our please be so kind as to read our

Terms, Conditions, and Disclosure

s.
Take heed! We have advertisers, sponsors, and affiliate relationships with some of the companies you will be reading about (particularly, but not limited to, archival posts). If you purchase one of those items, we will get a small commission from the sale at no additional cost to you. A lot of work goes into Breach-Bang-Clear; by making your purchase through one of our portals you'll be supporting our work. This will help us buy beer, bullets, and barbecue, and we won't have to put pop-up ads and other such stupid shit into our articles to pay our expenses.